Wholesale Paper Clips & Paper Clip Holders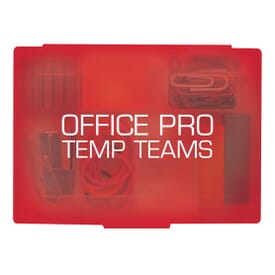 Item # 108373
$4.62 - $3.45
Min qty: 100
Item # 122286
$9.94 - $5.07
Min qty: 50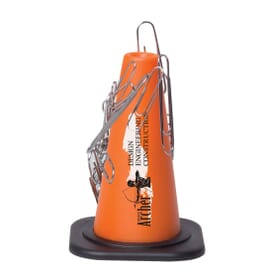 Item # 120561
$3.35 - $2.58
Min qty: 100
Stay Organized with Custom Paper Clips
Stay organized in the office with personalized paper clips and imprinted mini binder clips. Printed paper clips come in small, large, and jumbo sizes and can be made out of colored plastic or metal materials. Document holders with logos can also be purchased in cute novelty shapes or with unique decorative dispensers. Fun, magnetic paper clip holders keep desks tidy in an unexpected way.
Custom Paper Clips
Keep your brand top of mind – and at the top of your client's important paperwork – with personalized paper clips. Jumbo clips, like the Big Top Paperclip, are available with your logo imprinted on the circular topper. These work well both as a unique giveaway or as a standard office paperclip that can be handed out to corporate partners and customers.
Promotional Paper Clip Kits
We also carry some handy kits that include paper clips. Our best-selling Office-to-Go Kit includes paper clips, a stapler, staples, tape, rubber bands, sticky notes, and sticky flags, all enclosed in a case imprinted with your custom logo. The Goofy™ Clip 'N Flag Set is a fun desk accessory and magnetic paper clip holder that includes sticky flags and paper clips. Finally, the Tower of Clips and Push Pins are great employee appreciation gifts that include 3 stackable, generously sized containers filled with push pins, paper clips, and mini binder clips respectively.
Branded Paper Clip Holders
Our most popular paper clip holder is the Roly Poly Stress Pal. This magnetic holder doubles as a stress ball, making it an excellent desk accessory. Other fun paper clip holders include the Safety Cone Paper Clip Holder and Wacky Wobbler Paper Clip Cup which both feature magnets and would make a unique giveaway that will put a smile on anyone's face.
In addition to paper clips and dispensers, we also carry a variety of custom office items including notebooks, padfolios, USB flash drives, and pens.
"I like that this desktop toy also doubles as a useful clip holder. We plan to hand these out during our team building day." – Louis, GA, Roly Poly Stress Pal