Frequently Asked Questions
Q.
What is a minimum order? Can I order less than the minimum listed on your website?
A.
A minimum order is the minimum quantity required for purchasing a particular item. Most items will have a different minimum required when placing an order. Most of the time, the minimum quantity shown is based on the minimum amount required for a factory to print your order, but if you reach out to us through live chat or by phone, we can inquire on your behalf, as some factories are more flexible (there might be an additional fee for ordering less than the minimum). Or, we can see if we can find a similar item that is offered in a lower quantity.
Q.
Can I order assorted colors?
A.
You can reach us though live chat or over the phone and we can verify if the item can be assorted at no additional cost. Although most of our items can be assorted at no additional cost, there are some that have to be ordered in certain quantities per color and a select few that cannot be assorted. When assorting product colors, customers want to be mindful of choosing product colors that will take the same imprint color – if they choose some colors that need a darker imprint color and some that need a lighter imprint color, that could add an ink change charge.
Q.
What is a setup charge and will I have to pay this charge for every item I order?
A.
A setup charge is a charge that our factories charge to set up a screen to create each personal imprint. Setup charges depend on the item(s) being ordered. If the item is being re-ordered and the artwork is staying the same, you will not pay another setup charge. If the item is a new item, you will be charged a setup charge, as our factory will have to create a new customized screen, unless there is a free setup promotion on the item.
Q.
What is an imprint area?
A.
The imprint area is the area on each product that will display your logo and unique artwork or message. The size of an imprint area will vary, depending on the size and type of item you choose, and the dimensions are always available on each product's page on our website.
Q.
What do I need to provide for a logo/artwork and how do I submit it?
A.
Crestline makes it easy to submit your artwork and message. We work with these common types of art files: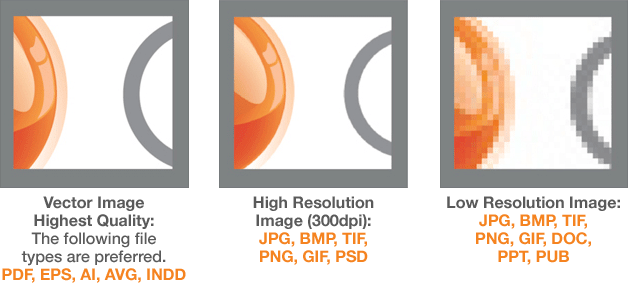 We ask that you send us instructions for any additional information for your artwork. Four-color process or dye sublimation items images should be at least 300dpi at the size that they will be printed. If you are submitting a layout, please also send each of the images from the layout as individual files. We will work to optimize your brand message on your selected products. This sometimes may result in image or imprint adjustments.
Only have access to your logo on a T-shirt or napkin? Don't worry about it! We know that it's often difficult to get ahold of a high-resolution image of your logo, so Crestline's Graphics team is ready to work with any type of logo you may have available.
You may upload your art online while customizing your or email your artwork to cgeneral@crestline.com. Please be sure to include your order # and contact information.
Q.
How will I know what my items will look like with my logo? Will the dotted lines in the proof print on the product?
A.
After you submit your order, we will email you a digital proof of your final product to approve before you are charged. Although there are dotted lines in the proof to represent and give you a visual of the imprint area that we will be working within, these lines will not print.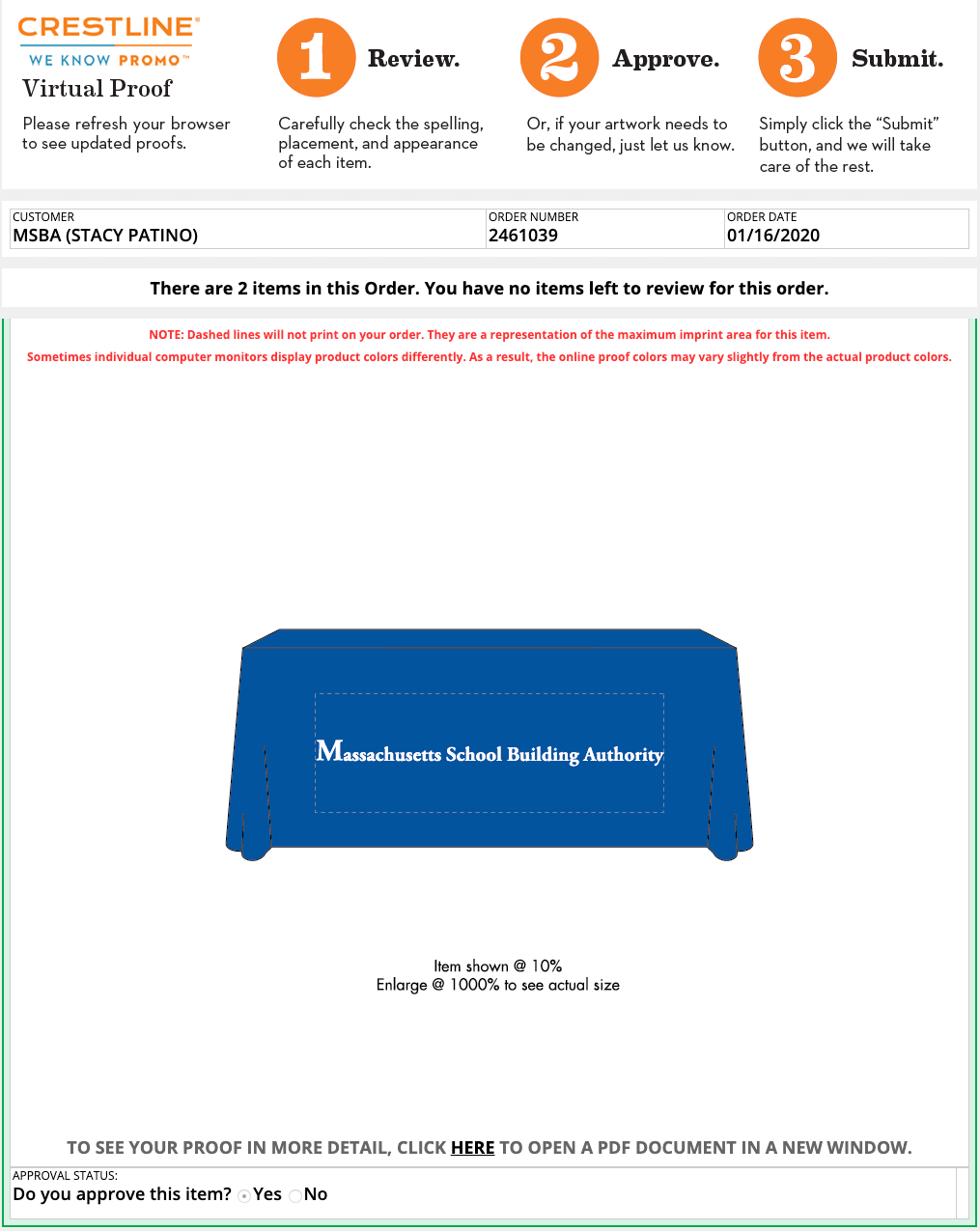 Q.
What are "production days"? How fast can you get the items to me?
A.
Production days are the number of working days it takes a supplier to fill your order. Production time begins after your order has been processed and you have signed off on your proof. Note that production times do not include weekends or holidays. Most items take about 4-5 production days, plus a few more days for shipping.
The time to produce and ship an order is different for every product that we carry and production times start after proof approval and payment. It's best to plan ahead and order your items well in advance of your event. However, we know that is not always possible. For situations where you need custom products ASAP, we have a collection of rush service items that can be produced in 24 hours.
Q.
What forms of payment are accepted?
A.
We accept three different forms of payment: Credit Card, Check and or Purchase Order. The Credit Cards accepted are Visa, MasterCard, American Express, and Discover Card.

Purchase Orders are subject to credit approval.
Q.
How do I request a free sample?
A.
If you would like a sample to help decide, up to $10 in samples will be sent to you at no charge. Products are random imprints and colors. Crestline reserves the right to limit or refuse to send requested samples.
Please call 866-488-4975 and a Customer Service Representative will assist you with your sample request.
Q.
Need to change or cancel your order?
A.
If you'd like to cancel or change your order, you can do so at any point in the process up to the time that it goes into production. Once an order has entered production, the order cannot be cancelled as it has been customized to your specifications. If you'd like to make a change or cancel before your order has entered production, please contact your Promotional Products Consultant.
Q.
What is the Return/Refund Policy?
A.
Returns: We promise that your custom imprinted items will be delivered as approved, free from material defect, or Crestline will issue you a refund. Because our products are customized, we cannot accept any returns, outside of material defects, on products once printed with your design. We're confident that you'll know just what your product will look like before you buy with our free virtual proof and sample program.
Disclaimer: Crestline takes great care to make certain that products advertised on our website appear as true to their actual colors as possible. Due to the wide variation in color presentation among computer monitors, however, it is impossible to ensure that all customers will receive an accurate representation. For this reason, we regret that we cannot guarantee product colors will match customer expectation. Crestline offers up to $10 in product samples (excluding apparel) free of charge as a service to our customers. If you are uncertain about a specific product or color, please request a sample.
Q.
How do you handle California Prop 65 Warnings?
A.
In select product cases CA Prop 65 requires warning labels to be applied to products or product packaging being sent to and used in that state. In such cases customers will be given notice prior to orders being dispatched for production, allowing for product substitutes if desired. If you would like more information or have any concerns, just send a note to productcompliance@crestline.com or call 866-488-4975.
Q.
How do I stop receiving catalogs?
A.
If you no longer wish to receive a catalog in the mail, give us a call at 1-866-518-7609 or email catalogdeletes@crestline.com.
Q.
What's Crestline's privacy policy?
A.
Crestline, a wholly-owned subsidiary of Geiger Bros., is the sole owner of the information collected on www.crestline.com. We collect personally identifiable information from our users at several different points on our web site. Crestline is committed to protecting the privacy of users of this web site and the information you provide.
For more information on our Privacy Policy, please visit our Privacy Policy page.