The Fanbases with the Best Tailgaters
published: August 3, 2023 | updated: August 17, 2023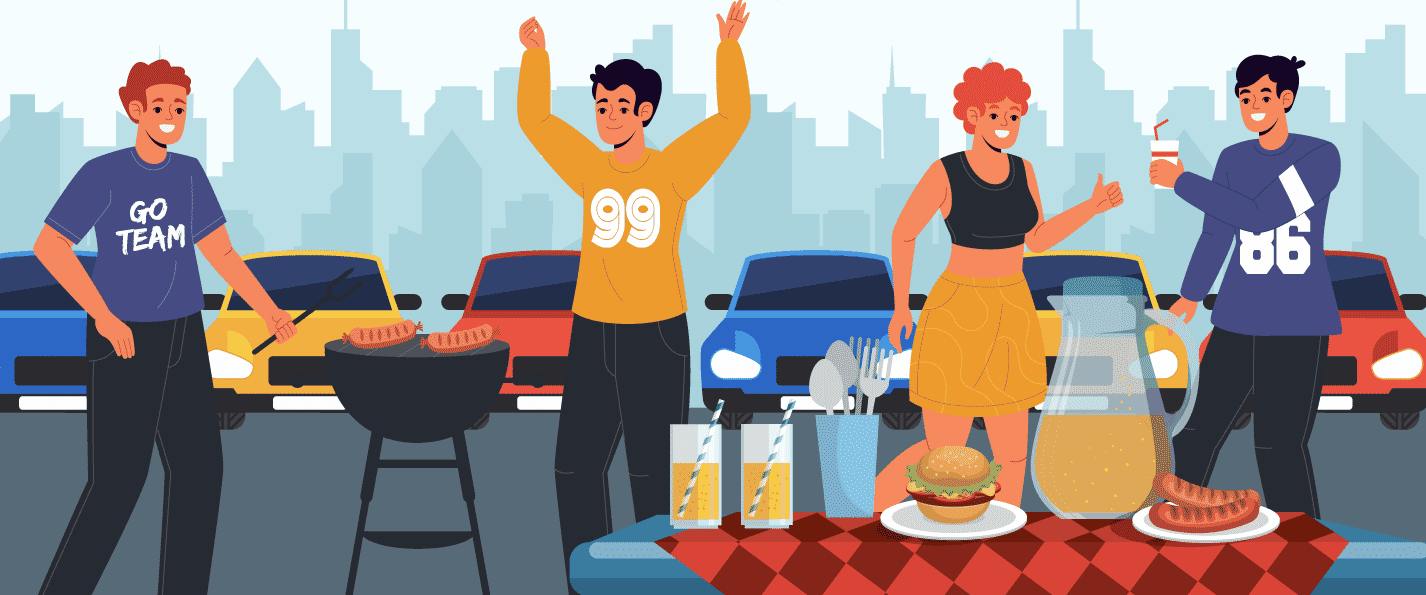 After months of waiting for its return, football season is finally back, and with it comes tailgating! As fans across the country prepare their tailgating schedule, invite friends and family, and decide which food and games to bring, we set out to find the teams with the most hardcore tailgaters.
Regardless of your team's record on the field, you can be a tailgating pro with an impressive setup, an array of food and drink options, and swag supporting your team. In this study, we asked football fans across the country what makes for their perfect tailgate and what their typical event includes. We then provided points to the answers that represented more hardcore tailgating practices and took the average score of fans to determine each team's score. Read on to see how your team ranked among the rest!
Key Takeaways
Nearly 9 in 10 football fans say they have had more fun tailgating than at the game they were tailgating for.
New Orleans Saints, Tennessee Titans, and Philadelphia Eagles fans are the most hardcore pro football tailgaters.
LSU Tigers, Tennessee Volunteers, and Texas Longhorns fans are the most hardcore college football tailgaters.
When it comes to welcoming strangers, 3 in 4 football fans say they have partied with people they didn't know while tailgating.
According to 1 in 4 football fans, a weak tailgate is worse than their team playing badly.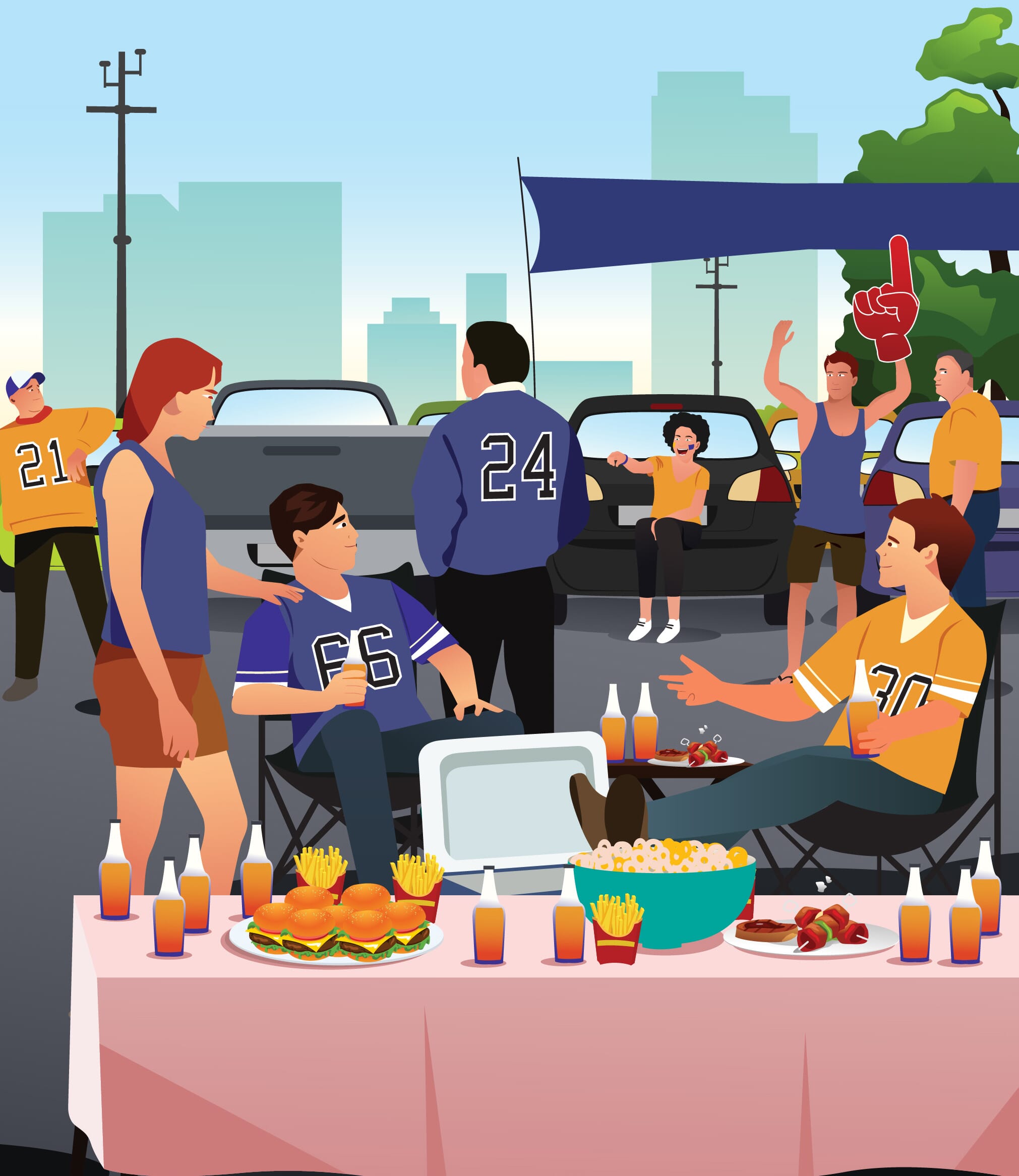 The NFL Fanbases with the Most Hardcore Tailgaters
Leading the charge for all things tailgating in the NFL is the New Orleans Saints fanbase, with a score of 93.41 out of 100. Our study found nearly 3 in 5 Saints fans say they have continued tailgating after leaving the game, which may be part of the reason for their parking lot parties ranking as the most hardcore. In general, 3 in 10 football fans say they have continued tailgating after leaving a game.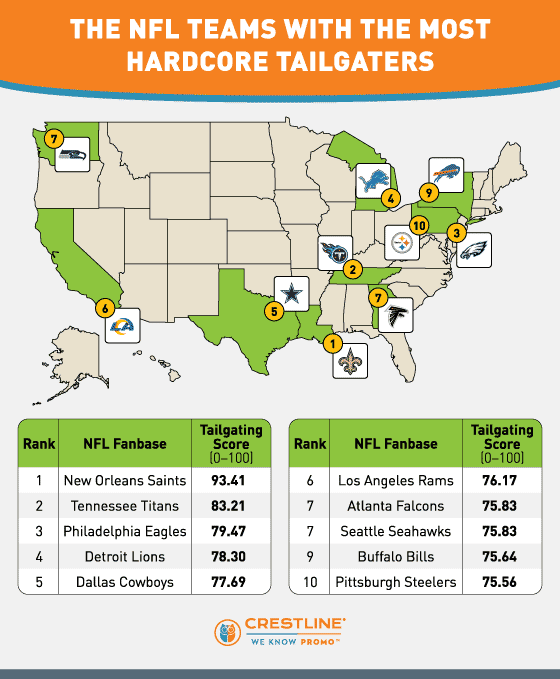 Coming in 2nd is the Tennessee Titans fanbase with a score of 83.21. A majority of Titans fans (62%) say they prefer to begin their tailgate 3 to 4 hours before the game, allowing for ample time to party with friends and family. Arriving earlier can also help to ensure you find the perfect spot to set up, which can play a large role in the success of your tailgate. According to 1 in 4 football fans, a weak tailgate is worse than their team playing badly.
Moving further North, the Philadelphia Eagles fanbase came in at 3rd with a score of 79.47 out of 100. While the game is typically the main event, our study found nearly 9 in 10 Eagles fans admit to having more fun tailgating than being at the game they tailgated for.
In 11th place is the Baltimore Ravens fanbase. While they didn't crack the top 10, Ravens fans (29%) are more likely than any other fans to tailgate regardless of the weather. On the other hand, Houston Texans fans (69%) are the most likely to cancel their tailgate for rain, and Cleveland Browns fans (30%) are most likely to cancel their tailgate if it's too cold outside.
At times the cost of tickets can keep some fans from watching the game in person, but that won't keep them all away from the tailgate! Nearly 2 in 5 football fans say they have tailgated a game they did not plan to attend. And just because you have tickets, doesn't mean you will always make it to the game, as 1 in 6 football fans have admitted to missing a game they tailgated for because they were too intoxicated or preferred to keep tailgating.
The Best Tailgaters in College Football
Tailgating is not reserved for the NFL. In fact, some fans (51%) would argue tailgating is more fun at college football games. Our study found southern teams lead the way for college tailgates as LSU (87.91), University of Tennessee (82.60), University of Texas (80.12), Texas A&M (80.12), and University of Alabama (79.69) claimed the top 5 spots.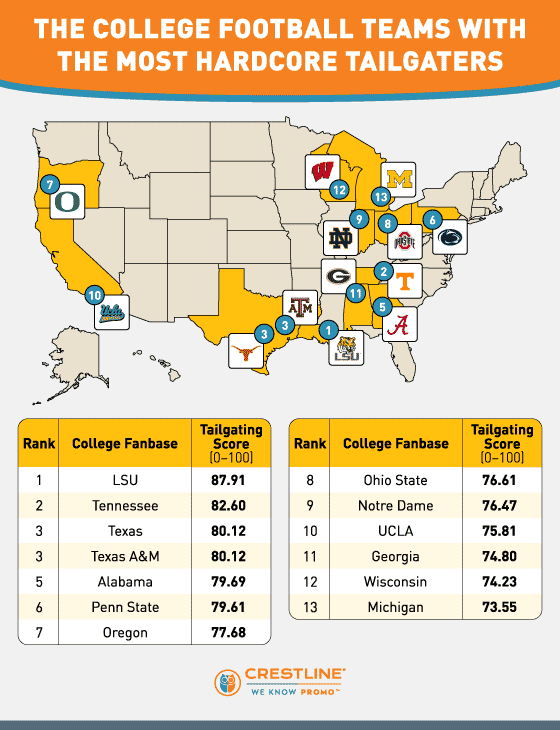 While the University of Texas versus Texas A&M is a rivalry that has gone on for many years, our study found the two teams are equally hardcore tailgaters as their fanbases tied for third. Moving on to other popular rivalries, University of Michigan leads the all-time series over Ohio State, but it's the Buckeyes who lead the way in tailgating. And down south, the University of Alabama has continued to reign supreme over LSU in football over the years, but our study found LSU wins tailgating in the South.
It's only fitting that the reigning national champions made the list as well. The University of Georgia, the back-to-back champions, ranks 11th for tailgating with a score of 74.80 out of 100.
The University of Oregon ranks 7th (77.68) for tailgating, but their fans are the most likely to tailgate regardless of the weather than any other college team's fans. Conversely, UCLA football fans (63%) are most likely to cancel their tailgate if it's raining, Penn State fans (25%) are most likely to cancel if it's too cold outside, and the University of Texas fans (30%) are most likely to cancel if it's too hot outside. For those fans braving the heat, be sure to bring a few koozies to help keep your drinks cold!
With more than 100 Division I football teams in the U.S., we decided to rank top conferences for their tailgating skills as well. Coming out on top is the SEC with a score of 82.24 out of 100. SEC teams have claimed the national championship title for the past four years, so it is no surprise their fans are the most hardcore tailgaters. Rounding out the list is the Big 12 (78.09), Big Ten (76.20), ACC (75.54), and PAC-12 (74.70), respectively.
Building the Perfect Tailgate
New to the tailgating game or just looking for ways to become more hardcore? We asked football fans what their ideal tailgate looks like to help give others ideas for how to boost theirs. A majority of fans (50%) say tailgates should last about an hour and a half and should have about 10 people in attendance.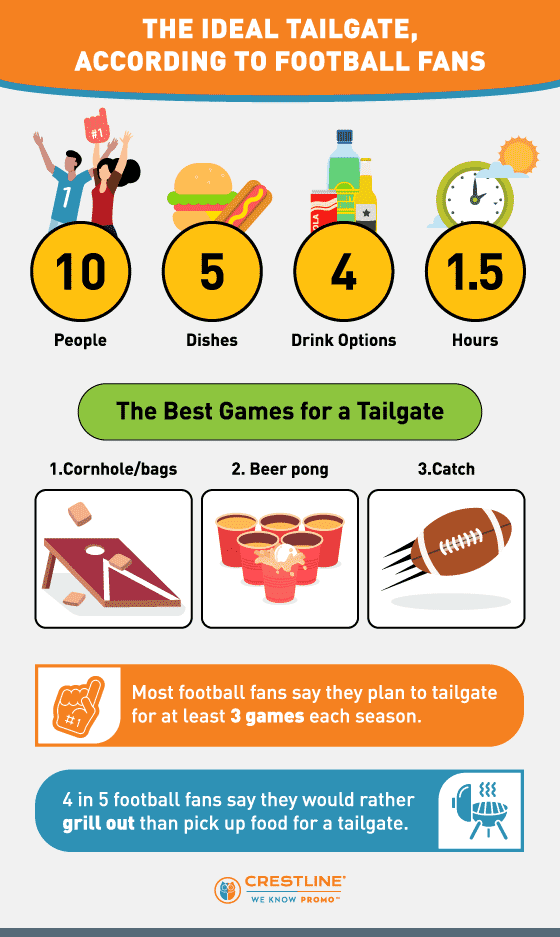 While the types of food fans prefer vary from tailgate to tailgate, fans are in agreement that at least 5 food dishes and 4 drink options are the way to properly party before the game. And takeout can be a quick option for gameday, but 4 in 5 fans say they would rather grill out. If you're looking for a quick clean-up after your tailgate, consider picking up a few table covers to protect your tables from spills.
Depending on the time you start your tailgate, food and drinks may not be enough to entertain a large crowd, so be sure to pack some popular games! Our study found cornhole/bags (67%), beer pong (48%), and catch (36%) are football fans' favorites and are sure to be a crowd pleaser.
Conclusion
On average, most football fans say they typically tailgate for at least 3 games each season. So whether that involves a big setup with a grill and games or a more simple layout with a couple of chairs and beer, just be sure to enjoy yourself!
As you begin to plan your tailgates for this football season, be sure to stock up on all the necessary equipment. At Crestline, we have a variety of items that are sure to keep you from fumbling this season. Be sure to check out our school spirit items and college spirit wear for tailgating gear to match your favorite team's colors.
Methodology
In this study, we surveyed 1,000-plus football fans about how they tailgate. We asked everything from how many people, dishes, and drink options they have at their typical tailgate to the games they play and the attire they wear.
We assigned a score to answers that represent more hardcore tailgating and averaged fans' scores to determine the score for each team and conference. Scores were then adjusted on a scale of 0–100, with 100 being the most hardcore tailgaters.
This study only included teams in which we received enough responses from fans. NFL teams excluded due to a lack of respondents include: Arizona Cardinals, Indianapolis Colts, Jacksonville Jaguars, Las Vegas Raiders, Miami Dolphins, New York Jets, Tampa Bay Buccaneers, and Washington Commanders.