11 Fun Retirement Party Ideas for Work:
Gifts, Décor, Music & More
published: March 1, 2023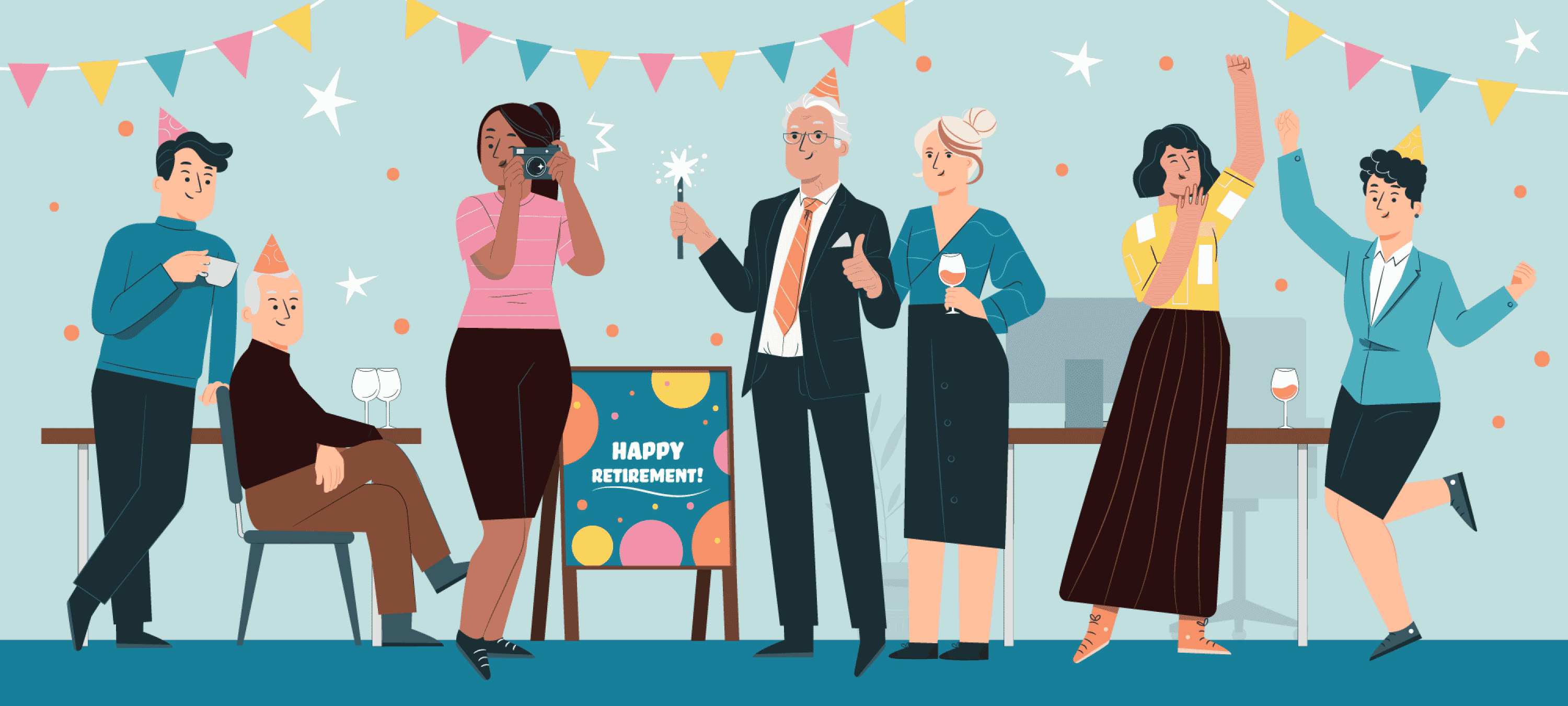 Retirement is a huge milestone in anyone's life. If you have employees planning on retiring this year, be sure you honor your fellow staff members with an office celebration to thank them for their years of service, provide a venue for your entire team to connect one last time, and to wish them well. Many fun retirement party ideas are available to help you make this event an extra special one.
Not only will a retirement party express heartfelt gratitude and be appreciated by your retirees, but it will also illustrate how much your company cares about its employees to the next generation of workers. Currently when labor shortages are the norm for so many industries, fostering a positive company culture can be a wise investment in an organization's future.
Crestline offers the following 11 office retirement party ideas for inspiration:
Pick a Retirement Party Theme
Begin by selecting a theme for the retirement party that's personal. Does the retiree love to watch or play particular sports? Plan to travel the world? Spend free time on the beach or at the casino? Talk with the individual's team and supervisor or even reach out to family and friends, if possible, to find out what would be the perfect theme for a special retirement celebration.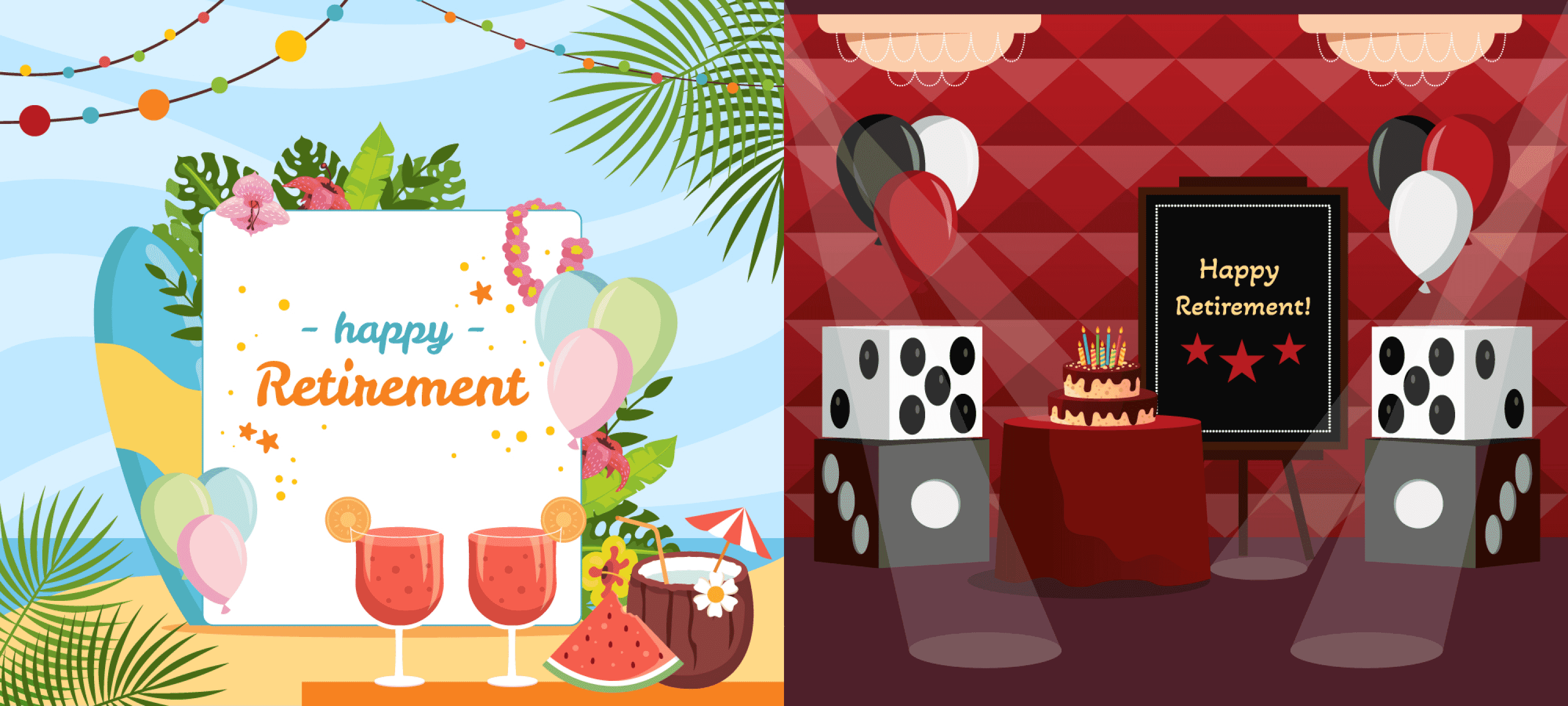 Decorate Your Venue
If you're looking for retirement party at work ideas, start with decoration planning. Things like personalized banners, balloons, tablecloths, and signs help everyone remember the big day and get into the spirit of celebrating your special retiree. Our 6 Foot Standard Table Throw - Full Color Front Panel is made from durable 100 percent polyester material that is flame retardant and wrinkle resistant. This custom printed 6-foot table throw will spruce up the celebration and can be machine washed to use at future events.
Other popular decoration items include →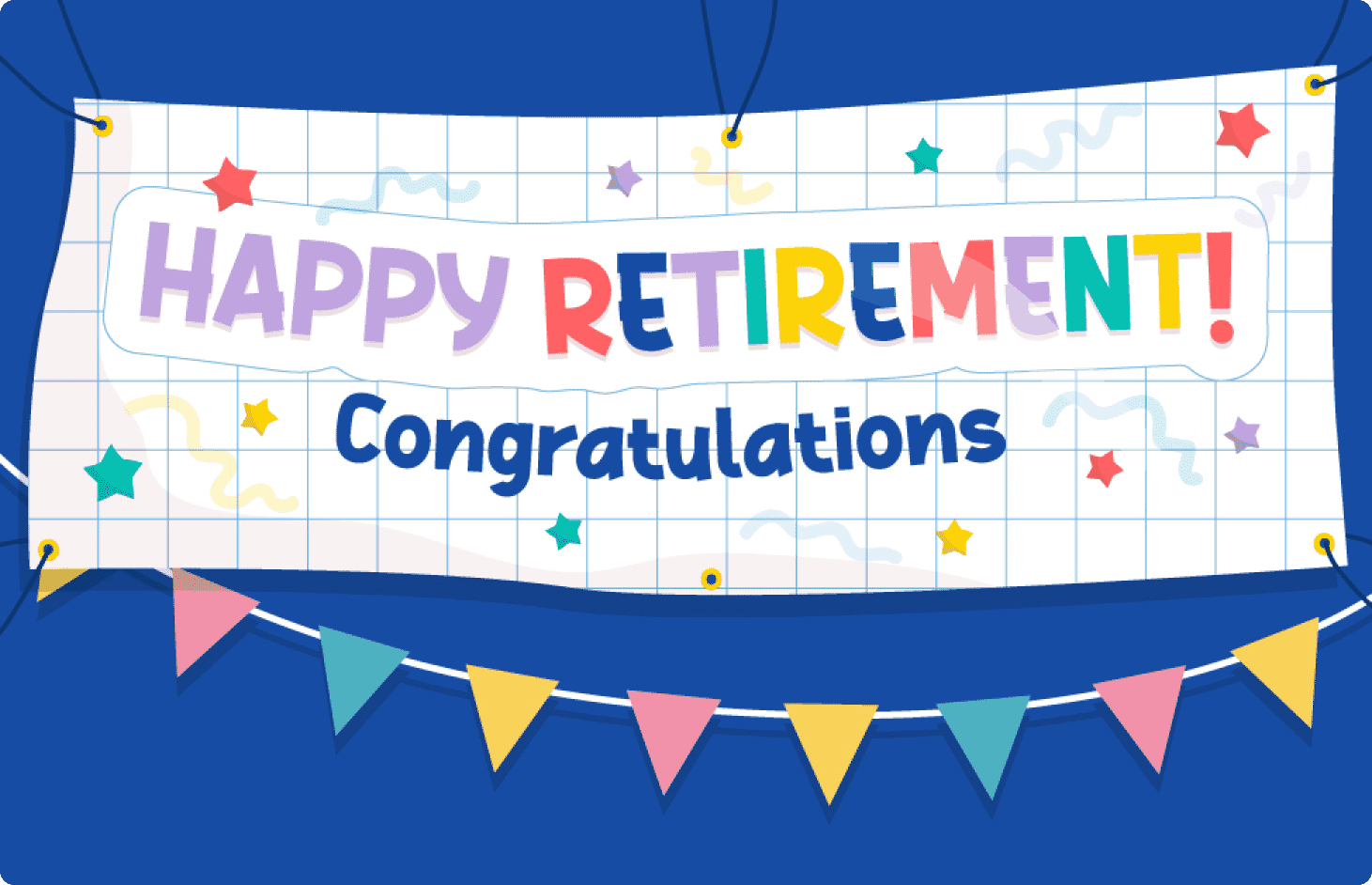 Invite the Family
Whether you plan to host the retirement party at the office or in another venue, be sure to invite the retirees' spouse, children, family, or special friends to participate. Retirement is a big event for all those who love the retiree as well as for the individual. Family and friends can not only share in the celebration but also help you find special ways to honor the guest of honor during the retirement party.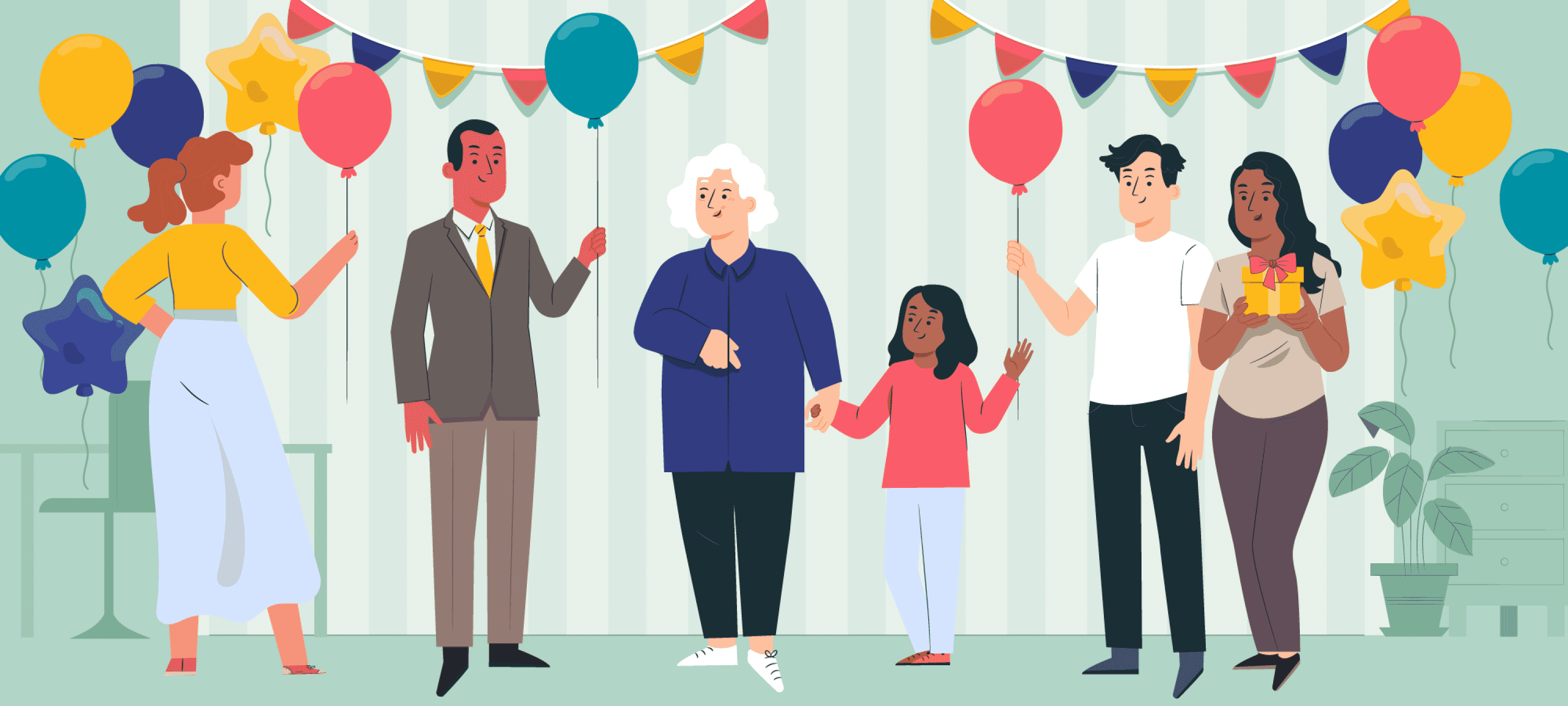 Create a Playlist
One of the best retirement party ideas for work is to create a playlist. There's no better way to keep a retirement party fun and upbeat than with music. Crestline offers our Environ Wireless Speaker that packs a punch with powerful bass, loud sound and clear audio. Play tunes off a single charge for the entire party–up to 8 hours–with a convenient wireless design.
Music is also the perfect accompaniment to a photo slideshow that reminds everyone of the past years. The best playlist will include a mix of funny songs that will get everyone smiling, nostalgic tunes reminding the retirees how much they will be missed, and heartfelt songs that wish them well.
Here are 10 of our favorites to get you started:
"Hello, Goodbye" by The Beatles
"Good Riddance (Time of Your Life)" by Green Day
"Margaritaville" by Jimmy Buffet
"The Best is Yet to Come" by Frank Sinatra
"Hit the Road Jack" by Ray Charles
"Celebration" by Kool & the Gang
"Cups" by Anna Kendrick
"We've Only Just Begun" by The Carpenters
"When I'm 64" by The Beatles
"Never Gonna Give You Up" by Rick Astley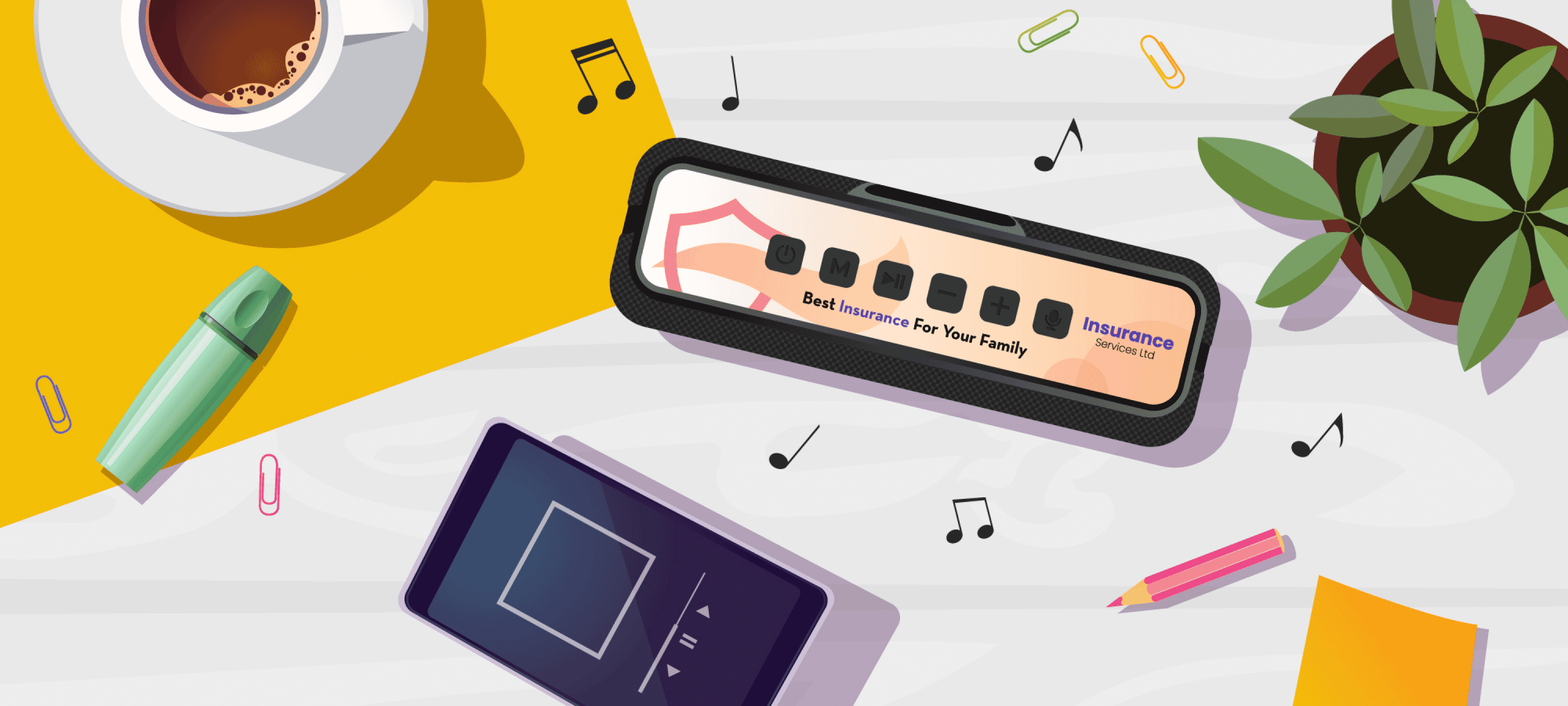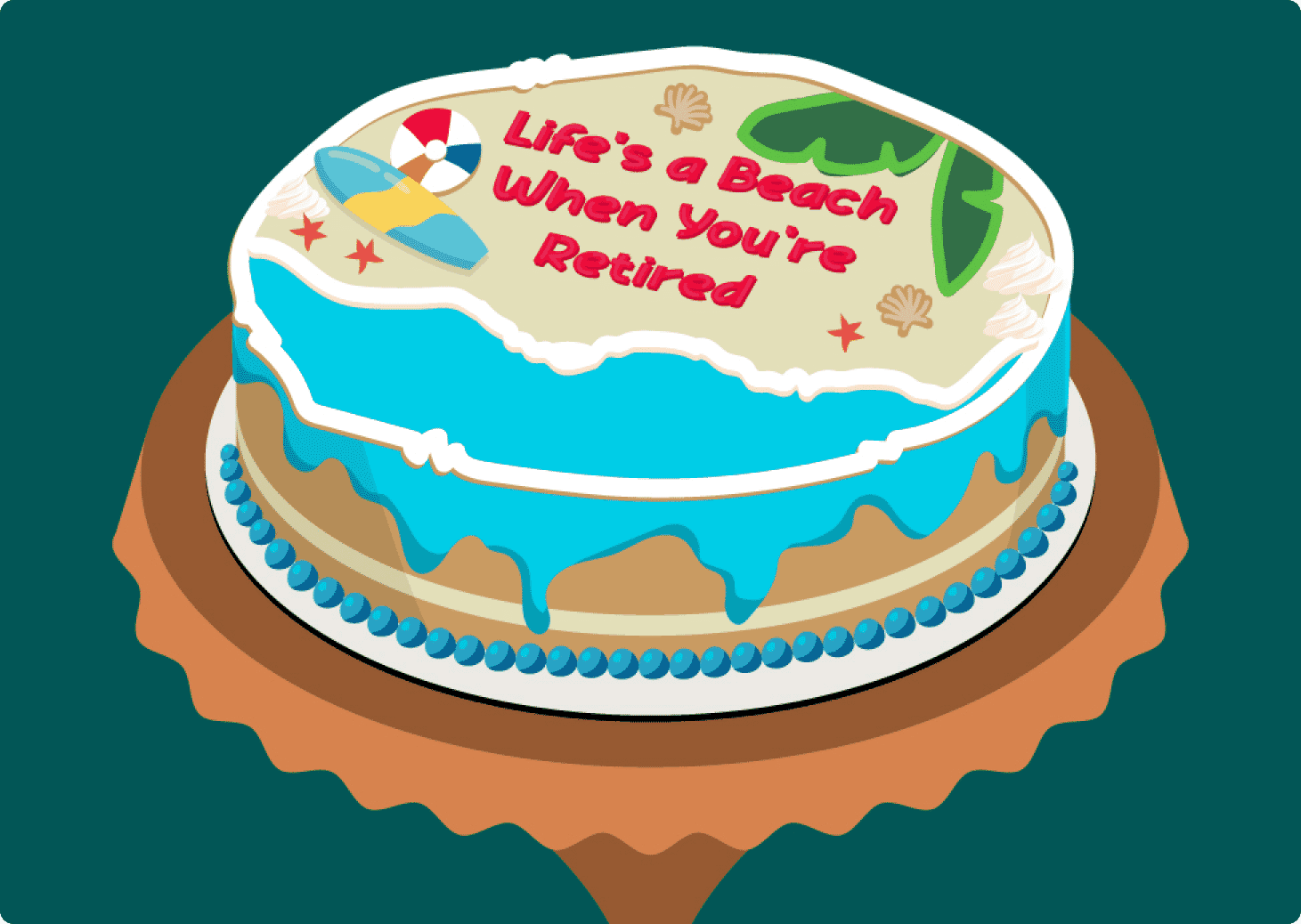 Retirement Party Food & Drinks
When you're looking for ideas for an office retirement party, don't forget the food. Be sure to pick one of your retirees' favorites like pizza, barbecue, taco bar, or ice cream. Or, for a high-class affair, you could hold the celebration at a local restaurant after a short day in the office.
Every retirement party needs a cake. Today it's easier than ever to personalize the sweet treat. Most bakeries can imprint a photo on the cake, or order one that matches the theme of the party. At the very least, add a fun saying such as:
You Worked Your Whole Life for This Cake
Retirement is the Icing on the Cake
Life's a Beach When You're Retired
Goodbye Tension, Hello Pension
Party supplies that match the party theme add to the festivities such as colorful plates and napkins. Here are some of Crestline's party supply offerings:
Retirement Party Games for Work
Favorite work retirement party ideas include games that keep guests engaged and interacting with one another. Here are some creative ideas to get your juices flowing:
Trivia: For a close-knit company where most guests know something about the retiree, a trivia contest can be a lot of fun. Ask easy-to-answer questions like what department the retiree worked in, to more difficult challenges about past projects or personal hobbies. Award small prizes for those who know the retiree best.
Bingo: Cards can be created that revolve around the retiree specifically or more generally about retirement as a whole. The beauty of the latter game is that it can be used for future retirement parties as well. Don't forget prizes for the winners.
Scavenger Hunt: Another game that can be played specifically or more generally, a scavenger hunt can be created around retirement items or around a favorite hobby or pastime of the guest of honor.
Karaoke: Renting a karaoke machine is one of the best corporate retirement parties ideas. Songs can honor the retiree, and singing is a fun way to bring people together.
Lawn Games: If your retirement party will be held outdoors, be sure to feature some fun lawn games like a classic tournament with corn hole or a Giant Tumble Tower Game handy.
Guessing Games: A variety of guessing games are always fun at retirement parties such as "would the retiree rather" or "two truths and a lie". Although these take a little pre-planning, they can be particularly personal.
Well Wishes Jar: Before your guests depart for the day, ask everyone to jot a note, wish, or piece of advice on a slip of paper and drop in a well-wishes jar that the retiree can take home. Messages can help the retiree remember the special day and those caring coworkers in upcoming months and years.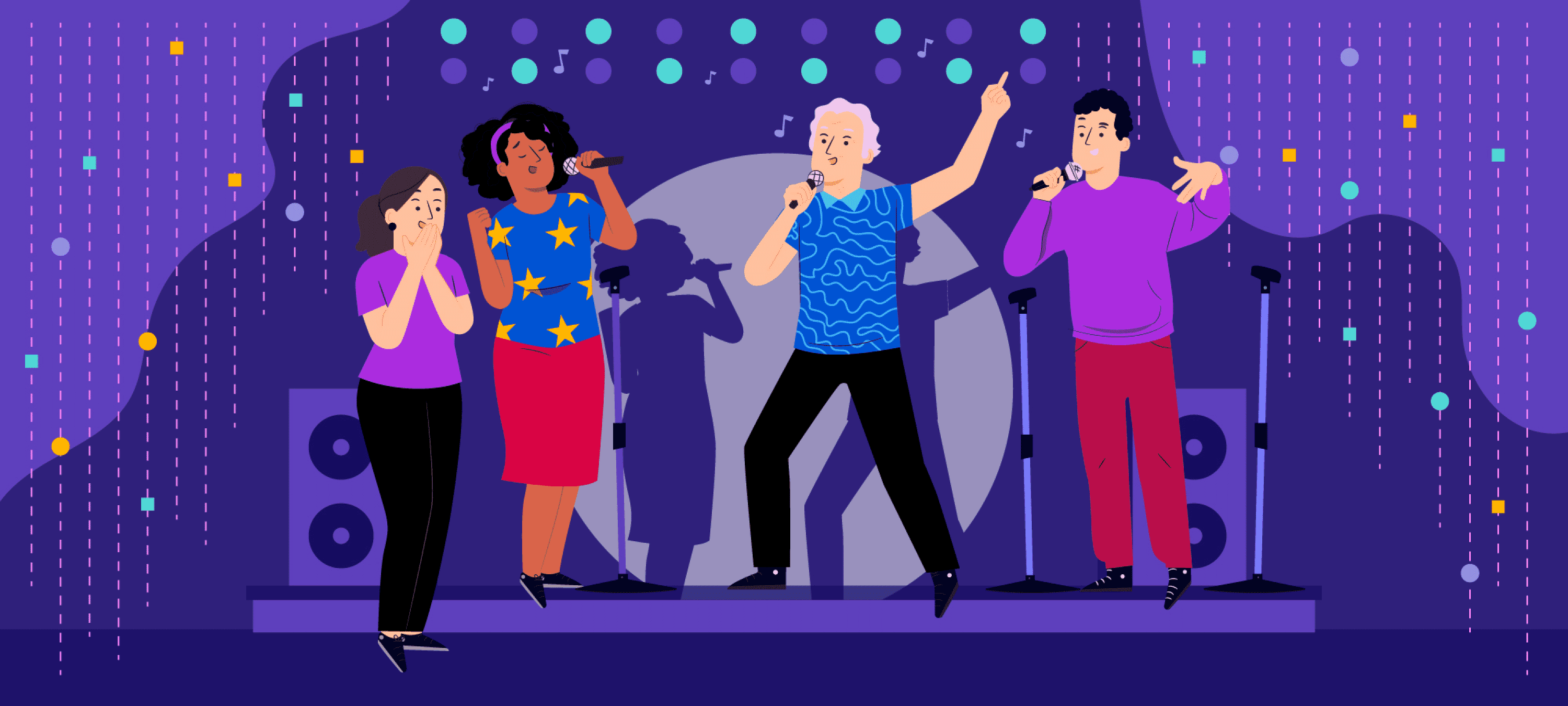 Slideshow of Memories
Slideshows are a great way to bring together the retiree's career highlights over the years. Combine any photos your company may have from projects or past events with any personal contributions from coworkers, friends, and family to create a memorable, interesting slideshow to play on a continuous loop during the party.
If you have a remote company and your employees are spread throughout the world, a slideshow can be a great way to bring everyone together. It's one of the easiest virtual retirement party ideas to implement.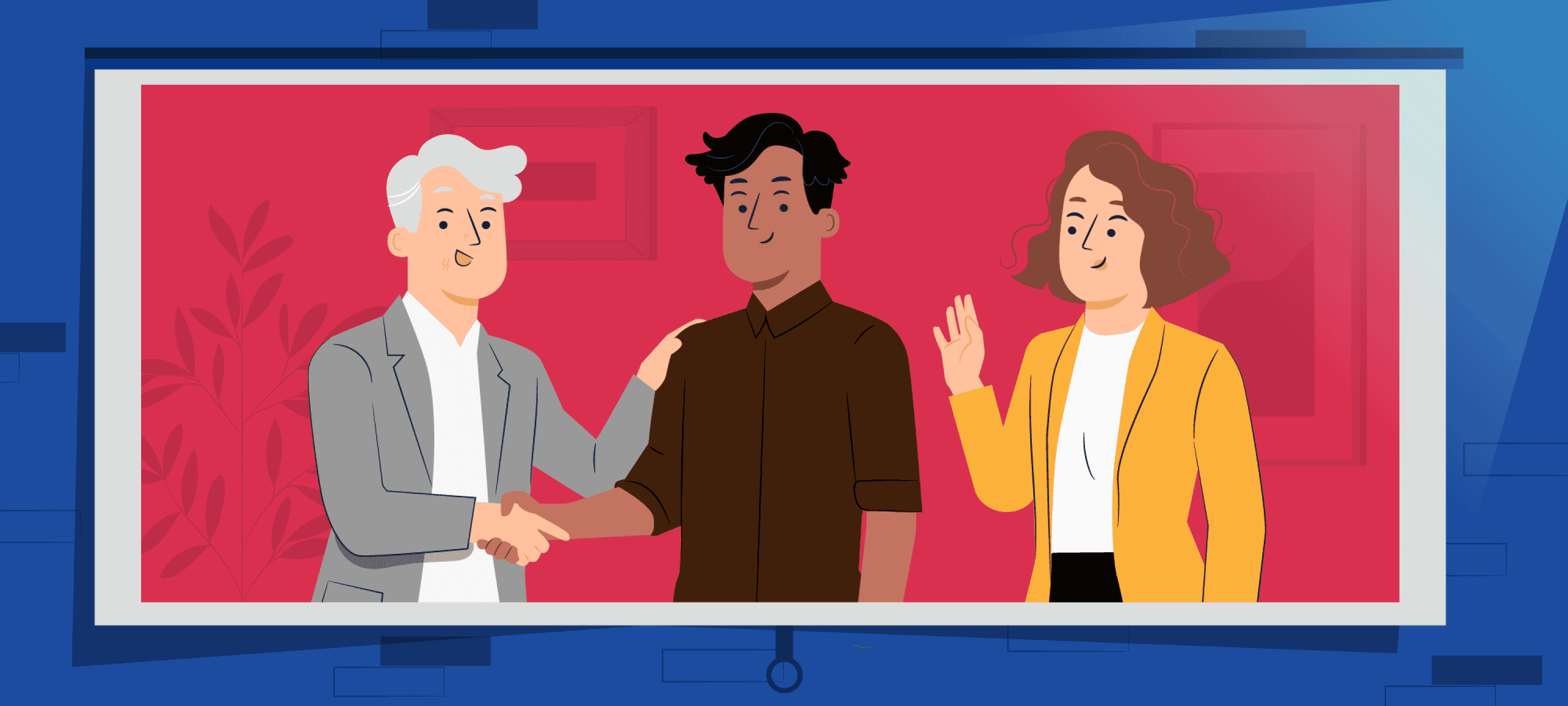 Retirement Gifts
It's always nice to present the retiree with a quality executive gift during celebration to recognize and appreciate all the contributions the individual has made over the years. It can also serve as a reminder of the special day and be a useful item during retirement years. The Executive Wine Collectors Set is a nine-piece wine set featuring a cherry polished wooden case for compact storage. It comes with an ergonomic bottle opener, foil seal cutter, drip ring, thermometer, pourer, two wine stoppers, and two replacement corkscrew bits.
Gifts are one of the best employee retirement party ideas. Here are other favorites →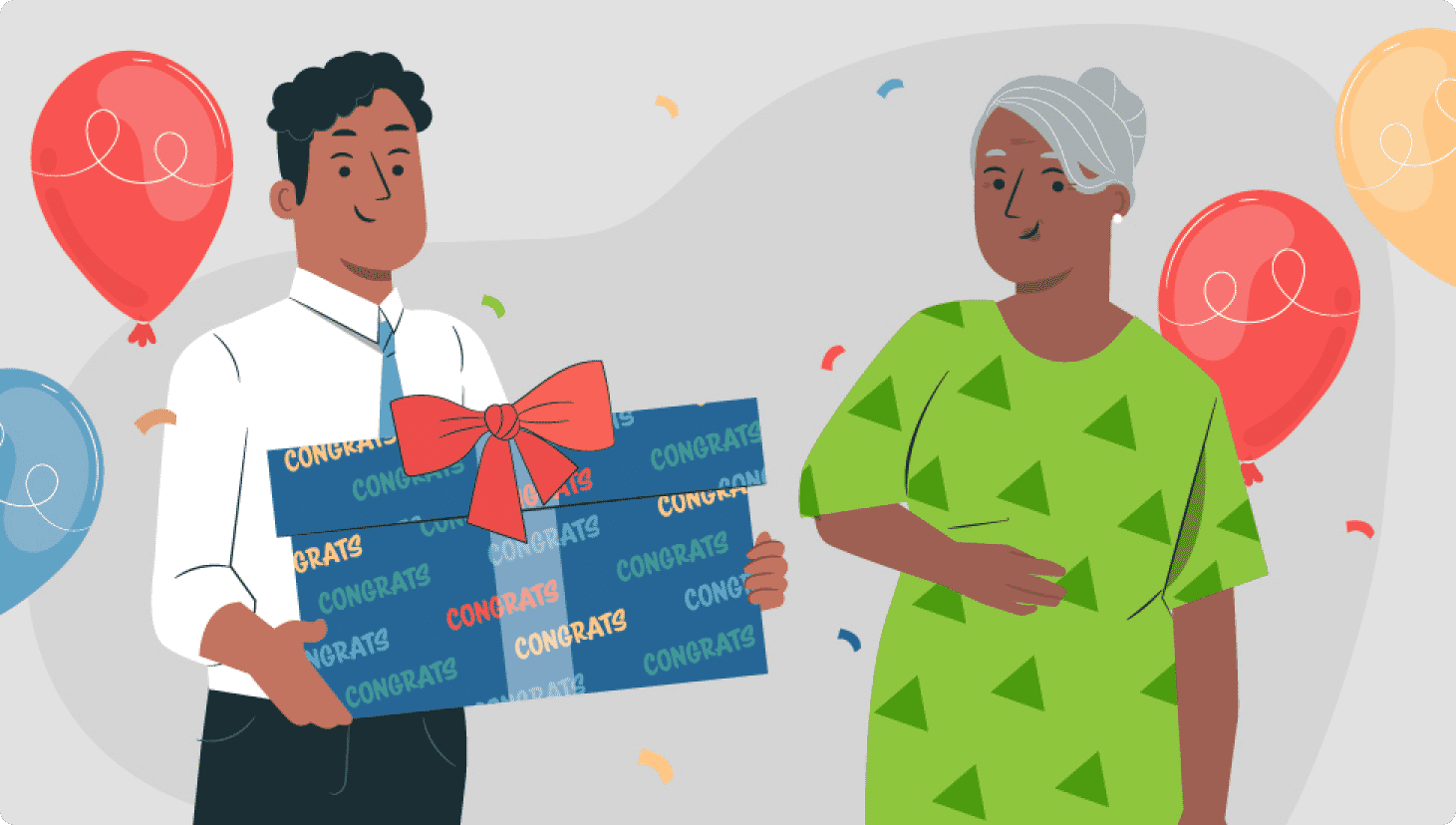 Speeches
Before the big celebration, ask a few colleagues, a mentor, or one of your executives to give a speech honoring the retiree and accomplishments over the years. Encouraging colleagues to raise a glass to make either an amusing or heartfelt toast is always a nice touch.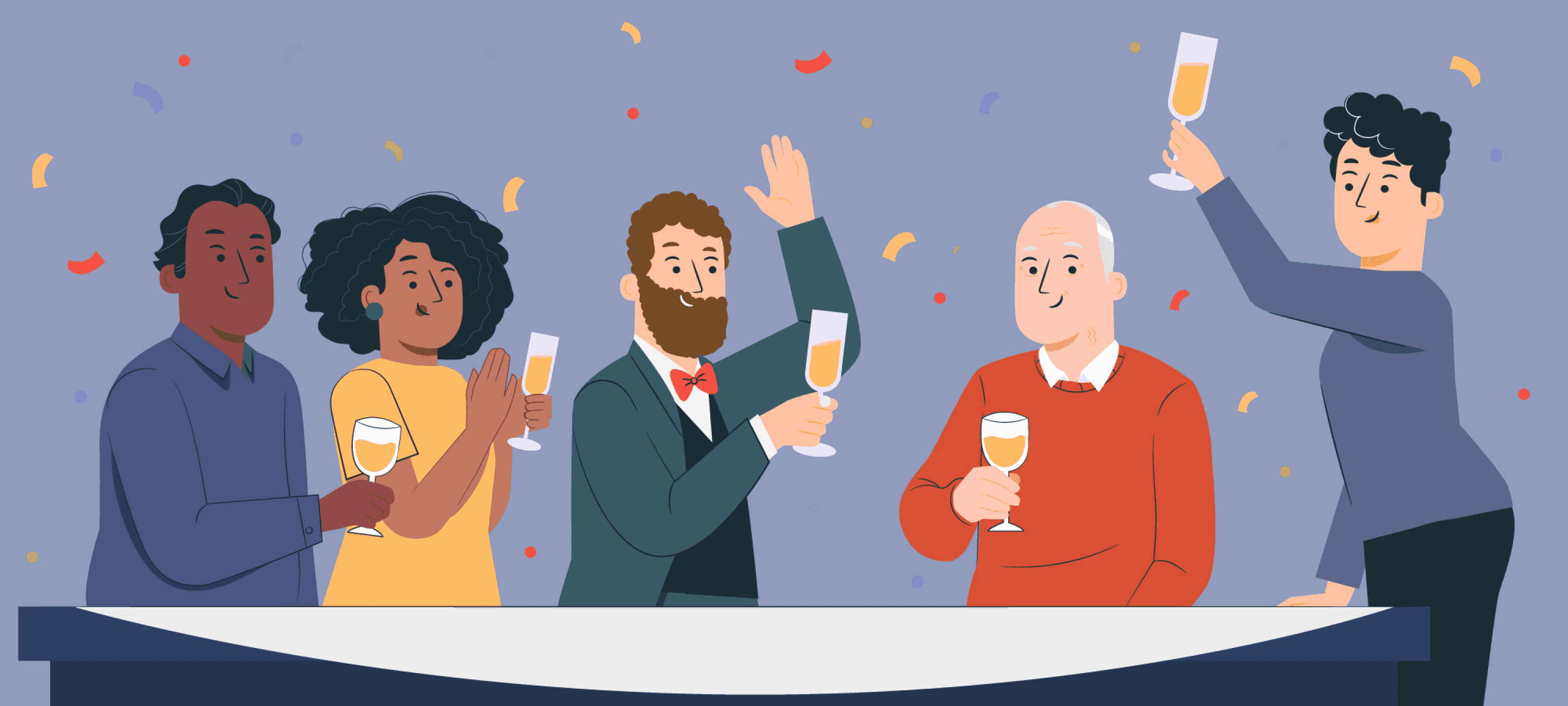 Get ready to celebrate all your retirees this upcoming year with these and other fun retirement party ideas. It's a great way to show all your long-standing employees how much you appreciate their years of service, bring together your entire team, and wish your departing team members the best as they enter their golden years.