5 ft 3-in-1 Rainbow Braided Charging Cable
Item # 124152 3 Stars (1 Review)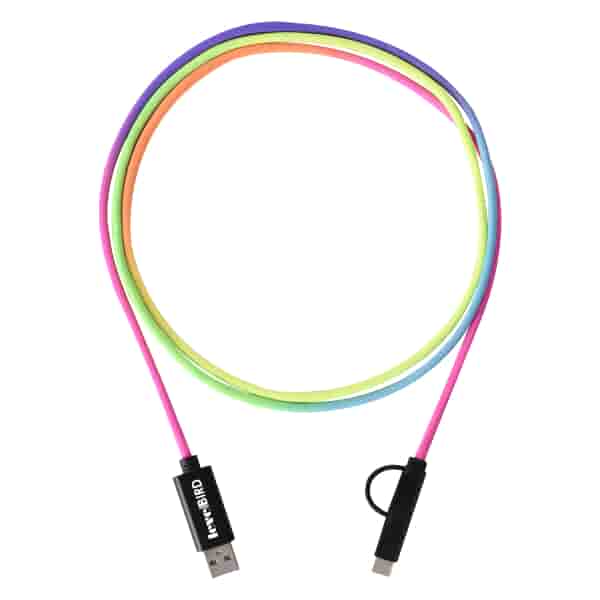 Product Details
• Compatible with Apple® 8-Pin, Micro USB, and Type-C devices
• Simply plug the cable into a powered USB port and then into your device or smartphone
• Also available in 3 ft (124154) and 10 ft (124153) cables
Size:
5'
Imprint Area:
7/8"W x 1/4"H
Setup Charge: $46
Production Time: 12 working days (does not include payment, art prep, or shipping time)
FOB: FL
Standard Production Schedule
Processing: 11/28 – 11/29
Production: 11/30 – 12/15
Estimated Ship Date: 12/16
Product Reviews 1
3 Stars
The crease in the pant leg is not consistent. One leg's crease in in the middle the other is on the legs side. The crease that is there does not wash out and returns after every wash. Also, the back pockets could be a little wider. What is great is the two inch expandability in the waist. This gives the ability to have a better fit, to bend over and not feel a pull and to have a bigger lunch.
Product Details
• Compatible with Apple® 8-Pin, Micro USB, and Type-C devices
• Simply plug the cable into a powered USB port and then into your device or smartphone
• Also available in 3 ft (124154) and 10 ft (124153) cables
Size:
5'
Imprint Area:
7/8"W x 1/4"H
Setup Charge: $46
Production Time: 12 working days (does not include payment, art prep, or shipping time)
FOB: FL
Standard Production Schedule
Processing: 11/28 – 11/29
Production: 11/30 – 12/15
Estimated Ship Date: 12/16
Item # {{ scope.currentItemNo }}
Product Reviews 1

3 Stars

The crease in the pant leg is not consistent. One leg's crease in in the middle the other is on the legs side. The crease that is there does not wash out and returns after every wash. Also, the back pockets could be a little wider. What is great is the two inch expandability in the waist. This gives the ability to have a better fit, to bend over and not feel a pull and to have a bigger lunch.

Product Options
Write A Review