Digital Desktop Display and Speaker
Item # 120703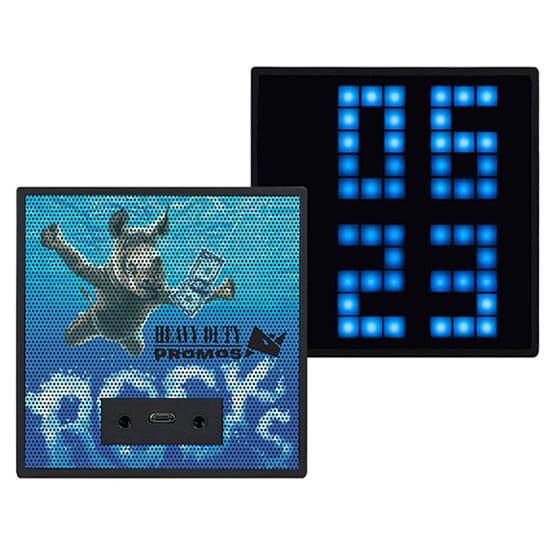 Product Details
This pint sized tech device syncs with your phone and is packed with useful features.
• A plastic Bluetooth® speaker allows you to enjoy high quality sounds anywhere.
• Wireless range of 33 feet and 6+ hours of playback time.
• Also includes a built in microphone, thermometer, alarm clock, game, chat function and more.
• Download the required app on your smartphone to take advantage of all that this device has to offer.
• Powered by a lithium ion battery, charging cable and auxiliary cord included.
• This item contains Lithium Ion Batteries. Certain freight methods may not be available, longer shipping times may apply.
Size:
3 3/5"W x 3 3/5"H x 1 1/2"D
Imprint:
Full color
Imprint Area:
3 1/3"W x 3 1/3"H
Product Details
This pint sized tech device syncs with your phone and is packed with useful features.

• A plastic Bluetooth® speaker allows you to enjoy high quality sounds anywhere.

• Wireless range of 33 feet and 6+ hours of playback time.

• Also includes a built in microphone, thermometer, alarm clock, game, chat function and more.

• Download the required app on your smartphone to take advantage of all that this device has to offer.

• Powered by a lithium ion battery, charging cable and auxiliary cord included.

• This item contains Lithium Ion Batteries. Certain freight methods may not be available, longer shipping times may apply.

Size:

3 3/5"W x 3 3/5"H x 1 1/2"D

Imprint:

Full color

Imprint Area:

3 1/3"W x 3 1/3"H

Item # {{ scope.currentItemNo }}

Product Options