Evrybox 4400 mAh Powerbank And Bluetooth

®

Speaker
Item # 120746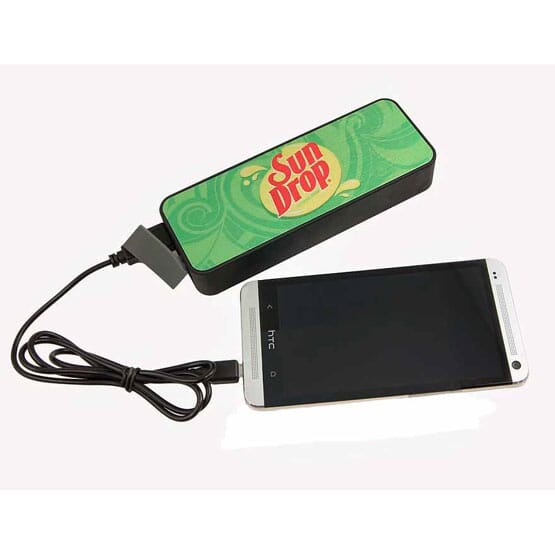 Product Details
The only accessory you'll ever need for your mobile device!
• A plastic Bluetooth® speaker and 4400 mAh powerbank in one.
• Delivers amazing sound quality for up to 40 hours of playback time.
• Powerbank capacity will charge most phones up to a full charge.
• Go hands-free during calls with the built-in microphone.
• Bluetooth® connectivity up to 33 ft away from your device.
• Unique retail-inspired packaging is standard.
• Audio auxiliary cord, charging cable, and instructions included.
• This item contains Lithium Ion Batteries. Certain freight methods may not be available, longer shipping times may apply.
Size:
5 4/5"W x 2 1/9"H x 1"D
Imprint:
Full color
Imprint Area:
5 5/9"W x 1 8/9"H
Product Details
The only accessory you'll ever need for your mobile device!

• A plastic Bluetooth® speaker and 4400 mAh powerbank in one.

• Delivers amazing sound quality for up to 40 hours of playback time.

• Powerbank capacity will charge most phones up to a full charge.

• Go hands-free during calls with the built-in microphone.

• Bluetooth® connectivity up to 33 ft away from your device.

• Unique retail-inspired packaging is standard.

• Audio auxiliary cord, charging cable, and instructions included.

• This item contains Lithium Ion Batteries. Certain freight methods may not be available, longer shipping times may apply.

Size:

5 4/5"W x 2 1/9"H x 1"D

Imprint:

Full color

Imprint Area:

5 5/9"W x 1 8/9"H

Item # {{ scope.currentItemNo }}

Product Options