Smart Touch Gloves- Regular Size
Item # 111470 5 Stars (1 Review)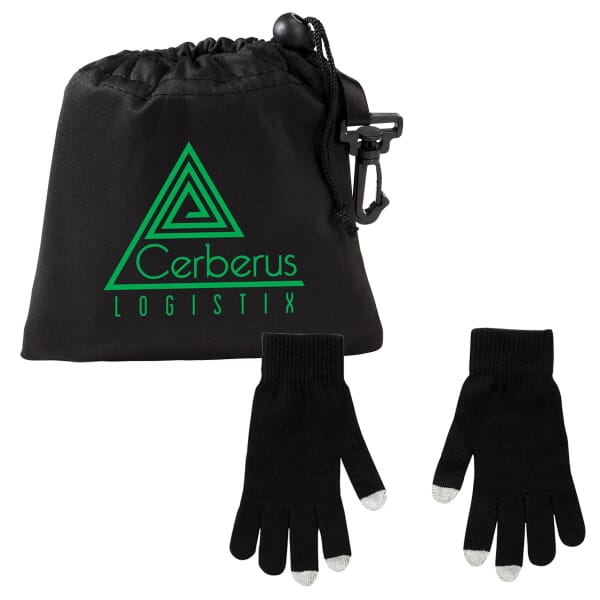 Product Details
Be ready for cooler weather with this imprinted touchscreen compatible glove set!

• Soft, acrylic knit gloves feature capacitive tips on the thumb, middle, and index fingers.
• Imprinted, black microfiber pouch with clip doubles as a screen cleaner.
• Using your media device in colder weather has never been easier!
• Gloves are shipped not inserted in imprinted pouch!

Size: 5 1/2"W x 5 1/2"H (Pouch); 8"L x 5"W (Gloves)
Imprint Area: 3"W x 3"H (Pouch)

Closeout Pricing While Supplies Last!
Setup Charge: $63
Production Time: 5 working days (does not include payment, art prep, or shipping time)
FOB: FL
Standard Production Schedule
Processing: 10/24 – 10/26
Production: 10/27 – 11/2
Estimated Ship Date: 11/3
Product Reviews 1
5 Stars
Product Details
Be ready for cooler weather with this imprinted touchscreen compatible glove set!

• Soft, acrylic knit gloves feature capacitive tips on the thumb, middle, and index fingers.
• Imprinted, black microfiber pouch with clip doubles as a screen cleaner.
• Using your media device in colder weather has never been easier!
• Gloves are shipped not inserted in imprinted pouch!

Size: 5 1/2"W x 5 1/2"H (Pouch); 8"L x 5"W (Gloves)
Imprint Area: 3"W x 3"H (Pouch)

Closeout Pricing While Supplies Last!
Setup Charge: $63
Production Time: 5 working days (does not include payment, art prep, or shipping time)
FOB: FL
Standard Production Schedule
Processing: 10/24 – 10/26
Production: 10/27 – 11/2
Estimated Ship Date: 11/3
Item # {{ scope.currentItemNo }}
Product Reviews 1

5 Stars

Product Options