10 Awesome Ways to Use Post-it® Extreme Sticky Notes
published: January 27, 2020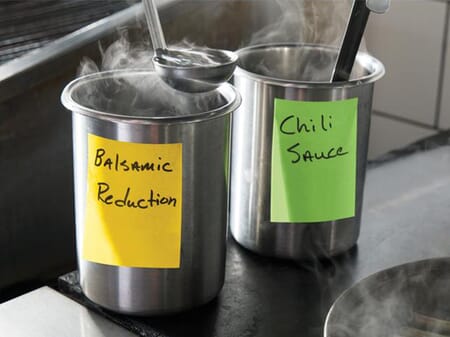 Most of us can agree that standard sticky notes are nearly universally useful. All kinds of people — from parents to students to restaurant owners — can use them to set reminders, write down lists or send quick messages. In the workplace, they can even be used to boost morale.
In 2018, 3M took things to the next level with the release of Post-it Extreme Sticky Notes. Originally designed to withstand the tough conditions of industrial construction sites, Post-it Extreme Sticky Notes quickly became popular for a wide range of applications.
Waterproof, heavy duty and durable, these sticky notes are engineered to be tough in both outdoor and indoor environments. They can even survive any temperature from zero to 100 degrees.
Best of all, you can even custom-print Post-it Extreme Sticky Notes with your brand name, logo or slogan, so you can create a uniform and official look wherever they're used with no extra effort required.
But what exactly can you use Post-it Extreme Sticky Notes for? We've rounded up 10 awesome uses for Post-it Extreme Sticky Notes so you can find out what these all-weather sticky notes can do for you.
1. Label Materials and Tools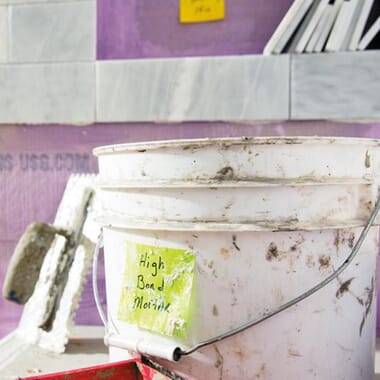 Image source: promote.3m.com
Since Post-it Extreme Sticky Notes can stick to all types of surfaces, they can be used to label or attach notes to workplace materials and tools like metal handles, buckets, boxes and more.
Want to remind your team how to properly use a new tool, or accurately label a stack of raw materials? These sticky notes can help.
2. Affix Coupons or Notes for Customers
Post-it Extreme Sticky Notes aren't just weatherproof. They're also temperature-resistant, meaning you can use them to affix notes to all types of surfaces in all kinds of conditions.
Whether you want to securely attach coupons to steaming hot pizza boxes or include weatherproof thank-you notes with outgoing packages, your customers won't miss your message.
One Minnesota craft brewery even uses Post-it Extreme Sticky Notes to label beer flights so customers can easily see what they're drinking, 3M reports.
3. Keep Track of Trade Show Supplies
If your company is one of the many that participates in industry trade shows, you already know how essential (and difficult) it is to organize all your supplies and materials.
With Post-it Extreme Sticky Notes, you can reliably label and keep track of your trade show supplies whether they're in transit, on the show floor or being handled by dozens of people. No matter what your next trade show throws at them, these notes will stay put.
Plus, if your Post-it Extreme Sticky Notes are customized with your brand name or logo, there's no chance that your supplies will get mixed up with another company's.
4. Create Travel-Proof Reminders
Post-it Extreme Sticky Notes make it easy for people who frequently travel to create notes and reminders that won't budge on the go.
For instance, a real estate agent could use Post-it Extreme Sticky Notes to securely label their documents while traveling to and from properties on a rainy day.
5. Keep the Company Kitchen Organized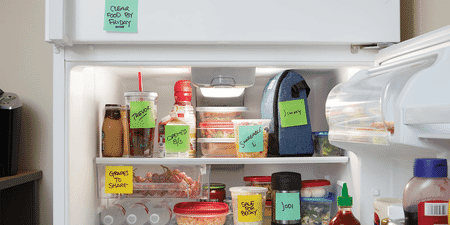 Image source: Twitter.com/Postit
With their impressive resistance to moisture, heat and cold, Post-it Extreme Sticky Notes will have no problem withstanding the conditions of a company kitchen.
Use these notes the next time you want to send the message that the microwave is out of order, or that the yogurt in the fridge is definitely yours.
6. Make Weatherproof Announcements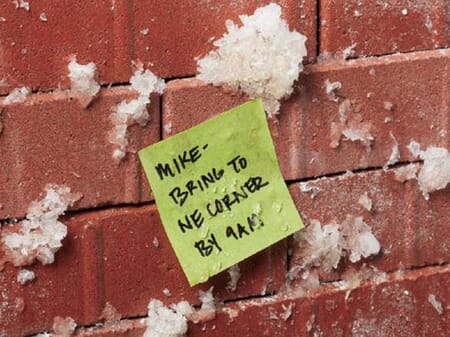 Image source: promote.3m.com
The next time you want to post a message outside, there's no need to run to the office laminator.
Just grab a Post-it Extreme Sticky Note, write down your announcement and post it wherever it needs to be seen, whether that's in the parking lot, on the front door or even on a brick wall. Even on a frigid day with temperatures barely above zero, your message will remain intact.
7. Organize Shipments
Whether your shipments are incoming or outgoing, Post-it Extreme Sticky Notes can make it easy for your team to see when and where they're from or to.
Want to set aside a stack of materials to deliver to a client? No problem. Need to denote the contents of an incoming box? These sticky notes are durable and sticky enough to withstand rough transit and repeated handling in almost any weather.
8. Keep Your Inventory Immaculate
Without proper organization, inventories can quickly become a nightmare to navigate and get tidied up again.
Use Post-it Extreme Sticky Notes to label and organize every part of your inventory, from the warehouse to your office supply closet. These notes will keep everything neat and streamlined, even during transport. Plus, they'll remain sticky and intact over multiple uses.
9. Make Kid-Proof Messages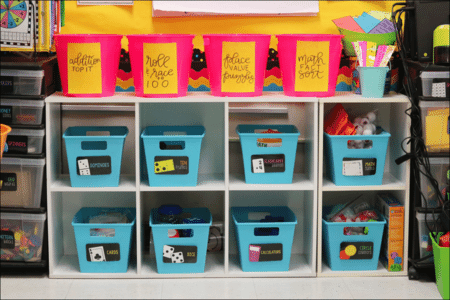 Image source: TheFirstGradeMade.Blogspot.com, "Extreme Teacher Hacks and Giveaway
It's an undeniable fact: Kids are messy, and it's hard to keep things tidy and clean in a kid-friendly environment.
That's why Post-it Extreme Sticky Notes can be an invaluable tool for those who work with and around children. Whether they're stuck on a whiteboard, a wooden desk or plastic school supplies, they'll stay firmly in place.
Teachers, daycare staff and pediatric healthcare providers can all appreciate just how heavy duty they are — even a spilled juice box won't get in their way.
As Jill, the elementary school teacher behind First Grade Made, said in a June 2019 blog post, Post-it Extreme Sticky Notes "are perfect for labeling centers or student group names on bins in the classroom." She loves how "they adhere to the plastic bins and stay on tight despite the little hands that move the bins all around the classroom."
10. Simplify Outdoor Events
Harsh conditions can throw a wrench in the plans of all types of outdoor events. From company picnics to field projects, weather, transport and normal wear and tear can present challenging obstacles.
With Post-it Extreme Sticky Notes, those obstacles are no problem. That's true whether you want to label lunch boxes, display tables, communal tools or almost anything else you may need at your next outdoor event.
And, by customizing your sticky notes to display your unique design, you can create a professional look for all attendees to see.
Want to try out Post-it Extreme Sticky Notes for yourself? Check out our selection of various sizes: