The Best Giveaways for Global Employee Health & Fitness Month and National Employee Health & Fitness Day
published: April 1, 2021 | updated: November 18, 2022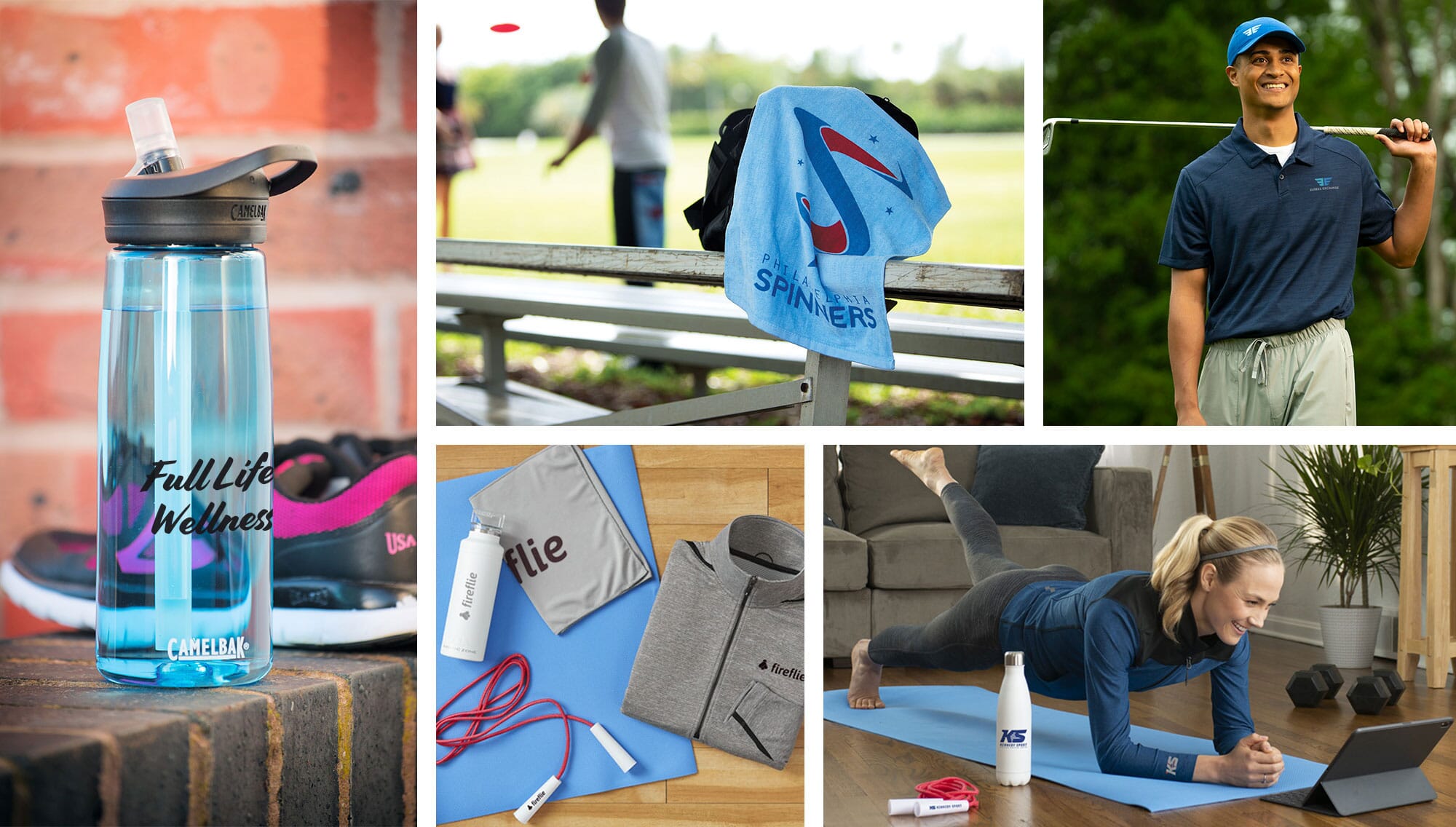 Though home fitness is nothing new, there has been a dramatic shift toward at-home, virtual and outdoor workouts since the pandemic forced the closure of gyms and fitness classes across the globe.
Although the nation is starting to open, not all gyms and fitness centers are welcoming members back yet. That makes now the perfect time to promote your brand with health and fitness promotional items for home and outdoor use. Businesses in any industry can benefit from using fitness giveaways to connect with employees and customers who are now weightlifting, practicing yoga, cycling, running and more – all in the orbit of their own homes.
Since May is National Employee Health and Fitness Month and Global Employee Health & Fitness Day takes place on May 19th, now's the time to send out home workout essentials to employees and customers for a little wellness encouragement.
Home Workout Essentials
Home gym gifts branded with your company logo are a great addition to your corporate wellness program as well as an easy way to encourage employees to stay healthy and get some exercise, especially for remote or hybrid teams. Workout equipment gifts — like custom earbuds and water bottles — are a great way to help people take the moments that create a healthy work/life balance and provide stress relief.
Staying Active Outdoors
Hiking, biking, golfing, camping — even a walk in the park with the dog — are all excellent ways to celebrate Employee Health and Fitness Day 2021. Especially with gym closures and people generally feeling stir crazy, getting a little fresh air is a great way to clear the mind, decompress and relieve stress – and we could all use some of that right now. Gear up for healthy adventures with these outdoor corporate gift ideas.
Fitness Fashion
Just because you're stuck at home doesn't mean you can't upgrade your fitness fashion. Besides, looking great for a workout is an excellent source of fitness motivation. Gifts like fanny packs are some of the best fitness giveaways to prepare your team for Global Employee Health and Fitness Month 2023 while also showing how much you care about their well-being.
Eco-Friendly Fitness Items
It's important for people's mental and physical health to get outside, explore, and appreciate nature. Equally important is a greater focus on protecting the environment, leading to an increased demand for sustainable promotional products. Below are some of our favorite eco-friendly home gym gifts that are made of earth-friendly materials.
Easy to Mail Home Fitness Swag
Lightweight or flat swag items that are easy to mail are the best at home workout gifts to keep your brand top of mind. Direct mail marketing with corporate wellness gifts offers an opportunity to connect with customers and clients at their homes. These wellness gifts also make it easy to keep remote employees engaged.
Here at Crestline, we have a health & wellness program called Fully Charged, run by a team of leaders dedicated to employee health and wellbeing. We asked Alicia Critelli, one of our Fully Charged ambassadors a few questions about the importance of employee fitness, and here's what she said:
Why is employee fitness important and why should a company invest in fitness giveaways?
Employee fitness can help associates physically but also mentally. By promoting health and wellness you are encouraging a healthier lifestyle, which should in turn result in fewer medical claims.
What are the ways to create a fitness culture and how can you promote fitness at work?
The Crestline Health and Wellness Team offers contests throughout the year, which typically involve physical exercise or making healthy food choices. We have a wellness Facebook group for employees to share tips and successes. We have an onsite gym, which is currently offered free to all associates. We also have an onsite weight loss program, which incentivizes associates for losing weight (called Weigh to Go). By having a dedicated team and contests throughout the year, we create a fitness culture.