The Ultimate Custom Water Bottle Buying Guide
published: November 21, 2019 | updated: May 15, 2020
How to Choose the Best Water Bottle to Promote Your Business
Whether you're hiking a trail or rushing to catch the commuter train, a water bottle at the ready keeps you hydrated, healthy and ready for whatever's next. Everybody needs water throughout the day, making personalized water bottles the ideal promotional giveaway or gift for clients, prospective customers and valued employees. A water bottle customized with your logo is something they'll take everywhere – and proves invaluable for your brand's visibility and word of mouth.
On the surface, a lot of water bottles may seem similar; but if you look closer, there are many different types of water bottles out there. If you're overwhelmed by the options, this guide covers materials, brands and features so you can find the best custom water bottle for every corporate event, trade show or special event.
Why Buy Reusable Water Bottles?
Good for the environment. Eco-friendly water bottles are a sustainable alternative to disposable plastic, reducing pollution in landfills and in the ocean.
Good for your bottom line. Each time you buy bottled water, your money goes down the drain. Tap into a refillable option and do your wallet, and the environment, good.
Good for your health. The notion that drinking from the faucet is bad for you doesn't hold water anymore. The Environmental Protection Agency (EPA) regulates tap water and mandates that water utilities provide quality reports.
Choosing the Right Bottle Material
There are four types of material typically used in water bottle design – stainless steel, glass, aluminum and plastic. Maybe you want the best insulated water bottle or best filtered water bottle. Perhaps you're looking for something extra durable or attention-getting. Each has its advantages and disadvantages, so test the waters and determine what attributes are most important for your specific needs.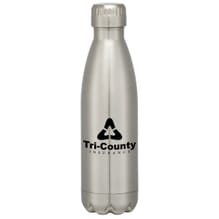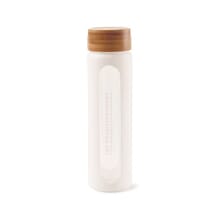 Glass
While not practical for exercise or outdoor use, glass water bottles are a highly sustainable giveaway or gift-giving choice when you want to make a smooth presentation. Its hard, sleek surface creates an elegant backdrop for your brand logo. Just don't drop it – even the best glass water bottle won't withstand impact on a hard surface!
If you're looking to make an eye-catching impression without breaking the bank, try our elegant 25-oz. Glass Bottle with Bamboo Lid or the trendy 20-oz. Color Pop Glass Bottle.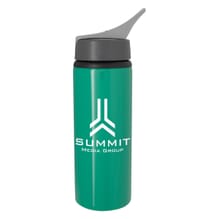 Aluminum
Aluminum is the way to go for those on the go. If your recipients are athletes or travelers, they'll love the lightweight practicality and convenience. Most aluminum water bottles are designed to easily attach to a belt, backpack, suitcase or bike. And though aluminum doesn't offer the strength and insulating qualities of its stainless steel counterpart, it is incredibly affordable and easily toted.
Get your customers and employees pumped up with the trendy 26-oz. Vivid Aluminum Sports Bottle or H2GO® Water Bottle and get your brand out there.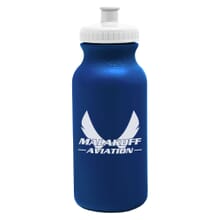 Plastic
Plastic is still considered the most popular water bottle material due to its versatility, affordability and convenience. A wide variety of plastic water bottles are eco-friendly and ideal for everyday use – lightweight for sports, practical for home or office, and safe for children. Of course, like all other materials, plastic has its advantages and disadvantages:
Whether you opt for customer favorites like the 20-oz. Bike and Sports Bottle and 16-oz. Flex Bottle or big water bottles like the 32-oz. Brilliant Sports Bottle, you're assured the best selection of water bottle sizes and colors to showcase your brand.
Here's how the water bottle materials stack up:
Material
The Pros
The Cons
Stainless Steel

Durable and long-lasting
Eco-friendly and recyclable
Maintains hot or cold temperatures longer
Won't discolor or retain flavors
Easy to clean; dishwasher-safe

Warm to the touch in the heat
May dent with strong impact
Most are not microwave-safe
Paint (and your logo) can peel over time
Pricier and heavier than aluminum or plastic

Glass

High quality and long-lasting
Won't alter the taste of liquids
Poses zero health risks
Non-permeable

May break if dropped or tipped over
Not always dishwasher-safe
Pricier and heavier than aluminum or plastic

Aluminum

Lightweight for on-the-go convenience
Eco-friendly and recyclable
Rustproof for long wear
An affordable option for bulk purchases

Provides little to no insulation
Can leave a metallic taste
Dents more easily
Not dishwasher-safe

Plastic

Lightweight for active, everyday use
A range of eco-friendly options
Easy to clean
An affordable option for bulk purchases

Not intended for hot liquids
May leave an odd taste over time
May dulls and scratch over time
Can burst in extreme cold

A Sea of Special Features
Since water bottles have become a mainstay in our daily lives, there is fierce competition to build the best water bottle with all the latest bells and whistles and innovative designs. Let's start at the top…literally.
Put a lid on it
Selecting the right lid is a major consideration for ease of use, convenience and overall satisfaction.
Put your message on a bottle
There are so many creative ways to get your brand message out there. You could go with a traditional style – or you could really "wow" them with an aesthetic water bottle design like:
Trusted Brands You'll Be Proud to Associate With
What's in a name? Trust. Recognition. Quality. Reliability. These are the standards you hold for your business – and how it is presented to the world. That's why you need the best water bottle brands to boost your marketing efforts. There are many brands to wade through, but these are some of our favorites:
CamelBak®
Contigo®
Basecamp®

The CamelBak bottle is widely known for its durability and long-lasting quality. It also boasts innovative design features and is famous for its flip-open bite valve that provides convenient, hands-free mobility for active, on-the-go users. CamelBak is one of our favorite BPA-free water bottle brands and offers:

Recognized as one of the best water bottle brands in the business, Contigo distinguishes itself with its stunning array of vibrant color options. But there's a lot more to this brand than its aesthetic appeal. It's incredibly durable for travel, sports and everyday wear-and-tear. Contigo bottles are brimming with innovative features like:

At the trail, the gym or the office, Basecamp water bottles are the perfect way to get your brand message out and about. Stainless steel with a powder-coated finish creates a handsome backdrop for your logo or company name. Just look at the outstanding features:

Hands-free flip-open bite valve for spill-free convenience
High-quality Tritan™ plastic for rugged durability
Magnetic, screw-on cap that keeps liquids from leaking
Easy-grip carry handle for easy toting

One-touch push-button opening for easy access
Childproof, auto-seal lids
Compact storage compartment on some models

Double-wall, vacuum-insulated stainless steel keeps drinks hot or cold
Lustrous powder-coated finish
Copper-lined interior for purer tasting liquids
Carry handle or TPR strap for on-the-go convenience

OUR FAVORITES
Pick a Size, Any Size
When it comes to convenience and functionality, size really matters when choosing a water bottle. Some drinkers sip, others gulp. Our range of sizes accommodates all. Here are some factors to consider:
Don't get weighed down. Avoid heavier or bulkier styles for sports or outdoor activities. A more streamlined, lightweight model works best.
Keep it compact. If you want your recipient to be able to tote the bottle wherever they go, a smaller, easy-to-manage size may be best suited.
Make sure it fits. Think about how your customer or employee will use it. If you want your personalized water bottles traveling by car or by bike, choose sizes that accommodate cup holders.
Don't Forget to Accessorize
With today's on-the-go lifestyles, people are taking their water bottles everywhere. We offer a range of practical and stylish accessories to keep your personalized water bottles out there for the world to see. Check out these active essentials:
Clips and carabiners. Whether they're running, cycling or heading off on a work trip, your clients and employees will want the security of knowing their bottle stays with them. Our recommendation is the 26-oz. Vivid Aluminum Sports Bottle. Just clip and go!
Hydration packs. A must for serious outdoor enthusiasts. These lightweight packs allow hands-free hydration. Some packs are even insulated to keep liquid from freezing or becoming warm. Our No Thirst Hydration Pack is a customer favorite.
Backpacks and duffels. When their water bottle needs a home for traveling, we offer a wide variety of styles to accommodate any size or shape bottle. The ActiV Drawstring Backpack and Conquest 19" Sport Duffel are affordable options they'll love.
Keep It Clean
When choosing the best water bottle for gift-giving, keep in mind that some styles are easier to clean than others. Remember these useful water bottle cleaning tips:
Materials. Some materials, like stainless steel, are dishwasher-safe. Others, such as aluminum, are not.
Size and shape. Bottles with narrower openings may require a bottle brush, while wider openings are easier to clean.
For easy-to-clean options, we suggest the 26-oz. Dynamic Bottle or the 20-oz. Polished Stainless Steel Water Bottle.
Go Local
We offer a wide range of water bottles made in the USA. Here are a few of our favorites: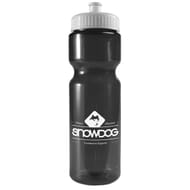 28-oz. Clear View Bottle
Rugged, lightweight BPA-free plastic is perfect for fundraisers and trade shows.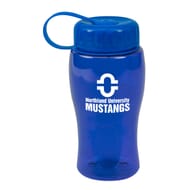 18-oz. Hiker's Delight Water Bottle
Recyclable plastic is better for the environment, and the compact size makes it a great giveaway item.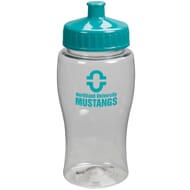 18-oz. Super Sip Water Bottle
Fun translucent colors add a splash to your next event or promotion.
Make It Personal
Personalized water bottles are a smart and cost-effective way to get your name and brand into the hands of clients (and potential ones!). They're also a practical gift your employees will proudly use and display. Before placing an order for your promotional event or corporate function, ask yourself these questions:
How many colors? This question is twofold. First, do you want your logo design imprinted in one color or several? Second, the bottle color you choose will also be a determining factor in giving your brand the most pop.
What size and design? There are many creative options here, so find what works best for your brand. You may want a wraparound or one-sided design. Does your logo work better vertically or horizontally?
Printed or engraved? Printed designs can create a bold, colorful statement. Engraving, on the other hand, makes an elegant, upscale presentation.
Need your order in a hurry? We offer 24-hour rush service on a variety of items such as the Chameleon Sports Bottle and the 28-oz. Bike & Sports Bottle.
Make It Cost-Effective
The size of your event and the number of giveaway recipients are a significant factor in determining which products make sense for your promotion. If you're planning a large event, a more affordable choice may work best. For smaller events, there are moderately priced options. Want to really impress your top clients or reward top-performing employees? Splurge! Whatever your budget, we have water bottles to fit them all.
Personalized water bottles are among the best promotional giveaway items due to their popularity, practicality and longevity. The next time you want to get a customer's attention or reward your employees, give them something they'll raise a glass (or water bottle) to.