Family Reunion Ideas, Themes & Activities for a Party to Remember
published: August 1, 2022 | updated: April 21, 2023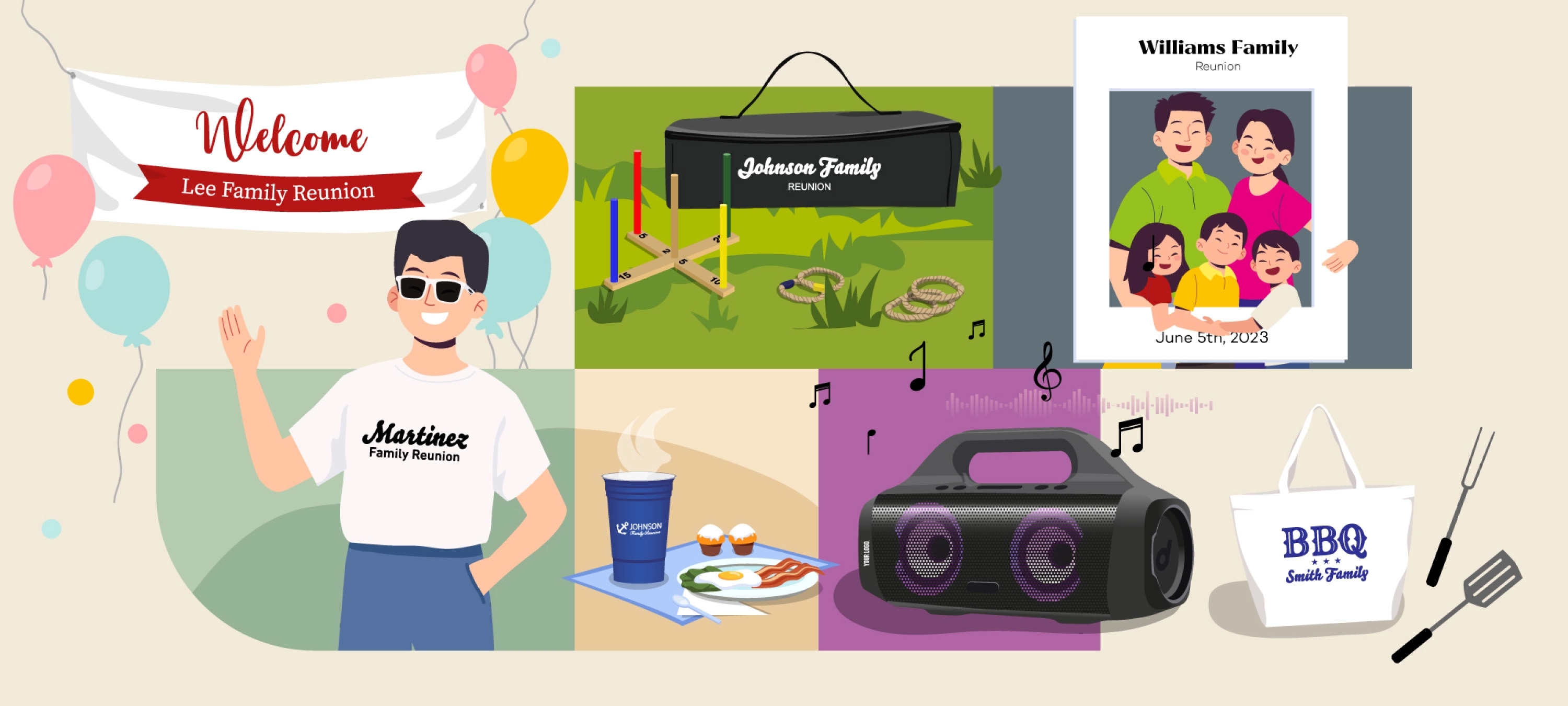 In today's fast-paced world, it's easy to see why the months fly by without connecting with important family members. Work, hobbies, children's activities, and volunteer commitments easily eat up hours of every week. If you're planning a family reunion, kudos to you for prioritizing family amidst the busy-ness of life.
It's likely that your big clan doesn't get together that often. When relatives travel from far-flung locations, take time off from work, and commit to re-connecting, you want to make the party a memorable one. Tap into these ideas for family reunions to make your event extra special. With the right planning and inspiration, you can throw a family reunion that will be the talk-of-the-family for years to come.
Picking the right party accessories, matching T-shirts, and memorable kids games and giveaways is an integral part of planning a successful reunion bash–and some of the most fun parts of party organization. You may even want to create a consistent theme, design your own family reunion logo, and plan activities and games to keep everyone entertained and active.
Don't forget to set up spots for social media photo opportunities, plan the food and meals, and set the tone with a festive music playlist to bring the family reunion all together.
Decide on a Family Reunion Theme
The sky's really the limit when it comes to choosing a theme for your family reunion. Remember the purpose of having a theme at all is to create a common thread throughout the event, tying together decorations, food, locale, apparel, gifts, and family reunion activities.
Start with one central idea that encompasses what you'd like the reunion to be remembered for, and then build from that foundation. Just about everything about the party can be tied to that central theme. Here are some family reunion themes to consider: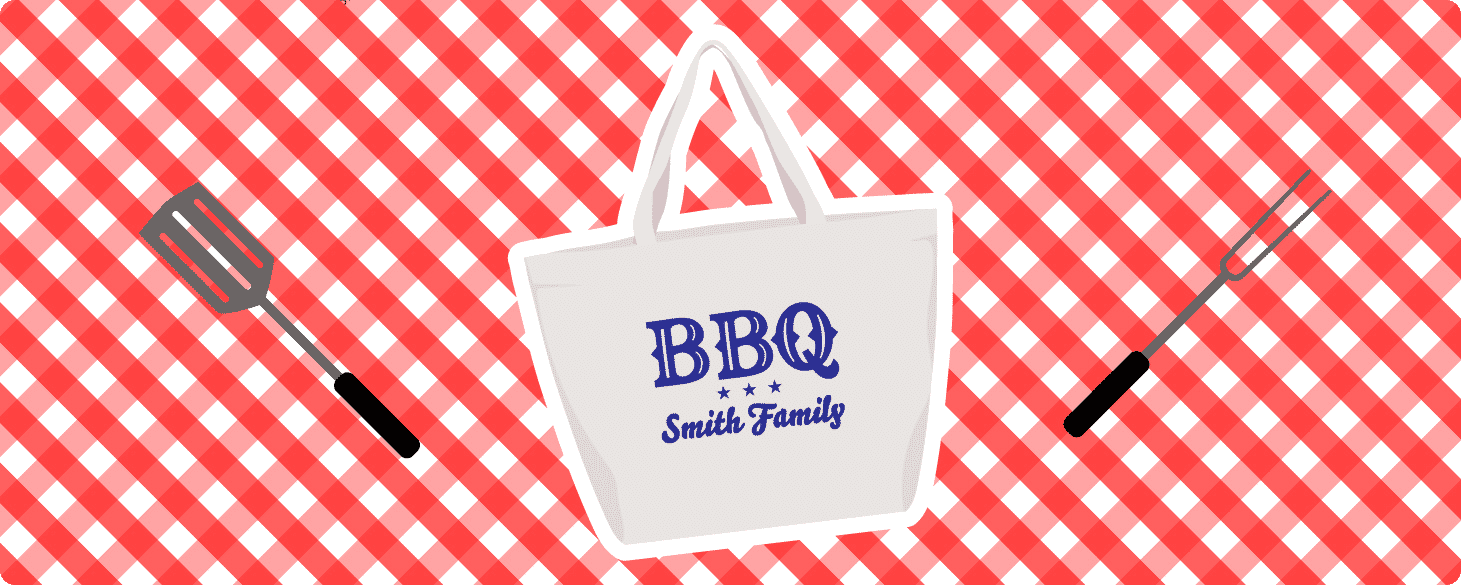 Location: If the location of your family reunion is memorable like the beach, the ski slopes, a secluded cabin, or the golfing green, you may select that as your central theme. A family reunion idea based on a beach theme can include beach-themed cups and dinnerware, sand-castle building competitions, party gifts like beach balls, towels or sand toys, and matching sun hats or tank tops.
Event: On the other hand, the primary reason for your family reunion may be an event. Celebrating the end of the pandemic, the return of a relative from military deployment, or grandmother's 80th birthday can be transformed into a reunion theme as well. Some ideas for family reunions honoring your elders, for example, may include more elegant-looking dinnerware, gift bags full of memory-inspiring items, or a picture-based family tree display and photo stations inviting the young to add to its branches.
Food: Although any family reunion would not be complete without copious amounts of food, remember that food itself can be a theme of a party. It's easy to create family reunion decoration ideas around a Mexican fiesta, an Italian feast or a Chinese banquet. Take the ethnic theme a step further with traditional games and totes filled with ethnic surprises.
Time of Year: Whether your reunion happens to fall near a particular holiday like Christmas or is just a quintessential spring or fall event, you can build your decor, food, games and family reunion gift ideas around the time of year as an easy yet cohesive theme.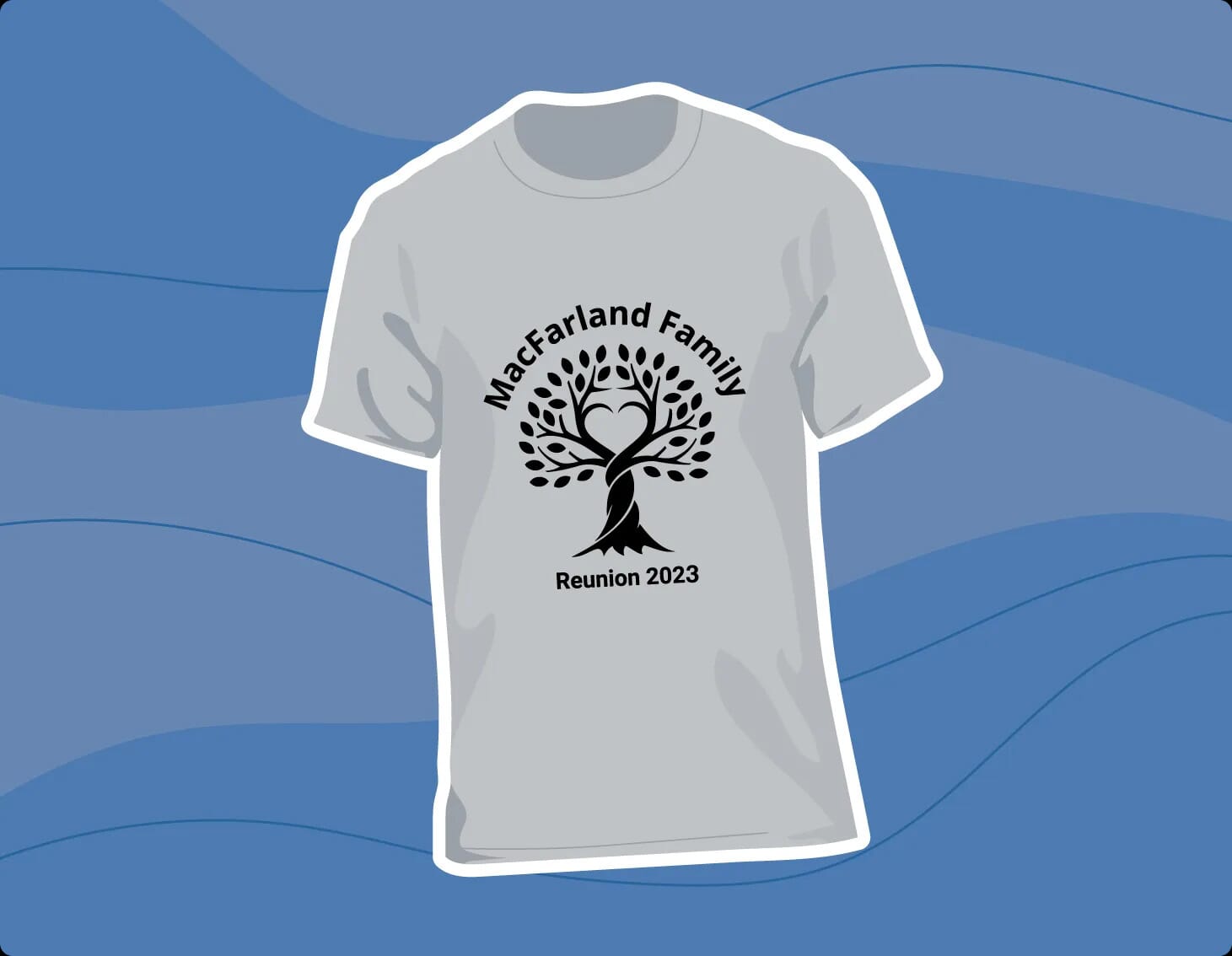 Create a Family Reunion Logo
Think of your favorite shops, restaurants, and brands; it's likely that one of the first images that pops into your mind are their logos. Logos are excellent visual ways to associate a host of messages and memories into one tidy package. That's why creating a family reunion logo can be a fun addition to your celebration.
Tie in your chosen theme. Get input from family members. Tap into the skills of all your artistic relatives. A simple internet search brings up myriads of logos and images designed by others for this very purpose. Use these images and ideas as inspiration for your unique reunion branding. Several sites offer free images that can be used in concert with your family name, favorite saying, or visuals that express your theme.
Names, monograms and family tree designs are popular, but if you come up with a unique idea that lives on a scribble on a napkin, Crestline's team can refine it for you and make it look fantastic. We'll make sure your family reunion logo will print well on everything from digital decorations to custom family reunion t-shirts. Whether you choose to go classic, funny, or sentimental, be sure to include the year, so that your family reunion logo will freeze the memories of your festivities firmly in the minds of all those attending for years to come.
Plan Family Reunion Activities
Whether your reunion is scheduled for a few hours on a Saturday afternoon or as a week-long vacation, you'll want to come up with some fun family reunion activity ideas to keep everyone engaged.
Although you certainly want some downtime for family members to reconnect organically, planning some activities especially for children, as opening icebreakers, or just to be available throughout the reunion can be helpful in providing some structure.
Here are some ideas to help you get started.
Activity Ideas for Kids
Some family reunion kid activities need to help children burn off extra energy and excitement while others should be designed to help calm kids down when the adrenal goes into overdrive.
For those active kids, plan some physically taxing games like relay races or obstacle courses. You may want to delegate this planning to a family member who particularly enjoys creating these types of activities. Have plenty of balls, jump ropes, bikes, skates, and flyers available for spur-of-the-moment games.
You may want to come up with a quiet corner, room, or shady tree for children who need a little downtime. Schedule periodic story times or invest in some arts and crafts supplies like foam stickers, construction paper, crayons, glue sticks and scissors. Having coloring books available can give cousins or extended relatives something memorable to do with the little ones.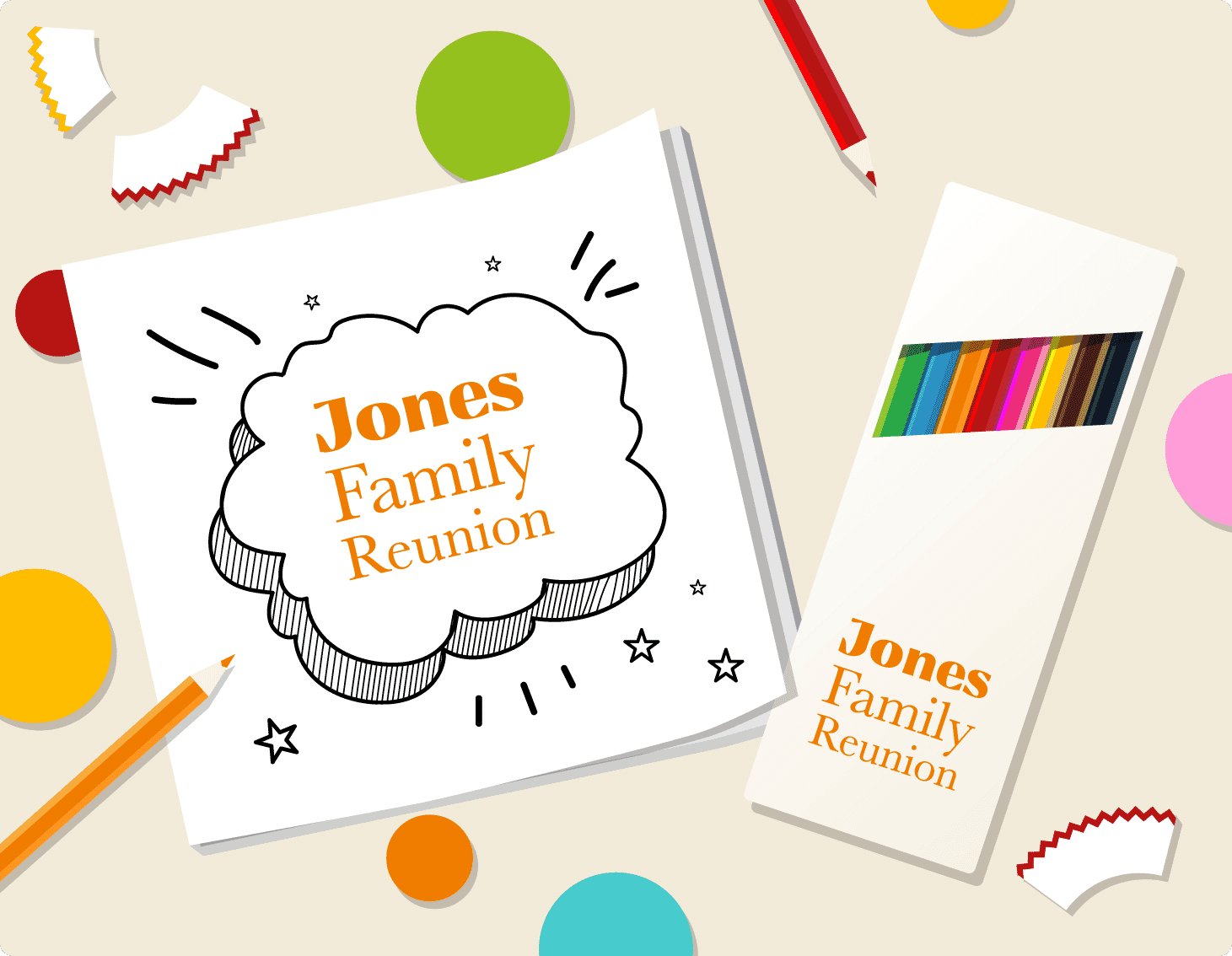 Icebreaker Ideas
As the host of a family reunion, it's difficult to witness awkward conversations between extended family members. And if there are many people at your reunion, it may be difficult, not to mention stressful, to speak to everyone and make sure they feel at home.
Usually all that's necessary to get conversations rolling is a few fun icebreaker games and someone to organize them. If family members need a refresher on names, try a fun name game to start with.
Have everyone get in a circle. Choose someone to start and have them say their name. The second person then has to say the first person's name as well as their own. The third must then remember the names of the first two and add their own name to the list. The game continues until the last person recites everyone's names. Feel free to offer hints or use name tags to make the game easier and less embarrassing.
If a name game isn't really necessary, try this fun lineup game. Choose a guideline and have everyone line up according to it. Fun guidelines include age, height, and clothing colors. While sorting themselves, participants may not speak to each other and must communicate through gestures.
Finally, if you're looking for a classic icebreaker that probably won't require any explanation, try a quick round of two truths and a lie. Chances are everyone at your gathering has played this game before. The rules are simple: one person makes three statements about themselves, two true and one false. It's up to the others to guess which statement is a lie. This game is a great way to learn new things about everyone and find out who knows other members best.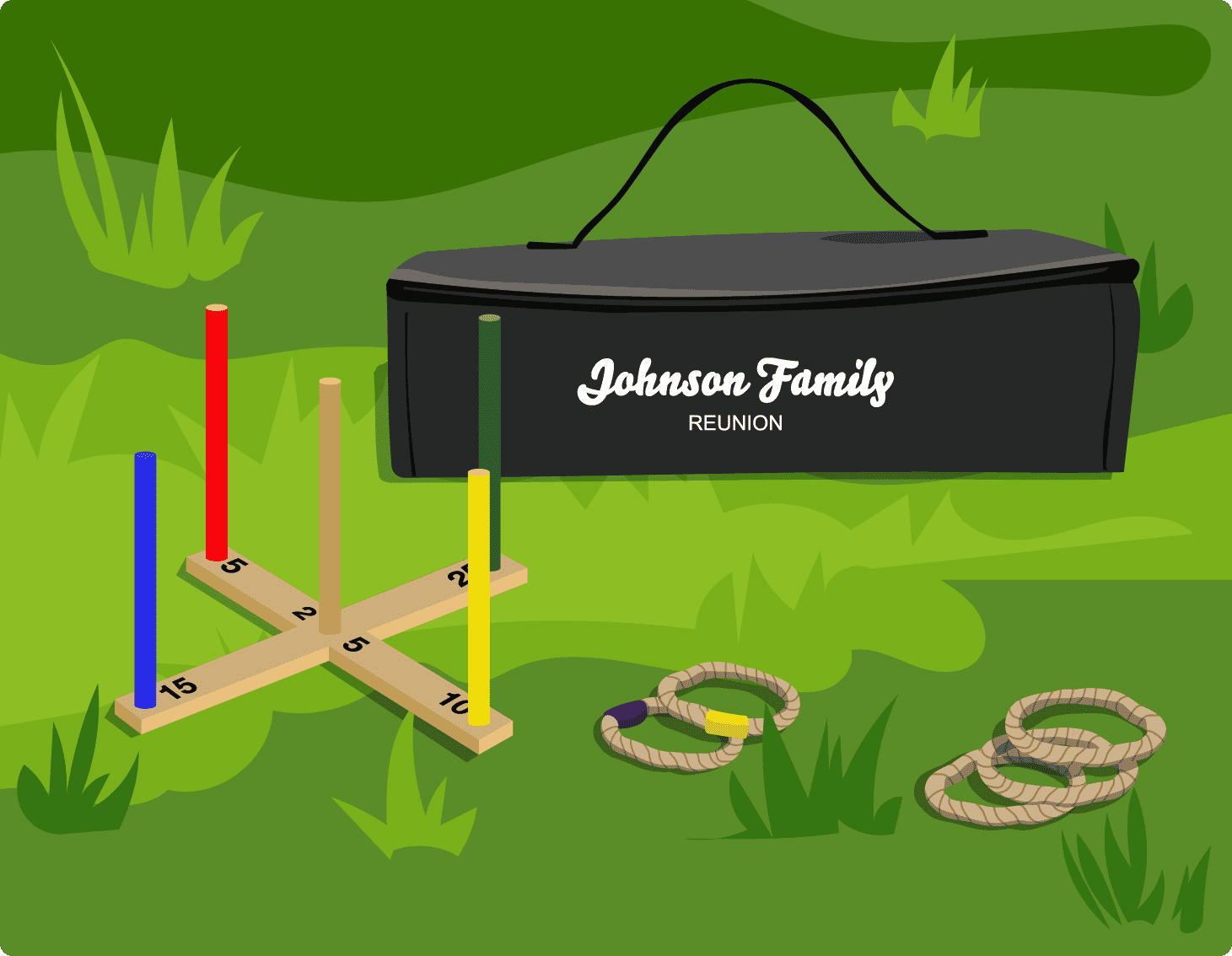 Games
Sometimes an impromptu gathering works, but it's a good idea to have lots of family reunion game ideas just in case conversation gets slow. Often just the sight of an inviting corn hole set is enough to get a game going, and a few rounds of the game is enough to start plenty of small talk among players and bystanders.
If you're looking for a game geared toward the younger crowd, set up a ring toss. Even the youngest nieces, nephews, and grandchildren will understand the concept of this game and want to participate. Organize a ring toss tournament where players must step back every time they make a successful throw. As the game gets harder, more participants will be eliminated until someone wins. Consider having older kids and adults start out farther away to give the little ones a chance to win.
Other classic games, like hide-and-seek, tag, and capture the flag, require little or no equipment and are a great way to have some spontaneous fun. Have players gather, clarify the rules, and set the boundaries to start one of these fun party games.
Photo Opportunities
With the advent of social media, many people prioritize getting great photo opportunities as part of just about any experience. The family reunion event is no different, so be sure to provide fun and unique ways for your relatives to create amazing posts that will generate them lots of "claps" and "likes."
First, consider creating fun photo stations at your reunion, whether that be an interesting backdrop in a corner of a ballroom, a designated beach umbrella or tent, or a cozy stack of bean bags in a ski resort.
Then, be sure to order plenty of custom hats, shirts, or other apparel items with your reunion theme and logo for all to wear, especially for photo moments. Come up with fun T-shirt slogans for an extra touch; you could even have unique slogans for particular age groups or sides of the family.
Finally, family reunion logo ideas can be imprinted on customized props like this 36" x 46" Selfie Frame complete with your family name, the year, and locations. Photo props like a Paper Mustache On A Stick would also make for a fun group picture.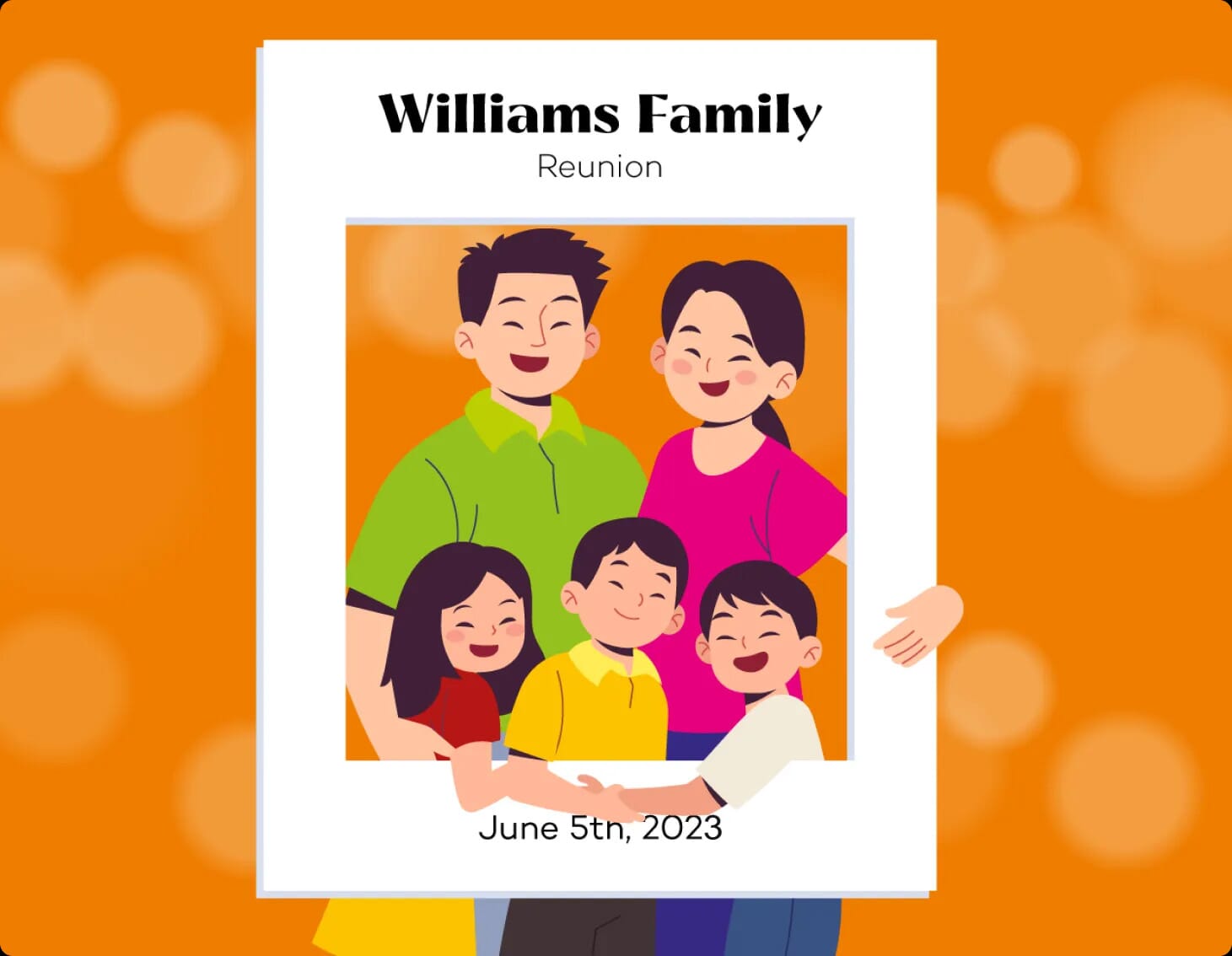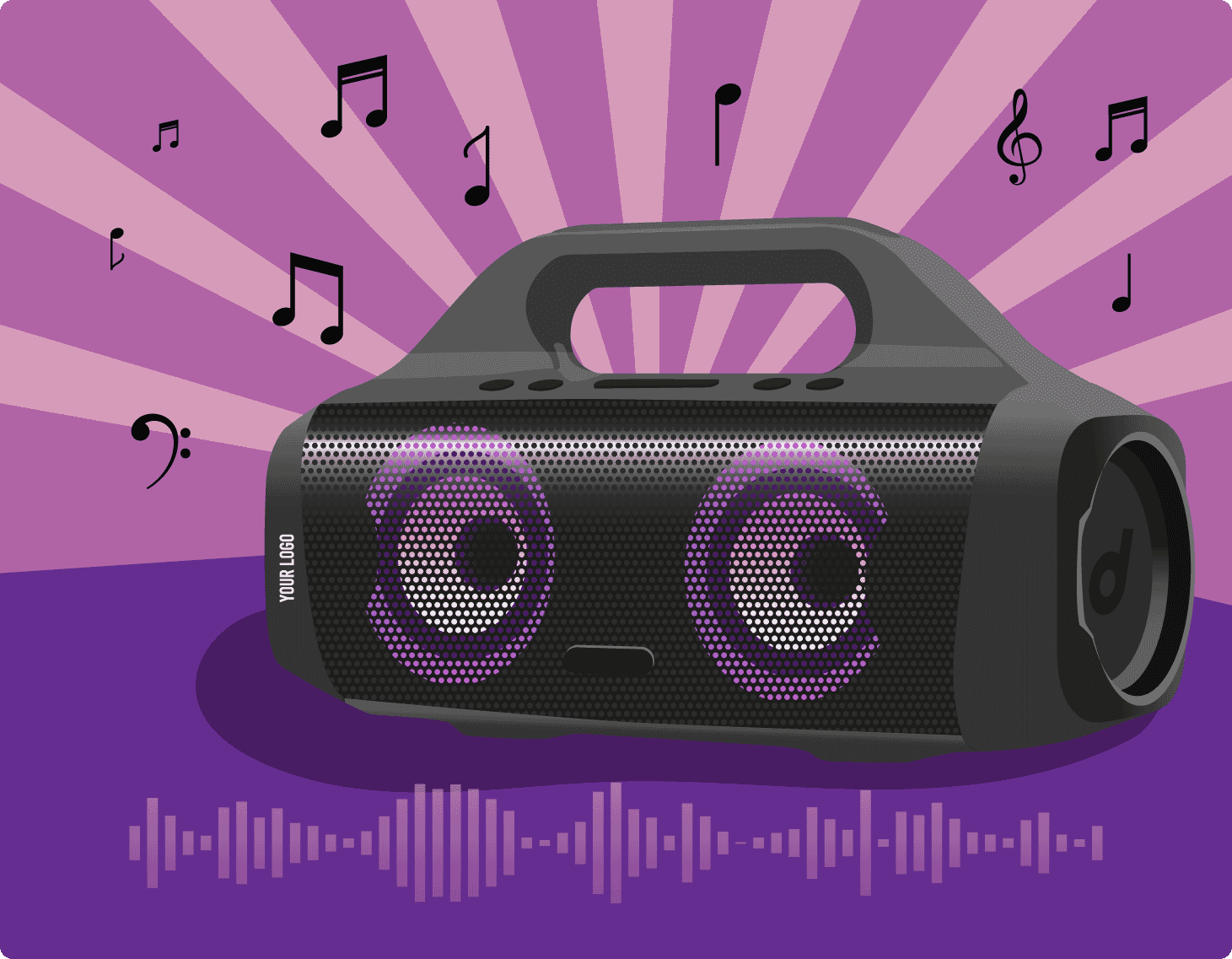 Prepare Your Playlists
When the Hamilton Brothers released the song Music Makes the World Go Round in 2014, they were onto something. Music definitely adds to the mood of any party, event, or reunion. It can get people energized and ready to dance or it can provide a soothing backdrop to conversation.
Depending on your theme, think about what type of tone you'd like to set with music. Although loud tunes are often appreciated by the younger generation, they may hamper conversations. You may want to create different playlists for different periods of the reunion. Upbeat, medium volume music can be a great welcoming setting. Louder, dance music may be a standalone event in and of itself. Softer instrumentals might be a nice touch during meal times.
If your family reunion will be held outdoors at a beach, park or other venue, consider linking to speakers that are designed for outdoor use and waterproof in case of rain. Crestline's Anker® Soundcore Select Pro Bluetooth® Speaker provides powerful 30W stereo sound, perfect for outdoor venues. Fully waterproof, this speaker comes with IPX-7 protection, which means it could get thrown in the pool and never miss a beat. Select Pro has a 16-hour playtime from a single charge, providing music for as long as your reunion goes and then some.
Decorate Your Venue
Probably one of the most fun things about preparing for a family reunion is the decorations. Even if you're not the most creative person in the world, it's satisfying to transform a boring conference room, an empty park, or a plain cabin into a warm, inviting, and fun space for family members.
Start with welcome banners and signs so that everyone can easily find your location. Tie the theme and your logo to as many family reunion decor ideas as possible for a consistent thread throughout the event. Balloons are perfect inexpensive decorations that children will happily take home as a memento. Use candles or plants as table centerpieces, and then have them do double-duty as prizes or gifts. Don't forget to include pictures frames with photos of the family over the years as a great way to trigger memories and related conversations.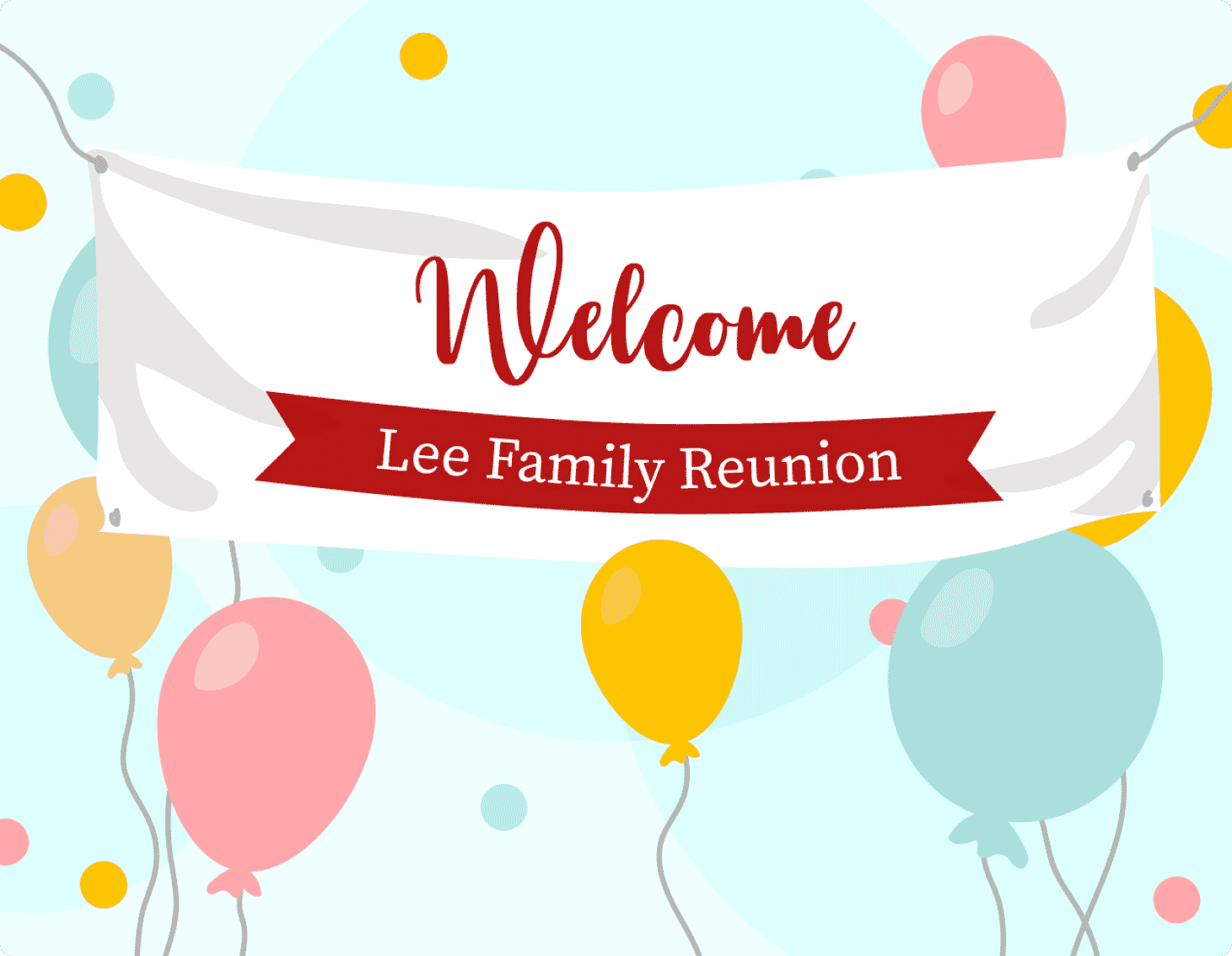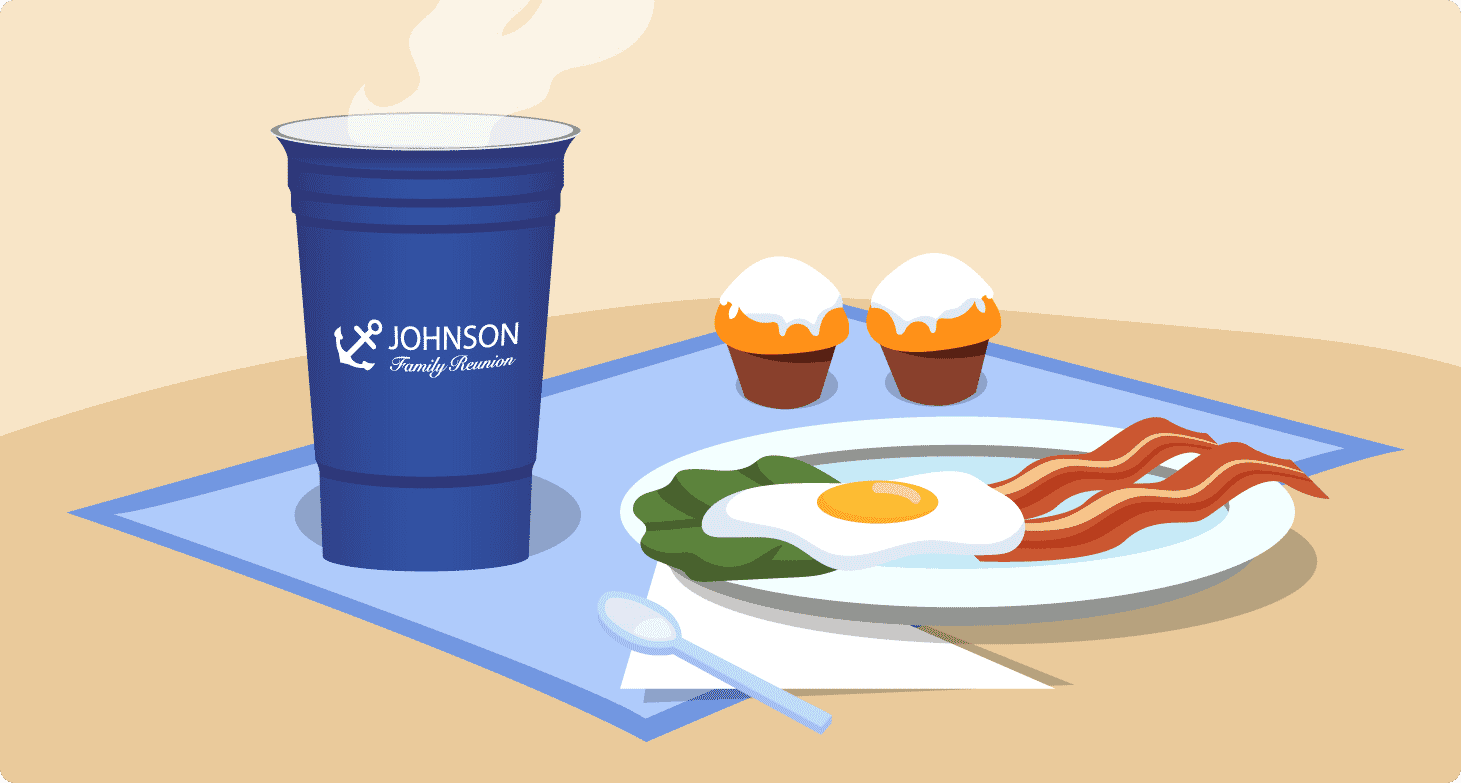 Nom Noms
Food is a must-have at any family reunion banquet, and although typical party fare is usually acceptable, it might be more fun to organize your food around your theme for the day. For example, if you're hosting a Mexican fiesta, consider a taco bar. To keep costs down for a local party, you can always opt for an organized potluck where everyone brings a family favorite.
If you're cooking on your own or with a small group of relatives, take advantage of online party food calculators to determine your shopping list and recipe size. Catering can be a pricey option, but local ethnic take out restaurants often have cost-effective catering menus.
Don't forget the all-important disposable plastic- and paperware to keep serving and clean-up a cinch. Here are some popular options from Crestline:
Gift Ideas/Gift Bag Ideas
Keep the memories alive after your reunion by sending family members home with special family reunion gift ideas like customized caps, water bottles, or coffee mugs. Include your logo and a design that is a reminder of the theme for the day.
Here are some other reunion gift favorites:
Planning a family reunion can be a fun and exciting endeavor that can also be stressful, time-consuming and a great deal of hard work. Let Crestline give you a hand by providing everything from decorations, disposable plastic- and paperware, and gifts for your relatives. Let us help you make your event one to remember for years.