How to Choose & Design Your Own Customized Padfolios
published: September 3, 2019 | updated: May 11, 2020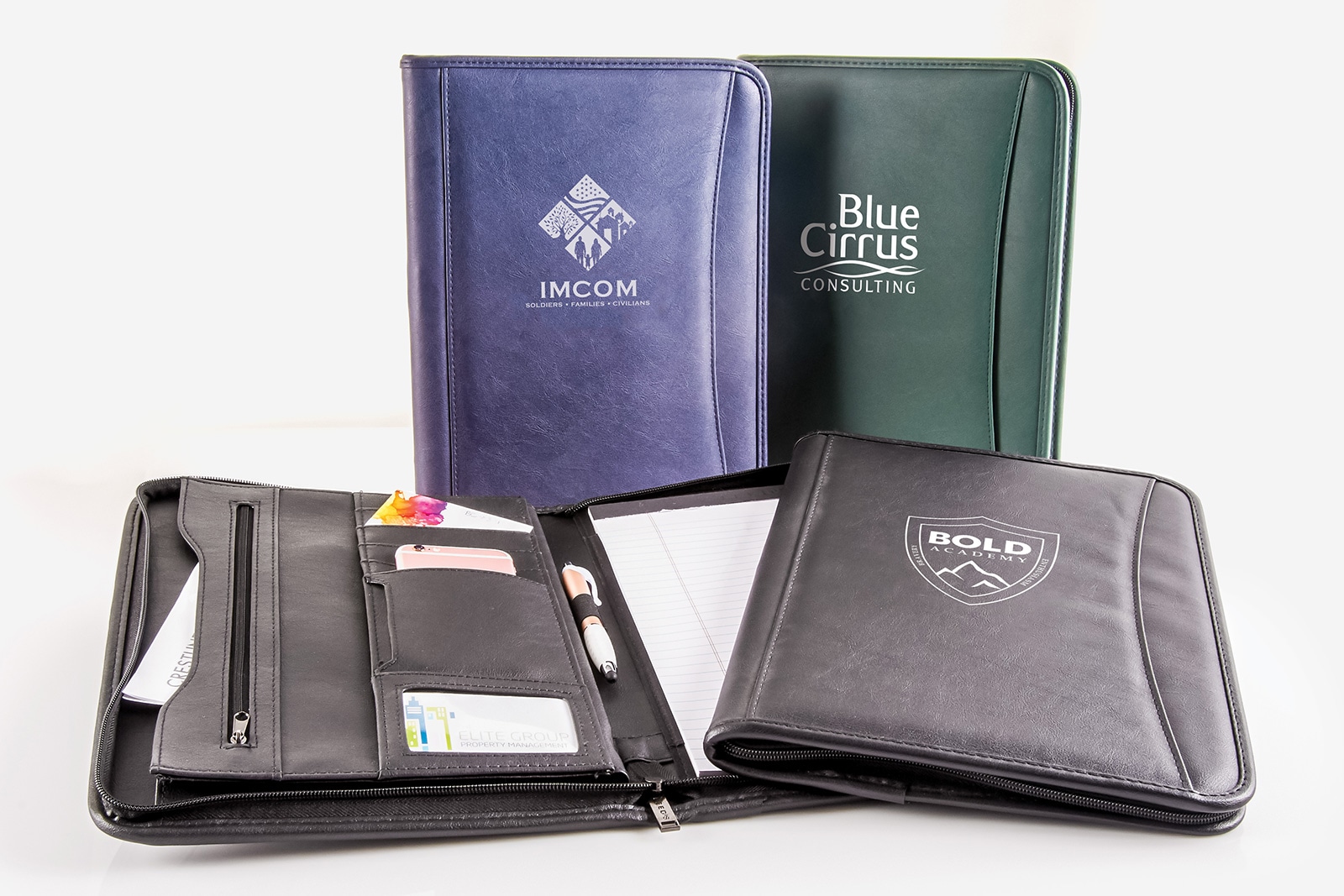 For organizations of all kinds, promotional desk accessories like custom padfolios are well worth the investment. That's because they're:
Cost-efficient, especially when buying in bulk.
Capable of spreading your message far and wide.
Practical for students, employees, prospects, clients and colleagues alike.
Useful at a variety of events from trade shows to conferences.
Plus, they can be used in a wide array of settings and industries, including:
Schools
Offices
Churches
Medical practices and hospitals
Financial and legal firms
Volunteer organizations
Whether you choose to distribute them at an event or keep them on hand for teachers, students, and staff, your branded padfolios have the potential to generate tons of real-world exposure.
In the words of Crestline's own Director of Vendor Relations:
"Promotional office products like padfolios are some of the best investments. By sitting on recipients' desks, they get fantastic exposure on a daily basis. They never get thrown away when given, and are useful to just about everyone, from soccer moms going to committee meetings to business professionals going to budget meetings. No matter who they are, everyone needs paper and a writing surface."
If you're interested in choosing the perfect personalized padfolios , you're in the right place, as this buying guide will tell you everything you need to know.
Padfolios vs. Portfolios: What's the Difference?
Before we go any further, let's clear up the difference between custom padfolios and portfolios.
A padfolio is a pad of paper secured inside a folder. That folder may also contain three-ring binder clips, organizer pockets for papers and documents, pen loops, business card holders, calculators and more. The padfolio's contents may be held in place with a zipper, Velcro closure, buckle or snap. Finally, a padfolio is intended to be carried under the arm.
By contrast, portfolios tend to be roomier, are often shaped like a briefcase and often come with a handle. They're typically closed with zippers and come in a variety of sizes depending on what they're designed to hold. Visit our portfolio page to browse for a style and price point that will work for your brand.
While those might not sound like major differences, being aware of them can help you choose the best personalized items for your recipients.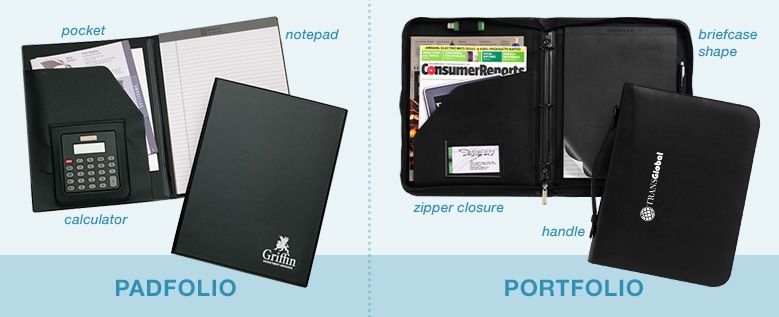 Custom Padfolios
With their slim profile, multifunctional features, and an array of attractive materials, everyone can appreciate a high-quality custom padfolio with an eye-catching logo.
As an added bonus, personalized padfolios are an indispensable tool for a variety of uses, including:
Classes
Meetings
Business trips
Presentations
Job interviews
Conferences, trade shows, and other industry events
Marketing and advertising pitches
Let's look at some of the options you can choose from when shopping for your custom printed padfolios.
Custom Padfolio Materials
Before you purchase a custom padfolio with your logo, you'll need to think about your preferred material. There's a wide range of options available to suit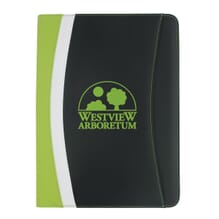 PVC
Polyvinyl chloride, or PVC for short, is an ultra-popular synthetic plastic polymer with a staggering number of applications. In fact, Zion Market Research reports that PVC is the third-most widely produced plastic in the world, likely due to the material's lightness and strength.
Promo PVC padfolios, like the Intense Contour Padfolio pictured below, are both durable and sleek. The Intense Contour Padfolio features interior and exterior pockets, pen loops and business card holders, making it ideal for business meetings and events.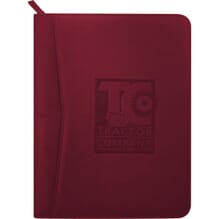 Simulated Leather
While simulated leather can be made from many different materials, we've found UltraHyde to be one of the best. UltraHyde is a premium faux leather product that's crafted from polyurethane-coated fabric. This construction makes it stonishingly similar to real leather, as well as impressively rugged and long-lasting.
Branded UltraHyde padfolios, like the Pedova Zippered Padfolio shown below, have a beautiful leather-like appearance that will last for years. The Pedova Zippered Padfolio is outfitted with a secure zippered closure, gusseted document pocket, pen loops, business card holders, USB flash drive holders and more.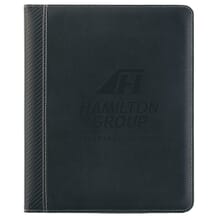 Carbon Fiber
When it comes to lightweight and super-strong materials, carbon fiber is a superhero.
Comprised of thin filaments of carbon atoms, carbon fiber is stiff, strong, heat-resistant and chemical-resistant, all while maintaining a feather-like weight. Plus, many people love its distinctive woven checkerboard-esque appearance.
With this in mind, it makes sense that carbon fiber custom padfolios are sought-after for their superior durability and light weight. The Heavy Duty Writing Pad picture below is a prime example of a high-quality carbon fiber promo padfolio. With elegant contrast stitching and sleek carbon fiber detailing, it's both rugged and sophisticated.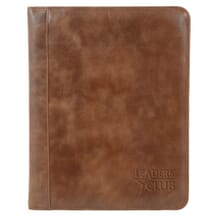 Leather
Known for its beautiful appearance and premium feel, genuine leather is a luxurious material that complements any number of styles and themes. Best of all, leather is durable, flexible, and will only look better with time. This means that a leather custom padfolio imprinted with your logo will last for many, many years.
Take a look at the stunning Grain Leather Padfolio showcased below.
With antique gold hardware, plenty of pockets, reversible pad positioning and a gorgeous debossed logo, this padfolio is designed to make a sophisticated statement. If you're looking for a custom padfolio that will impress even the most discerning recipients, the Grain Leather Padfolio is for you.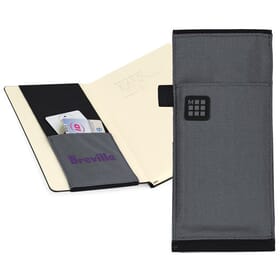 Moleskine®
Beloved by artists and luminaries including Vincent Van Gogh, Ernest Hemingway and Pablo Picasso, Moleskine is an Italian maker of luxury pocket journals, stationary, planners and more. Moleskine padfolios, portfolios and the like are crafted from textured oilcloth covers and high-quality paper. Fans around the world love Moleskine products for their simplicity, elegance and durability.
The Moleskine Notebook Carry-All pictured below is perfect for artists, businesspeople and everyone in between. It features enough space for any large notebook or planner, multiple pockets, an elastic pen loop and elastic fabric bands to hold everything together.
Custom Padfolio Features
Custom padfolios can be equipped with a wide array of functional features suited to an assortment of purposes.
Here are some of the features you can look for when selecting your custom padfolios:
Pen loops: With built-in pen loops, your recipients will never have to worry about losing their favorite pen or pencil (hint: promotional writing instruments are the perfect companion gifts to give with your custom padfolios).
Calculator holders: Custom padfolios with dedicated calculator holders are particularly useful for financial professionals, scientists, engineers, economists, analysts and statisticians.
Business card holders: Padfolios with business card holders are great for everyone, but they'll be particularly appreciated at industry and networking events.
Pockets and pouches: When it comes to products like custom padfolios that are designed to help with organization, the more pockets, the better. Pockets are perfect for storing extra documents, pens, resumes, breath mints and more.
Binder rings: Padfolios with binder rings are built to make securely storing paperwork and documents even easier.
Rulers: Whether your recipients are architects, artists, engineers, carpenters, or anything in between, they're sure to love having a ruler handy in their padfolio.
CD slots: While CDs may no longer be the most popular way to listen to music, they're still used to compactly store product demos, presentations and more. So, custom padfolios with CD slots can be useful for a wide variety of users.
Tablet holders: In the age of e-readers, iPads and other tablets, padfolios with tablet holders are both convenient and ultra-functional.
Zipper closures: For users who are storing a large number of documents and accessories, zipper closures are the best way to keep everything secured.
Elastic closures: Custom padfolios with elastic closures are both easy and quick to use, making them ideal for users at industry events and business meetings.
Snap closures: Falling between zipper and elastic closures, snap closures are capable of keeping everything in place while still being quick to open and close.
Custom Padfolio Imprint Methods
When shopping for your custom padfolios, you'll be presented with a variety of options in terms of imprint methods. These are the imprint methods you'll be able to choose from.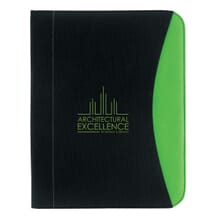 Screen Printing
Screen printing is a tried-and-true imprint method that's used on clothing, ceramics, glass, padfolios, and pens alike. Screen printed designs are not only long-lasting—they also have the added benefit of allowing for a rainbow of color choices.
Custom padfolios with screen printed designs, like the Arch Padfolio shown below, can be decorated with logos in either one, two or three colors. The Arch Padfolio also features a front slip pocket, organizer panel, pen loop, clear business card holder and an included writing pad.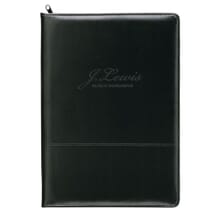 Debossing
Debossing is an imprint method that involves stamping a surface so that the chosen design is permanently indented. It is the opposite of embossing, since embossed custom padfolios sport a raised design rather than a depressed one
The Penmanship Padfolio shown below features a beautifully debossed logo, an elegant horizontal stitching design, a zippered closure, interior pockets, a pen loop and an included writing pad.
Custom Padfolios for Every Budget
Singular Portfolio

Customize
FilePro Deluxe
Padfolio

Customize
Durahyde Exec
Brief Padfolio

Customize
Urban Deluxe
Padfolio

Customize
Price Range
Under $7
Under $10
Under $15
Under $20
Material
Durable Vinyl
Polypropylene
DuraHyde
Faux Leather
UltrHide
Faux Leather
Closure
None
Bungee Cord
Zipper
Zipper
Pen Loops
Business Card Holders
Calculator Holder
CD Slots
Pockets
Pouches
Tablet Holders
Padfolios for Education
Schools, from K-12 to College, are our biggest customized padfolio customers. Here are a few of their all-time favorites:
Additional Options to Consider
Before you decide which custom padfolios you're going to purchase, you might want to take these additional options into consideration.
Rush Service
Need your custom padfolios? Don't sweat it, some of our best-selling styles are available with rush service. Just place your order before the time specified on the product page, approve a proof of your order and your customized products will ship the next business day. We're particularly fond of this style:
Eco-Friendly Padfolios
There are a number of factors that make promotional products eco-friendly. Padfolios are eco-friendly in that they are reusable. All you have to do is refill the pad of paper inside. Even better, the London Executive Portfolio comes with a recycled notebook.
A Splash of Color
Padfolios aren't limited to black and brown faux leather. Whether your school or corporate colors are blue, green, red, white, orange or gold, there are great styles for you. We even have pink and purple options. Our popular Singular Padfolio is available in 24 different colors! Create a vibrant design with a high impact full color imprint.
Why Buy Custom Padfolios?
Whether you choose a simple, classic notepad or a top-of-the-line padfolio with all the bells and whistles, your message will spread from the office to the classroom to industry events.
After all, ASI's 2019 Global Ad Impressions Study found that when it comes to promotional desk accessories like padfolios:
Sixty-four percent of consumers own a promotional desk accessory.
Sixty-seven percent of Millennials have a positive opinion of an advertiser who gave them the promo desk accessory.
Fifty-six percent of consumers use promo desk accessories at least once per week.
Promo desk accessories generate 1,450 impressions over their lifetime.
If you want to gain exposure, show employee appreciation and win over your audience, custom padfolios can help you achieve your goals in a lasting and memorable way.