How to Get the Best Print-Ready Logo for Your Promotional Products: The Art and Proof Process
updated: July 17, 2023
Congratulations on making two great decisions! First, you've decided to create a new promotional item to advertise your brand and build customer relationships. Second, you've decided to work with Crestline to produce that item in a way that will make a positive and long-lasting impression.
What makes or breaks the success of a promotional item is the quality of the logo. Have you ever seen a coffee mug where the images are blurry, or a pen where the phone number is too small to read? Poor quality graphics make promotional items backfire, leaving customers and prospects thinking, "If they can't do a coffee mug right, how are they going to handle my business?"
This is why Crestline goes the extra mile to help you develop logo artwork that makes your promotional item pop, not flop. Preparing artwork can get a bit technical, but the information that follows will help you understand how the process works from logo concept from start to finish.
Artwork and Proof Process: Definitions
Let's get a handful of technical terms out of the way. It'll make everything that follows much easier to understand.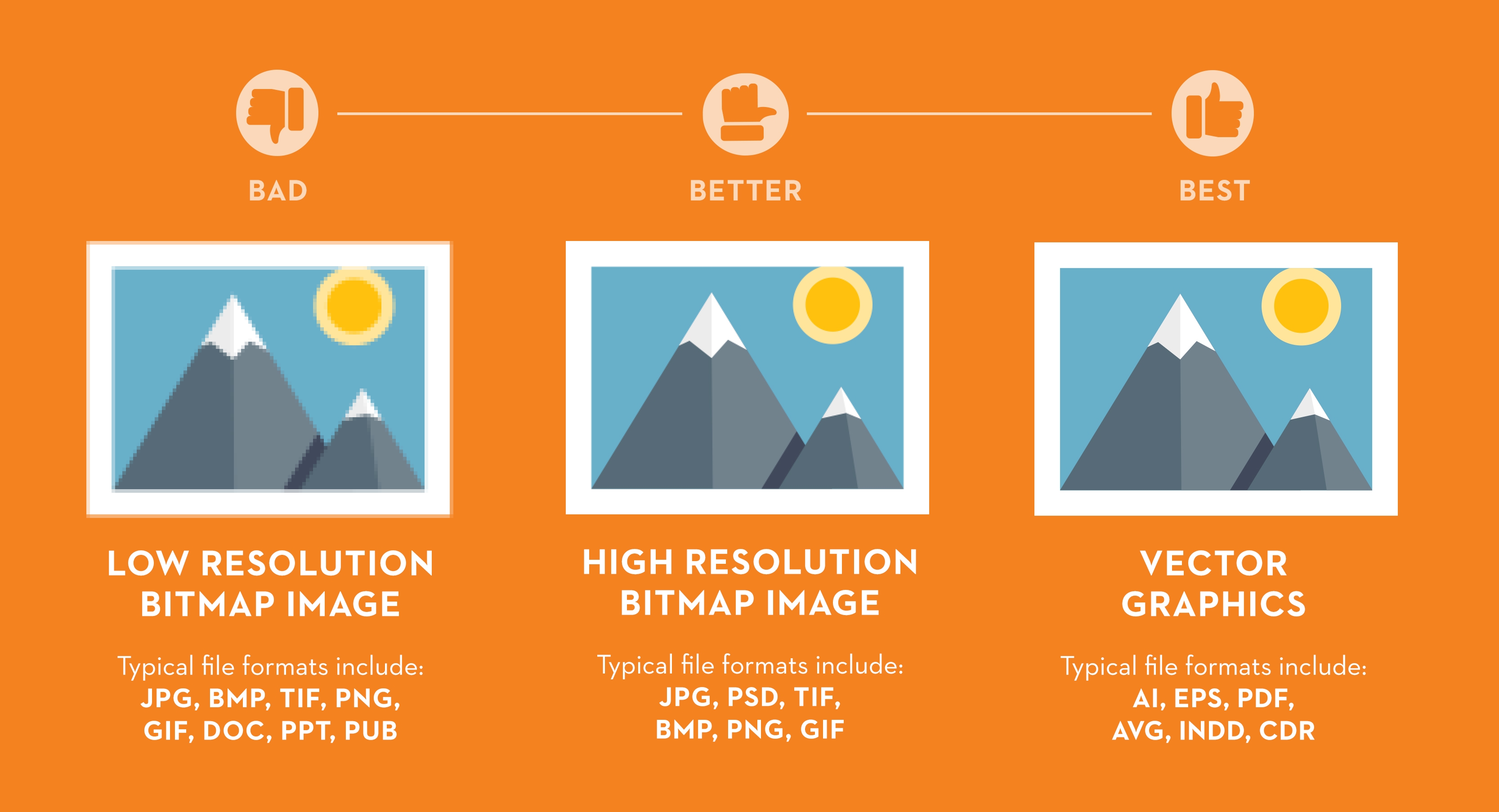 Vector Art. A logo created with vector art is a high-quality graphic image that can be scaled (reduced or enlarged) without losing image quality or resolution. Vector images can be created with Adobe Illustrator, and have an .AI .PDF or .EPS in the filename (also, AVG and INDD files are vector). Vector art produces the very best results for promotional items and should always be used except in very rare cases.
Bitmap Image. You're probably familiar with bitmap images even if you are not familiar with the term. These images contain .BMP, .GIF, .PNG, .TIF, .JPG in the filename, and are very popular. However, this type of image is composed of pixels, thus the quality is dependent on its resolution size. Low resolution files (72 dpi) are very typical and can be found everyday on most websites. High resolution files are images that are used for printed brochures, manuals and family portraits to name a few. In a nutshell, the higher the resolution, the sharper the image. Crestline wants to avoid using these types of files for your item, because they lose sharpness and resolution when their size is changed. Bitmap images are simply not ready for prime-time promotional item production!
Virtual Proof. Crestline will send you a virtual proof of your logo for approval. The virtual proof shows the positioning of the artwork on the item, and a rendering of what the art will look like. For most orders, the virtual proof, once approved, is sufficient to move to production. (Side note: Don't worry about the dotted lines on the virtual proof: They are there just to show you where the imprint area is; they won't appear on the item.)
Production Proof. A production proof is advisable (or sometimes required) for very large orders and/or very complex artwork. The production proof shows you what the artwork will look like on the item, including its resolution, color and size. A production proof is an actual physical sample of the product that's been imprinted with your approved artwork.
The Art-to-Imprinting Process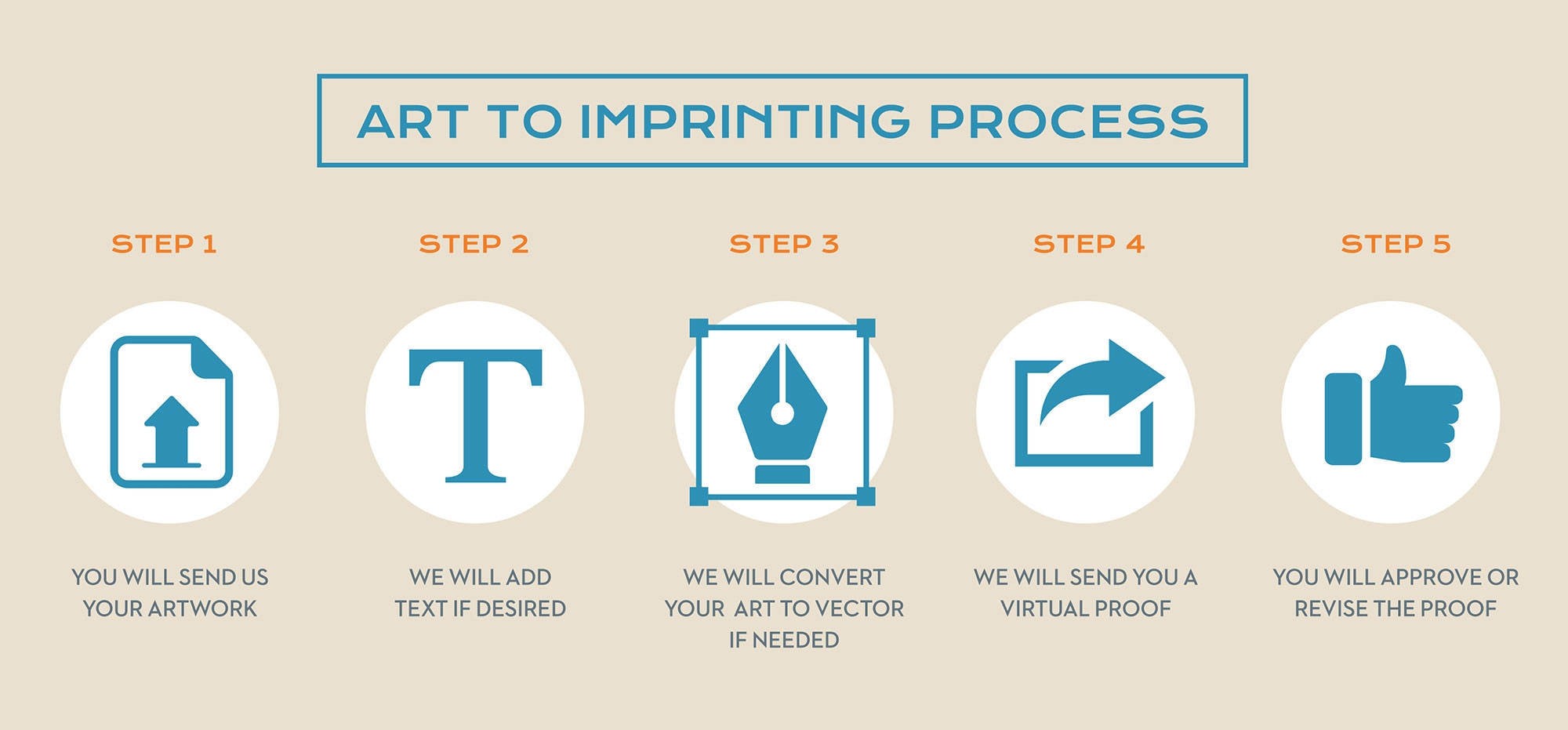 You'll send us your initial artwork, which will be reviewed by a Crestline Promotional Products Expert (PPE), our dedicated expert who coordinates all communication and activity between you and our graphic design team.
If you have submitted vector art, we will size the image to fit your selected product, and if you wish to have added text or a slogan, we will select the font and typeset, and then choose the color.
If you have not submitted vector art, we will convert your file to a vector image before proceeding with text, font, typeset, size and color.
At this point, we will send you a virtual proof.
Once you approve the virtual proof, we will send your job to the factory. Production issues may necessitate adjustments, a production proof, and/or further approvals from you. Don't worry if this happens — It's not an unusual development and our PPE will guide you through the process to ensure you are 100 percent satisfied with the results.
File Submission: The Important Details
Specifications. We ask that you send us instructions for any additional information for your artwork. Four-color process or dye sublimation item images should be at least 300 dpi at the size that they will be printed.
Feel unprepared? Don't worry. Only have access to your logo on a T-shirt or napkin? No problem! We know that it's often difficult to get a hold of a high-resolution image of your logo, so Crestline's Graphics team is ready to work with any type of art you may have available.
Embroidered items. You will receive a flat virtual proof first, and later in the process a pdf file of a digitized version that shows each stitch. Your PPE will guide you through all the other artwork-related particulars of embroidered logo items — it's a science and art unto itself!
File transfer. You can upload your art online or email your artwork to artwork@crestline.com. Please be sure to include your order # and contact information.
Why Do Factory Changes Occur?
You may be wondering what type of factory issues require changes to the proof you already approved. Here are some typical examples:
Text is too small to be clearly reproduced or read on the particular surface.
Lines are insufficiently thick to be transferred to the surface crisply and evenly.
More negative space is needed — something that often comes up in debossing (imprinting an image into, for example, a leather wallet).
Fill-in may be required on very fine, detailed graphic elements.
Most of the time we are able to anticipate manufacturing requirements and design artwork accordingly at the virtual proof stage.
Artwork FAQs
Why do you have to recreate my font?
Because we can't achieve the necessary resolution using your .JPEG (or other type of bitmap file). We can use it as a starting point, but we will need to recreate it as a vector file, as discussed at the beginning of this article.
How many characters can I print in the imprint area? Do you charge per character?
It's not per character or cost per character, it's what fits in the imprint area.
Can I use a photo as my artwork?
Photos can be used for full-color digital items, but not for screen print or embroidery. Be careful, though; photos, or one-color imprints converted from a photo, almost always end up looking sloppy and amateurish.
Why can't you use the photos I submitted on my retractor banner (or other product that requires the photos to be substantially enlarged)?
When regular photos and low-resolution art are enlarged for a banner, the quality is unacceptable. Super-high-resolution art is needed for your banner to look good — and we will make it look better than good!
When I received my proof, the artist changed my artwork – why?
We may need to change your artwork based on the product you are ordering and its available imprint area. For example, a stacked logo may need to be laid out horizontally on a pen. If we don't anticipate and fix these issues up front, the factory will not be able to proceed, and your project will be delayed.
Do I have to pay for a proof?
A virtual proof will show to the best of ability positioning of art on the product and also how the art itself looks. Every customer gets one and they are free.
Production proofs, as discussed earlier, are only for really large orders (for instance 15,000 mugs), or by special request. There is usually a fee involved for a production proof, but it won't break the bank, and in some cases, we can waive the fee.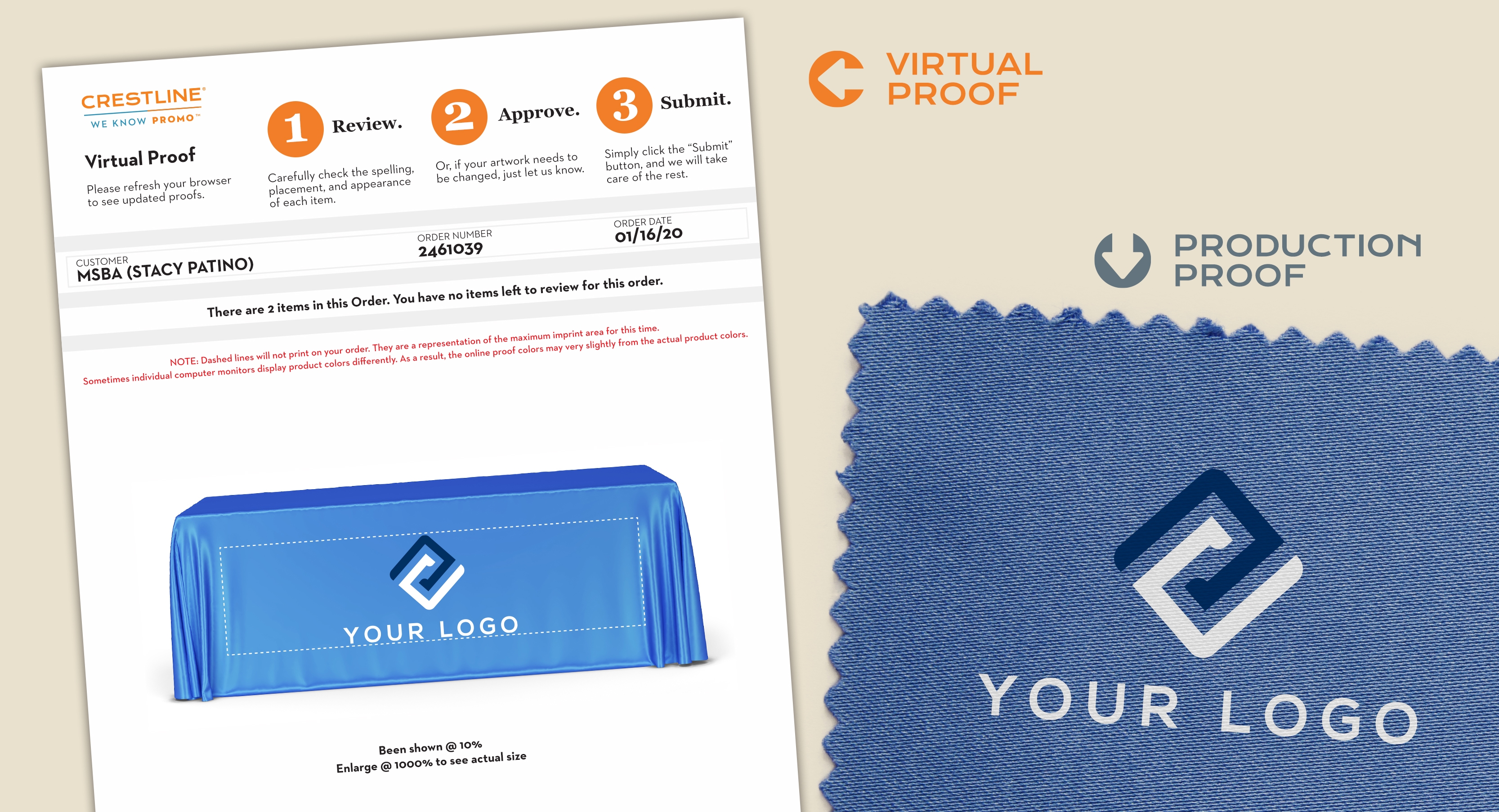 Do I have to place an order to get a virtual proof?
You do have to place an order to get one, but you can submit your payment information later and can cancel your order with no penalty/ obligation if you choose not to move forward.
Is the cost of adding my imprint included in the product price I see on the website?
The individual product page for each item will have prices for the products themselves at the top, and those prices will depend on the quantity you buy, with lower prices for higher quantities. Setup charges are in addition to the product price, and will be listed at the bottom of the product detail page. Learn more about setup charges here.
Does my art need to be sized for the imprint area when I send it?
No. We may need to recreate your art for a larger resolution for a large imprint area item like a banner, but we can handle that and you don't need to size it yourself.
Can you create a design for me?
Yes, absolutely! We have a talented design team ready to help, even when your artwork is still at the idea stage. Learn more about our design services here.
Learn More
Need Help?
Questions about artwork, images, or the proof process? Please contact us now: We are standing by to help you get the information you need.