The Most (and Least) Popular Holiday Foods in the U.S.
published: November 2, 2022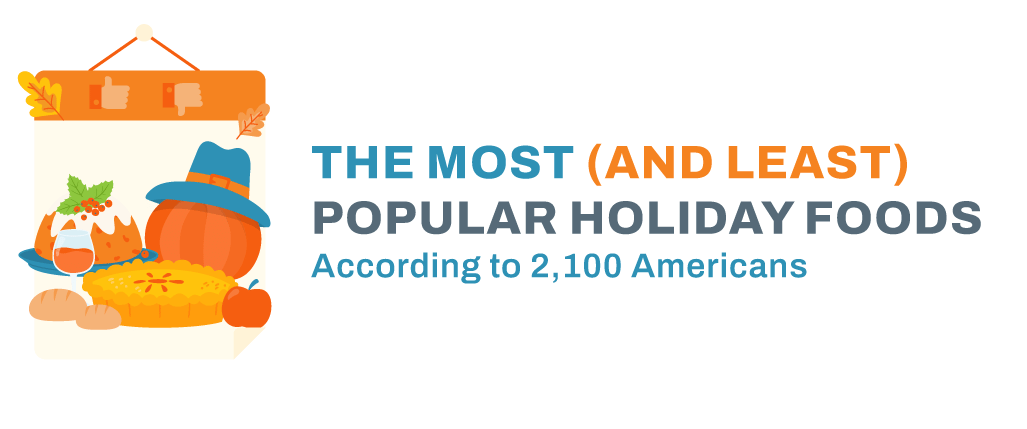 'Tis the season for all things festive! From gifting to family traditions, we all have our preferences regarding how we like to spend our holidays. However, one thing creates more division than a holiday paper plate: our favorite foods.
To determine the most and least popular holiday foods across the country, we surveyed over 2,100 Americans, asking their opinions on Thanksgiving and Christmas foods, including entrees, sides, desserts, drinks, and even vegan alternatives. Read on to discover what we found.
Key Findings
The least popular Thanksgiving foods are candied yams and sweet potato pie.
The least popular Christmas foods are persimmon pudding and fruitcake.
When it comes to vegan choices, 45% are willing to try a vegan turkey alternative this year.
With costs top of mind, 69% will search for budget-friendly holiday meal options due to higher food prices.
The Most (and Least) Popular Thanksgiving Foods
Turkey, stuffing, and cranberry sauce are some of the classic components of an American Thanksgiving meal. After compiling a list of about every Thanksgiving food we could think of, we asked respondents to indicate their preferences.
The Most Popular Thanksgiving Foods
The most popular Thanksgiving foods in America, based on the percentage of respondents who indicated they like the food, include:
1. Mashed potatoes (94%)
2. Turkey (84%)
3. Gravy (84%)
4. Macaroni and cheese (83%)
5. Bread rolls (83%)
We compared the results on a state-by-state basis to determine the most popular food in each state, then produced a map to show the unique preferences of each region across the country.

In particular, sweet potato pie is preferred in the South, standing out as the favored food in states like Mississippi, Louisiana, and Alabama. Pumpkin pie is well-loved in midwestern states such as Missouri and Ohio.
Interestingly, turkey (the mainstay of Thanksgiving dinner!) is the favorite Thanksgiving food in only two states, Virginia and Nevada. The vast majority of Americans prefer Thanksgiving sides and desserts, mostly pie.
The Least Popular Thanksgiving Foods
On the other hand, everyone has Thanksgiving food they prefer to pass on.
We calculated the least popular Thanksgiving foods in America, which are as follows:
1. Candied yams (45%)
2. Sweet potato pie (46%)
3. Sweet potato casserole with marshmallows (47%)
4. Brussels sprouts (52%)
5. Cranberry sauce (56%)
Similarly, we broke down the results by state, to get a sense of the least favorite Thanksgiving foods across the country. The following map displays our results.
Regional preferences stand out here. For example, northeastern states really don't enjoy green bean casserole, with states like New York and Pennsylvania ranking it as their least favorite dish. Southern states, on the other hand, are not fans of pumpkin pie, according to states like Georgia, South Carolina, and Arkansas.

The Most (and Least) Popular Christmas Foods
Moving on to another popular year-end holiday, we decided to take a look at Americans' preferences regarding Christmas foods. Thanksgiving foods are well-defined, but Christmas foods aren't exactly the same across the board.
Knowing each culture has its own Christmas traditions, we focused on the most common Christmas dishes that are notoriously associated with the holiday and are not tied to a particular culture.
The Most Popular Christmas Foods
Nationally, these are the most popular Christmas foods in America:
1. Roasted potatoes (91%)
2. Scalloped potatoes (83%)
3. Roast beef (77%)
4. Red velvet cake (76%)
5. Ham (76%)
6. Christmas nuts (76%)
Along with mashed potatoes that rank as the most popular Thanksgiving food, it's clear that Americans are in it for the potatoes! Take a look at how Christmas food preferences vary by state.

From brie in California and Oregon to pigs in a blanket in Michigan and Indiana, it was interesting to see how different food preferences came into play across the country. One thing that's notable about Christmas is the variety of meat preferences.
For example, lamb is preferred in states like Minnesota, Florida, and Massachusetts, while prime rib is preferred in Texas. Roast beef is the favorite dish in Pennsylvania and Missouri, while Wisconsin and Louisiana love duck.
The Least Popular Christmas Foods
We determined the least popular Christmas foods in America, including the following:
1. Persimmon pudding (13%)
2. Fruitcake (25%)
3. Goose (29%)
4. Duck (40%)
5. Lamb (46%)
For our regional last map, we displayed the least popular Christmas food according to each state. Some regions certainly do seem to share the same tastes!

For example, southern states like West Virginia, Arkansas, and Mississippi are not fans of brie. Midwestern states such as Minnesota, Illinois, and Indiana do not particularly like Christmas nuts, such as chestnuts. States in the West, like Oregon, Utah, and Colorado, do not prefer fish on Christmas.
The Most Popular Christmas Cookies
One Christmas dish that is a baking tradition for many is Christmas cookies. Given that there are so many choices, we wanted to determine which cookie recipes Americans are actually baking.
According to our respondents, these are the most popular Christmas cookies in the United States:
1. Chocolate chip (94%)
2. Sugar cookie (86%)
3. Fudge (82%)
4. M&M cookie (82%)
5. Snickerdoodle (79%)
6. Butter cookie (79%)
7. Shortbread (78%)
8. Gingerbread (74%)
9. Peanut butter blossom (65%)
10. Almond cookie (65%)
11. Ginger snap (62%)
12. Oatmeal raisin (60%)
13. Thumbprint (53%)
14. Russian tea cake (42%)
How Much People Drink During the Holidays
Outside of particular dishes, we also collected data on other aspects of holiday meals, such as drinks, vegan alternatives, being budget-conscious, and ordering takeout. The next couple of sections will cover those topics.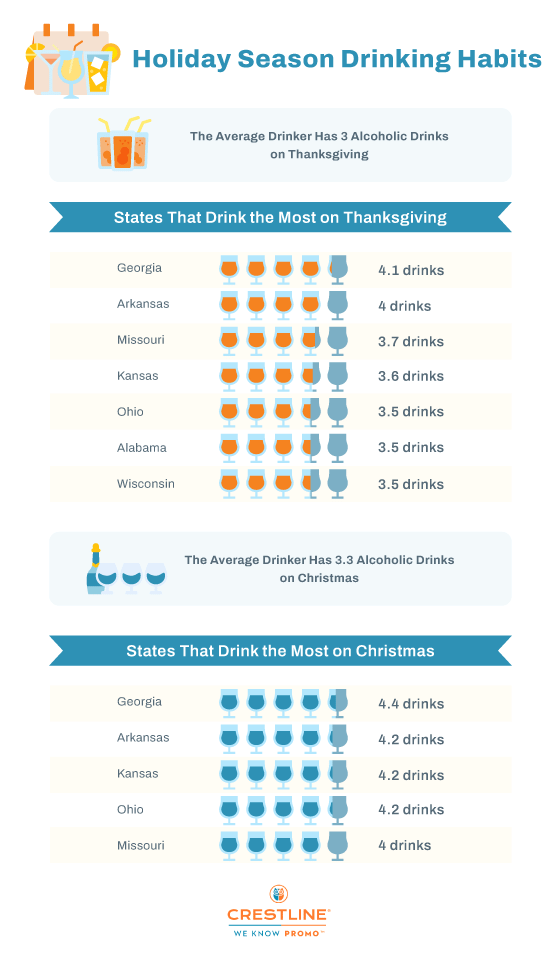 Of respondents who drink alcohol, the average respondent has 3 alcoholic drinks on Thanksgiving. The states that drink the most on the Thanksgiving holiday are Georgia, Arkansas, and Missouri, with 4.1, 4, and 3.7 drinks, respectively.
Similarly, of respondents who drink, 3.3 is the average amount consumed on Christmas, meaning Americans consume more alcohol on Christmas than Thanksgiving on average. Georgia is also the state that drinks the most on Christmas, with 4.4 drinks. Arkansas remains the runner-up, with 4.2 drinks, but tied with Kansas.
We also asked respondents to rank their favorite holiday-themed drinks. Standouts include hot chocolate (41%), eggnog (28%), and hot apple cider (20%). Not so favored were mulled wine (5%), hot buttered rum (4%), and hot toddies (3%).
The Prevalence of Vegan Alternatives at Holiday Meals
Finally, we were interested to know how many Americans were interested in trying vegan alternatives to popular holiday meat options this year. Nearly 1 in 4 respondents were willing to try at least one.
Americans are most open to trying vegan alternatives for turkey (45%), ham (38%), and roast beef (36%). One-third are willing to try a vegan prime rib. Less popular options include lamb (28%), goose and duck (both at 27%), and fish (24%).
Given that vegan turkey is the most popular option, we wondered which states are most likely to be serving it up this year. You're most likely to get a vegan turkey in Washington (62%), Maine (61%), Michigan (57%), and Nebraska (57%), among the others listed above.
Vegan alternatives won't keep costs down though, and 69% of Americans reported that they will search for budget-friendly holiday meal options due to higher food costs. While home cooking is always preferred for the holidays, 16% will order takeout for a holiday meal this year.
As divided as we are when it comes to food preferences, holidays are about coming together and experiencing new and old traditions. Celebrate the people in your life with a custom gift, and don't forget to pass the potatoes!
Methodology: From September 26 to October 4, 2022, we surveyed 2,174 Americans on their holiday food preferences. Our respondents were 47% men, 50% women, and 3% nonbinary or preferred not to say. The generational breakdown includes 13% Baby Boomer, 24% Gen X, 46% Millennial, and 17% Gen Z.
Local results do not include the following states due to insufficient survey responses: Alaska, Delaware, Hawaii, Idaho, New Hampshire, North Dakota, Montana, South Dakota, Vermont, and Wyoming.