Best Holiday Gifts for Employees and Clients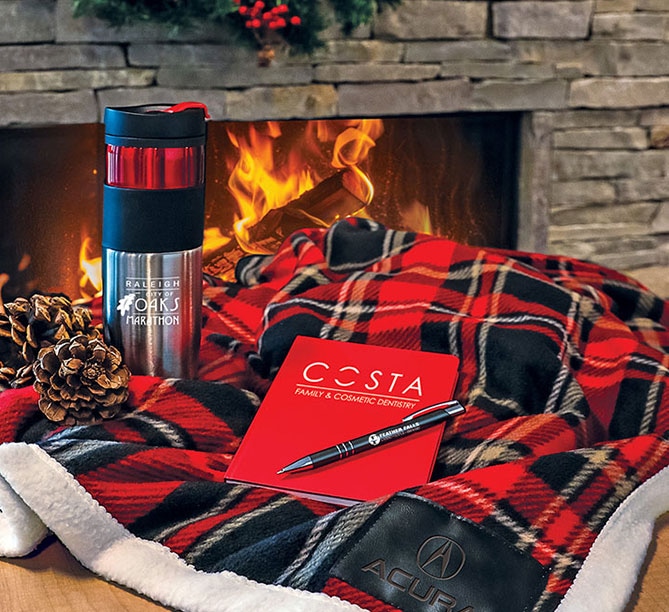 'Tis the season to be thankful and it's never too early to start planning your holiday gift-giving for all the important people on your list. Our 2018 holiday gift guide is full of new and unique personalized gift options to recognize, thank, and appreciate your clients and employees. We strive to make gift-giving easier for you this year and wish you all a very successful holiday season!
Give Merry
Wish anyone a happy holiday with great gifts they can use right away all under $5! Personalize a holiday stocking or ornament with your logo to remind them of your business year after year.
A great gift for: Employees, Customers, Clients, Volunteers, and Teachers
Give a Toast
Stainless steel drinkware is only becoming more popular, and now you can gift some of these quality items to your staff, volunteers, or customers! Help them to cut down on coffee shop runs this winter with one of our Himalayan tumblers which will keep their drinks hot or cold all day. Don't forget to include some of our new reusable straws in order to reduce reliance on plastic straws which create waste in your workplace.
A great gift for: Employees, Teachers, Volunteers, and Clients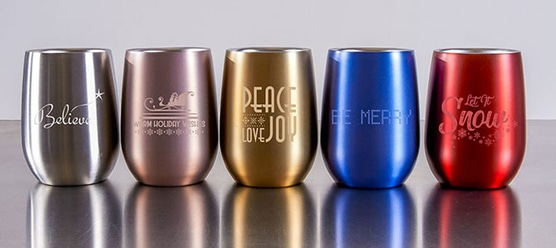 Give Natural:
Woodgrain and cork are the latest product textures to rise in popularity. Luckily, there are plenty of unique product ideas for anyone looking to incorporate this trend into their gift-giving this year. Cork accented tumblers, journals, sunglasses, and bags all make great holiday gifts for employees. Meanwhile, wood grain-patterned Qi chargers and speakers provide a luxury corporate gift that won't cost you an arm and a leg.
A great gift for: New Employees, Business Partners, and Clients
Give Glam:
Just because a gift looks high end doesn't mean it has to have the price tag to go along with it. Premium items such as eye-catching luxe pens, metallic Popsockets®, and mugs that come in marble or metallic are all great selections for anyone looking for an inexpensive way to show their appreciation with a starting price under $10. For a similar, yet more high-end branded gift, consider the happy hour wood & marble coaster set.
A great gift for: Fundraising, Corporate Gifts, Year-End Thank you, and Corporate Dinner Favors/Gift Bags
Give Pattern:
A nice, plaid pattern never goes out of style and neither will your gift if you choose to give one of our personalized plaid items. Apparel like flannel button-up shirts and lounge pants, an accessory like a roomy computer tote, and home goods like a tumbler or blanket and tumbler set are all homey items that you can confidently give business partners, loyal clients, or hardworking employees.
A great gift for: Schools, Fundraising, Teams, and Employee Gifts
Give Texture:
What better way to show your associates you appreciate them than by keeping them warm through the winter months? Get the Leeman™ Heathered Knit beanie hat, gloves, and scarf to bundle together and add a heathered pullover sweater to complete the look. Stylish winter apparel items make the best gifts for anyone and will look even better with your logo.
A great gift for: Teachers, Healthcare, Teams, and Corporate Apparel
Give Treats:
Whether they have a sweet tooth or prefer savory snacks, Crestline has options for all of your treat needs. Buy in bulk with a sweets skyscraper for valuable business partners, a gourmet snacks mini gift tote for sales leads, and don't forget to bring a one-gallon holiday tin to the office Christmas party. Check off every person on your list with these delicious munchies that the whole family can enjoy.
A great gift for: Client Holiday /Thank You Gifts and Employee Holiday Gifts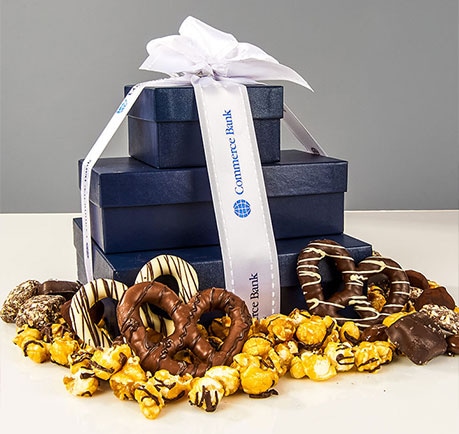 Give Tech:
Technology items are also quality, useful gifts to give corporate partners. A sleek portable charger and a water bottle with a Bluetooth® speaker are cool new items that will get them talking. For a more high-end gift, consider kits such as the Tuscany™ Power Bank And Bluetooth® Speaker Gift Set or the Tech Backpack Welcome Kit. Whatever tech item you choose is sure to impress any recipient.
A great gift for: New Employee, Employee Holiday Gifts, Schools, and Teams
Give Cozy:
Nothing will get them in the holiday spirit like a gift meant to warm them up when sitting by the fireplace. Give a gift that is in keeping with the Danish tradition of hygge, or "(in Denmark) the quality of being warm and comfortable that gives a feeling of happiness," such as a pair of fuzzy socks, a comfy new blanket or scarf, or decorative scented candle set.
A great gift for: Teachers, Healthcare, Nurses, Stressful Professions, and Weddings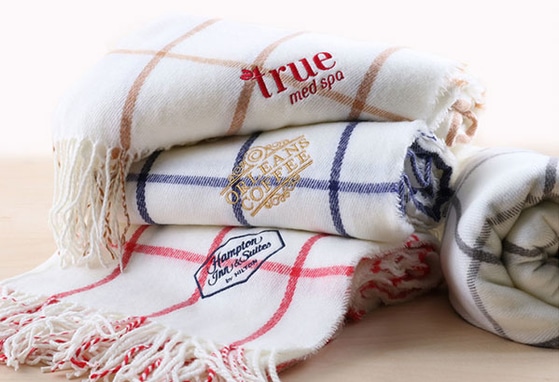 Give Games:
Games and puzzles are a fun, unique present idea that can cover both affordability and luxury. For a quality corporate gift, try the 6 in 1 game set or desktop game. Alternatively, try puzzles like a pyramid brain teaser or wooden block 3D puzzle, both for under $10.
A great gift for: Tech companies, Advertising companies, and large corporations
Give a Party:
Help them ring in the new year with these high-end holiday gifts for clients. They can pour glasses of all their favorite wines with the wood and chalkboard tabletop crate and rosewood wine set, then they can serve cheeses and bread with the acacia wood and marble cutting board. Finally, provide a trendy decoration to get the party started with a billboard lightbox. The best part? All of these gifts start at under $25!
A great gift for: Event Planning, Winter Weddings, Culinary, and Hospitality
Ring in the New Year
Hosting a themed New Year's Eve party has never been easier with the help of our sparkle line. Also pick up some metallic and affordable giveaway items like the impulse pen, drawstring backpack, and renegade LED flashlight all for under $3. Light up any year-end celebrations while keeping your brand in mind with any of Crestline's great selection of promotional products.
A great gift for: New Year's Events, End of Year thank you, Holiday parties, and Health and Wellness Giveaway Incentives.