Promotional Products for Booster Clubs:
5 of the Best Ideas
Booster clubs are parent-led organizations designed to raise funds for student clubs and teams. With a successful booster club, student clubs and organizations can flourish. From sports equipment to field trips, booster clubs can offer all kinds of essential support.
But how can booster clubs go beyond traditional fundraising ideas to provide students with the programs they need and deserve?
The answer is short and sweet: promotional products. With the right promotional items, booster clubs and PTAs can generate funds like never before.
Read on to learn more about booster clubs, how promotional products can help them and five of the best school merch ideas you can start using today.
How Do Booster Clubs Work?
Before we dive into the details, let's first explore how booster clubs work.
As mentioned earlier, booster clubs are parent-run organizations with a goal to raise money for student clubs and teams. For example, booster clubs may be dedicated to supporting their associated:
Marching Band
Athletic Club or Team
Drama Club
Competitive Math Team
Chess Club
Debate Team
Model United Nations
Yearbook Club
Academic Decathlon Team
School Newspaper Club
Prom Committee
According to the most recent research from the U.S. Census Bureau, nearly 60 percent of children between the ages of 6 and 17 participate in such extracurricular activities.
The agency also found that children who are involved in these activities are more engaged in school. So, it's plain to see how booster clubs can play a vital role in fostering student success and building scholastic communities.
With that in mind, many booster clubs have taken to social media in an effort to gain exposure and build enthusiasm. Take a look at the official Twitter account of the Watauga High School Pioneer Booster Club, which regularly posts updates about the school's athletic programs:
With the money they're able to raise, booster clubs can provide students with things like:
Sports equipment
Printed promotional materials such as flyers, programs or team schedules
Supplies like costumes, musical instruments, uniforms and prom decorations
Transportation to events, games and competitions
Activities and events like camps, field trips, banquets and celebrations
Venue Reservations
How Promotional Products Can Help Booster Clubs
Traditional fundraising techniques like bake sales can certainly generate results. However, custom-printed promotional products are especially useful for raising money and promoting school spirit.
That's because customized school promotional items can be bought in bulk for an affordable price, and are items that people actually want, keep, and use. Plus, they help create exposure for the student club, team or organization in question.
By customizing promotional products with a club name, team logo, school mascot, school name, or school logo, your booster club can make sure that more people know about the club you support.
After all, when people use your customized items out in public, they'll be exposing your chosen design to hundreds or even thousands of other people.
5 Best Promotional Product Ideas for Booster Clubs
Want to ensure that your booster club is the best in the district? Sell, auction, or raffle off these five types of branded items at your next fundraising event:
1. Apparel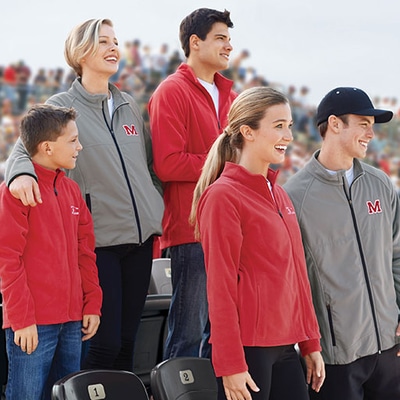 From home to the gym to the classroom, everyone can use high-quality apparel in their day-to-day lives. That's why custom-imprinted clothing like the Active Life Ladies' Campus Microfleece Jacket pictured above is such a great choice for booster clubs (a men's version is available too).
Crafted from anti-pill microfleece and equipped with handy side pockets and an embroidered imprint area, this jacket is a universally appealing option that everyone can appreciate.
Also consider these awesome pieces of apparel for your fundraising efforts:
2. Drinkware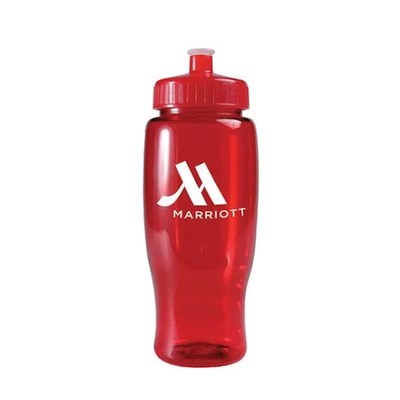 With people's interest both in health and eco-friendliness increasing, branded reusable drinkware is a foolproof choice for your booster club.
For games and outdoor events, you might want to choose a water bottle like the 27 oz Poly-Squeeze Sport Bottle shown above.
Or, make it easy for people to take their coffee with them wherever they go with an insulated tumbler (they're perfect for hot cocoa and tea, too). We're fans of these options:
3. Umbrellas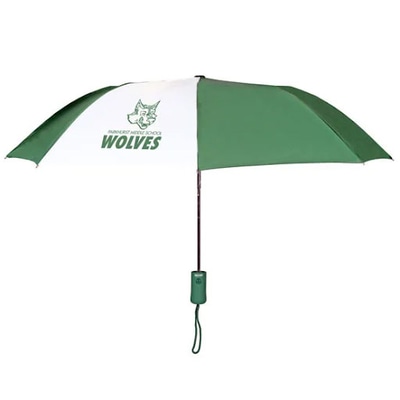 It's easy to forget to bring an umbrella to an outdoor game or event, leaving you stuck out in the rain. That's why personalized umbrellas are such an excellent choice for booster clubs. Try selling umbrellas during the rainy seasons of soccer, football, baseball, and golf, and you're sure to see impressive results.
One great example is the EZ-Click Uno Umbrella pictured above. Available in an array of bold colors, this umbrella folds down to a compact size that can easily fit in a backpack or purse. Just push the button and it instantly expands into a full-size umbrella. Plus, its steel frame keeps it from turning inside out in the wind.
We love these stylish umbrellas, too:
4. Blankets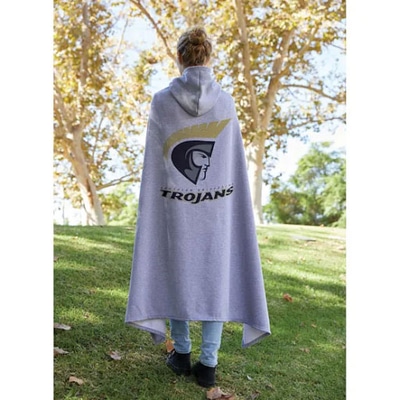 No one can resist the comfort of a soft, cozy blanket. With customized blankets of your own, your booster club can raise money and increase exposure for your associated student club.
The Hooded Sweatshirt Blanket shown above is a unique blanket that users will love. Made from soft cotton and durable polyester, this blanket features a button closure at the neck to keep it secure anywhere, anytime. Since it provides head-to-toe warmth, it's perfect for school sporting events, outdoor activities and more.
Also check out these fantastic options:
5. Sports-Specific Items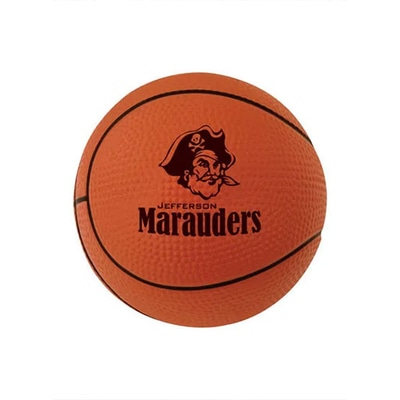 Is your booster club associated with a sports team? We've got you covered with a broad selection of promotional products for hockey, football, basketball and golf teams alike.
For instance, the Stress Balls Basketball pictured above can prominently display your team's logo in offices, classrooms and more.
Take a look at these other logo items for schools.
Even with a small budget, your booster club can use these five ideas to start raising money, enriching students' lives and bringing your community together.
Want even more ideas for promotional products for booster clubs? Get started by browsing our full selection of promo products for education. Or, read our in-depth guide to promotional products for schools.