The Power of Promotional USBs
published: September 10, 2019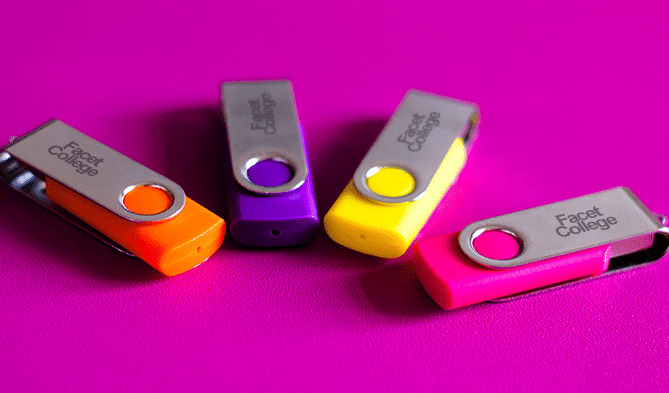 Custom USB flash drives can be a fantastic way to boost brand recognition, show customer and employee appreciation, and gain exposure. This is true whether your organization is in the technology industry, the nonprofit sector, or something in between.
After all, the Advertising Specialty Institute's 2019 Global Ad Impressions Study found that 58 percent of consumers own promotional USBs and keep them for an average of 13 months. But how do promotional USBs have such a strong impact, and why should you buy them? That's what we're here to find out.
What Are USB Flash Drives?
Universal Serial Bus (USB) flash drives are small devices that are used for the storage of digital files. They can be used to store:
Documents such as DOC and PDF files
Photos such as JPG and PNG files
Videos such as .AVI and .WMV files
Music such as MP3 and WAV files
Software applications such as music players and word processors
Operating systems such as Windows and macOS
Video games
By simply plugging a custom USB flash drive into a device with a corresponding USB port, such as a computer, phone, or tablet, almost any type of file can be downloaded to the drive or uploaded to the device. For example, a user could download a PowerPoint presentation onto their USB flash drive at home. Then, they could use that flash drive to upload their presentation to a shared computer at their next meeting.
USB flash drives are known by a number of names, including:
Thumb drives
Memory sticks
Jump drives
Pen drives
USB sticks
And more ...
Given the prevalence of cloud storage, like the kind used by services such as Google Drive and Dropbox, it may seem like USB drives run the risk of becoming obsolete. However, that couldn't be further from the truth.
USB drives have several indispensable benefits that other web-based storage methods do not:
Security: Unlike web-based storage methods, a custom USB flash drive can only be accessed by the person who physically possesses it. This means that USB drives can't be hacked by attackers in another location.
No internet reliance: USB drives don't require an internet connection to store or transfer files. This means that users won't need to find a WiFi hotspot to access their important documents or favorite music.
Marketing and promotion: Since USB drives are physical objects, they can be custom printed with any brand logo or promotional message.
Suffice it to say, promotional USB drives are exceptionally portable, durable, and useful devices that won't be going out of style anytime soon.
What Are USB Hubs?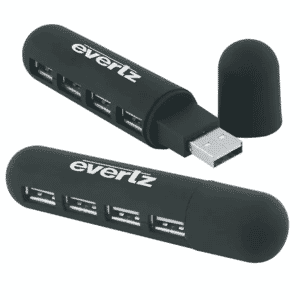 To understand what USB hubs are, think of power strips. With one power strip, you can connect multiple plugs to a single wall outlet.
Similarly, USB hubs allow users to connect multiple USB devices to a single USB port. For example, a USB hub could be used to connect a camera, smartphone and USB flash drive to one computer, all at the same time.
Best of all, USB hubs aren't just useful for transferring files. They can also be used to quickly and conveniently charge multiple devices simultaneously. Some USB hubs even include quick-charging USB ports for extra high charging speeds.
All USB hubs have at least two USB ports. However, some include three, four, five, or more. For example, the Mini USB Hub shown above features four ports.
Depending on the types of ports they're equipped with, USB hubs can be compatible with a number of different devices, including:
Custom USB flash drives
Cameras
Smartphones
Tablets
Scanners
Printers
Keyboards
Mice
MP3 players
Memory card readers
External hard drives
Why Buy Promotional USBs and USB Hubs?
We've already explored some of the many uses and applications of custom USB flash drives and USB hubs. But why should companies invest in promotional USBs, and how can they help boost exposure and brand recognition?
Let's take a look at some statistics to find out.
First, it's important to realize just how prevalent tech devices are. According to the Pew Research Center, among U.S. adults from the ages of 18-49:
Ninety-nine percent own or use a cellphone.
Ninety-one percent own or use a smartphone.
Seventy-seven percent own or use a computer (desktop or laptop).
Fifty-eight percent own or use a tablet.
Since all of those devices can be charged and transfer files via USB ports, it's clear that promotional USBs and USB hubs are useful across the board.
Now let's examine the impact that USB drives and hubs have as promotional items.
As mentioned above, the 2019 ASI report found that:
Fifty-eight percent of consumers own promotional USBs.
Fifty-eight percent of consumers will keep a promo USB because of its utility.
Forty-three percent of consumers keep a promo USB for two years or longer.
Promotional USBs generate 700 impressions over their lifetime.
The study also revealed that:
Recipients keep promotional USBs for an average of 13 months.
A promotional USB that costs $5 would have a Cost Per Impression (CPI) of just 7/10 of a cent. In other words, you'll pay less than one cent for every impression the USB drive generates.
Forty-seven percent of consumers would give their promotional USB to someone else if they didn't want it.
Also keep in mind that just because USB drives have been around for years doesn't mean that they're not popular with young consumers.
In ASI's 2016 Global Ad Impressions Study, it was discovered that 60 percent of consumers aged 18-24 own branded USB drives, compared to 37 percent of those over the age of 55.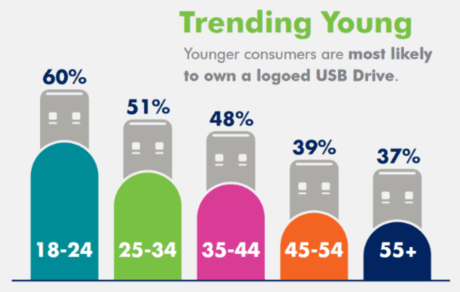 In short, promotional USBs are an effective, long-lasting and low-cost promotional product in today's tech-centric world and will be a hit with even the youngest and most tech-savvy of recipients.
Who Should Buy Promotional USBs and USB Hubs?
Who should buy custom USB flash drives and USB hubs? The answer is simple: Everyone.
With the vast majority of the U.S. population using computers, mobile devices, or both, promotional USBs are a sound promotional product for companies to buy.
After all, the long list of people who regularly use (and often depend on) USB-compatible computers and mobile devices includes:
Elementary, high school, and college students.
CEOs and executives.
Office employees.
Work-from-home employees.
Employees who frequently travel.
Artists and creative professionals.
Because of their unique security and portability, USB drives are also used across a range of industries and fields, including:
Technology
Engineering
Manufacturing
Finance
Legal
Architecture
Art and design
Education
Non-profit
As a result, promotional USBs are perfect for giving away at a wide range of events and occasions, such as:
Industry conferences
Trade shows
Fundraisers
Fairs
Meetings
Classes
School and community events
This means that no matter your audience, purpose or occasion, your custom USB flash drives are sure to resonate.
More Giveaway Ideas for Tech-Savvy Recipients
Looking for more ideas for your upcoming tech giveaways? We've got you covered.
In addition to custom USB flash drives, consider these popular options.
Chargers and Power Banks
Anyone who uses a phone, laptop, tablet, or other mobile device can appreciate the convenience of chargers and power banks.
We love the sleek, sophisticated look of the Pocket 4000 mAh Power Bank: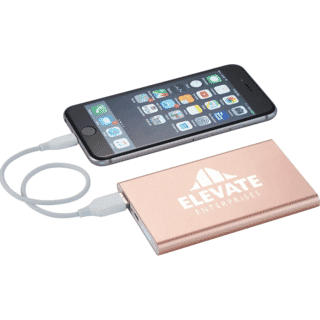 This power bank features a rechargeable lithium battery and comes with a Micro USB cable to charge Android devices. Or, with a separate Lightning cable, it can also be used to charge Apple devices.
Charging Cables
Your recipients will undoubtedly love the practicality of promotional charging cables.
We're fans of the 3-in-1 Charging Cable Keyring: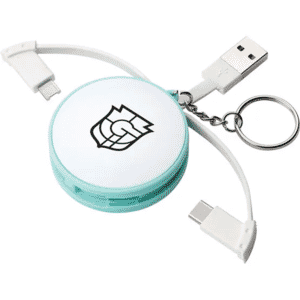 This keyring includes three charging cables, a convenient wraparound design, and a handy keyring to ensure nothing gets misplaced. The cables include USB Type-C, USB Type-A, and a 2-in-1 charging tip for both iOS and Android devices.
Laptop Bags and Sleeves
For on-the-go professionals and students, laptop bags and sleeves are the perfect way to keep their laptops protected.
You can't go wrong with the Reversible Laptop Sleeve: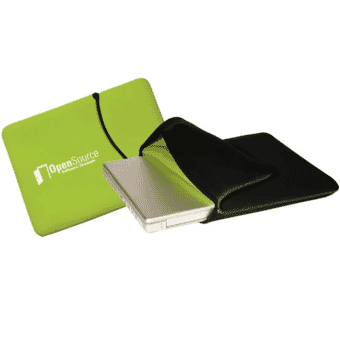 Crafted from rugged yet flexible neoprene, this slim sleeve stretches to fit most laptop sizes and features a reversible design to suit every style.
Headphones, Speakers, and Audio Devices
Some of the best promotional gifts are headphones, speakers, and audio devices. Everyone can use headphones for their morning commute or speakers for playing tunes at their desk.
We love the Encore Wireless Speaker: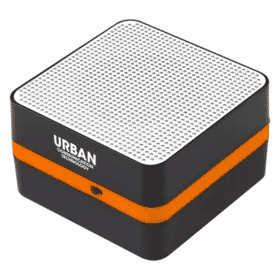 Measuring just three inches wide by three inches high, this little speaker packs a punch. It features high definition Bluetooth® 4.2 technology for excellent stereo sound and can pair up with devices from up to 33 feet away.
Plus, its array of available accent colors can complement any custom design.
Stylus Pens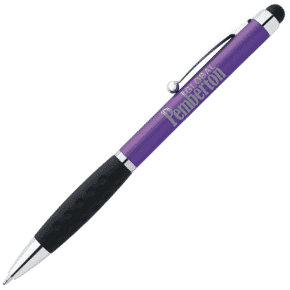 With a stylus on one end, a retractable pen on the other and a comfortable rubber grip in between, this stylus pen is a perfect marriage of form and function.
Tablet and Phone Stands
When on-the-go, at work, or at home, tablet and phone stands are a must-have for any tech owner.
We love the Engraved Aluminum PopSockets®: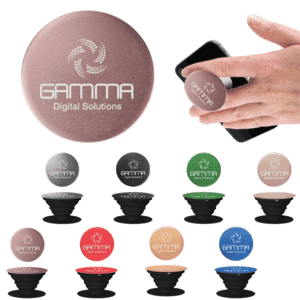 This engraved aluminum version of the popular PopSockets® is both elegant and multifunctional. It can serve as either a phone grip for comfortable handheld use or a tabletop stand for hands-free use. Plus, its removable adhesive makes it easy to reuse on different devices.
Want more ideas for promotional tech giveaways your recipients will appreciate? Check out our custom phone accessories buying guide and custom USB charging cable buying guide.
Suffice it to say, promotional USBs may be small, but they're undeniably mighty. With the power to generate hundreds of impressions, increase brand recognition, and nurture relationships with a wide range of recipients, USB drives are a foolproof investment.
To find out how to choose and design your own custom USB flash drives, check our Custom USB Drive Buying Guide.