The Power of Promotional Writing Instruments – Branding with Pens
published: June 03, 2019 | updated: September 10, 2020
Have you ever wondered what makes promotional pens so popular? Nearly every educational institution, bank, business, and hotel have custom writing instruments with their company name on them. Pens are inexpensive, come in a vast variety of styles, and can be used by anyone, which is why the promotional pen is right on point.
The ballpoint pen was invented in 1938 by László Bíró, a journalist from Hungary, and is now one of the most common pens used for promotional purposes. Ballpoint pens offer quick-drying ink and write smoothly, which is why most people enjoy writing with them.
In the U.S., 89% of promotional product consumers own a branded pen with 20% of those owning more than 10, making them the most popular promotional item. Custom drinkware (88%) and t-shirts (80%) follow closely behind in second and third place.
When consumers do receive promotional writing instruments, they keep them for an average of 9 months, which generates about 3,000 impressions for your business! This staying power leads to frequent and consistent exposure to your brand. It is also likely that each promotional pen will end up in the hands of someone else before its life is done.
Another great feature of promotional writing instruments is that they are affordable. Promotional pens offer the cheapest cost per impression at less than one-tenth of a cent. That is a big return on investment for your business.
Promotional pens have also found a way to stay relevant in our world that is now driven by technology—the stylus pen! Stylus tips have been added to the end of pens in most styles making them handy to use for traditional note taking or for use on mobile devices and tablets.
Do these incredible facts have you ready to put your logo on a promotional pen? Find the perfect choice for your industry below!
Financial Institutions:
Many financial institutions offer their clients pens to use when signing or filling out paperwork that they can then keep if they wish. Because of this, it is important for these types of businesses to acquire pens that work well for customers and clients, offer a sense of disposability, and don't break the bank when purchasing high quantities. Luckily, the Easy Writer line checks all of those boxes. With a large selection to choose from, you're sure to find the perfect take away-pen.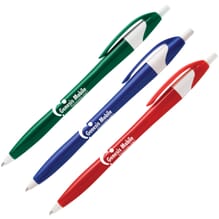 Consider finding a pen that uses anti-fraud ink. Anti-fraud ink is formulated to resist water, fading and erasing. It helps to prevent check and document fraud by trapping the ink into the paper. It is also ideal for record keeping since the ink will not fade like traditional inks which eliminates the risk of anyone re-entering or altering information. Your clients will appreciate this extra sense of security, and your company will be safer too.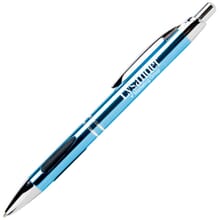 Education:
With the busy schedules that teachers and students share, any opportunities for saving time are readily embraced. The Rocket Four-Color Pen can save time at the click of a pen. Whether you have students revising essays or teachers grading those essays, being able to easily transition between black, blue, green, or red ink all in one writing instrument can shave minutes off that task.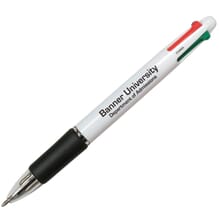 The Starlight Highlighter Stylus pen is also a time saver. It is a multi-function, pen, highlighter, and stylus all in one affordable product. Promotional pens make great giveaways for students, teachers, and parents.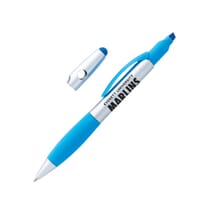 Office-based Organizations:
Businesses that function in an office setting strive for their employees to be comfortable while also maintaining a professional appearance. That is what the Clearly Curvy Pen brings to the table. This pen provides a sharp look as well as a comfortable, rubber grip and chrome accents that will make all your pens stand out. They are also available with a stylus tip. Impress your customers and employees by making the Curvy Pen the standard in your office.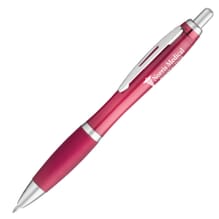 If you're looking for an extra professional look that is appropriate for giveaways and corporate gifts alike, try an executive pen or pre-packaged pen gift set. Available at a variety of price points, these sleek pens come in several designs and are sure to impress anyone they're given to.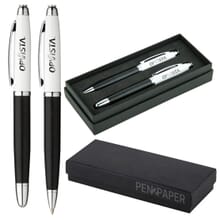 Healthcare:
In the healthcare industry, it's easy to see the importance of having a pen in hand at all times. However, keeping that pen in hand isn't always quite as easy. Never leave your employees worrying about losing their pens again with the Supersmooth Pen. The clips on these pens allow people to secure it to any clipboard or paperwork and the variety of vibrant colors that it comes in make it easily stand out. Never let forgetting pens hold up patient care again!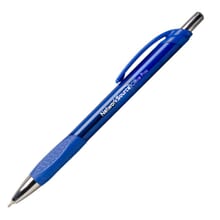 Of course, there's also always room for a bit of fun. The Moptopper™ Stethoscope Stylus Pen works great as an employee or patient giveaway and is sure to make everyone in the building smile. These pens offer a nurse's or physician's twist on our bestselling MopTopper™ pens with a stethoscope-shaped clip. A stylus tip and screen cleaning hair make this pen compatible with touch screen devices and all your industry's needs. For more fun writing instruments, check out our other novelty pens as well as other healthcare giveaways.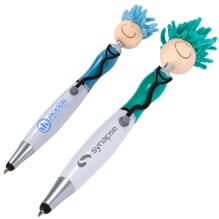 Hospitality:
Hospitality is a competitive industry where even the smallest of details can be a deciding factor on whether a consumer will choose your business or not. With the Hulo Pen, even something as small as your choice in pens can have a huge impact. These eye-catching pens offer a fun yet professional look while also being light to carry. Give these pens to your wait staff to take orders with or to your guests to fill out paperwork with. No matter where they're used, Hulo Pens help any business to make a great impression on potential clientele.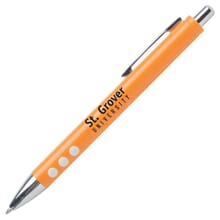 Pack an extra promotional punch with our triangular billboard pen. These unique pens offer three flat sides for advertising local attractions, popular dishes, gift shops, or just about anything else you may need. Each side has ample space to fit each of your three designs. Try it out!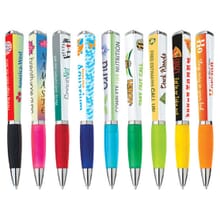 Nonprofits:
Nonprofit organizations must communicate a lot of information to constituents and potential business associates. Some organizations try to educate people about their cause, while others attempt to gain more funding for their programs. No matter your purpose, the Bic® Widebody® Message Pen is the perfect way to deliver plenty of information in a condensed product that recipients won't just throw away. With room for six messages and an imprint of your logo on the body, this pen makes sure that no one could possibly forget your name.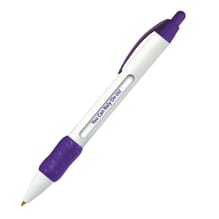 If you're running on a lower budget, you could also try a more affordable alternative like the Bic® Tri-Stic® Pen. This option allows a different message to be imprinted on all three sides for great exposure at a lower markup and equal minimum.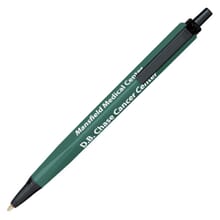 Pens are an essential item in any industry. For every unique company in these industries, there is a perfect promotional pen ready to give it an extra push toward success. If your industry isn't specifically mentioned here, browse our large selection of nearly 600 pens. You're sure to find one that meets your needs.