Types of Plastic and Their Recycling Codes
published: July 19, 2019 | updated: April 16, 2020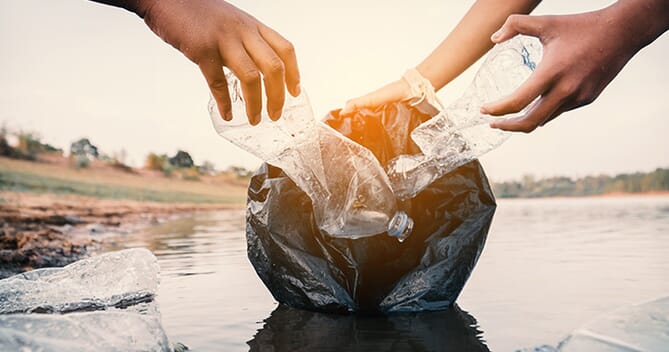 An increasing number of consumer products – including countless promotional items – are made from plastic. Here's a quick primer to help you understand the differences between various types of plastic, by recycling code. You can find the plastic recycling numbers printed right on most products. For containers, such as cups and bottles, the code will usually be found on the bottom.
Number 1
Code: PET or PETE
Material: Polyethylene Terephthalate
FOUND IN
Disposable beverage bottles
Condiment containers
Mouthwash bottles
Microwave food trays
RECYCLED INTO
Carpeting
Upholstery
Fleece and other polyester clothing
Webbed straps
Containers

Number 2
Code: HDPE
Material: High Density Polyethylene
FOUND IN
Milk or juice jugs
Bleach or detergent bottles
Shampoo bottles
Yogurt containers
Cereal box liners
Motor oil bottles
Housewrap
RECYCLED INTO
Carpeting
Furniture
Stationary
Synthetic lumber
Floor tile
Drainage pipes
Trash cans

Number 3
Code: V or PVC
Material: Vinyl or Polyvinyl Chloride
FOUND IN
Plumbing pipes
Credit cards
Window frames
Siding
Fencing
RECYCLED INTO
Synthetic lumber
Flooring
Cables
Mud flaps
Floor mats
Shoe soles
Traffic cones
Note: Contains chlorine. Toxic when burned or used for cooking.

Number 4
Code: LDPE
Material: Low Density Polyethylene
FOUND IN
Prescription bottles
Yogurt containers
Hinged items
Rope
Carpet
Thermal underwear
Fast food soft drink cups
RECYCLED INTO
Car batteries
Storage bins
Ice scrapers
Cables
Broom bristles
Rakes

Number 5
Code: PP
Material: Polypropylene
FOUND IN
Squeezable bottles
Bread, frozen food, dry cleaning and shopping bags
Six pack rings
Playground slides
Container lids
Wire insulation
RECYCLED INTO
Trash bags and cans
Compost bins
Shipping envelopes
Paneling
Floor tile
Note: Plastic bags are not traditionally recyclable. Plastic shopping bags can be returned to many stores for reuse.

Number 6
Code: PS
Material: Polystyrene
FOUND IN
Take-out containers
Disposable foam plates or cups
Egg cartons
Meat trays
Compact disc cases
RECYCLED INTO
Foam packing
Take-out containers
Egg cartons
Insulation
Photo frames
License plate holders
Note: Can be made into either foam or hard plastic products. Styrofoam® is one brand name for polystyrene foam. This foam is NOT always recyclable.

Number 7
Code: OTHER
Material: Miscellaneous – Any plastic types that don't fit into the previous categories, or are combinations of any of them, are lumped together under Number 7. Examples include acrylic, polycarbonate, nylon, and fiberglass.
FOUND IN
CDs
Five-gallon water bottles
Kevlar® and other bullet-resistant linings
RECYCLED INTO
Traffic lights
If you're not sure what plastics or other items can be recycled in your office, find information about your local recycling center or curbside program at earth911.com. For more information on what promotional products are recyclable, or are made from recycled materials, check out our Eco-Friendly Promotional Products Buying Guide.