What Your Customers Will Love About Using Custom Reusable Bags
published: May 23, 2019 | updated: December 31, 2019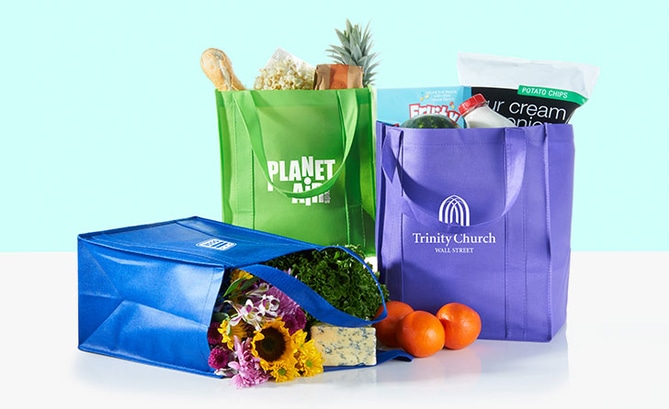 Did you know that a single-use plastic shopping bag can take anywhere from 15 to 1000 years to decompose? And even worse, they are not biodegradable. This means that when they do decompose, they dissolve into toxic particles, a process that most frequently occurs in the ocean. Therefore, the implementation of reusable grocery totes has been on the rise.
73% of consumers currently own a promotional tote bag that can gain over 3,300 impressions for your brand. Custom reusable totes also benefit your brand by being good for the environment. Today, many cities across the country are banning single-use plastic bags in order to reduce environmental pollution. Many retail locations and supermarkets will no longer be able to hand out the free plastic bags that shoppers rely on to carry their items home. Additionally, 42% of American consumers have a more favorable opinion of an advertiser if the promotional product they received was environmentally friendly. With consumer guilt becoming a more prevalent issue, earning the social approval of customers is becoming increasingly important. So, why should you carry your own bag for shopping? What are the benefits of reusable bags and using them as promotional items? How can you find the right bag for your business? Read on to learn more.
Why Should You Bring Your Own Shopping Bag to the Store?
How to Use Reusable Grocery Bags Safely
Wash your reusable totes often, especially if you use them for food items. Washing your reusable bags at least once a week will kill the bacteria and help to eliminate risk. Many of our reusable grocery totes, such as our Economy Tote, are safe to wash. If you're not sure whether or not one of our bags is safe to wash, just contact one of our experts and they will help you find out!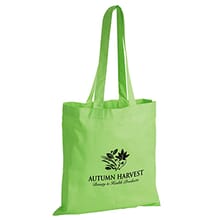 You can also cut down on the bacteria that your reusable bags encounter by taking advantage of sanitizing wipes that many grocery stores are now putting by the door. Before putting your tote bags in your cart, wipe the handle and other areas of the cart down to make sure that they are clean. This is a good practice to follow at the store whether you are using reusable bags or not!
Finally, you can make sure that you store your bags in a clean dry place. Don't fold up your bag and store it if it is wet or damp, allow it to dry while open and then store.
Benefits of Promotional & Customized Reusable Bags
They offer valuable advertising space. Personalized grocery bags have a large imprint area available so there is ample room to include your logo and design that you want to share. A large imprint area also allows for more creativity in your imprint design. An eye-catching design is great for getting the most impressions. Your design is one of the deciding factors in whether a consumer will keep your bag–an awesome design will make them want to keep it!
Repeat use = repeat exposure! Custom bags are a great reusable product that will give you lots of valuable brand impressions. As one recipient of a promotional tote bag described it, "It is a great size and durable, so I use it all the time. It's a perfect bag for taking to the farmers market, packing my camping supplies in, or carrying refreshments to get-togethers." Like this customer, many consumers will hold on to a great reusable bag for as long as they can. This means that unlike traditional forms of advertising that run out, your advertisement will only end when the customer stops using your bag.
They're available in prices that fit any budget. Whether you are looking for a lower cost tote for a giveaway or a higher-end tote for a corporate gift or retail item, there is something for you. You name a price and a Crestline promotional product expert will find a perfect tote for you.
Factors to Keep in Mind When Investing in A Promotional Tote Bag
The color of the bag and the desired imprint color. You will want to make sure that the message on your bag is easily readable. It is important to make sure you pick contrasting colors for your bag and your design so you can be sure viewers understand your message. If you are unsure about choosing a strong imprint color, ask one of our specialists. They are here to help you find the best colors to represent your brand and your message.
The durability and material of the bag. What do you want your customers to use this bag for, and how do you plan to distribute it? If you are planning to sell it like a retail item, or you want the receiver to use it as something that goes beyond your typical grocery tote bag, you will want to invest in a higher quality bag. If you are looking for something to use as a gift bag or giveaway, you can choose a lighter bag.
Make sure your bag is not going to be overlooked. If you choose to use a custom tote bag or a reusable grocery tote, make sure there is something that sets your bags apart from the rest. Whether it is the color, your imprint, or the goodies that you put inside of it!
If you're ready to invest in a great promotional bag or reusable grocery bags, check out some of our best sellers. If making eco-friendly choices is important to you and your brand, consider investing in a reusable grocery tote bag made from recycled materials like the Laminated Grocery Tote.