Watchpost™ Wireless Charging Pad
Item # 122224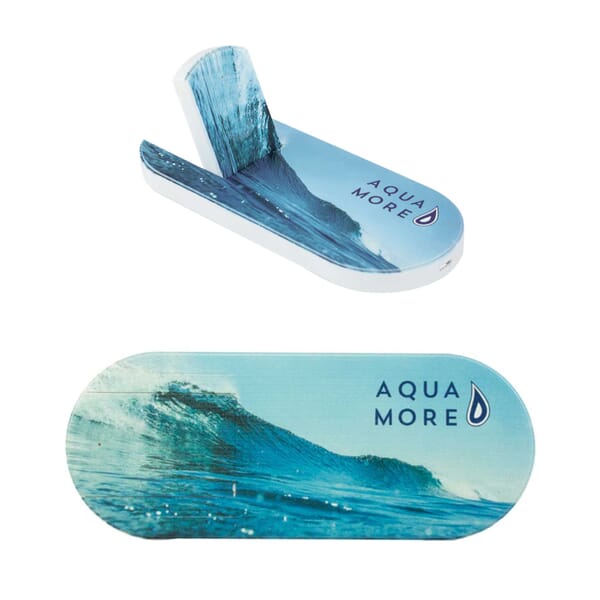 Product Details
• Wirelessly charge your Apple® Watch® and smartphone with the Watchpost™!
• This portable power pad allows you to minimize the chargers you travel with and eliminate the hassle of wires.
• Prop the end of the Watchpost™ up or lay it flat to wirelessly charge your iWatch®.
•The Watchpost™ works on all wireless charging compatible phones and is perfect for minimizing outlets needed while traveling.
• Works with Apple® Watch® Series 2, 3, & 4.
• Input Voltage 5V 2A 9V1.67A; Output for Phone 5V /1A, 9V /1.1A; Output for Watch 5V 0.4A.
Size:
6"W x 2 1/2"H x 3"D
Imprint Area:
6"W x 2 1/2"H
Product Details
• Wirelessly charge your Apple® Watch® and smartphone with the Watchpost™!

• This portable power pad allows you to minimize the chargers you travel with and eliminate the hassle of wires.

• Prop the end of the Watchpost™ up or lay it flat to wirelessly charge your iWatch®.

•The Watchpost™ works on all wireless charging compatible phones and is perfect for minimizing outlets needed while traveling.

• Works with Apple® Watch® Series 2, 3, & 4.

• Input Voltage 5V 2A 9V1.67A; Output for Phone 5V /1A, 9V /1.1A; Output for Watch 5V 0.4A.

Size:

6"W x 2 1/2"H x 3"D

Imprint Area:

6"W x 2 1/2"H

Item # {{ scope.currentItemNo }}

Product Options