8 Awesome Ideas for
Employee Appreciation Gifts & Events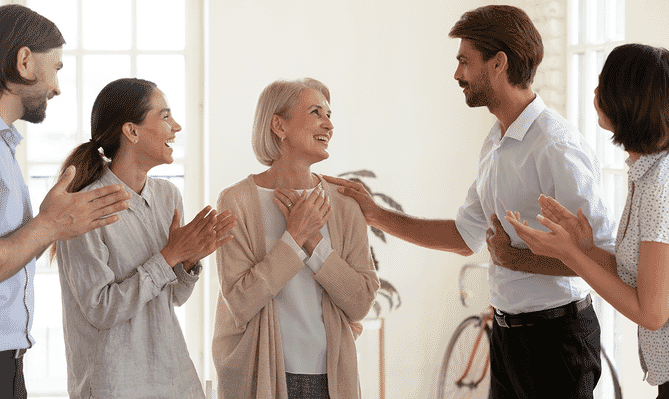 Everyone needs to feel appreciated. Employees are the most important asset of any organization, and showing the appropriate recognition and appreciation is essential. Employees want to know they are contributing to your organization's success, and when they feel their work is recognized and acknowledged, their satisfaction with work will increase. That's good news for employers because the happier employees are, the more productive they will be.
Here are a few ideas to help you make your employees feel appreciated:
When you notice positive behavior or first-rate work, validate it! Praise your staff or coworkers when they do something well. Identify the specific actions that you found admirable. Then, take appreciation a step further with a creative touch. At Crestline, any staff member can thank a co-worker with a personalized helium balloon on display at their desk. Every month, all recipients are entered into a drawing for an Amazon gift card. Have managers nominate employees for special achievement awards on a quarterly basis. Recognize the winners with customized certificates in front of the entire organization to add applause to the package.
Say "thank you." Send thank-you cards, or simple handwritten notes of gratitude to employees who make exceptional contributions to the organization. Level up your gesture by engraving "Thank You" on classic gifts like stainless steel tumblers and water bottles or having it embroidered on cozy throw blankets.

Throw a catered appreciation party or take staff to lunch for birthdays, special occasions, or for no reason at all. Give everyone a customized reusable lunch bag to keep their leftovers in.

Create a game day to foster teamwork. Include races and problem-solving activities for the staff. Give out prize tokens to the winners of each activity. Be generous! Award tokens to whole teams for group activities and honor first, second and third prize with different amounts of tokens. At the end of the day, let everyone cash in their chips on company logo prizes like duffle bags, power banks and apparel.

Bring in healthy treats like fruit and yogurt parfaits or veggies trays with a variety of healthy dips for staff and coworkers. Everyone loves cookies and cupcakes, but since most people are trying to make healthy choices these days, guilt-free snacks are an extra-special surprise, especially around the holidays! Throw in personalized infuser bottles to keep the healthy trend going.

Pressed for time? Skip the events and just give useful gifts featuring your company logo. Engraved reusable straws and branded Popsockets® are fun, trending options that everyone can use. Or, add each employee's name to corporate logo pens for a personal touch. Whatever gifts you choose, come in early to place than at each employee's workstation. There's no better way to start a great workday than an unexpected appreciation gift first thing in the morning.

Holiday parties or events are a great way to build a sense of team and strengthen relationships. Keep the warm sentiments going long after the fest by sending everyone home with a thoughtfully curated company swag bag. To mark the event in time, create a custom riff on your logo just for the holiday, and carry that graphic theme through from the bag itself to each item within. Be sure to include a t-shirt or other apparel item with your one of a kind event logo. Need inspiration? Check out our standout swag bag ideas and real life company swag examples to see how it's done.
Observe Employee Appreciation Day each Spring. The 2020 date is March 6th, and it's a Friday—the perfect time to celebrate! To create a seasonal theme, gift your staff with confetti packets implanted with wildflower seeds to plant at home. Double down on the good vibes by sending a snack cart around the office in the afternoon. Stock it with sodas, vitamin waters, seltzers, chips, nuts, and granola bars and let everyone choose their favorites. Have more love to give? Extend the celebration and do something special every day of Employee Appreciation Week.
Corporate gifts convey a sense of appreciation and value. Fun, motivational, and team building gifts can serve as reminders to continue strong performance and incentives to meet goals. A great way to keep gifts fun is to dress them up with a funny or inspirational slogan or employee appreciation quote. Check out our gallery of motivational quotes for promotional products or this slogan collection created just for the ultimate office survival item, the coffee mug!
Using promotional products is a concrete, cost effective way to boost morale and retain staff. Studies show that promotional products rank high in value when given as part of employee appreciation and recognition programs in particular. A study conducted by the Incentive Marketing Association says the most popular imprinted merchandise items are printed corporate apparel, watches, desk accessories, food & beverage giveaways, gift certificates, plaques and trophies, tools, and promotional writing instruments. When choosing promotional products for employee functions, choose practical items that your employees can use on a daily basis but that will also remind them of how much your organization appreciates their hard work.
Companies have nothing to lose and so much to gain by making the effort to show employees appreciation and recognize their hard work and efforts. Great companies recognize that their employees are their most important asset and continuously find innovative ways to recognize them appropriately. Remember happy, appreciated employees are loyal, dedicated, hardworking employees. Investing a bit of time and money in selecting promotional items to recognize your employees can spell lasting success for your organization as a whole.
Whether you choose items that are available to all employees, items for special events, or ones that are given in recognition of the special achievements of a select few, promotional items can positively impact both your current work environment and your future organizational initiatives.