Awesome Gift Ideas for Teacher Appreciation Week 2022, According to Teachers
published: May 8, 2020 | updated: March 13, 2022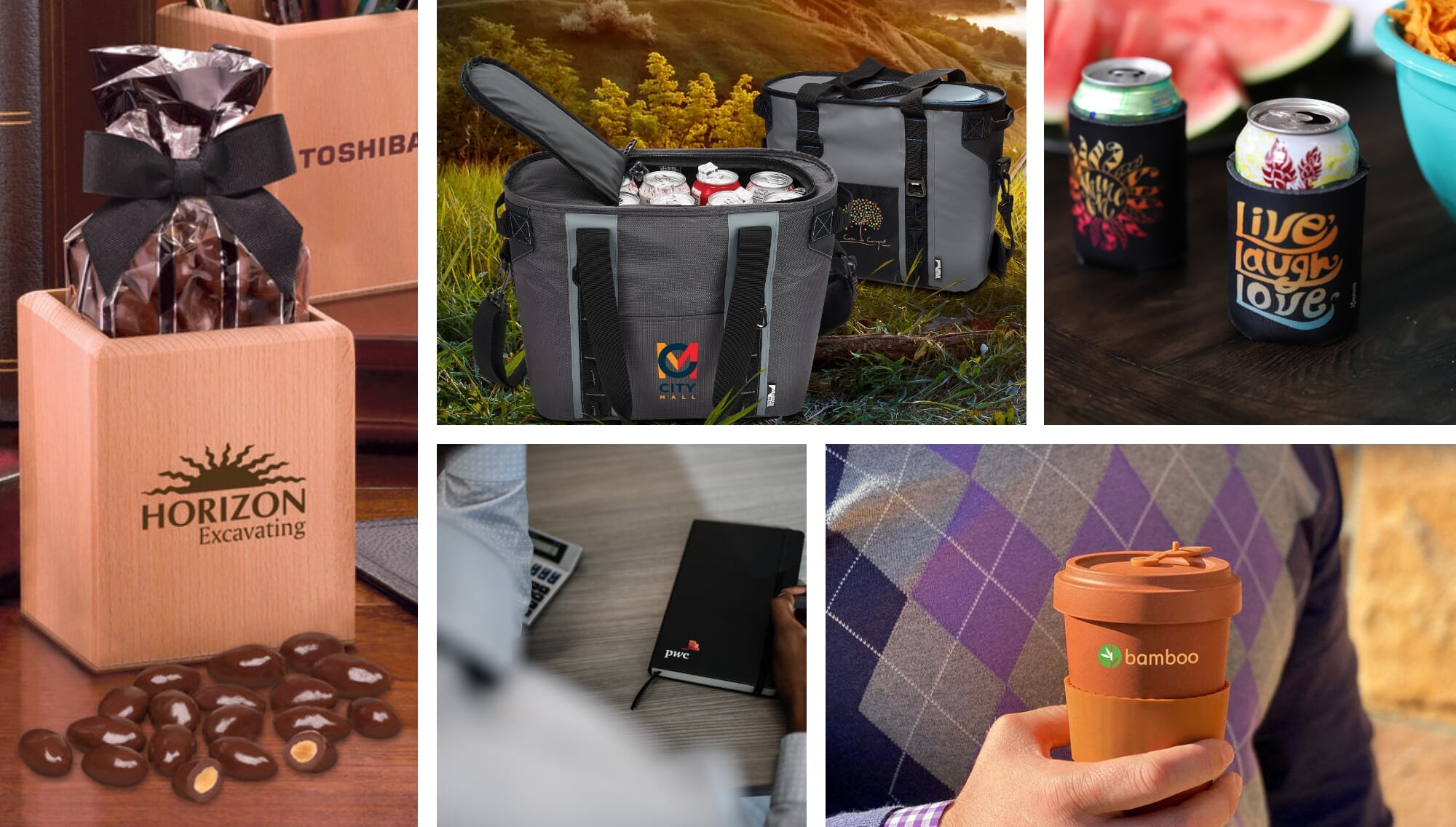 We all know that the work of teachers is unfathomably important, but also infinitely challenging.
Given the importance of their work as educators, it's undeniable that they all deserve a little extra appreciation. That's why every May, school administrators, teachers, students, and parents come together to celebrate teachers for Teacher Appreciation Week.
In 2022, Teachers' Week will begin on Monday, May 2 and ends on Friday, May 6. Here, we'll show you the best, most creative Teachers' Week gift ideas so you can show appreciation for the special teachers in your organization.
Teacher Appreciation Week Gift Ideas
When you're trying to decide what Teacher Appreciation Week Gifts to treat your educators to, it's best to start by contemplating one simple question: What do teachers really want?
We tapped into our network, and talked to teachers about what appreciation gifts they liked best as well as to customers about what items they purchased in the past that were well-received.
Here are just some of the Teacher Appreciation Week gifts that teachers said they loved:
Gift cards - Amazon, Target, LL Bean. Coffee places and restaurant gift cards work too, but only if you know what the individual teacher likes.
Spa service gift cards.
Art work - student made.
Thoughtful handmade crafts.
Affordable collectibles for stuff the teacher is into, from Game of Thrones, Stranger Things, Dr. Who, Pez, bands, artists, authors, etc. I personally collect snow globes and students bring them to me from their travels, including overseas. I treasure these, writing the student name & year on the bottom and keep them on display in my classroom.
Letters or notes from students/parents sharing thank yous, memories, updates and the positive effect the teacher had.
We also got some funny opinions on what teachers have enough of:
Apple-themed items, hokey teacher-pun items (unless we really, really are into that kind of shmaltz- some math teachers DO actually want all the PI day swag they can find...)
Candles. STOP, please.
There are plenty more opinions and ideas to come in this article, so stick around. Here are the best Teachers' Week ideas, as reported by real teachers and those that appreciate them.
School Supplies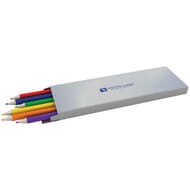 Two local teachers we polled immediately responded that custom school supplies would make an awesome appreciation gift, one suggesting personalized colored pencils. With budgetary constraints on many educators' minds, it is easy to see why school supplies make for foolproof gifts for teachers. The six-piece Colored Pencil Set shown above is perfect for use in K-8 classrooms.
Teachers also deserve supplies they can use themselves, and that's why we love this Heathered Notebook & Pen Set With Charging Cable: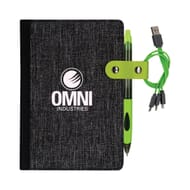 With its handy attached pen and 3-in-1 charging cord, it's perfect for busy educators who need to quickly jot down notes or charge up their phones. Plus, its large imprint area puts your logo front and center.
The sophisticated Maestro Pen is another fantastic choice and can be personalized with each teacher's name, as well as the name of your school: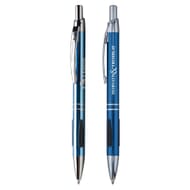 This excecutive pen has a gleaming metallic barrel, luxe chrome accents and a comfortable rubber grip that are sure to make any teacher's daily tasks feel a little more special.
One teacher we interviewed said that he once got a box of personalized pencils with his name on them. He loved that everyone knew it was his personal supply and something he could use in the classroom. He wasn't the only fan of pencils as a gift, a group of teachers in Maine recommended, "easily/quickly consumed office supplies, like pencils, erasers, post-its, highlighters, dry erase markers and headphones/earbuds." The same group cautioned against, "long lasting office supplies like letter openers, rulers...these things last forever!" so save those for new teacher welcome kits!
Drinkware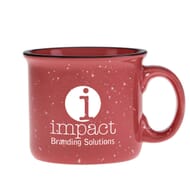 Beth, who purchased custom mugs for the teachers in her district said,
"(The) teachers and staff are delighted with the personalized outdoor adventure mugs they received on Teacher Appreciation Day!"
If you want to give a similar custom camp mug for Teacher Appreciation Week 2022, take a look at the 14 oz Outdoor Adventure Mug referenced above . With its durable construction, it's the perfect mug for the classroom or to take camping.
Teachers can accumulate mugs over time, so make sure the one you give is something special that they may not have. As one teacher put it, "We don't need anymore coffee mugs! Unless it's a Yeti. 🤣😉" Teachers are just as enamored of the recent trend toward insulated stainless steel coffee tumblers as everyone else, asking for "good, sealable, unbreakable mugs for beverages so they stay hot or cold." Charlotte, from a high school in Georgia, was happy with her purchase of our 16 oz Accents Stainless Tumbler, recalling "It was for Teacher's Appreciation Week and they love it."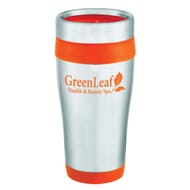 Looking for something more compact? The 10 oz Yukon Tumbler will be right up your alley: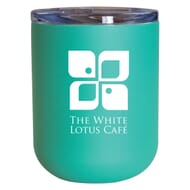 With its small size, durable stainless steel construction, heat-retaining copper insulation and press-on lid, this tumbler is perfect for teachers on the go.
A teacher friend of ours at a secondary school in California can attest to that. She says that:
"I got an insulated tumbler once that I love and use daily. It keeps my coffee warm when I only have time to sip it every 20 minutes, and I always think of the student when I use it."
Another educator liked her most recent gift, "A water bottle that said: My boss thinks I'm a pretty big deal." We think so too! Try a fun message like that, on a fun option like the 25 oz Fruity Infuser Bottle: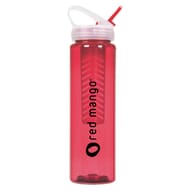 It has a built-in internal plastic basket that's specially designed for infusing beverages with delicious fruit flavors. Plus, its flip-up spout and carrying handle make it extra convenient.
Tote Bags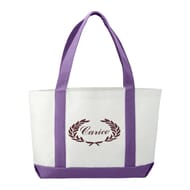 One preschool teacher we spoke with in Virginia said personalized tote bags as appreciation gifts were a hit:
"The teachers love them! They are well constructed and hold a good amount! Our parent group board baked fudge and cookies to put in them! Perfect gift!"
One popular choice is the Budget Boat Tote shown above. Available in a rainbow of fun color schemes, this sturdy polycanvas tote is ideal for giveaways. Plus, its open slip front pocket creates even more storage space.
The Mobile Office Tote is another stellar option: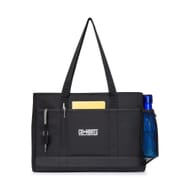 With teachers traveling to and from the school daily, organization is key. The mobile office tote features side mesh pockets, multiple front pockets, and a padded interior with a laptop compartment. Decorate the front pocket with your school logo for a Teachers' Week gift that won't be soon forgotten.
If you want to go all out, you can't go wrong with the Conference Tote: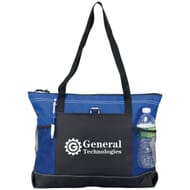 With a zippered main compartment, front slip pocket, two mesh side pockets and a pen loop, this ultra-functional tote bag will be appreciated by just about any teacher.
Food and Candy Baskets
Everyone loves a food gift basket stuffed with tasty treats or candy, and from the responses we got, teachers are no exception.
Check out the Aviana™ Day-Cation Gourmet Backpack Cooler pictured above. It comes filled with a scrumptious selection of treats including pistachio cherry cookies and berry mut mix.
Best of all, teachers will enjoy using the Aviana™ Cooler during their summer vacation.
For a gift set the whole family can enjoy, consider the Family Pizza Night Gift Set: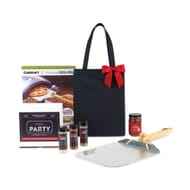 This DIY gift basket gives your teachers a fun hands-on dinner experience.
Or, give teachers a dual-purpose gift with the Chocolate Almond Pencil Cup: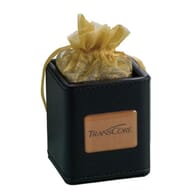 Once they've enjoyed all the delectable chocolate covered almonds, they can use the sophisticated faux leather cup to store their favorite pens and pencils.
Apparel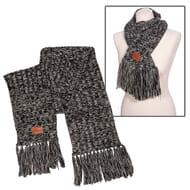 Show ample recognition for the teachers on your team with a high-quality piece of apparel they can use every day, like a school logo t-shirt, sweatshirt, or embroidered fleece. If you are blessed with budget, surprise your team with covetable name brand clothing
As we spoke to teachers across America, customized apparel kept topping the list of favorite appreciation gifts.
The LEEMAN™ Heathered Knit Scarf shown above is so soft and warm, teachers will never want to take it off. Plus, a stylish leatherette patch will put your logo on display.
We're also fond of the Performance Tech Half Zip:
This comfy, lightweight pullover is made of moisture-wicking, snag resistant and UV protective fabric. It's also available in a men's version, and is perfect for both the home and the office.
One of our teachers mentioned appreciating "a fleece vest with the school logo" like the Core 365™ Fleece Vest: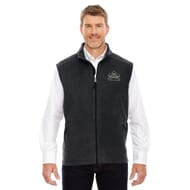 Crafted from super-soft polyester fleece, the Core 365 Fleece Vest is easy to take care of and can be worn in almost any weather. Be sure to check out the women's version, too.
In many parts of the country, May is T-shirt weather, so check out apparel options like the Favorite Gildan® Ultra Cotton® T-Shirt.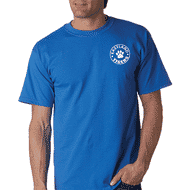 Made of 100 percent preshrunk cotton jersey with double needle seams and bottom hems for durability.
Female teachers will love the super soft Gildan® Softstyle V-Neck T-Shirt with as modern tapered cut, made with preshrunk cotton using deluxe yarns for a comfy feel all day long: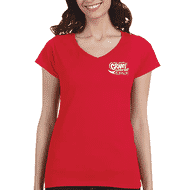 Don't forget to customize them with your school logo or mascot!
Tech Accessories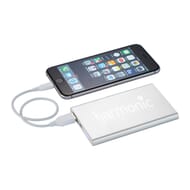 "We're planning to give phone chargers to our teachers for Teacher Appreciation Week. They turned out great with our logo and school name"
-Suzie, High School Staff, Illinois
The Pocket 4000 mAh Power Bank shown above is a great choice . This sleek tech accessory is powerful enough to charge phones, tablets and other mobile devices, and comes in a selection of stylish colors that teachers will love.
The 2-In-1 Charging Cable Lanyard will also prove to be invaluable: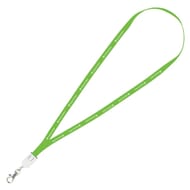 With a built-in charging cable, this handy lanyard can help teachers stay organized and keep their devices charged while showing off your custom logo.
Tech-savvy teachers will also love the Engraved Aluminum Popsockets®: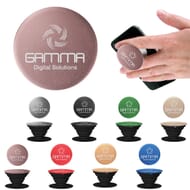 This phone stand's ergonomic and collapsible design makes it ideal for comfortably texting, calling and watching videos, whether in the classroom or at home.
Plus, a laser-engraved imprint area will make your logo stand out.
Earbuds are a useful accessory for any teacher with a phone, tablet or MP3 player, which is everyone! Check out the Color Pop Earbuds that come in an array of colors with a travel case and built-in cord holder for a tangle-free experience: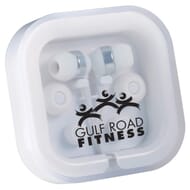 Retractable ID Badge Holders
Keep faculty ID badges always at the ready and never in the way with retractable badge holders. Our group of teachers in Maine requests,
"those breakaway lanyards and/or badge clips that zip in and out on an elastic cord. Sturdy (metal?) ones instead of cheap plastic; we wear them out!"
Try the Badge Reel & Clip for a more durable option,or our best selling Quick Draw Badge Holder.
Classroom Prizes for Students
Another group of teachers asked for,
"Things that can be "prizes" for kids to earn: notebooks, fun squishies/stress balls, gadgets- just nothing that could be used as a weapon or could be seen as threatening (no elastic rocket toys, laser pointers, anything gun-shaped, no tacks or blades.)"
Teachers can use stress balls too! Try a star shaped stress ball (for "star" students) or keep them entertained with a chameleon stress ball that changes color from the heat of hands.
Kits & Gift Sets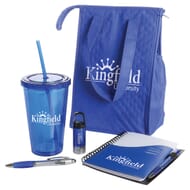 If you can't settle on a single gift, remember that you can't go wrong with a killer gift set or teacher survival kit. For remote staff, send out a mail ready gift box.
Teachers won't fail to appreciate the Fantastic Five 2.0 set shown above. This collection of best-selling promotional items contains everything a teacher needs to get through the school year, including:
Color Block Cooler.
16 oz Prism Tumbler.
Surge Notebook and Pen Combo.
Curvy Stylus.
Renegade LED Flashlight.
Or, give teachers the Three-Piece Event Combo to provide them with school day basics: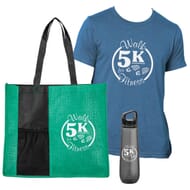 This set comes with three useful everyday items:
Custom printed Bayside® unisex jersey crew t-shirt.
Roomy crosshatch tote bag.
Translucent 25 oz water bottle with carrying handle.
Whether you're looking for Teachers' Week gifts for staff, members of a local organization or simply all the teachers in your community, they're sure to feel appreciated after receiving any one of these gifts.
"Every teacher I know appreciates anything! Some favorites are chocolate, gift cards, mugs, tote or canvas bags, water bottles and classroom supplies! Little signs have become pretty popular since last year, too!" -Chantal, Maine Educator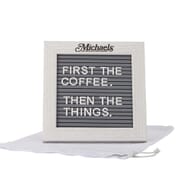 Want more inspiration? Check out all our promotional products for education and get ideas for fun slogans, sayings and quotes you can include on your Teachers' Week gifts.