How to Choose the Perfect Marketing T-Shirts to Customize
published: June 4, 2019 | updated: May 5, 2023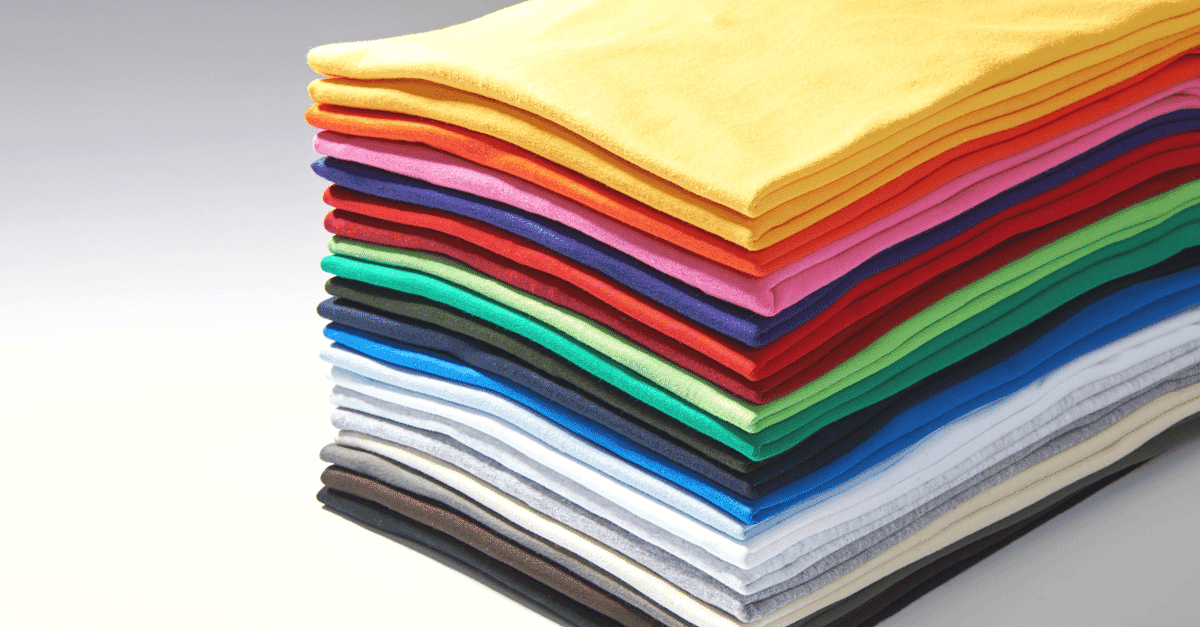 Promotional shirts are perhaps one of the most popular giveaway items in today's world. Businesses, community organizations, schools, churches, sports teams, clubs, and many more groups create custom T-shirts for a wide variety of events, giveaways and purposes.
If your company or business is planning on ordering promotional shirts for an upcoming event, take a look at this handy guide to help you make the right selection.
The Basics of Custom T-Shirts
The first thing to consider when choosing a promotional shirt is fabric weight. You'll see that Crestline always specifies the weight in the materials section such as "6 oz. cotton". This weight will vary based on each piece of apparel, but it is the average weight of one square fabric yard of the material in every color. Note that some colors of the same material may vary slightly in weight, which is why an average is taken. A casual T-shirt will have a higher weight than a performance T-shirt.
Second, you'll want to consider the fabric content, which for promotional shirts is usually cotton, polyester or a blend. One hundred percent cotton T-shirts are durable, hold up through multiple washings, and are easy to decorate. Cotton/poly blends are durable, stain-resistant and come in a wide range of colors. High-performance custom T-shirts are often made from polyester, which is a man-made fiber, or other soft, lightweight, engineered blends.
Finally, take a look at the custom T-shirt construction, which is based on style, fabric blend, and weight. For example, double-needle stitching means two needles are used to produce two rows of parallel stitches, increasing durability. Likewise, shoulder-to-shoulder taping means that shoulder and neck seams are covered with tape or binding for extra durability at stress points. Both represent different manners of construction that increase the durability, fit and flow of the custom T-shirt.
How to choose the perfect promotional shirt
Now that we understand the basics, let's consider some common types of T-shirts that are available today and which applications are best for each type
Casual Cotton T-shirts
Casual cotton t-shirts are an affordable giveaway for any event. Their heavy cotton construction gives them durability and comfort. Most of our casual cotton t-shirts are available with multiple different imprint location options so you can customize the t-shirts exactly how you had envisioned the final product.
This cotton t-shirt is ideal for gift bags at any event from trade shows to employee appreciation picnics! They are also well suited for tourism, restaurant or bar souvenirs, school apparel, fundraising, music festivals or concerts, or any other casual industry or occasion.
We recommend the Gildan® Ultra Cotton™ T-Shirt.
Active Blend T-shirts
Active blend t-shirts are just as versatile as the casual cotton tee, but their lighter construction and soft jersey 50/50 cotton/poly blend make them better suited for active events or usage.
For example, active blend promotional T-shirts are great for sports camps, recreational teams, summer outdoor events, and fun runs. They also work well for retail sales, employee uniforms or anything else that may require a slightly more fashionable look. The lighter, softer material and jersey blend of this shirt offers a more shapely fit based on how the fabric falls.
Consider Crestline's Jerzees® 5.6 oz. 50/50 T-Shirt if you're looking for an active blend customized T-shirt.
High-Performance T-Shirts
High-performance T-shirts are known for their lightweight airy material, a fitted shape, moisture-wicking abilities, and anti-microbial properties. They are designed to work as hard as the wearers do while keeping them as comfortable as possible. Typically constructed from breathable polyester or other light-weight hybrid blends, high-performance customized T-shirts are ideal for higher-end giveaways and performance athletes. These promotional T-shirts are great swag for gyms, race events, spas, college athletes, resorts, and any other event or establishment with highly active participation.
We recommend the Gildan Performance™ 4.5 Oz. T-Shirt.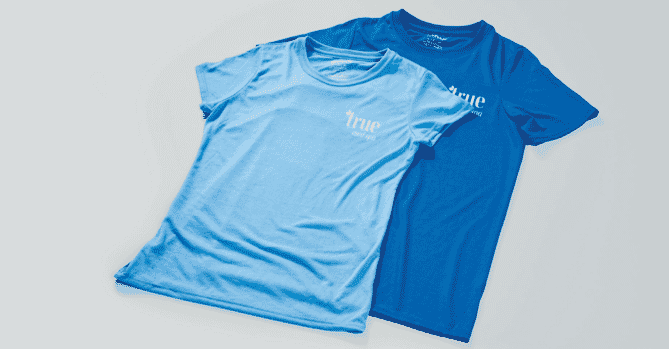 Depending on your audience and purpose, you may want to consider super soft and comfortable t-shirts, luxury t-shirts, shirts cut specifically for men or women, inexpensive t-shirts, or t-shirts that come in extended sizes to fit the whole team.
If you have additional questions about which customized T-shirt or other personalized apparel items would be best for your upcoming promotion, contact one of our promotional product experts.
---
How to Fold the Perfect T-Shirt:
Now that you've found the perfect t-shirt for your organization or business, here is a video on how to fold the perfect t-shirt every time: