Boost Workplace Culture with Company Swag: Ideas & Examples
published: August 9, 2019 | updated: March 28, 2023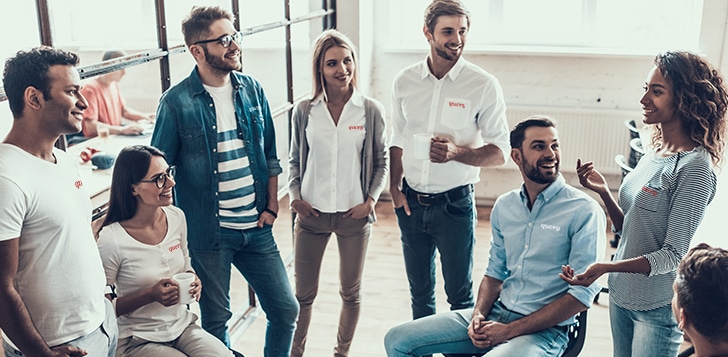 Branding is an inside job. Whether your organization chooses custom printed swag such as lanyards, apparel, drinkware, or other trendy items to distribute to current and prospective employees, promotional products can be a positive (and powerful) part of your company's overall image and workplace culture.
Custom swag can be an important component of your workplace culture throughout the entire employment lifecycle of your staff. Read on to learn about the many ways that logo customized gift items can enhance a company's image while also improving employee spirit and morale at every stage.
How Company Swag Can Give Workplace Culture a Boost
Hubspot.com, a well-known digital marketing agency, defines company culture as, "… the shared set of values, behaviors, and shared vision of that workplace." Studies show that employees who work for companies with a cohesive company culture tend to be happier. In fact, according to snag.com, companies with an identifiable corporate culture tend to have a lower turnover rate (13.9%) than those without (48.4%). Company swag is an important component of workplace culture, as it conveys an image of professionalism while showing a commitment to, and investment in, their employees.
Choosing the Right Company Swag
When done right, company swag can convey an inviting and positive image to current and prospective employees. Consider items that are modern, trendy, and most of all, useful. Product categories such as promotional drinkware, tech accessories, and apparel that mimic retail trends, all make excellent choices. When it comes to your logo, consider updating your design or choosing colors that are variations on the original, so as to offer current and prospective staff something truly unique. Once you've picked out the perfect merch for your brand, consider setting up an e-company store for your employees to pick out their favorite goodies!
Look into the latest imprinting techniques, such as dye sublimation, an all-over color printing technique that works on polyester fabrics, and tone on tone, a debossed, laser engraving process that uses a heat to "burn" a design onto custom apparel for a subtle, modern look.
Swag for Employee Recruitment
Many companies use company swag quite effectively to recruit new employees. In a competitive job market, custom imprinted promotional products can set your organization apart from the rest. Whether it is an image of employees on your corporate website sporting custom tees and embroidered apparel with your company logo, or promotional pens given out at the interview stage, company swag can go a long way in portraying your company as a desirable place to work.
Company Swag for Onboarding
When someone new comes on board, it represents the perfect opportunity to make him or her feel welcome. This can take the form of a gift, a new employee orientation, or another special touch, such as a welcome balloon attached to their work station upon arrival. This is a practice that we at Crestline adhere to as part of our "first impression" protocol.
What Makes a Good Employee Welcome Gift?
Your business is only as good as its employees, and therefore, their happiness should be a top priority. Employee appreciation gifts are one simple way to express to your staff how much you value them. Whether you choose an affordable or higher end gift is not as important as regularly showing your appreciation for your employees' time, effort, and loyalty.
Employee welcome gifts should be something that conveys your company's image, while also providing something useful to the employee. Here are some popular product categories, all of which make excellent choices for this purpose:
Lunch & Cooler Bags
Custom lunch and cooler bags are items that employees can bring to work every day. Lunch and cooler bags with your company logo are a great way to make new employees feel welcome. Fill them with information about your company's wellness program, a gift card, or a few healthy snacks.
At Crestline, when a new hire is selected, he or she is sent a welcome kit in the mail, which includes a custom insulated lunch cooler bag, tumbler with straw, notebook with pen, and an LED flashlight, along with a hand-written note. While this gesture may seem small, it sets a positive tone for new people right from the get-go.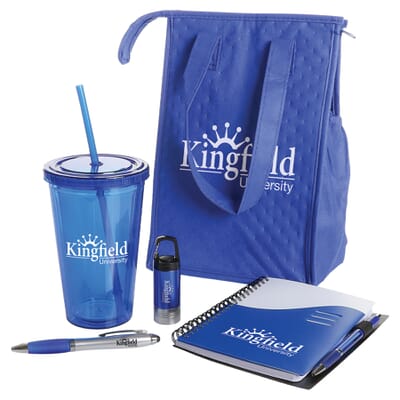 A water bottle or coffee mug with your company logo is a great solution for new employee welcome gifts. Portable drinkware is essential in any office environment, as most people drink water every day and many employers offer fresh, chilled water to their employees. Consider pairing a custom mug, tumbler, or water bottle with a gift card to a local coffee shop or juice bar for a gift that is sure to make a great impression.
Pens & Journals
Promotional pens and custom journals make great gifts for new employees because it is likely that their first day is going to be full of important information that they will need to take notes on. Give them something to take to their first meetings and a place to jot down reminders. A custom Moleskine and a pen with the company's logo will make the new employee feel appreciated and honored to be joining your company.
Swag for Milestones and Special Days
Celebrating milestones such as holidays, work anniversaries, reaching sales goals, or wishing long-term employees a happy journey into retirement, company swag such as gift sets can be an integral part of each special occasion. Look for a gift that matches the tone of each occasion, such as corporate gifts, holiday keepsakes, and other giveaways.
At a recent Crestline employee banquet, the sales team was treated to an elegant reception with a sit-down meal, as well as a customized swag bag with exclusive items designed especially for the occasion: a branded tote bag, a trendy and reusable stainless steel straw, an insulated water bottle, a Moscow mule mug, a knife, and cutting board. Each piece included a tagline that was created just for the event, giving each employee a giveaway that is truly one-of-a-kind.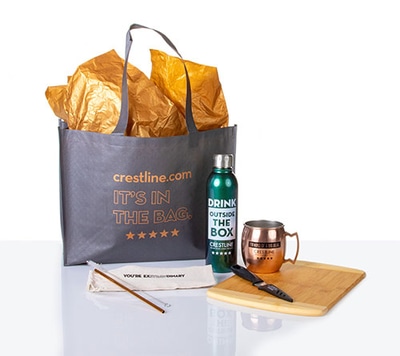 More Ideas for Employee Appreciation Swag
It doesn't need to be a special day to show appreciation to your employees. Surprise and delight staff members at different times throughout the year as a way to recognize the value of your team, an important component of employee retention. Nurses, for example, who are in high demand in healthcare settings, should be recognized throughout the year for the hard work they do, and not just during Nurses Week. Teachers, too, love to be appreciated with thoughtful education giveaways during National Teachers Week as well as throughout the school year.
Some of the most popular categories of employee appreciation gifts include:
Tech Accessories
Promotional tech accessories such as phone grips and stands, custom charging cables, as well as chargers and power banks all make great employee giveaway options, as they are practical items that people use in their daily lives.
Branded Apparel
As we discussed earlier, custom imprinted apparel can give your company culture a boost and improve your corporate image both in and outside of your organization. Embroidered sweatshirts and outerwear are always popular apparel choices, especially if you choose brand names that employees love.
Promotional Drinkware
Whether it is a hot and cold tumbler, water bottle, or coffee mug, employees appreciate and use promotional drinkware both at the office and at home.
Company Swag in the Wild- Real Life Examples
Exo Protein, a maker of cricket protein bars, gives out custom t-shirts and tanks to their employees with memorable taglines imprinted on them, such as "Crickets are the New Kale" and others. Not only does this give employees something to wear and enjoy, but it also gives them the chance to wear the attire out of the office, as a brand ambassador of sorts as they are sure to be a great conversation starter. Have a clever tagline of your own? We carry a large assortment of custom promotional tees, just waiting for your clever messaging.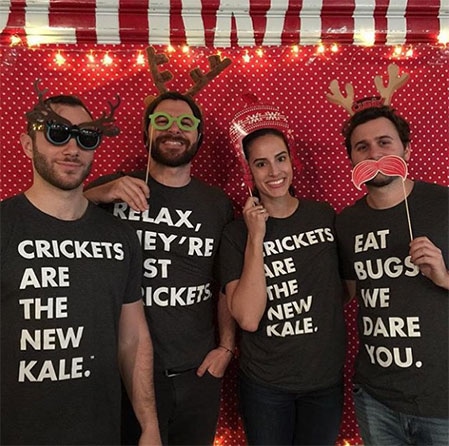 Image courtesy of Exo Protein
Social Solutions, a global software company for nonprofits, welcomes their new employees with a variety of awesome swag, all branded with their company logo, including a tee, sweatshirt, insulated tumbler, notebook, pen, and Fitbit fitness tracker. Looking for an affordable fitness tracker option? Check out our selection of promotional activity trackers and pedometers.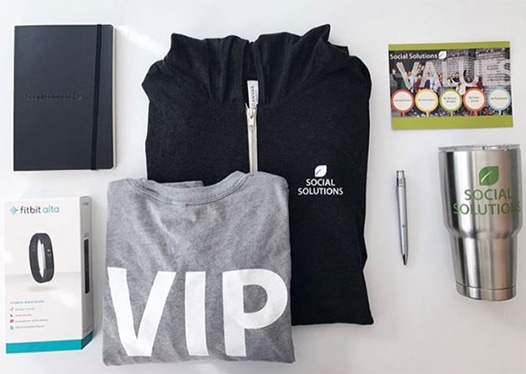 Image courtesy of Social Solutions
Moz, a search engine software as a service firm, gives out an enticing assortment of custom products to new hires including: a branded tote bag, a water bottle and a notebook, as well as company apparel. Learn more about how company apparel can improve company culture here.
Image courtesy of Moz
…
Enjoy this article? Read our entire Promo in the Wild Series here.