Mental Health in the Workplace: How to Stay Mentally Well While Working from Home or the Office
updated: December 17, 2021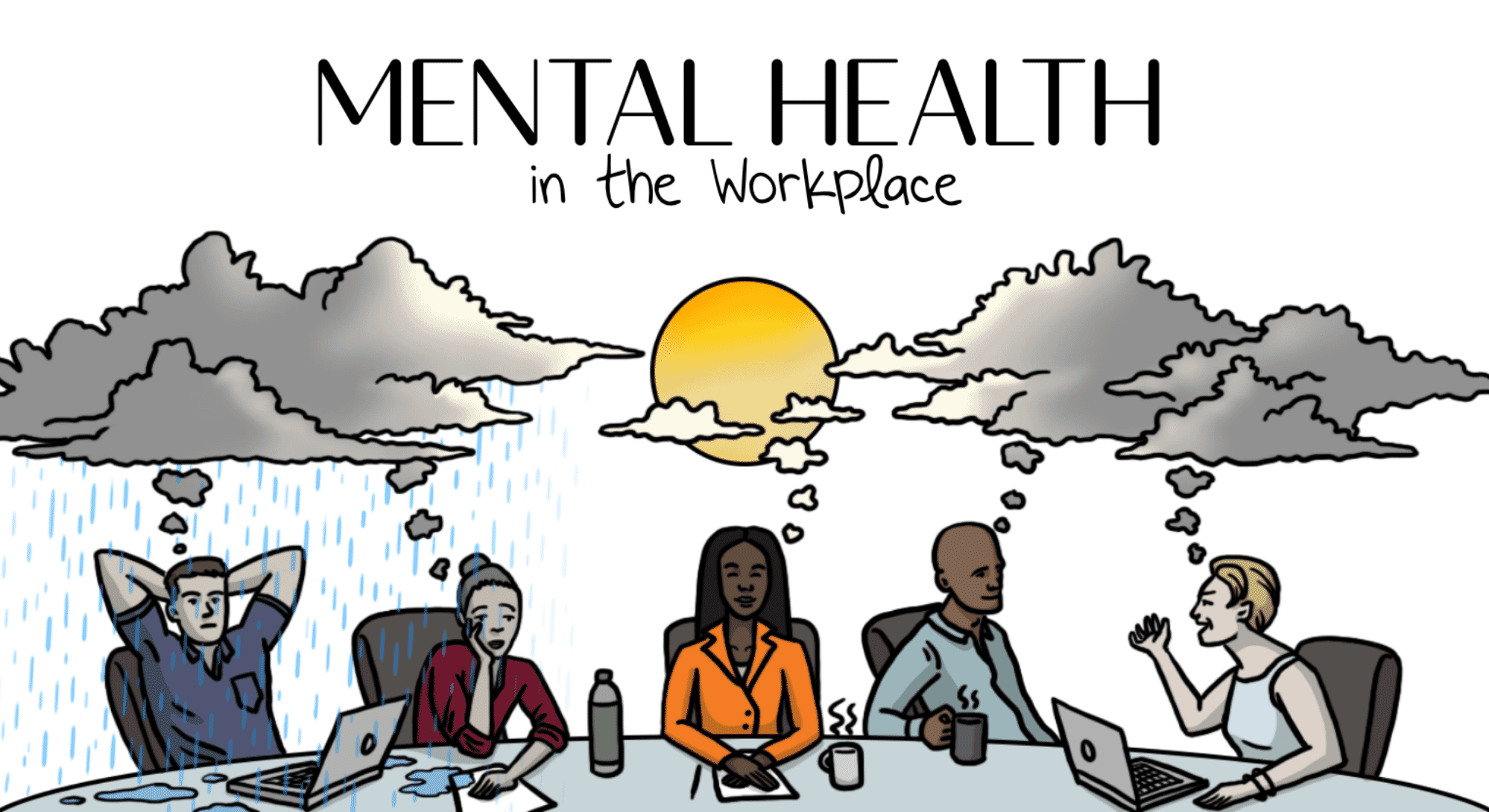 In recent years, a focus on good mental health in the workplace has surfaced as a high priority for more and more businesses around the country. Companies understand that happier, healthier employees are more productive, contribute to a positive culture, and less likely to leave an employer for another opportunity. Employees, on the other hand, are demanding better work-life balance and setting personal boundaries about how, when, and where they work to accommodate other aspects of their lives.
According to Mental Health America's 2022 Mind The Workplace report, four out of five employees report that workplace stress affects their relationships with others. Fortunately, many are also acknowledging that businesses and leadership are beginning to take steps to improve mental health in the workplace.
More than one-third of employees say company leadership talks openly about mental health, and three in five employees believe their managers care about their wellbeing. Nearly half of all employees are aware of their company's mental health services and benefits, but only 38 percent would feel comfortable using them if needed.

How Can Managers and HR Support Mental
Health in the Workplace?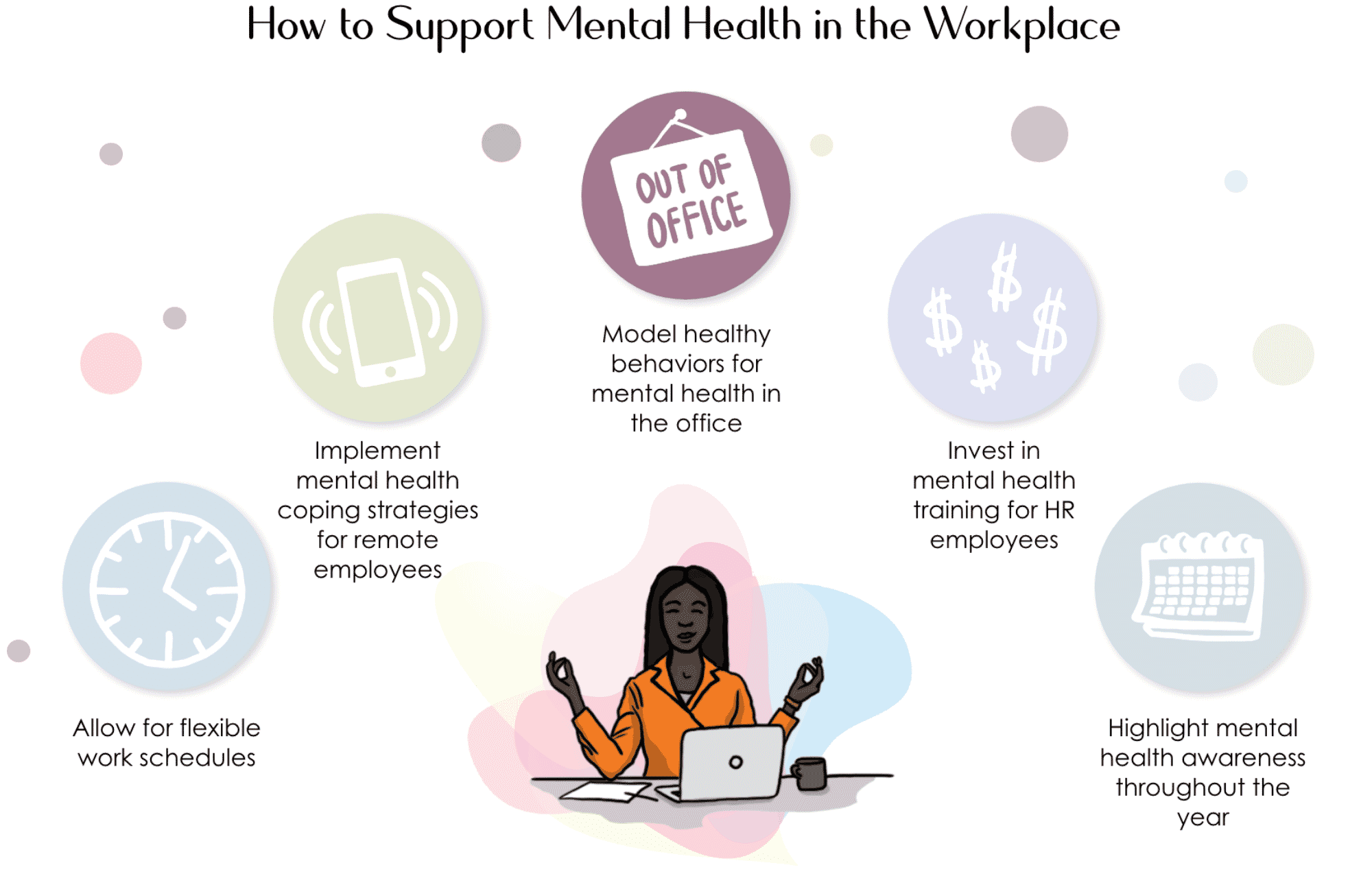 Today, a hybrid work schedule has become the norm for many companies. As your employees adjust to their new routine, whether they're in the office full time or working a hybrid schedule, knowing how to implement mental health in the workplace is essential. These self-care tips for mental health can help sustain workplace satisfaction and encourage health and well-being in the office.
Create a flexible work schedule
While permanently working from home might not be for everyone—or every company—a flexible or hybrid work schedule that allows for some at-home work or a shortened workweek encourages work-life balance. Switching to a hybrid schedule can be costly, so even if your company can't accommodate this change right off the bat, it's a good goal to work towards in the interest of your employees' well-being.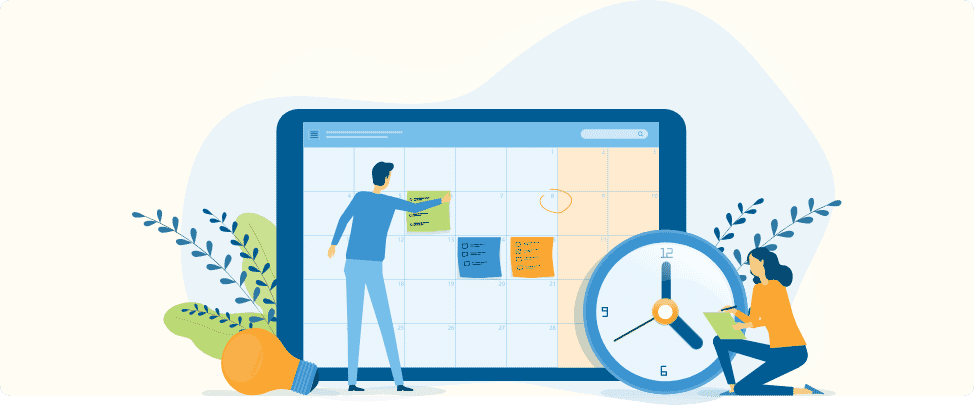 Flexible work schedules might look different depending on your industry. Consider these options:
Create a hybrid schedule where employees can choose which day (or days) they want to work from home. Or, select specific days where everyone works from home.
Offer the option of a compressed workweek. Employees can choose to work extra hours a few days a week in exchange for one or two shortened workdays.
If you work in an industry that requires shifts — such as a retail space — ask employees which shifts they prefer. While it may not be possible to cater to everyone all the time, taking their preferences into account can help improve employee morale.
A flex schedule that lets employees work when they want — whether it's standard business hours, earlier in the day, or later at night — might work for industries that don't rely on traditional workdays.
Implement mental health coping strategies for remote employees
Some companies have permanent remote employees. Whether they work from home by choice or because they're in another part of the country (or world), it's important to keep remote work and mental health in mind and make your at-home employees feel connected. Keep them in the loop with these strategies:
Keep the lines of communication open. Just because they're self-sufficient at home, that doesn't mean your remote employees won't benefit from regular check-ins. Whether it's once a day or once a week, create a regular meeting schedule to see how they're doing.
Hold virtual celebrations and get-togethers. If you're planning an in-office party, set up a central screen and ask your remote employees to join.
Hand out awards for outstanding work. Although they might not be seen often, remote employees deserve recognition, too. Reward employees who go above and beyond and send them a gift to display in their home office. A personalized tabletop clock or custom standing crystal coaster set will remind them that they're appreciated, even when behind the scenes.
Send them branded corporate apparel to sport at home. A cozy sweatshirt with your company's logo, imprinted fleece jacket, fuzzy custom socks, or personalized joggers will all get a lot of use — and help them feel connected.
Let all your employees know they're appreciated, and that you care about their well-being, with stress-relieving gifts to keep at their desks. Custom teddy bears and fidget toys are perfect for quickly destressing in the office and at home.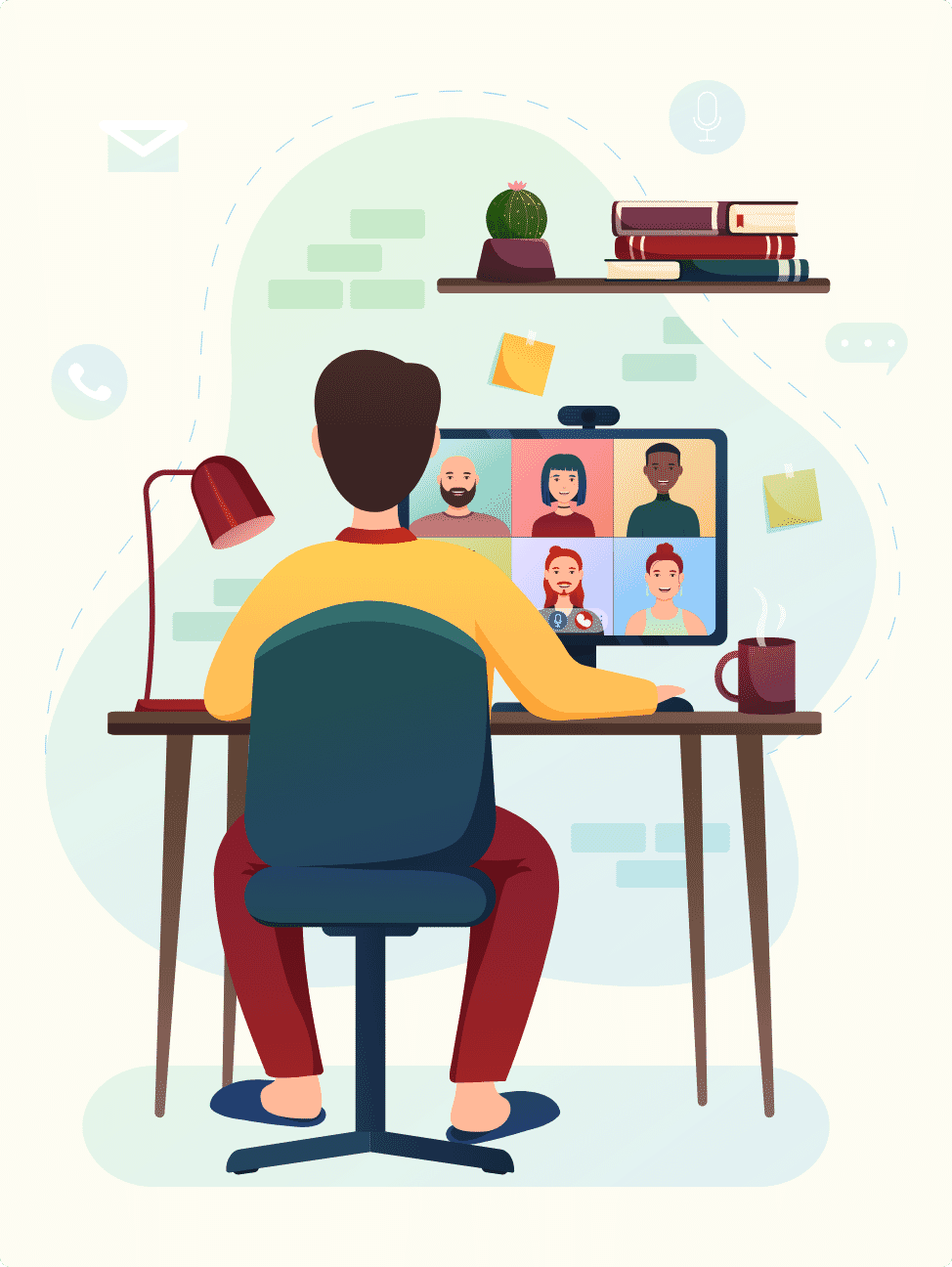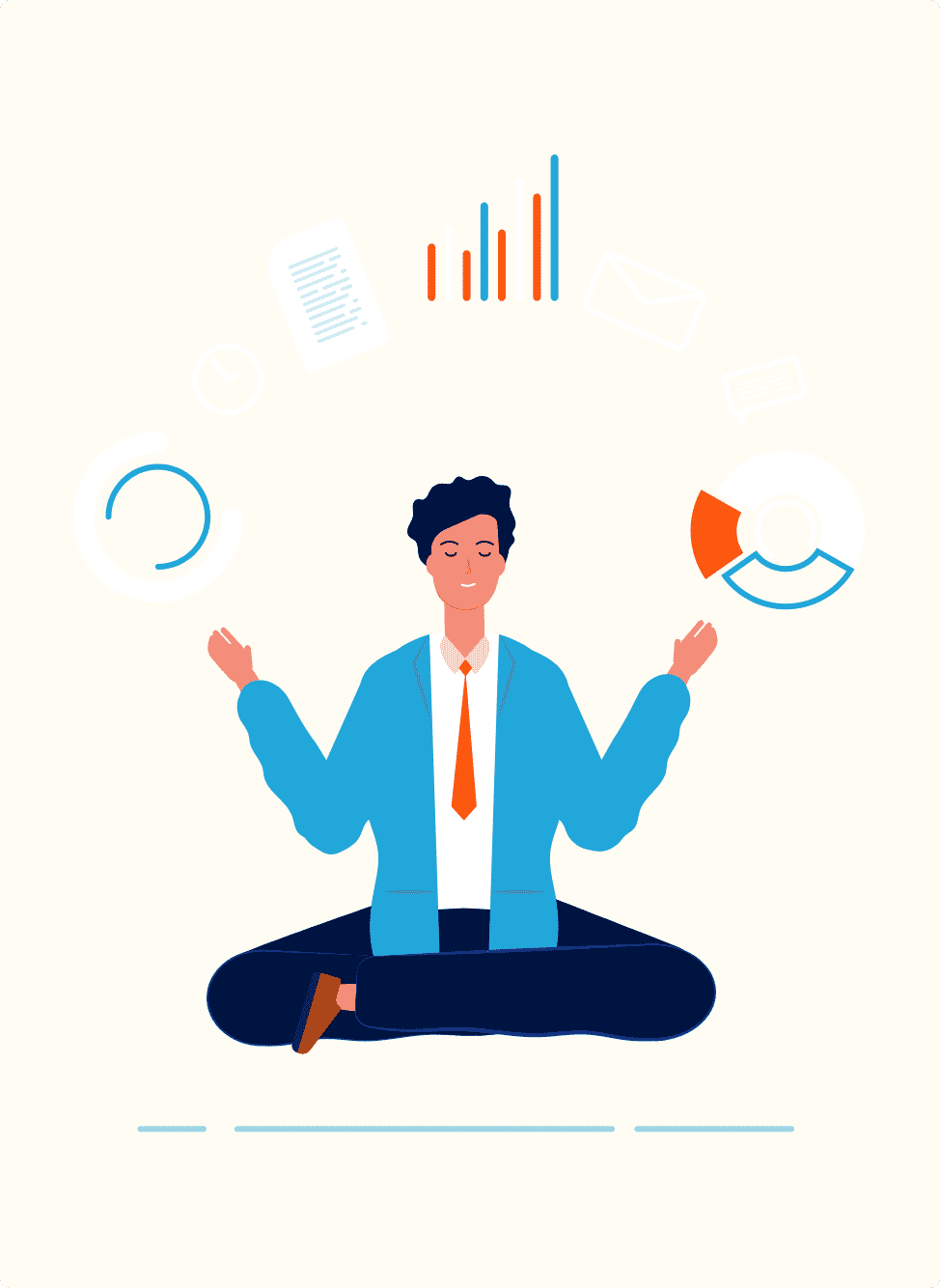 Model healthy behaviors for mental health in the office
Employees often follow their manager's lead. Help set a precedent for healthy behaviors in the office by practicing what you preach. Set the tone by following these mental health tips for the workplace:
Work standard hours. If your company implements an eight-hour workday, stick to that timeframe. While it may not be possible all the time, regularly arriving and leaving on time shows employees that you value your time away from work — and that they should, too.
Prioritize important tasks and delay tasks of lesser importance. Having too much on your plate is overwhelming and stressful. Instead of asking employees to prioritize everything, help them decide which tasks need to be taken care of and which can be shelved for later.
Encourage your employees to use their time off. A custom calendar or planner can help them stay organized and make it easy to block off time for important meetings, do-not-disturb work time, or out-of-office downtime.
Take the time to check in with your employees, either one-on-one or as a group, with a quick, daily check-in or weekly meeting. Connecting with your employees lets them voice any concerns about their workload and allows you to manage expectations.
Connecting with others in your workplace doesn't have to be strictly business-related, either. Schedule downtime in the office or off-site to put work aside and relax with your colleagues. Invite your employees to blow off some steam with in-office games or plan a happy hour — however you choose to help your employees de-stress from work can do wonders for their productivity and mental health.
Invest in mental health training for HR employees and managers
Mental health workshops for the workplace can help HR and managers recognize signs of stress, burnout, depression, and other mental health issues. Recognizing these signs and assisting employees can go a long way in workplace trust and morale.
Implementing a corporate wellness program goes hand-in-hand with proper training. The right mental health programs for the workplace can help improve employee productivity, encourage a healthy lifestyle, and reduce health costs for your company and staff. Follow these tips on how to start your own corporate wellness program within your workplace.
Highlight mental health awareness throughout the year
April is Stress Awareness Month, and May is Mental Health Month, giving you the perfect opportunity to highlight the effects of mental health in the workplace. These ideas for Mental Health Month and self-help strategies for mental health can improve employee well-being and reduce stress, both in the workplace and at home. Consider these ideas:
Incorporate mental health posters in the workplace to take the stigma out of workplace stress and burnout.
Hand out gifts to help employees manage stress. Branded stress relievers, personalized journals, and custom personal care items are fun giveaways that encourage workplace wellness.
Schedule optional free yoga classes or meditation sessions throughout the month and encourage employees to attend.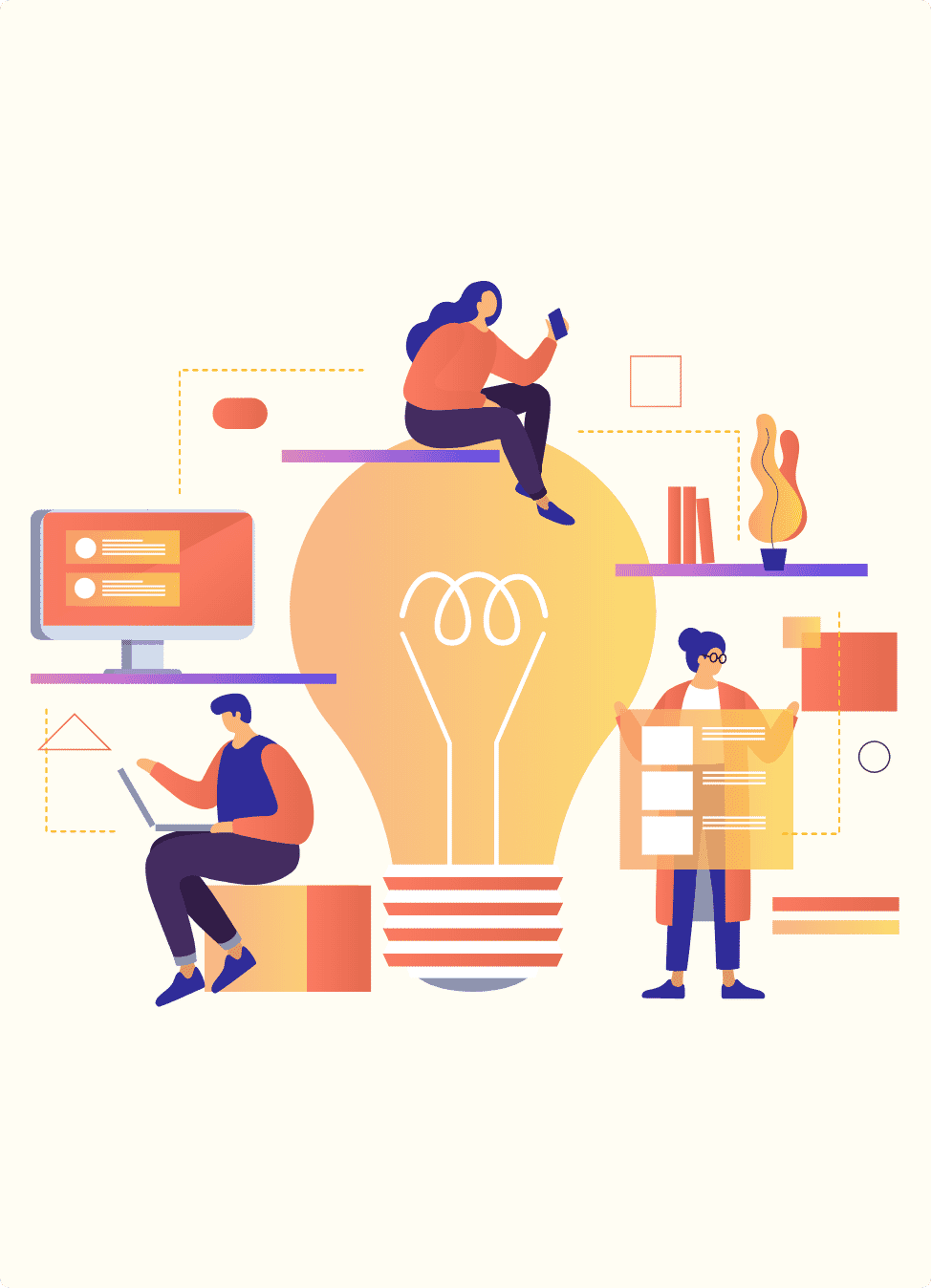 Encourage a healthy mind/body connection among employees
Keeping a healthy mind and body shouldn't be reserved for after work or outside the office walls. Implement in-office and remote opportunities for your employees to stay fit, both physically and mentally. Some ideas include:
Creating an in-office gym. Even a small space with a treadmill, a few free weights, and yoga mats can provide the equipment your employees need to work some movement and exercise into their day.
Having a meditation room with speakers. Offer group-guided meditation times for in-office workers to participate in and for remote employees to join remotely.
Adding marked walking trails around the office building for employees to enjoy on their lunch break or to hold walking meetings.
Holding regular group breathing and stretching times throughout the day. Ask remote employees to join in remotely, too.
Creating a walk-run club. Hand out personalized pedometers and custom water bottles, so participants can stay hydrated while they track their mileage and times. For added participation, hold friendly competitions throughout the year.
Branded fitness gifts, such as workout kit gift sets, exercise stretch bands, or custom yoga mats, can also incentivize remote and in-person employees to stay active.
Make sure employees are aware of the benefits offered to them through the workplace, such as counseling, wellness coaching, and support lines. Ask HR to hold an online meeting or schedule a call to explain your company's benefits to remote and hybrid employees.
Keeping your employees happy and engaged creates a healthy workplace. As your staff settles into their new post-COVID work routine, these workplace mental health tips can help prioritize their well-being and create a safe and healthy workspace.