Branded Coffee Merchandise Ideas to Promote
Your Coffee Shop
published: August 18, 2023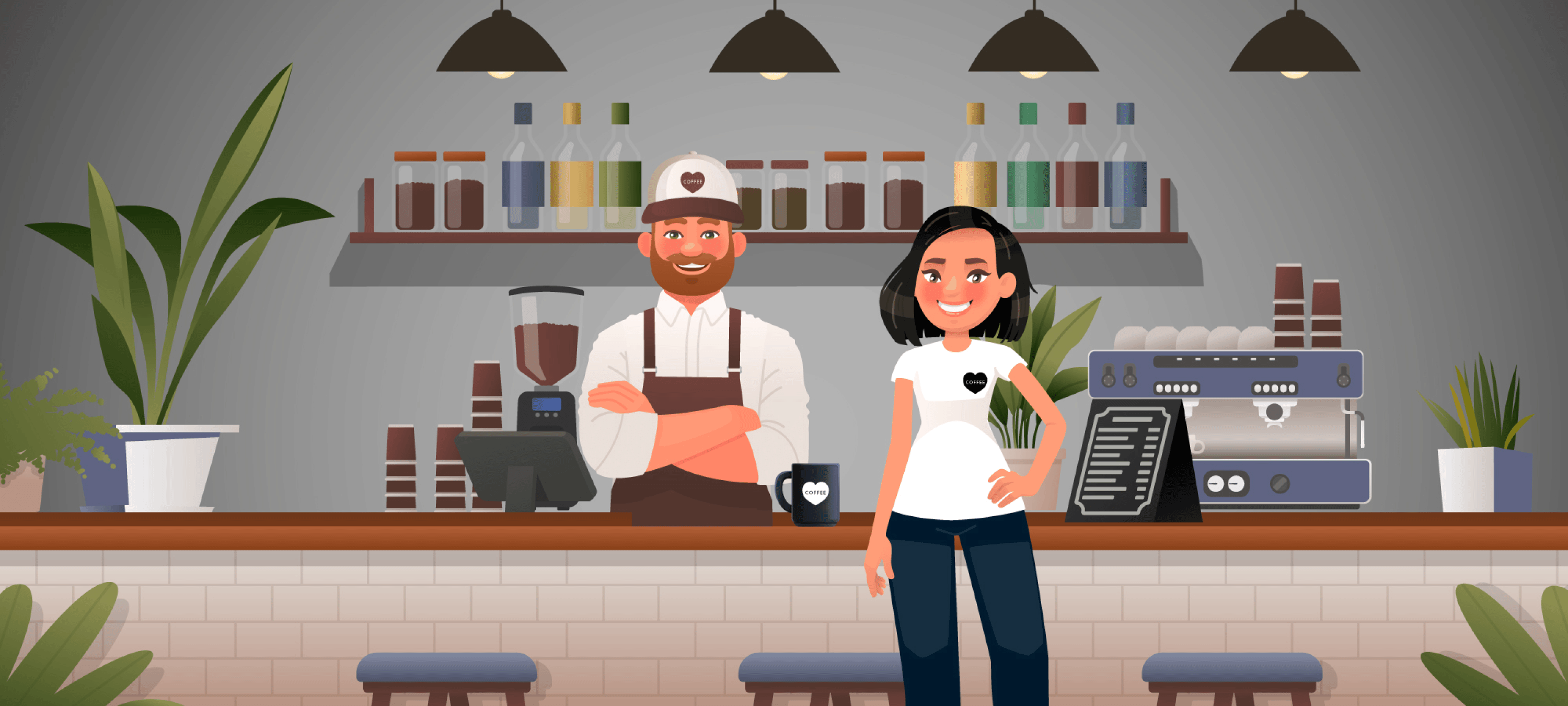 Why Offer Branded Coffee Merchandise at Your Shop?
You might offer the best handcrafted latte in town… but without the right promotion strategy, standing out in the competitive world of coffee shops can be a significant challenge. Creative and eye-catching branded coffee merchandise can help you brew up buzz and create a lasting impression among coffee enthusiasts, whether you sell in-store or in your own custom online merch shop.
Picking the Right Merchandise
The first step to ensuring you pick the right merchandise is to know your customers and your brand. Great merch is about creating a well-defined identity. Do you consider your shop to be a fun, quirky hole-in-the-wall? Your customers might be keen to grab socks or a snug beanie. Customers frequenting a simple, artisan shop might go for a practical tote bag or water bottle. A local drive-thru coffee stand might carry smaller items like decals and keychains. Whatever your aesthetic, you'll want to curate items that your customers will incorporate into their everyday lives.
Wearable and usable items that your customers will reach for on a daily basis will provide inherent value by creating positive associates with your brand. When die-hard customers sport a t-shirt from your shop, they're not only expressing pride in where they buy their coffee - they're carrying your logo beyond your doors and out into the world beyond! Let's explore some brilliant coffee merchandise ideas to help you promote your coffee shop and build a loyal customer base.
1. Customized Drinkware to "Brewst" Your Brand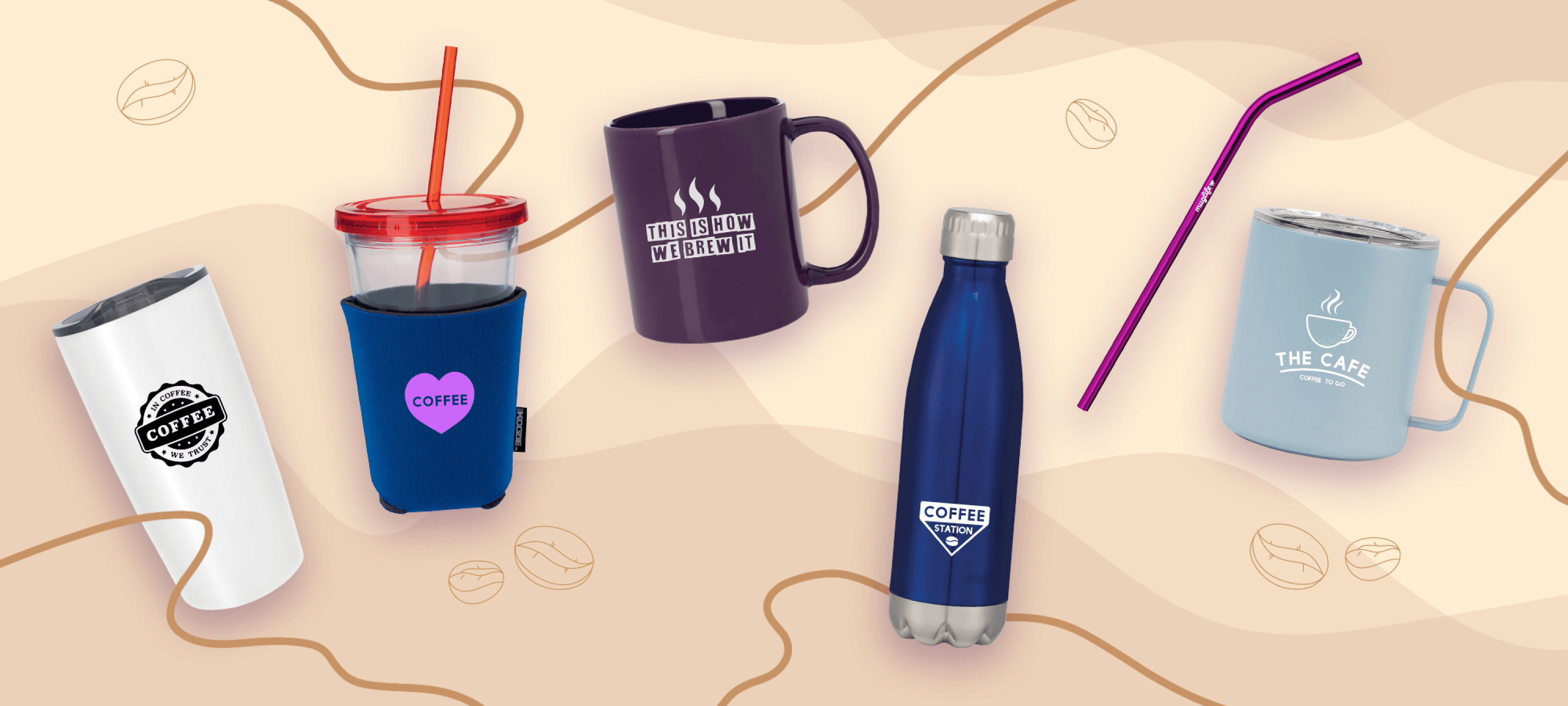 Classic Ceramic Coffee Mugs
Ceramic coffee mugs are a classic, must-have merchandise item for any coffee shop. Embrace your coffee shop's unique style with your logo or a catchy coffee-related quote on a mug to remind your customers of their favorite spot every time they take a sip.
Rugged stainless steel travel mugs that keep hot drinks hot and cold drinks cold have upped the ante in the world of drinkware. Your customers clearly want the best coffee, give them the best cups to drink it from too.
Offer Branded Mug Drink Discounts
Your customers will view the purchase of a branded mug from your coffee shop as an investment and appreciate your shop's expression of environmental values if you offer a drink discount to anyone who brings in their branded mug to use in the shop. Not only will this discount incentivize your customers to help you save on single-use cups, but they'll be sporting your logo on a daily basis, even when they make their coffee at home. A quality Insulated Camp Cup or a Stanley Growler will keep hot drinks hot and iced drinks cold for hours while preventing spills and burns.
Coffee in One Hand, Water in the Other
Keep them hydrated with stylish, branded coffee shop water bottles! Having a reliable and convenient way to carry water is important, and offering this to your customers will showcase your dedication to healthy living while gaining some brand recognition from your logo printed on the side.
Cozy Up with a Cup of Coffee
This cheap coffee merchandise idea will help you save on disposable sleeves while highlighting your brand with fun, vibrant colors. Reusable coffee sleeves make for excellent, inexpensive promotional coffee shop products.
Reusable Straws
Save the turtles while promoting your brand? You bet. This Bent Reusable Stainless Steel Drinking Straw makes a great register item.
2. Espresso Yourself with Branded Apparel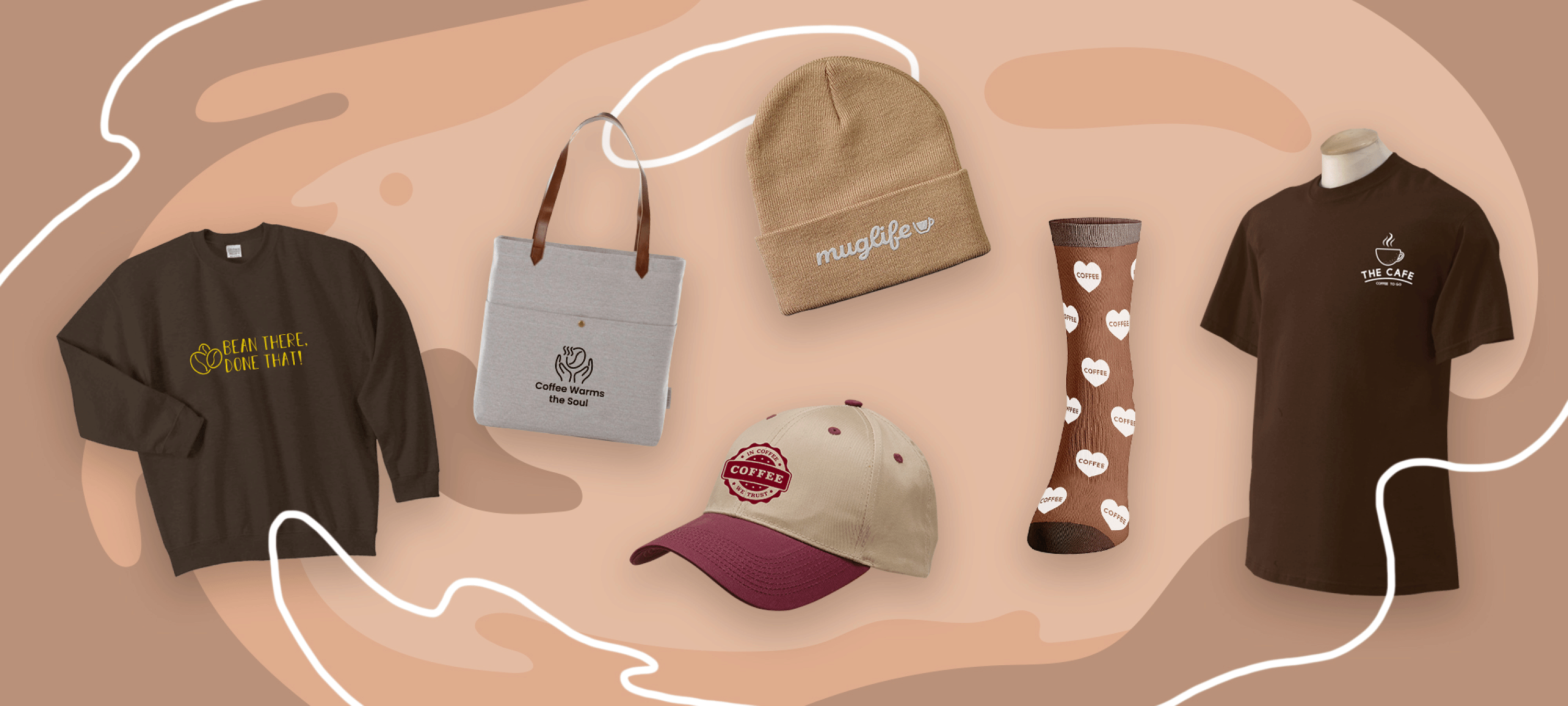 Funky and Fun T-shirts
Create a sense of camaraderie and loyalty among your customers by designing trendy, branded coffee shop t-shirts. Choose quirky coffee-related graphics or slogans that resonate with your brand's personality. Encourage your staff to sport these branded apparel items, creating a unified and visually appealing atmosphere that customers will appreciate.
Sweatshirts and Hoodies
Keep your patrons warm inside and out with the unparalleled comfort of these soft cotton hoodies or crewnecks. In a cooler climate, t-shirts often stay covered up under a warmer layer, obscuring your beautiful logo. Quality outer layers keep your brand visible all year long.
Beanies or Caps
Customized headgear is a fantastic way to put your logo directly in front of potential customers in the community. The key here is to make sure you're offering seasonally appropriate options throughout the year.
Quirky Socks
Fun and cozy, personalized socks offer a trendy way to highlight your brand. Whimsical patterns and witty slogans provide a fun way to show off your personality. These bamboo thread socks are completely customizable, so get creative on your favorite design platform or hire a local artist to make your socks really pop off!
Embrace Fashion and Function with Stylish Tote Bags:
Your customers love to sit and enjoy the atmosphere of your shop while reading a good book or working on a laptop. Why not offer an easier way for them to transport their reading materials? Branded tote bags maintain their visibility in any weather, ensuring your brand will receive valuable impressions even when the clouds come out. This beautiful and stylish Cotton Canvas Logo Book Tote is perfect for igniting conversations and turning heads not only in your shop, but out on a bustling city street, as well.
Pro tip! Switch up your clothing merchandise according to the seasons and offer limited supplies to keep things fresh all year round. Think t-shirts and ball caps in the summer, and hoodies and beanies in the winter months. Periodically launching different product varieties is a great way to keep interest in your brand piqued.
3. Think Outside the Box with Home Goods and Novelty Items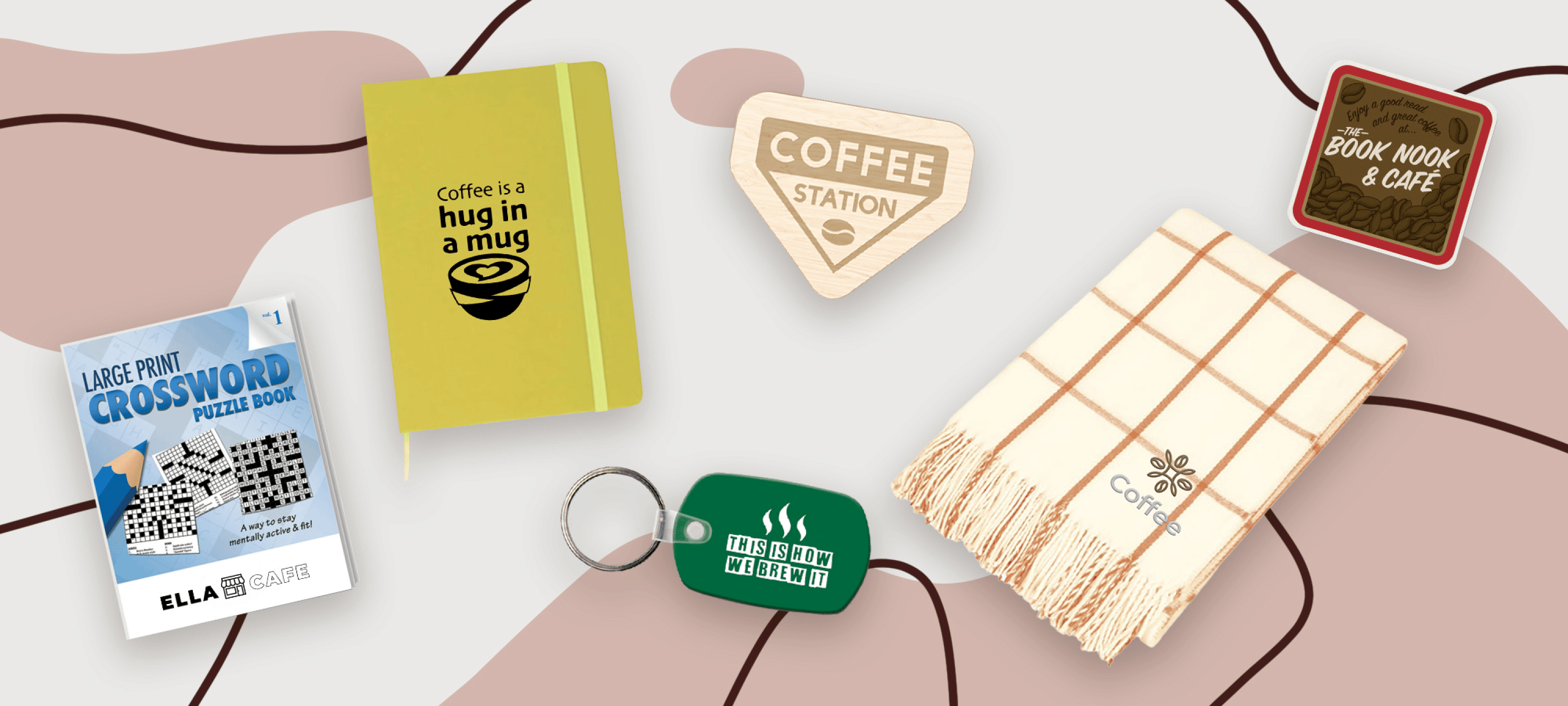 Wear Your Love for Coffee on Your Sleeve (or Car) with Stickers & Decals
Turn cars into moving billboards and watch the traffic in your shop increase! Go with eye-catching designs or fun slogans that your customers will resonate with enough to plaster on everything from laptops to water bottles. Inexpensive to reproduce, stickers are popular impulse purchases, making them the perfect item to display near the counter for customers to peruse while waiting for their coffee. Create an elevated look for less with laser profiled and engraved wood stickers for an artisanal atmosphere.
Keychains
Add a touch of flair to everyday essentials with a customized keychain. Not only do they help keep things organized and easily accessible, but they allow your customers to express their personality and love for good coffee.
Let your customers bring a reminder of your shop into their own home with these fun Full Color Eco Coasters. Branded coffee shop coasters add a pop of personality to coffee tables while allowing your loyal patrons to brag about your product to their guests at home.
Crossword or Sudoku Puzzle Books
Coffee and crossword, anyone? Your customers come to your shop to wake up their minds and get their brains going. Provide more than one way to do this with a puzzle book featuring your brand right on the cover. Choose from Sudoku, Word Search, or Crossword puzzles - or go for all three so customers can collect them all.
Journals
Offer your customers a therapeutic activity while they sit and enjoy their morning mocha. A beautiful Soft Touch Journal is perfect for jotting down thoughts and ideas over a delicious cup of java.
Cozy Blankets
If you're looking for a luxury item to feature on your website or in your restaurant, consider a Windowpane Plaid Throw Blanket. Such deluxe products make for perfect seasonal gift ideas in the fall or winter.
Bonus Idea: Coffee Merchandise Bundles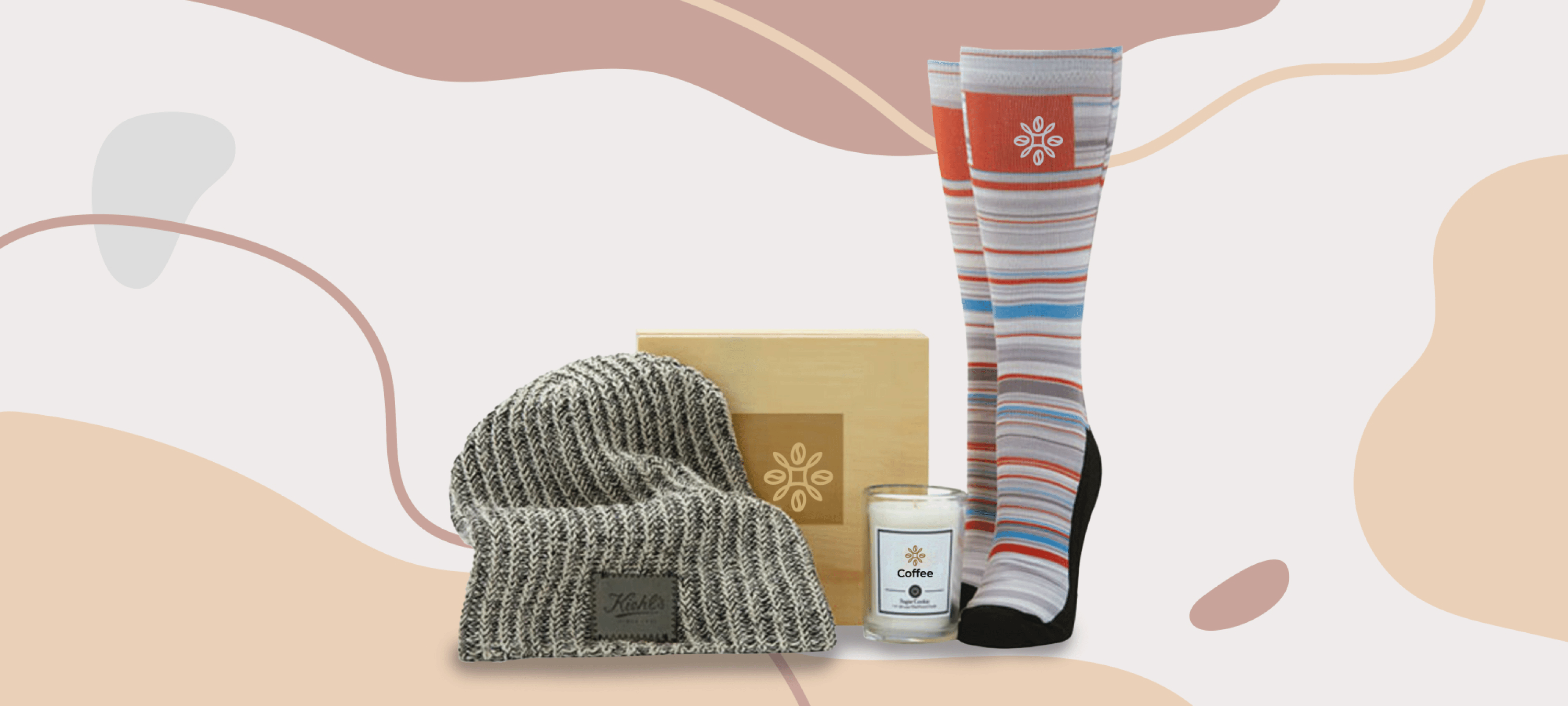 Create attractive coffee merchandise bundles that combine multiple items into one enticing package. For example, offer a Get Cozy Gift Set that includes a branded knit cap, candle, and socks - or a morning essentials bundle with a customized mug, a bag of your signature coffee blend, and a blanket. By enhancing the perceived value of the products, bundling encourages customers to indulge in a wider selection from your coffee shop. Browse our pre-assembled bundles and gift sets or call us to create your own custom kit.
Ready to Spread the Word about your Coffee Shop?
Captivating branded coffee merchandise can elevate your coffee shop to icon status. Cultivate customer loyalty and leave an indelible mark on coffee aficionados' minds while standing out in the fiercely competitive coffee market. Get creative with Crestline and perk up to great deals. We welcome you to contact us today and let us help you craft personalized promotional items your customers will love - almost as much as they love your coffee!