21 Corporate Team-Building Activities and Company Outing Ideas They'll Want to Take Part In
updated: May 26, 2023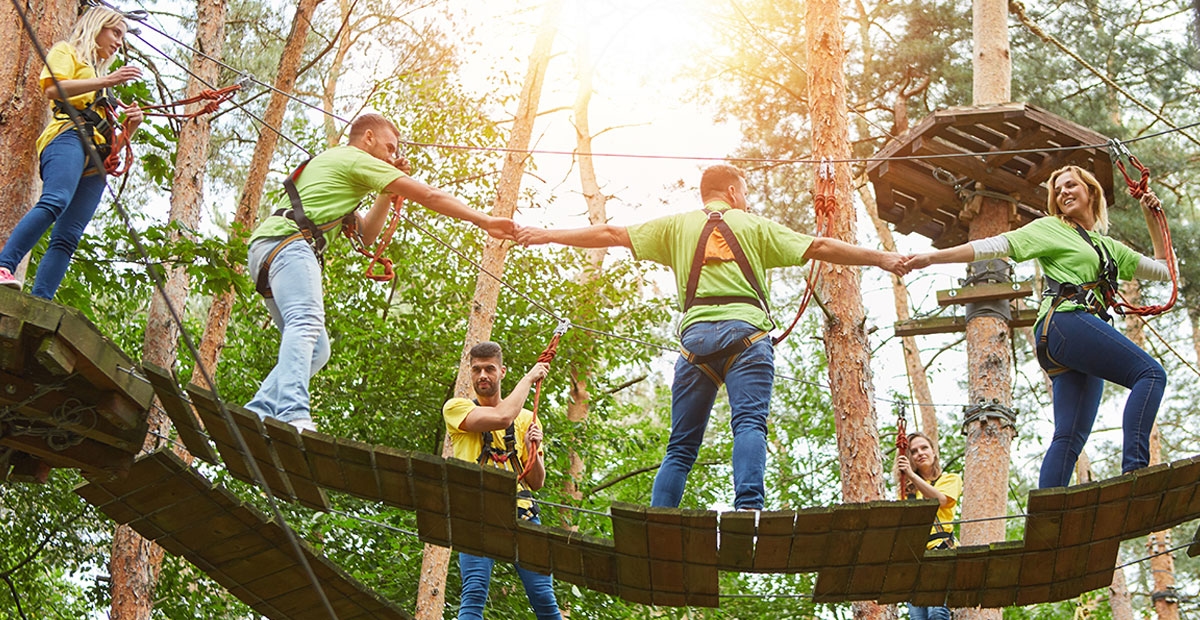 Team building. These two words trigger sighs and eye rolls. But the experience doesn't have to be the stuff of "trust fall" nightmares. When employed creatively, team-building events go beyond coworkers bonding with one another. Research suggests that corporate team-building activities produce an overall positive impact on team effectiveness and productivity.
In a 2015 study published in the International Journal of Marketing and Human Resource Management, Neelam Saraswat and Shilpi Khandelwal determined that "there is an association between attending team-building exercises and team effectiveness." They recommend that to make team building genuinely effective, you need to keep the following in mind:
Only incorporate team-building ideas for developmental purposes. There should be no negative repercussions for nonparticipants.
For team-building activities to achieve maximum results, integrate corporate team-building games with real-time work goals.
The long-term effectiveness of boosting morale is enhanced when organizations incorporate annual team-building outings as part of their overall company structure.
Team-Building and Company Outing Ideas
Corporate awards and employee recognition play a vital role in a company's culture. If you're thinking of incorporating some team-building activities for work, check out these 21 fun activities that are sure to get the team fired up. Whether you're planning a significant corporate team-building event or a quick break from a conference or employee training, check out our activity and team outing ideas that'll appeal to everyone:
1. Ropes Course
There's a reason why this is one of the most popular company outing ideas. A ropes course takes your team out of their natural element – and comfort zone. This high-stakes activity forces teammates to rely on one another to complete relatively challenging physical activities, and communication is critical here. A ropes course allows your crew to assess risk and build trust.
2. One Truth, Two Lies
Team-building events don't always require you to put on your out-of-office alert. If you're looking for a small group activity, give the classic campfire game, One Truth, Two Lies, a go. Team members share three things about themselves (one true, two false), and coworkers must guess which one is true. Rather than competing against one another, players get to know their peers better. Keep it lighthearted and watch the mood in the room brighten.
3. Laser Tag
Sometimes, we all need to cut loose from the stresses of the workday. Offer a fun incentive to the winning team and watch their competitive sides emerge. The friendly competition not only boosts morale, but it also teaches team members to strategize and establish a sense of camaraderie.
4. Community Service
Fostering a feeling of goodwill for the community and your business is vital to company culture, and giving back is a great way to drive home the message. Have team members vote on their favorite charity and arrange a volunteer day at the organization. Maybe you'll serve dinner at a homeless shelter, bang some nails with Habitat for Humanity, or clean up a local park. The activity is less important than the satisfaction your team will experience knowing they've helped others.
5. Scavenger Hunt
It worked at your 10th birthday party, so why not try it with your staff? Divide everyone into two to four teams, and send them scattering in search of clues. A scavenger hunt requires close communication and forces teammates to play off each other's strengths.
6. Trivia Night
The best team-building events are the ones that everyone can join in on. Ropes courses and laser tag aren't practical for team members with physical disabilities, but everyone loves a competitive game of trivia. If your company is struggling with inclusivity, this is a winning option.
7. Improv Class
The first rule of improv is always to agree. Saying "yes and" to any situation allows the action to move forward. If you work in a creative environment, an improv class not only encourages everyone to think outside the "proverbial box" but also prevents teammates from shooting others' ideas down. When you're operating under the "yes and" rule, you'll learn to run with an idea, which will come in handy in later brainstorming sessions back at the office.
8. Karaoke Night
Collaboration meets syncopation for one our favorite team outing ideas. Divide your staff into teams and have them choose a signature song. Karaoke encourages confidence, positive competition, and allows everyone to let their guard down and shrug off their professional work attitudes for a while.
9. Potluck
A longtime team-building staple, the potluck meal lets you impress each other with your culinary skills. Who knew that shy guy in accounting could whip up a knock-your-socks-off chili con carne? It's an excellent opportunity to come together and blow off a little steam.
10. Group Order
Here's a fun team builder. "Group Order" requires teams to line up in order of specific criteria such as birthday, age, or shoe size. If that sounds too elementary, up the ante. Task them with the same directive – only without speaking to one another.
11. Go-Kart Racing
Of all the team bonding ideas, go-kart racing has to be one of the most exhilarating. Your crew will feel like kids again, and you may be surprised at how competitive things get. Give out trophies for fastest, slowest, and most reckless racers they'll proudly display back at the office.
12. Kayak or Canoe Float
The very hashtag-able saying "opt outside" holds a lot of credence. In a corporate culture, the feeling of being trapped at one's desk all day can be stifling. Outdoor team-building activities like kayaking or canoeing are a breath of fresh air.
13. City Tour
Be a tourist in your own town, and encourage your team to become one with their community. Close up shop early and take your staff on a walking tour of the city – guided by none other than you.
14. Golf Day
Corporate golf events are excellent opportunities for building rapport with clients and satellite office associates. Establish a "best ball" tournament format to take the pressure off those weekend hackers. Give out rewards along the course, such as company logo golf balls or branded golf accessories.
15. Escape Room
Nonsocial team members can't hide behind Instant Messenger or email in this scenario. When Carla from IT is forced to work with Jimmy from HR to escape their cramped quarters, things are sure to get interesting. This kind of activity encourages critical problem-solving, communication, and listening skills.
16. Kickball League
The beauty of a workplace kickball league is that it's not a one-off event. Weekly, casual interaction builds lasting friendships and loyalty among coworkers.
17. What's My Name?
This game is simple and yet so much fun. Grab a stack of Post-its from the supply closet and write the name of a famous person on one for each team member. Everyone sticks one on their forehead without looking. Coworkers offer clues as each associate tries to guess their mystery name. It's a terrific ice breaker at conferences or corporate meetings, and it won't bust the activities fund.
18. Sports Outing
Know what gets anyone pumped up? Sitting in a luxury skybox at a sporting event. Take a tax writeoff while giving your employees a much-deserved day out. Has the team landed a new client or reached a significant milestone? This is one company outing they won't soon forget.
19. Family Field Day
A common complaint in Corporate America is the lack of work/life balance. Why not bring the two together with a fun-filled family field day complete with food trucks, prizes, and tug of war where everyone feels like a winner.
20. Beach Day
A day by the sea is a refreshing outdoor team building activity that will invigorate the crew. Add in surprises like paddleboards, surf lessons, and yoga sessions.
21. Trampoline Time
Many cities have kid-centric play zones filled with trampolines. But did you know they also cater to adults during off-hours? Shed your shoes and jump to it. A lack of gravity adds levity to a tough workweek and reminds your staff that keeping a healthy balance between work and play is key to a successful business.
Team building. We'll bet those two words trigger something other than sighs and eye rolls now. Want to motivate and recharge your team? Incorporate some employee appreciation and team-building ideas into the workplace, and you'll be amazed at the results.