4 Fun Employee Appreciation & Team Building Ideas for the Workplace
published: June 11, 2019 | updated: March 28, 2023
On top of all the other work that needs to get done, the notion of maintaining a positive workplace can sometimes fall to the wayside. Luckily, Crestline has a number of ideas for how you can boost your corporate culture and office morale through staff retention efforts, team building exercises, employee appreciation ideas, and health and wellness programs. Keep reading to learn about how to implement all these things in your own workplace or skip to the section you want to read most:
1. Employee Appreciation
Employee Appreciation Day is an unofficial national holiday observed on the first Friday of March every year. While this fun day offers a perfect opportunity to appreciate and recognize your staff, it is important to thank them for the hard work they put in all year round. A customized gift that can be taken home and enjoyed is a great way to say thank you to your co-workers and staff. You can either hand them out at the office or let your employees choose their favorite merch from a custom company online store. Here are five thoughtful promotional product gift ideas, based on our top-sellers, that are sure to be a hit!
Drinkware
From water bottles to tumblers, to ceramic mugs, custom imprinted drinkware is always a popular gift idea as it is something everyone can use. Whether it's to encourage your staff to take a break with a nice cup of tea, or to make sure they drink enough water during the workday, drinkware is a great way to show your staff that you care. The best-selling Yukon Nova Tumbler is a gift they can use every day to keep their beverage hot or cold. Add your custom printed logo, message, or both!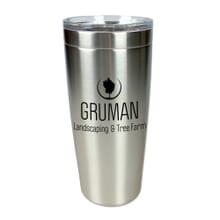 Tech Accessories
Tech accessories remain on the top of our list of best-sellers because of their popularity and usefulness. Portable power banks, wireless chargers, and phone holders are great gift ideas that employees can use at the office and at home. Our best-selling PopSockets® work as both a phone grip and stand. Small but mighty, PopSockets® come in a variety of colors and styles. This handy little item is a great way to show appreciation to your staff and volunteers and leave a lasting impression.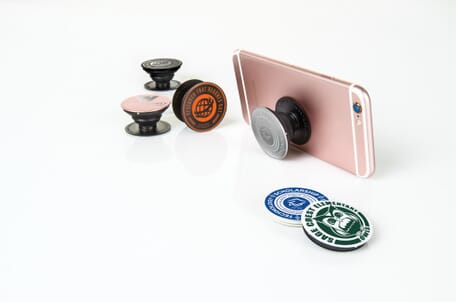 Padfolios, Journals, & Notebooks
Your employees will enjoy receiving a padfolio, journal, or notebook to keep track of documents, to-dos and important events. We have several product options that come with lined paper, pens, and stylus pen combinations. One of our top sellers, the Durahyde Exec Brief-Padfolio, has a spot for paperwork, IDs and business cards, and comes with a refillable lined writing pad. It's a great choice for teachers or any professional.
Kits
We offer custom imprinted kits and corporate gift sets that include multiple practical items that your staff will love to use. The Fantastic Five 2.0 comes with 5 great items to promote your brand and thank your employees for their contributions. The kit includes a lunch cooler, a 16 oz tumbler with straw, a notebook and pen combo, a stylus pen, and an Spotlight Lantern. Add your logo or a thank-you message for a gift they can enjoy every day!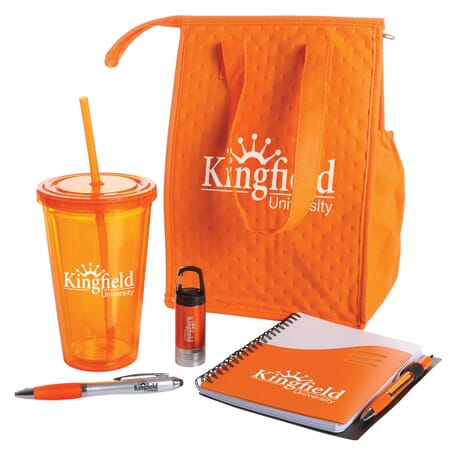 Bags & Totes
We carry bags and totes for everyone's style. Whether it is a backpack, messenger bag, or reusable shopping tote, we have a bag that is just right for any employee. Bags and totes make great employee appreciation gifts as they are practical and can be used for travel, work, or just for fun. Our popular Budget Boat Tote checks every box- it's affordable, practical, and has a large imprint area for your logo or message. Made of sturdy cotton canvas, this tote comes in a lot of great colors to complement your logo- it's a keeper!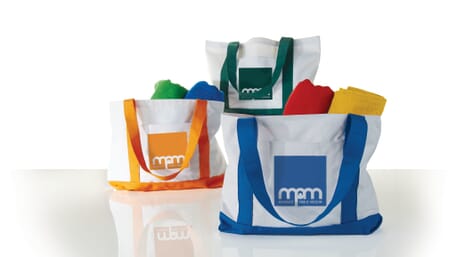 Awards
Sometimes, it is nice to hold a more formal celebration for your staff. A larger scale ceremony where you give recognition to individual or group accomplishments can mean a lot to your employees and other corporate partners. Make it an extra special occasion by handing out awards with your logo. For an even more customizable option, try printing a certificate and putting it in a custom frame.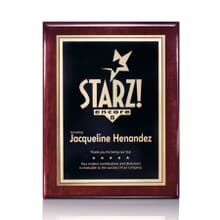 2. Team Building
Team building is a beneficial part of developing your corporate culture. Having a staff that can work well together boosts productivity, morale, motivation and increases employee satisfaction. Try one of our team building activities or games with your team. For more ideas, check out our article on How to Boost Office Morale with Custom Sticky Notes.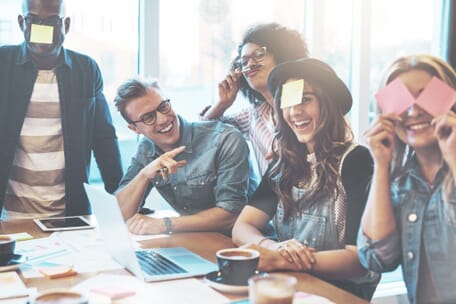 Host Your Own Olympics

Divide your employees up into teams and have them compete against each other in a variety of different events. Your activities will get employees active and allow them to enjoy themselves while the competitive edge will keep things interesting. Allow your employees to dress in comfortable activewear and provide them with customized T-shirts to wear during events. You can choose to have this be one full-day event or stagger it throughout the week by doing a few activities per day.

Company Barbecue or Picnic Lunch Cook-Off

Spice up the traditional idea of a company barbecue or picnic by turning it into a challenging cook-off! Let each employee bring a dish and have everyone vote on which one is their favorite. Potluck-style lunches have a close family feel and allowing everyone to bring a dish provides more variety than your typical picnic. Gift everyone who participates a customized lunch bag or cooler that they can use for lunches in the future.

Oversized Wooden Lawn Dice

These large wooden lawn dice will add some fun to a corporate gathering and can be a great ice-breaking activity. Dice are made of solid pine and feature wood-burned dots to represent numbers. They come in a custom imprinted zippered bag equipped with how-to-play instructions.

A Beach Excursion

If your region has a beach or a lake nearby, take a trip there and provide employees with activities to participate in like paddleboarding, kayaking, or beach volleyball. Your employees will thank you for providing them with a relaxing day in the sun and will remember the experience for the rest of the year. When you get to your beach destination, give each employee a beach towel with your company's logo on it.

Attend a Local Sporting Event

Does your region have a sports team that everyone is crazy about? Coming from New England, we know that most of our employees would jump at the chance to go to a Red Sox game. Attend a local game as a group and bond over peanuts and cracker jacks! Wear caps sporting your brand's logo to the game so your team really stands out.

Bean Bag Toss Game

Company picnics and staff retreats are a perfect way to get your associates mingling while also feeling appreciated. Add some fun into their day while promoting your brand with a fully customizable bean bag toss game. You can even throw in some classic promotional giveaways to use as prizes. Add a set to your company's break rooms, outdoor areas and staff lounges to increase morale.

A Local Scavenger Hunt

Being part of a company means understanding its roots. Not everyone who is employed at your company is from the area or knows the history of your city. Create a scavenger hunt around your area that requires your employees to really think about the history and hidden gems that your location has to offer. Not only is this a great opportunity for your employees to work together, but it is also a fun way to learn more about other businesses in the area. Send your scavengers out into the town with customized drawstring backpacks so they can share your logo along the way.

Learn Together

Treat your employees to an educational opportunity. Sign up the group for a class that everyone can take—it does not have to be work-related, it could be for cooking, painting, or even learning how to code. Expanding your employee's skills outside of what they need to complete their daily tasks can be an enriching experience for everyone. Give employees a customized notebook and pen to take with them.

Poker Playing Cards

Get your company name imprinted on a custom deck of cards. They are the perfect souvenir to take home from a family reunion, corporate event or to give out to new and potential customers and clients. With over fifty game options, a deck of cards will appeal to many audiences.

Visit a Nearby Attraction


Get out of the office and visit a theme park, National Park, trampoline gym, laser tag facility, escape room, or any other fun attractions that you have within driving distance. Employees will let loose and have the opportunity to connect with co-workers who they may not normally connect with on a regular basis. Give everyone a pair of promotional sunglasses to wear to your chosen attraction.

Help out a Charitable Cause

Bring your employees closer by volunteering for a cause that is close to your community. Maybe someone internally has a cause that is close to their heart that everyone can commit time to, or perhaps there is a charity or event in your area that could use some help. This activity will get people out of the office and into the community. After spending the day making a difference, they will return to work feeling proud and rejuvenated. Make sure to check out our article to learn more about helping charitable causes.

Party Pong Set

A playful summer giveaway to show appreciation to your team, or to give out as a thank-you gift for a new customer or client, this pong set is equipped with custom printed cups and pong balls. With multiple fun colors to choose from, you can display your brand with a set that is sure to be a hit.

Take a Hike

Enjoy nature by taking all your employees out on a hike. A challenging hike is a good way to push employees physically and mentally. During their time away from the office, employees will be able to enjoy nature while still feeling accomplished. Have a picnic at the summit to allow adequate time for employees to relax and enjoy the scenery. Provide each employee with a logoed water bottle before you hit the trail.

Celebrate Success


Celebrate everything that your team has accomplished so far this year. Recognize employees that have made large strides for the company. Employee recognition is one of the most fun ways to motivate employees and keep them working hard throughout the duration of the year. During your celebration, provide a catered lunch and group activities. Reward their hard work with a nice custom printed corporate gift to really show your appreciation.

Wooden Ring Toss Game

A wooden ring toss game is a fun activity for every picnic and summer conference. It is made from durable solid pine and comes with its own customized carrying case for easy transport. Increase your brand visibility while promoting a sense of fun with this ring toss set!

Host an Employee Talent Show


Your employees have talents outside the office that many of their co-workers may not be aware of. Summer is a great time to host an employee talent show where your staff members can express a talent that they have outside the workplace. This will help to connect employees who never knew they had shared interests. Getting up on stage and performing something you're good at can be scary but liberating! Pop some popcorn for a yummy food or candy treat everyone can enjoy while people are performing.

Half-Day Fridays or Early Release Friday

Give your employees the gift of time by participating in early-release or half-day Fridays. Not every company can function if their whole staff were to take off early every Friday, but if you can, take advantage of it. This is one perk that employees will wholeheartedly thank you for.
3. Employee Satisfaction and Retention
The word "work" isn't usually synonymous with fun, but it can be! Adding a little bit of fun into the workday can motivate your employees to be more productive and can boost workplace morale. Building a positive work environment is better for everyone involved and can be a huge factor in retaining your most valuable asset- a hardworking and trustworthy staff. Here are some fun ways to motivate employees:
4. Stress Reduction
Stress Awareness Month is recognized in April, however, it is important to build in workplace activities and morale boosters for your employees throughout the year. Promotional products are a great vehicle for showing your staff that you care about their happiness and well-being. Here are some easy and affordable ways to promote mental and physical wellness at work and reduce stress among your employees.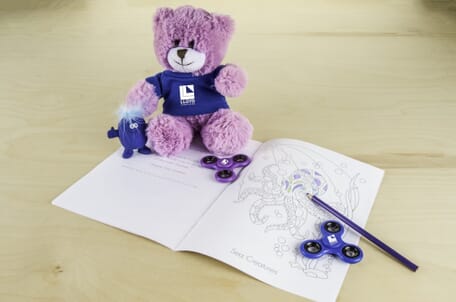 To learn more about how to use promotional items throughout the workplace, don't forget to read our article about how to "Boost Workplace Culture with Company Swag."