Surprise Employees & Clients with Up to the Minute Corporate Gifts: Courant Wireless Chargers
published: September 27, 2023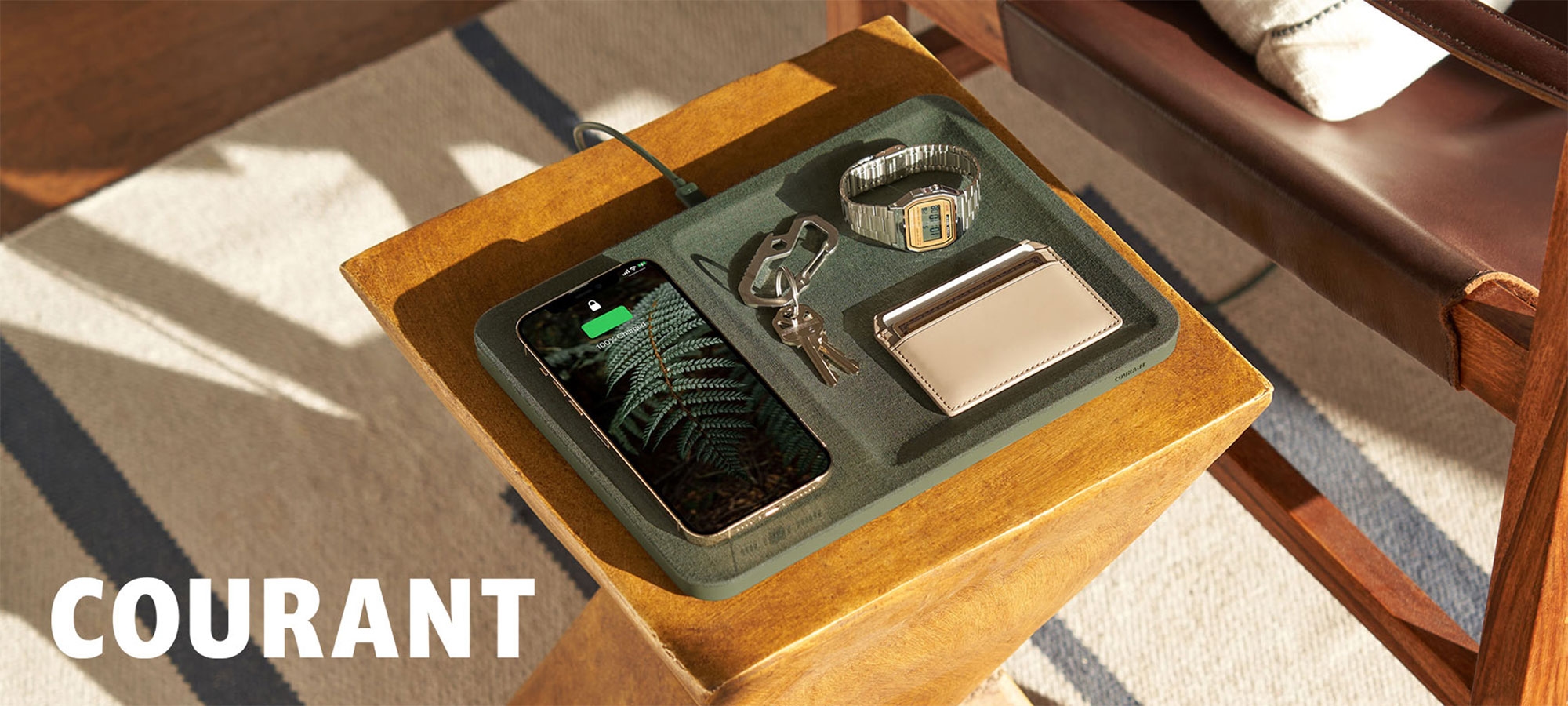 The holiday season is upon us, and it's time to make your gift list and check it twice. If you're in search of the perfect gift for employees, customers, or board members, consider an innovative Courant charger. Your most important stakeholders will appreciate this innovative brand that seamlessly blends cutting-edge technology with timeless craftsmanship in a holiday gift they will use every day.
A Courant wireless charger is one of Crestline's many tech accessories, which are in such high demand today. Just about every one of your employees and customers relies on their devices to function effectively at work, at home, and everywhere in between. This Christmas and holiday season, be sure to give them a hand with useful wireless gifts that will not only keep them charged year-round but also keep your brand front-and-center in their minds.
Quality, Affordable Courant Chargers for Employees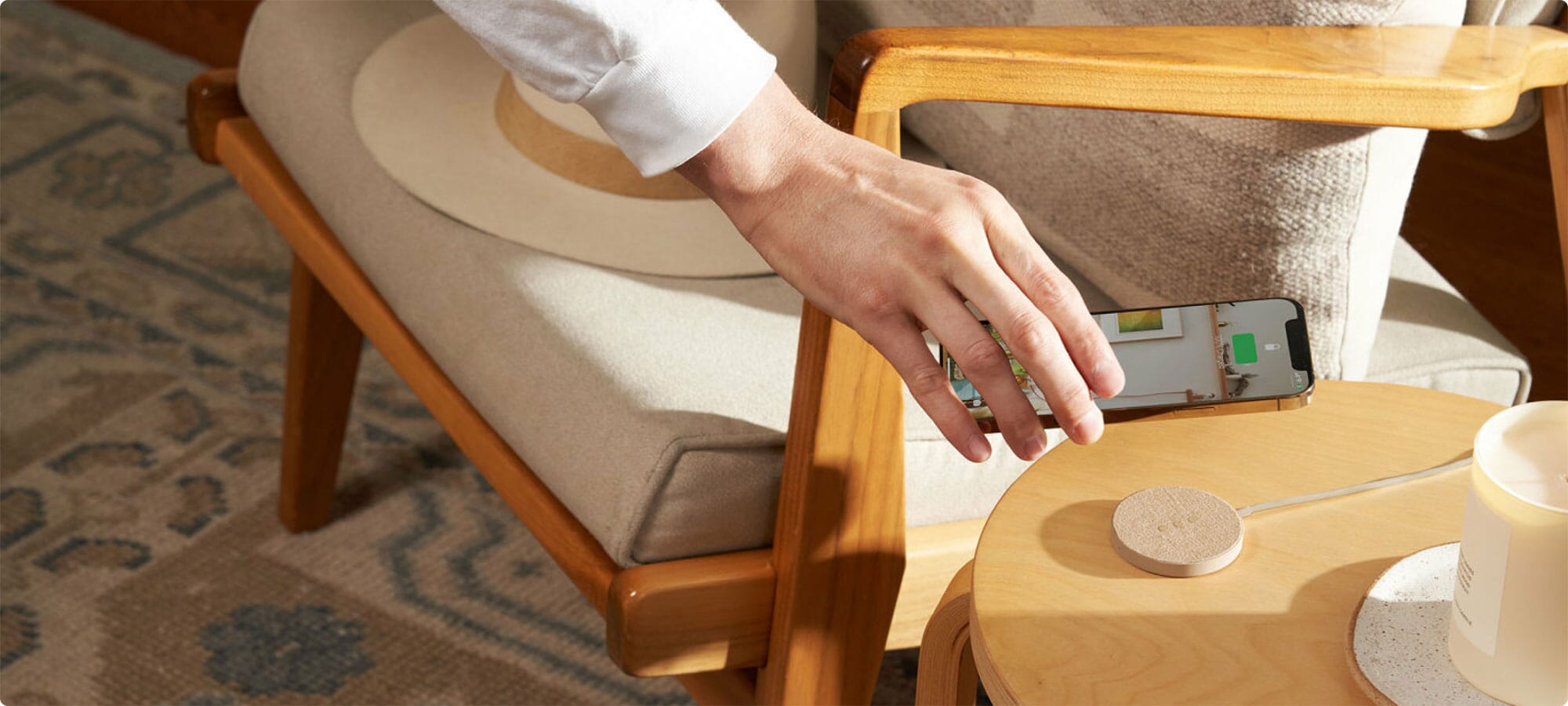 If you're looking for a corporate holiday gift that's sure to "wow" your tech team, look no further than a Courant charger. These brand-name, high-quality wireless chargers will come in handy year-round and are ready and waiting for your company brand, logo or messaging.
Our Courant MAG 1: Essentials wireless charging pad seamlessly integrates into an employee's home or office decor. It's not just a charger; it's a statement piece wrapped in designer-quality Belgian Linen and a durable ABS coated frame. This charger works best in locations where space saving is top of mind, such as end tables, office desks, and kitchen countertops or islands. That not only means accessibility, but also brand visibility to all who walk by.
A second perfect gift option is the Courant Essentials Catch: 1. This low-profile stylish charger is weighted to stay put and wrapped in designer-quality Belgian Linen. Its durable ABS coating effortlessly blends in wherever it's placed and is ready and waiting for your logo.
Finally, the Courant Classics Catch: 1 is simple yet sophisticated. The CATCH:1 is low profile, weighted to stay put, and wrapped in quality materials like leather and aluminum alloy. Imprint your brand and tie your company with a respected, quality brand like Courant.
Impressive, Midrange Courant Chargers for Customers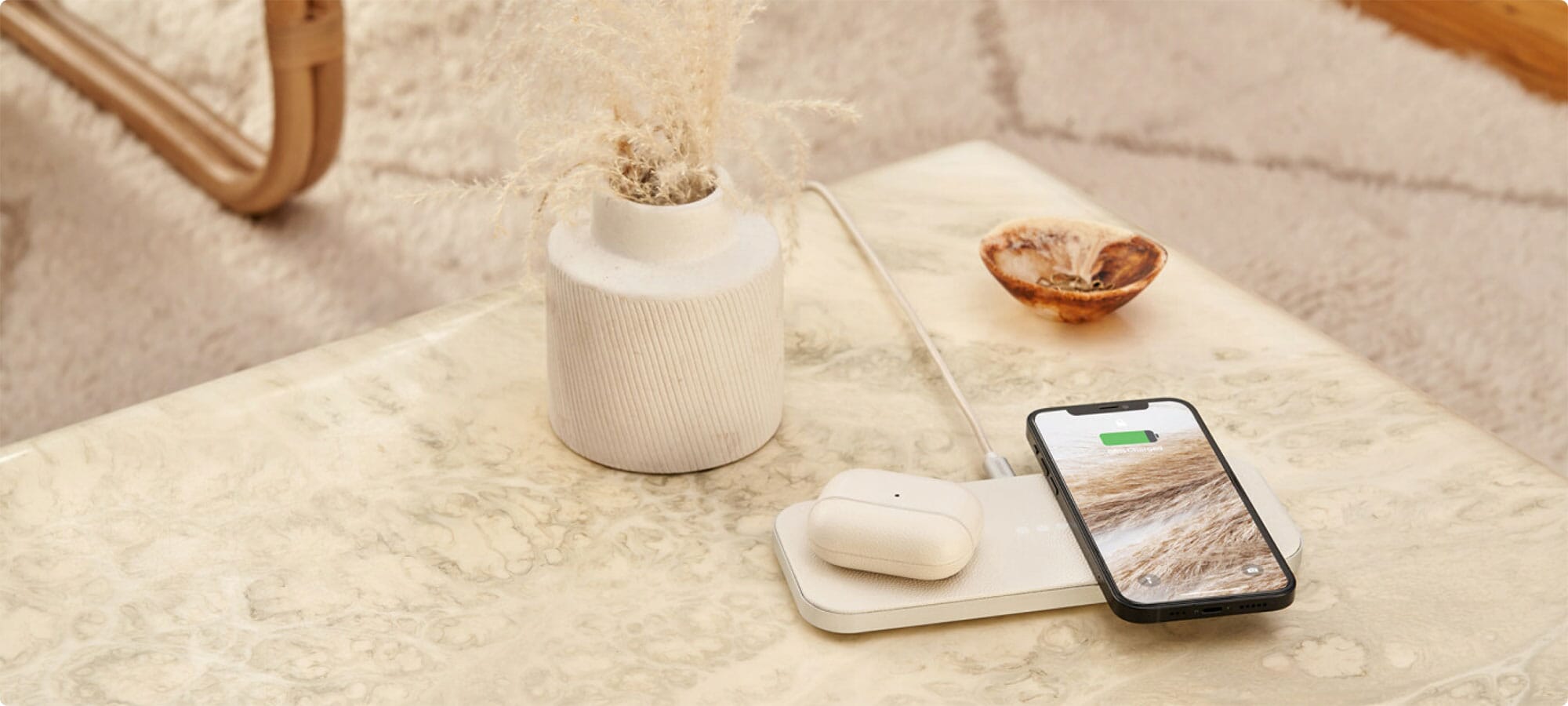 Be sure to thank your top customers for their valued business this year with an impressive and useful gift like a Courant charger. By pairing your brand with quality manufacturers like Courant, you'll be elevating your brand alongside your gift this season.
Help your customers and clients enjoy multi-device wireless charging with the Courant Essentials Catch: 2. Wrapped in designer-quality Belgian Linen and finished with a durable ABS coating, the Courant Catch:2 has a 5-coil array that allows effortless multi-device charging without frustrating "dead zones."
Our Courant Classics Catch: 2 works in a similar manner, keeping multi-devices up and running with a Courant charging station designed with quality leather and aluminum alloy that effortlessly blends in wherever it's placed.
Luxury Courant Charger for Board Members and Executives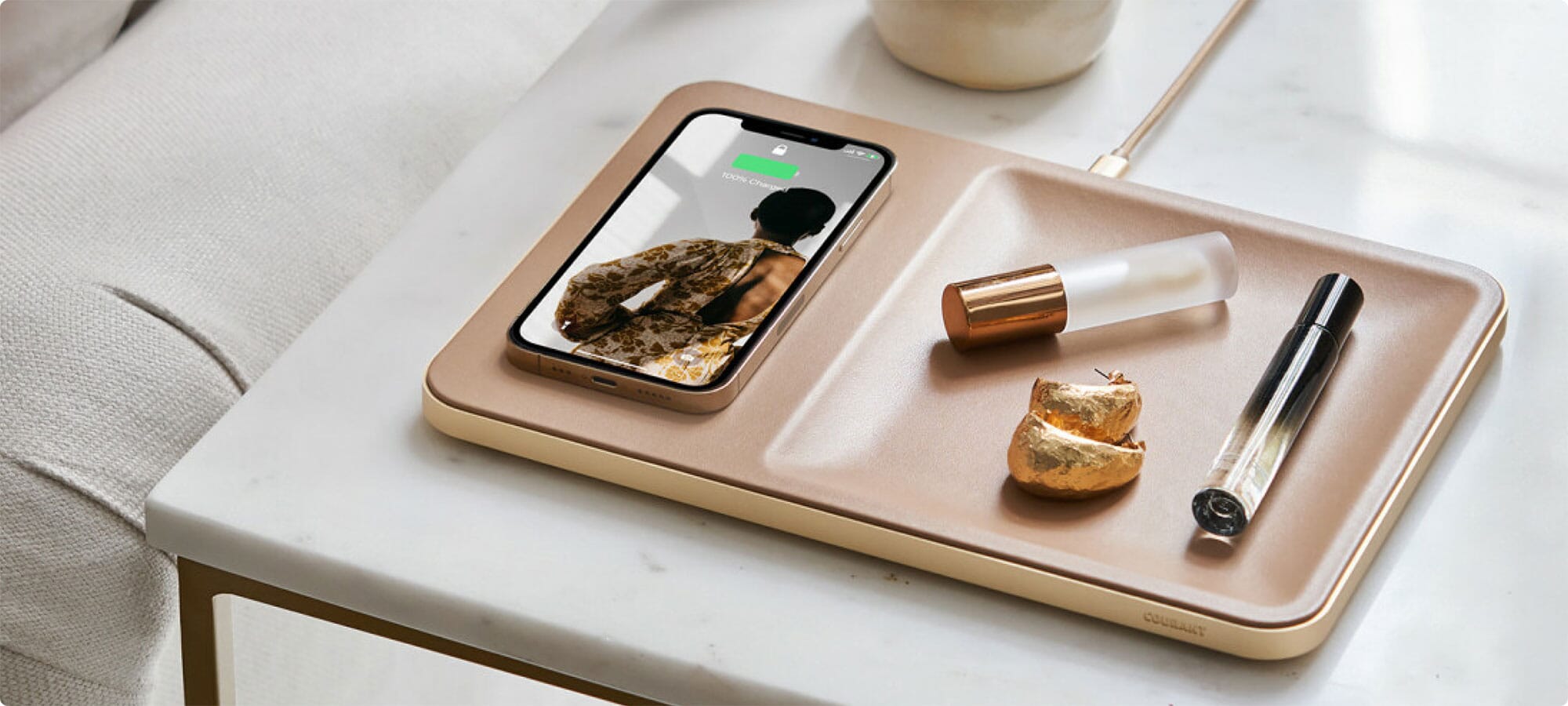 Your very top executives, board members or most important customers deserve the very best. Give them a luxury Courant charger this holiday season to show them how important they are to your organization.
As Courant partners with leading craftsmen to curate signature materials, such as handmade leather sourced from the west coast of Italy and luxurious Belgian linen, you'll be placing your brand next to one renowned for its impeccable quality.
Our Courant MAG 2: Essentials offers twice the charging power and twice the elegance. Magnetically snap-on an iPhone 12/13/14 to the charging stand and place wireless charging AirPods on the base. This unique, sleek design, inspired by home decor, works best at the desk or bedside.
Encourage your brass to thoughtfully organize accessories and charge their devices with the Courant Essentials Catch: 3. It combines multi-coil, single-device wireless charging technology with a familiar valet silhouette wrapped in designer-quality Belgian Linen and finished with soft-touch ABS for added durability.
Finally, our Courant Classics Catch: 3 is a versatile leather catch-all tray and wireless charger combo. Its classic design complements any decor, making it an ideal gift for your most important stakeholders.
Side-by-Side Quality
Gift-giving can be rewarding for your business in many ways. The holiday season is a perfect time of year to express your appreciation to all those stakeholders who are most important to your organization. Customers, clients, executives, employees and board members help make your company successful throughout the year.
By choosing gifts that are brand name items and imprinting your logo and brand, you're aligning yourself with the reputation of quality manufacturers like Courant. Courant's products are more than just tech accessories; they're a lifestyle statement. They offer products built to last with their commitment to craftsmanship and use of luxurious materials and cutting-edge technology.