Nurse Appreciation Ideas –
8 Ways to Make Your Staff Feel Special
published: March 25, 2020 | updated: March 28, 2023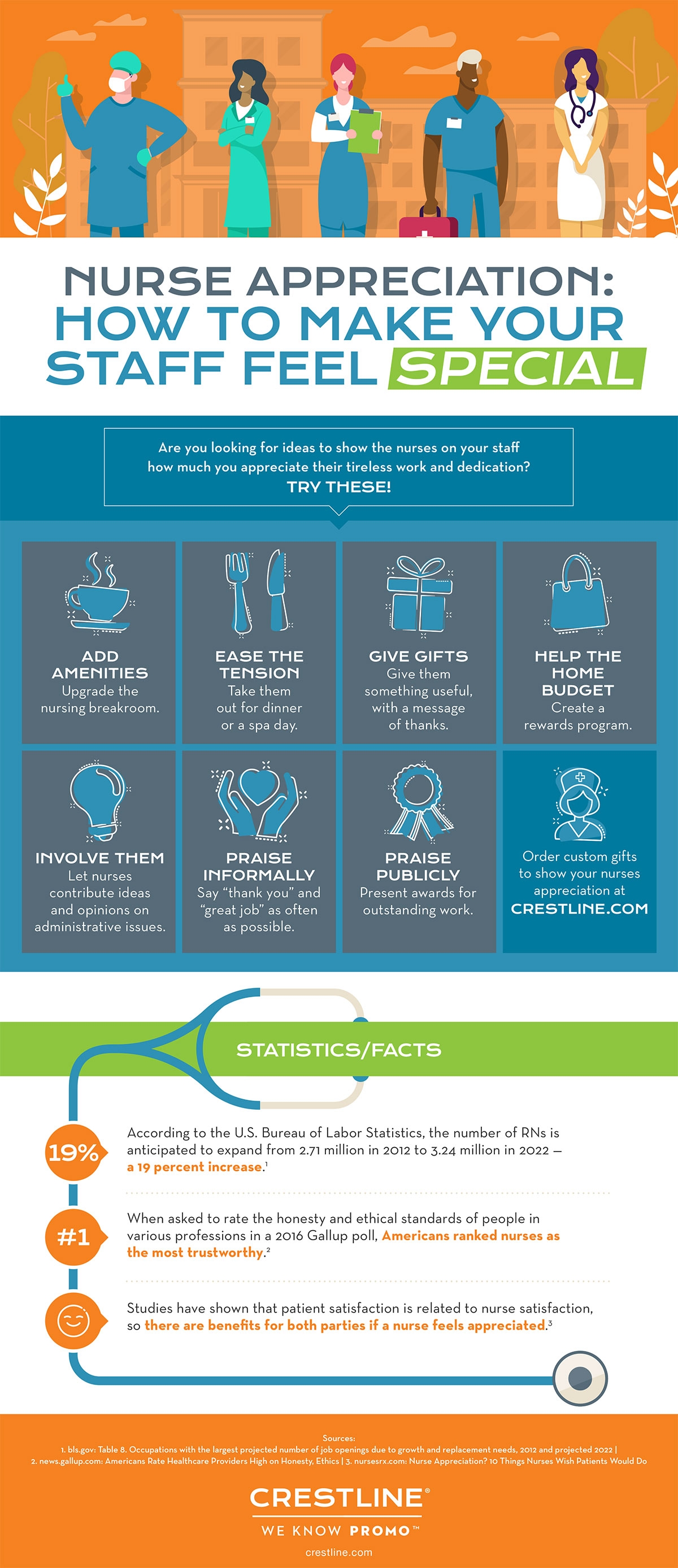 Nurse Appreciation: How to Make Your Staff Feel Special
Due to the size of the aging Baby Boomer generation, it has been projected that we will experience a much greater need for nurses soon, which could lead to a shortage. But, according to the U.S. Bureau of Labor Statistics, students are answering the call. The number of RNs is anticipated to expand from 2.71 million in 2012 to 3.24 million in 2022 – a 19% increase. That's a lot of nurses, with a very important mission of care. Ensure that your organization attracts and retains the best talent by making sure that your staff feels appreciated.
Additionally, when asked to rate the honesty and ethical standards of people in various professions in a 2016 Gallup poll, Americans ranked nurses as the most trustworthy. Sounds like a certain group of healthcare professionals deserves a pat on the back!
Did you need another reason to make sure the nurses in your organization feel the love? Studies have shown that patient satisfaction is related to nurse satisfaction, so there are benefits for both parties if a nurse feels appreciated.
Are you ready to show the nurses on your staff how much you appreciate their tireless work and dedication? Try these great ideas!
Add Amenities
Upgrade the nursing breakroom.
Ease the Tension
Take them out for dinner or a spa day.
Give Gifts
Give them something useful, with a personal, hand written message of thanks.
Not sure what gifts your staff will really love? Don't worry, we've curated a page of the best gift ideas for nurses.
Help the Home Budget
Create a rewards program.
Involve Them
Let nurses contribute ideas and opinions on administrative issues.
Praise Informally
Praise Publicly
Last but least, order custom gifts to show your nurses appreciation at Crestline.com. Now that you're inspired, shop our selection of fun, practical, relaxing and refreshing nurse appreciation gifts, all customized with your healthcare organization's logo.