The History of Travel Mugs & Tumblers
published: September 10, 2019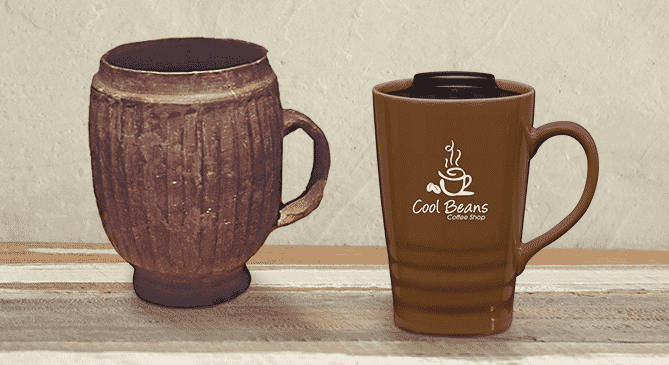 When were travel mugs invented? Join Crestline for a history lesson that will leave you wanting to promote your own brand on a travel mug.
● 10000 BCE

The earliest mugs date back to the prehistoric Neolithic Stone Age and were made out of bone and had no handles.
The oldest mugs suspected of being from this era were also made of wood, but the wooden mugs have proven to be much harder to preserve.
Try imprinting your logo on a mug that will stand the test of time with a wood tone variant of our popular Himalayan tumblers.

● 4000-5000 BCE

Mugs began to be made out of clay. This made decorating the cups, and adding handles, much easier.
The first ceramic mugs made on potter's wheels were found in about 2000 BCE.
The clay used at this time made the walls of the mug too thick for a human mouth to comfortably drink from.

Bushel with Ibex Motifs

photo credit:

wikipedia

Clay Pot Mug

photo credit:

mugs.coffee


Themis Travel Mug

● 2000 BCE

Thinner walls came with the development of metal work.
Metal mugs were made from bronze, gold, silver, or lead.
These were difficult to drink hot beverages from.

Gold Cup

photo credit:

Flickr user Xuan Che

Copper Mug

photo credit:

mugs.coffee


Silver Bottom Tumbler

● 206 BCE–220 CE

Although it is believed to have found its origin in China much earlier, wide use of high-fired porcelain to make ceramics began from 206 BCE to 220 CE.
More common for standard coffee mugs, porcelain is still the most used material in ceramic drinkware.
Porcelain and other ceramic materials have proven to be some of the best ways to make mugs for their thin walls and ability to hold hot or cold drinks.

Mug from 1740's, China

photo credit:

Jens Mohr

Porcelain Mug with Arms

photo credit:

Wikipedia


Porcelain and Cork Tumbler

● 1600s-1700s CE

Following its discovery around 850 CE, coffee, and using mugs to drink it, became increasingly popular.
People began using the term "mug" to refer to these types of cups because they resembled the profiles of prisoners, i.e. mug shots.
The term "tumbler" first started being used for cups with round bottoms. It is unclear exactly why this is.
In 1746, a royal edict was enacted in Sweden to heavily tax coffee. If one failed to pay this tax, they would be fined and have their coffee paraphernalia, including mugs, confiscated. Later that year, coffee was outlawed altogether, heightening the bootleg industry for these products.

● 1892-1904 CE

Sir James Dewar invented the "vacuum flask," or vacuum insulation technology, in 1892 to keep his Palladium at the correct temperature.
This technology started being used often for chemical experiments.
Two glassblowers from Germany discovered that the vacuum technology could be used commercially to keep drinks cold or warm. Because Dewar had never patented the vacuum flask, the two took the rights to the double wall insulated cup and renamed it "thermos" in 1904.
The thermos trademark became generalized many years later because the term started being used for any item possessing vacuum flask properties.

Dewar Vacuum Flask

photo credit:

Lepo Rello (Wikipedia)

Dewar Vacuum Flask Diagram

photo credit:

Wikipedia


Leatherette Vacuum Bottle

● 1945

The traditional "coffee mug" was designed in 1945 by the Victor Insulator Company.
The cups were built to military standards. They featured thick walls to ensure proper insulation and extra weight to prevent falls while being used on war ships.
A rougher bottom was added to prevent the cup from sliding.
Many people began adopting the Victor mug, and it became the standard for coffee drinkers.

Vintage Victor Mugs

photo credit:

Make it Old

Victor Mug Mark

photo credit:

Make it Old


Victor Diner Mug

● 1980-1994 CE

Travel mugs became widespread due to the implementation of coffee club promotions at convenience stores which gave patrons discounts on refills when they bought a mug.
"Trip sips" plastic mugs became popular as they attached to one's dashboard and often showed off a logo imprint.
In 1983, the minivan was invented. This new type of vehicle came with built in cup holders notched into the dashboard, the kind that we have today.
However, it wasn't until after the 1994 Liebeck v. McDonald's Restaurants case that cup holder implementation became standard practice for car manufacturers.

Aftermarket Cup Holders

photo credit:

Ildar Sagdejev

Armrest Cup Holders

photo credit:

Wikipedia


Roadster Mug

● Present

Nowadays, new and innovative mugs are being brought to market all the time. Some of these include:

Removable Bluetooth speaker travel mugs that include a built-in microphone to take phone calls.
Vacuum-insulated portable cup with a built in coffee grinder.
Attractive and trendy floating confetti tumbler.
Ever popular stainless steel travel mugs keep drinks hot or cold and offer a stylish appearance.
For all your promotional travel mug needs, browse Crestline's wide selection of custom tumblers to find the perfect drinkware item to imprint your logo on.