Video Conference Tools + Custom Swag = Memorable Virtual Events
published: July 23, 2020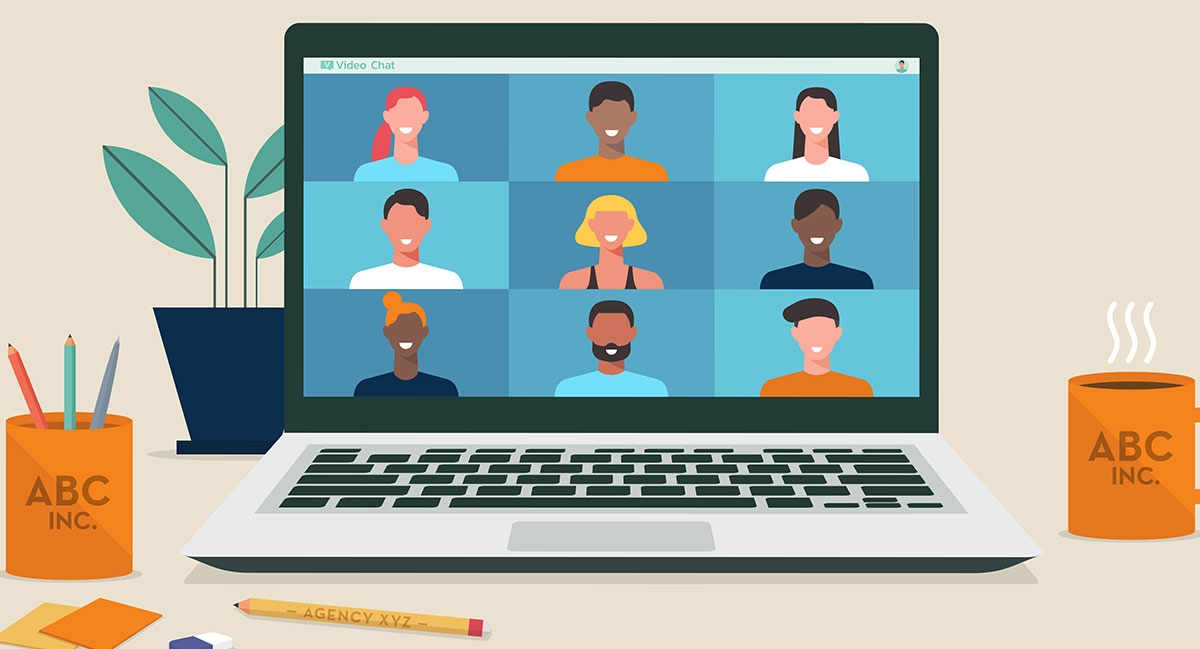 Not so long ago, only a select few had major interest in a video chat app or videoconferencing app. These software tools were handy for large-scale, multiple-location businesses or long distance personal relationships, but most of us were happy to rely on email, text messaging, phone calls and in-person meetings or social events.
No more!
Video conferencing software has gone mainstream. With pandemic precautions in place all across the globe, everyone from preschoolers to senior citizens is using one virtual meeting platform or another, for distance learning, business activities, formal social occasions and informal get-togethers. Whether for one-to-one communication or international conventions attracting thousands of online users, the virtual event is now the default option.
First we'll review 10 of the best virtual platforms and how to use them. Next, we'll show how you can incorporate tangible custom gifts, giveaways, supplies and swag into your virtual conference or online party to make it exciting, memorable and effective. Let's get started!
Top 10 Virtual Platforms and Their Uses
New apps are coming on the market on a seemingly daily basis. These are among the most popular and easiest to use. Both factors are important: If the video conferencing service isn't popular, you will cut down on the number of event attendees; if the service isn't easy to use, you'll have trouble getting attendees back for another virtual event.
1. Bunch
Bunch is a very targeted type of virtual meeting app that enables gamers to play together virtually and engage in video chat. Now that live gaming meetups aren't possible, Bunch has skyrocketed in popularity. Bunch comes loaded with several games including Pool and Draw Party, and it will support many other complex games (e.g., Minecraft) and simple ones (e.g., Scrabble).
2. Facebook Messenger Rooms
If Bunch is new to you, chances are Facebook Messenger is not — it's been around for years. What you may not know is that with a new Messenger feature called Messenger Rooms, Facebook users can create and attend video meetings. (Non-Facebook members can also attend meetings.) Launched early in 2020, Rooms is designed for informal, virtual hangouts for up to 50 people, making it perfect for the virtual happy hour or random chat. With Facebook's enormous user base, it's sure to continue its rapid growth.
3. Google Meet
Remember Google Hangouts? In 2020, Google rebranded Hangouts, splitting it into two products, Google Chat and Google Meet. Google Meet is a formal, large-scale video conferencing platform for conducting business meetings. A powerful screen sharing app, Meet facilitates collaboration, is very secure, can accommodate 250 attendees and livestream meetings to up to 100,000 viewers.
4. Houseparty
As its name suggests, Houseparty is a video chat app, primarily mobile-based, socially oriented, and designed for up to eight participants. Houseparty is popular with Gen Z, but has been gaining older users, as people of all ages are looking for ways to virtually hang out with friends and family. And, because people can pop into a Houseparty chat whenever they see a connection attending one, it's a great app for meeting new people.
5. Marco Polo
Marco Polo is a mobile-based virtual meeting app for family, friends, coworkers and hobbyists. It's best described as a visual replacement for texting or phone calls, and is widely popular with Tweens and teens. When you send a video message, it is saved (like a voice mail message), so the recipient can view and respond at his/her leisure. If you don't like the pressure of live chat, Marco Polo is for you.
6. Microsoft Teams
Designed for online business meetings and collaboration, and as a webinar platform, Microsoft Teams accommodates up to 300 participants and is packed with useful features for document sharing, live chat, and training. It's a natural for organizations that use and support Microsoft software products.
7. Skype Meet Now
Videoconferencing on Skype Meet Now works on almost any type of device, and is an excellent platform for webinars, conference calls, interviews, and business collaboration. Skype (a Microsoft product, by the way) handles up to 50 participants, and does not require a Skype account to join a meeting. It's less complex than videoconferencing platforms aimed at large organizations, making it a great choice for entrepreneurs and small to mid-size companies.
8. Slack
Launched in 2013, Slack is widely used for virtual business collaboration and meetings for organizations of all sizes. An attractive feature is its easy integration with various types of office tools, and is often used as a robust replacement for internal email. Its videoconferencing capabilities are getting a lot of attention for use with internal business teams.
9. WhatsApp
WhatsApp (a Facebook product) is a widely used mobile and desktop communication tool popular with small businesses and also families. Group video calls are possible with up to eight people at a time, making it a handy videoconferencing tool for informal use.
10. Zoom
Zoom has zoomed to the top of the charts as a videoconferencing tool. In fact, people may well be spending their day zooming from Zoom meetings to Zoom happy hours to Zoom parties. Zoom accommodates up to 100 devices for free accounts, and up to 500 people for the paid version. Whether for a virtual wedding, virtual graduation, or business meeting, Zoom creates an atmosphere that seems to check all the right boxes.
Logo Items for Business and Social Virtual Conferencing
Promotional gifts giveaways give virtual events something we can touch and use, and they keep good memories alive. Here are ideas for your upcoming event. Crestline has an almost unlimited selection of logo items, and we can also take care of shipping or mailing items to your attendees.
For Virtual Company Meetings
Wireless earbuds combine a practical item with a unique design.

Polo shirts with logos are comfortable, with classic business casual style.

Looking for something all business? Look at our selection of padfolios that keep writing paper, pens, tech and more organized and secure.

Coffee tumblers are a company meeting giveaway that is sure to provide you with alert attendees! Add a smile to your gift when you add a funny or inspirational message from our list of 25 sayings and quotes perfect for coffee mugs and tumblers.
If you really want to make a meeting special, or impress potential clients and business partners, send out Zoom meeting snack boxes in advance. There are treats available from every theme from breakfast to brunch.
For Virtual Happy Hour
Virtual happy hours have seen a 296% increase in popularity across industries since early March. Why would a company sponsor or organize an event like this? Companies are jumping on this trend in personal events to create corporate events that help employees feel connected when they aren't seeing each other in the workplace or socializing in person after hours.
For Virtual Family Reunions and School Reunions
For a casual approach, a quality custom printed t-shirt is the perfect fit. All they need is your family name and the year.

If your group prioritizes beverages over fashion, a commemorative cup will serve as a great souvenir — and a great container for cold drinks.

To top off this list of promotional ideas for reunions, we recommend classic ball caps. Everybody will want to wear one.
For Distance Learning
Make virtual learning preparation easy with pre-assembled kits and bundles, filled with everything students need to succeed in their education from home. Choose from classic school supplies kits for elementary school students, spirit items like school logo backpacks and water bottles for morale and connection, office supplies like notebooks and sticky notes, or the tech items that older students want, like stylus pens, mouse pads, chargers and earbuds.
For Virtual Graduation
For a graduation keepsake that will last forever, consider customized classic or digital photo frames.
For Virtual Parties
For Virtual Weddings
Virtual weddings are enhanced with real life monogrammed wedding favors. What would a wedding be without flowers? The Flower Seed Matchbook includes a packet of seeds and growing instructions. Add a message such as "Watch Our Love Grow."
Every wedding reception needs festive libations and drinkware to serve them with. Monogram a koozie for a casual affair or customize a wine glass for a more dignified mood. Chose an innovative champagne flute tumbler for the perfect memento that your guests will use everywhere they go for years to come.
Don't forget gifts for the wedding party. A popular gift for bridesmaids is the Soho Tartan Tote Bag. For groomsmen, we recommend the 6 oz. Leather Wrapped Stainless Steel Flask. If you have the budget, it may work even better to give bridesmaids and groomsmen a set with both items!
Need Help?
If you need help finding the perfect promotional item for your virtual conference or meetup, please contact us now. We have a multitude of options.
You may also be interested in: