What are the Parts of a Backpack?
An Illustrated Bag Anatomy
published: March 4, 2020 | updated: July 30, 2020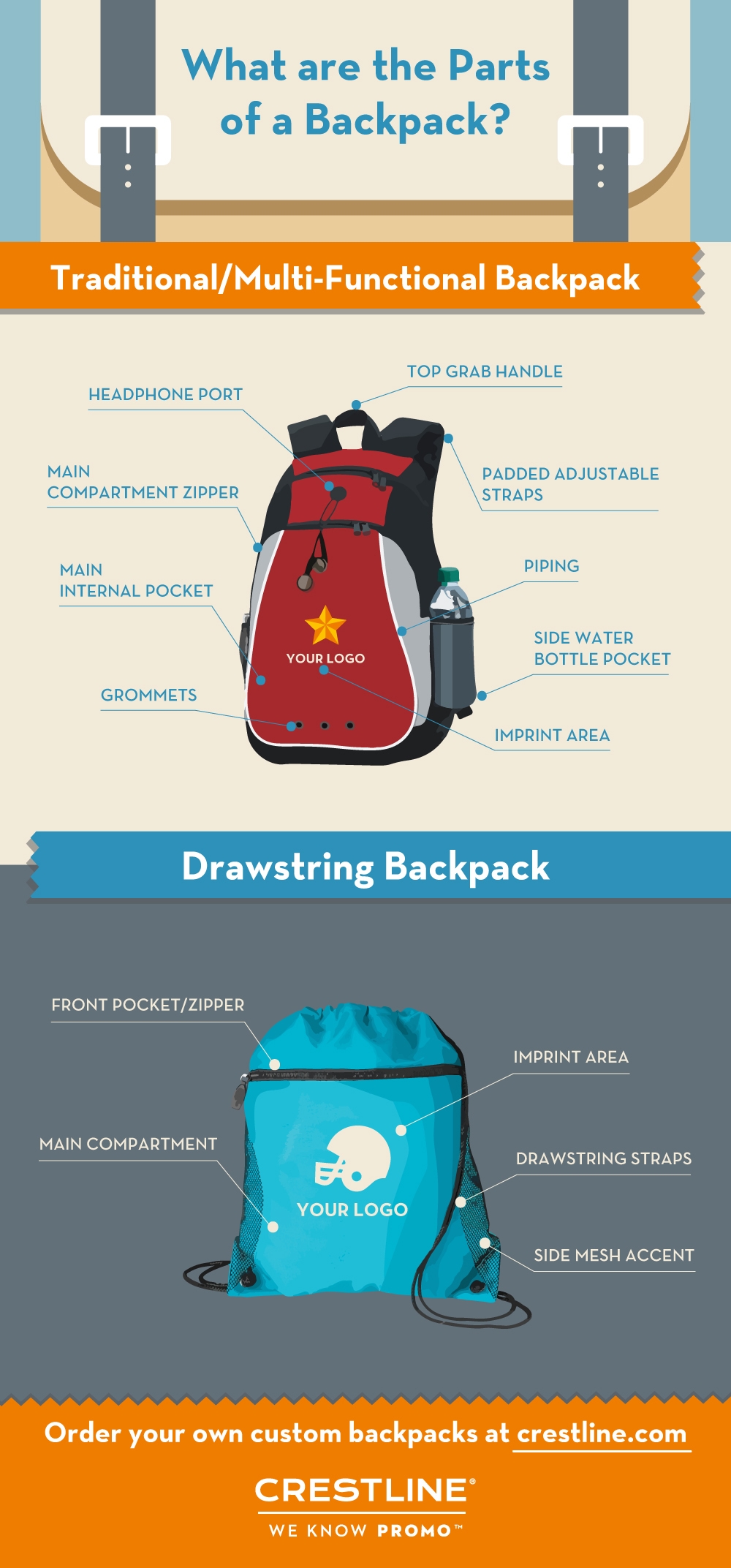 What are the Parts of a Traditional Backpack?
When you are shopping for a custom printed backpack, like the Academic Backpack pictured above, you'll see a list of features for each one. Here are the basic parts that make up backpacks:
Padded Adjustable Straps
Front Pocket
Side Water Bottle Pocket
Main Internal Compartment
Main Compartment Zipper
Top Grab/Carry handle
Ventilating Mesh or Grommets
Interior Organization Pockets
Piping/Trim
Imprint Area (The space available to print your art or logo.)
Special Features for Traditional & School Backpacks
Headphone Port

Keeps devices safe and steady inside the bag so the wearer can listen to music, podcasts or audio books with earbuds.

Laptop or Tablet Protector Pocket

Important for business, travel and education.

USB Port for Power Banks

For keeping phones and tablets charged on the go.

Cell Phone Sleeve or Pouch

Provides extra protection for expensive and delicate devices.

Shoulder Strap

Allows for more than one way to carry the bag.

Reinforced Base

Helps the backpack bottom hold up against streets, floors and heavy contents.
What are the Parts of a Drawstring Backpack?
A drawstring backpack, like the Zip-Front Drawstring Backpack pictured above, is lighter, smaller, and less expensive than a traditional backpack. This type of bag is perfect for packing up and shipping to events because of its weight. Drawstring bags won't weigh down small children, runners, or trade show attendees. Pull string or cinch bags are also a good choice for short term use because of their economy. They are less complicated than book bags and have fewer parts. Here are the basics:
Drawstring Straps/Carrying Strap
Reinforcing Grommets
Main Compartment
Front Pocket and Zipper
Imprint Area
Special Features for Drawstring Backpacks
Headphone Port
Reflective Safety Strips
Mesh Accents
What are Backpacks Made Of?
Backpacks carry a lot of weight and take a beating, so they are usually made of fabrics that can stand up to wear and weather. Popular backpack materials include:
Polyester
Poly Canvas
Nylon
Canvas
Cotton
Nonwoven Polypropylene
Which Backpacks are the Most Durable?
Durability depends on the material the bag is made of, and how thick that material is. The terms below will help you decode the information you'll find on the product detail pages for backpacks:
Denier is a unit of measurement that is used to determine the thickness of threads used in fabrics. Fabrics with a higher denier count tend to be thicker and more durable.
GSM (Grams per Square Meter) is a unit of measurement for non-woven polypropylene material, since it is not a true fabric, but a pressed sheet. The GSM level refers to the weight of the material. The higher the number, the thicker the fabric.
You may also be interested in: