What is Polypropylene Fabric?
published: October 31, 2019 | updated: August 18, 2020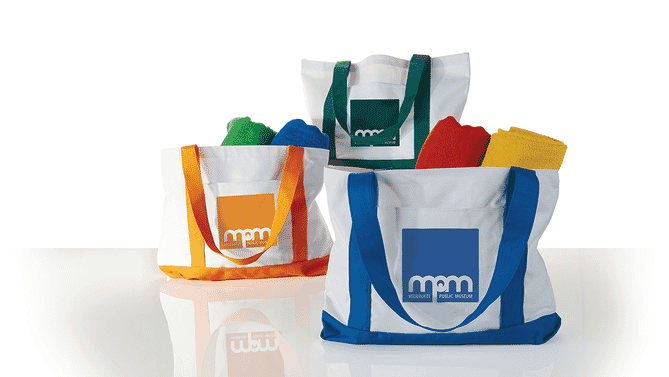 Polypropylene is a flexible resin polymer and is often referred to simply as "non-woven." It is also called PP for short, polypro, or moplen. The process involved in making polypropylene is called extrusion. The result of this process, which includes several chemical and heat processes, is a material designed to have the look, feel, and quality of cloth. The unique properties of this material have made it a staple in the manufacture of bags and totes, face masks, and performance wear. Let's take a look at what makes this textile so useful.
Benefits of Non-Woven Polypropylene Fabric:
Lightweight
Easy to clean
Tough and durable
Flexible, which allows for easy folding and storage
Air permeability
Fire resistant, depending on style
Water repellent (moisture-wicking) to avoid bacteria and odors
Most items made with it are recyclable (classified as recycle code number 5)
What is Polypropylene Fabric Used For?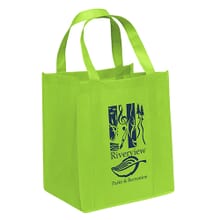 Reusable Shopping Bags
A major use of polypropylene fabric is the manufacture of reusable shopping bags, which provide shoppers and store owners with an alternative to paper and plastic. As society becomes more environmentally conscious, reusable totes will continue to increase in popularity.
There are several other benefits to using reusable bags:
They can carry at least twice as much as standard plastic bags
Easy to carry
More durable
Stylish - offering many different sizes and colors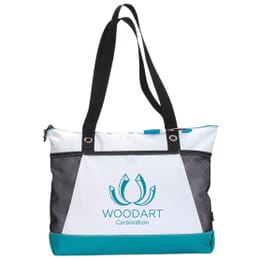 Sturdy Trade Show Totes
Promotional reusable totes are a great way to promote your business while supporting green initiatives. Crestline offers a wide variety of promotional polypropylene tote bags in an array of colors, patterns, and styles. These bags are perfect for trade shows and events, with the ample pockets, beverage holders, and pouches that attendees need to keep everything organized and close at hand.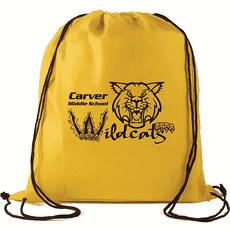 Drawstring Backpacks
A cheaper and lighter alternative to traditional backpacks, drawstring bags are perfect for outdoor events like charity run/walks. When you need to pack for a lot of people, you want to keep the weight down as much as possible, and when you are trying to benefit a cause, you want to keep operating costs to a minimum. Polypropylene fabric is one easy way to achieve both of those goals.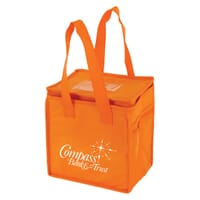 Lunch Bags & Coolers
The best way to cut down on the waste of paper and plastic lunch bags is to provide people with reusable lunch totes. Non-woven lunch bags are sturdy enough to stand up to repeated use, and most are insulated to keep food hot or cold.
Medical Face Masks & PPE
Polypropylene fabric is more important now than ever, as it is used to make the N95 surgical masks that doctors, nurses, and other healthcare workers need to protect themselves against COVID-19. Crestline does not sell N95 masks or any other medical grade masks that protect the wearer against Coronavirus. We do offer a wide selection of the type of non-medical grade cloth face masks and face coverings that the CDC recommends for the general population, as well as non-medical grade PPE items.
Performance Wear
Whether for athletic uniforms, everyday fitness wear, or military apparel, polypropylene fabric is ready and able to give 110%. It's durable enough to take a beating while remaining breathable and comes with moisture wicking ability. It is also used in thermal underwear because it provides lightweight insulation without absorbing odors.
Upholstered Furniture
This fabric is a perfect match for upholstery because it stands up to wear and tear, is easy to clean, and is moisture repellent, which helps deflect the impact of spills.
How do you Wash Polypropylene Bags?
The best way to wash polypropylene fabric is to hand wash it in the sink with antibacterial soap and then allow it to air dry inside and out. You can also wipe your bags down with an antibacterial spray.
If you do wash your bag in a washing machine, choose cold or cool water and the delicate cycle, but know that this may shorten the life of the bag. If you are using polypropylene fabric shopping totes for groceries, it's a good idea to keep certain bags aside just for meat and produce, and the rest for pre-packaged goods. That way, you know which bags you need to wash after every shopping trip and those that can just get put away for next time.
Does Polypropylene Fabric have Thread Counts?
No, it doesn't, because polypropylene fabric is non-woven, and doesn't have threads! To understand the thickness of the fabric in the bag you are buying, the term you need to know is GSM (Grams per Square Meter).
During the manufacture of non-woven material, polypropylene fabric sheets are created. Those sheets have different weights. You'll find GSM levels from 80 to w100 in customized reusable bags. The higher the number, the thicker the fabric. For example, our popular Grocery Tote is made of 100 GSM polypropylene while our Classic Tote is lighter at 80 GSM.
Interested in more reusable promotional items? Be sure to check out our Eco-Friendly Promotional Products Buying Guide.
You may also be interested in: