12 Best Inexpensive Promotional Items to Maximize Your Marketing Budget
updated: July 6, 2023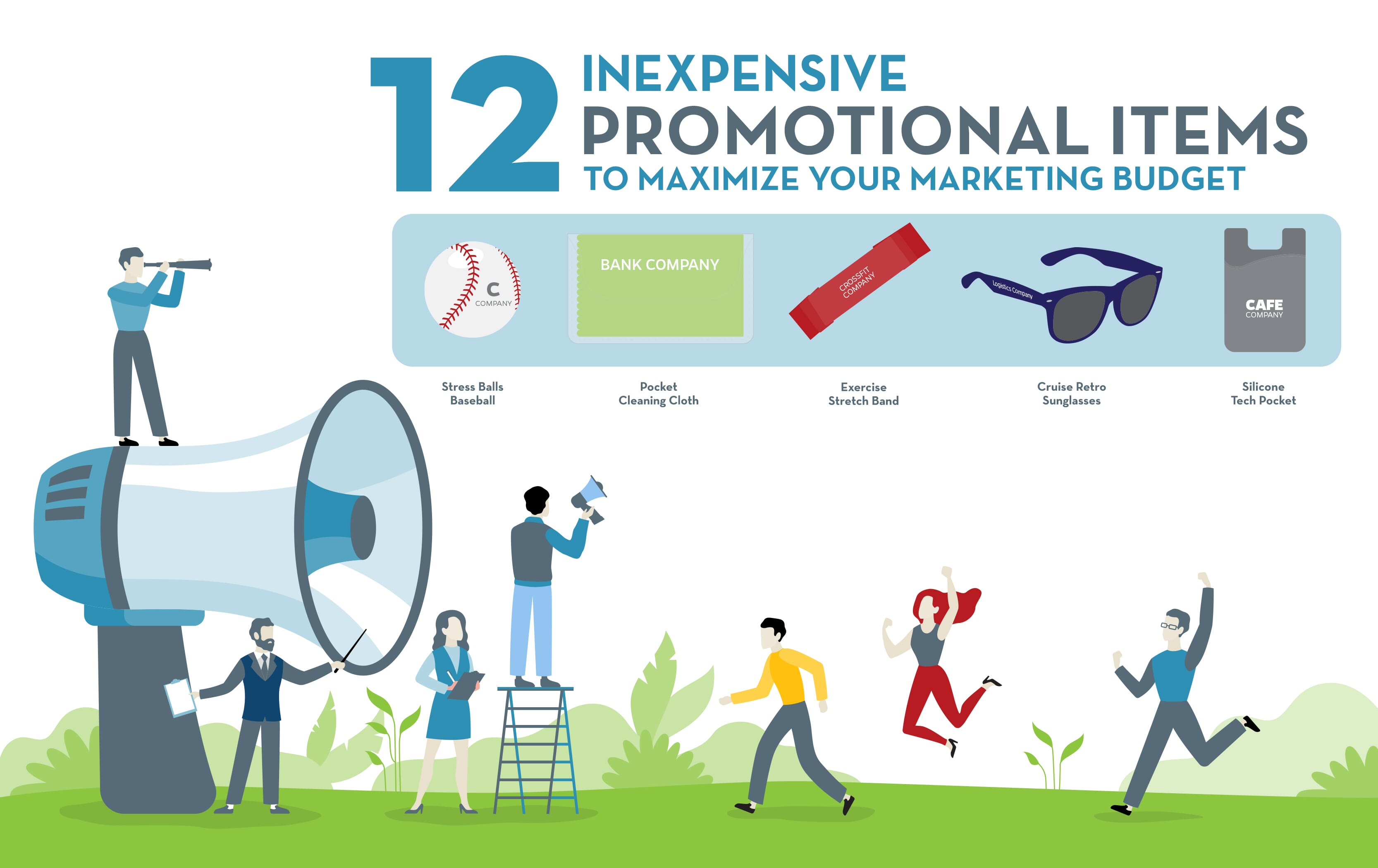 As we all know, high inflation and current economic conditions are challenging businesses, in many cases severely. In fact, according to Forbes, global advertising spending is expected to slow way down in 2023, increasing by 3.8 percent year-over-year, compared with the nearly 20 percent growth reported in 2021. With the future uncertain, companies are slashing marketing budgets — not because they want to, but because they have to. Even so, every company realizes marketing drives new business and customer retention, which are essential to long-term success. The challenge, then, becomes how to make the most of the few marketing dollars that are available.
The temptation when marketing budgets are tight is to resort to cheap swag items. Beware, however, because danger lurks when you give customers and prospects cheap custom gifts. Instead of cultivating loyalty and gratitude, your gift makes recipients think less of your brand, or even feel insulted. The result could be lost business and lost customers, the very things you don't need in this business environment.
Crestline will help you avoid the counterproductive results of cheap promotional products. With our strong vendor relationships and high-volume purchasing, we are able to supply you with the best inexpensive promotional items that are anything but "cheap." If affordable but effective marketing gifts are a top priority, these twelve logo items will give you maximum mileage for your marketing swag dollars.
1. Bandanas
Bandanas are a timeless and all-purpose gift with a variety of uses. Our popular Solid Cotton Bandana is available in over 15 colors and offers a large imprint area to add your logo or design. This low-cost logo item can be worn 13 ways, is made of moisture-wicking polyester, washable, and durable. It's an example of one of the best cheap promotional items, that doesn't feel cheap.
2. Keychains
How do you turn cheap giveaways such as keychains into affordable giveaways that pack a promotional punch? The "key" is to give customers something with a creative design twist. Here are two perfect options. Our iPopStand is a keychain that triples as a smartphone stand and a bottle. For something less elaborate but equally popular, the Sof-Touch™ Original Key Tag has a soft, flexible feel that appeals to everyone, and also carries a sub-one-dollar price tag in any quantity. It's one of our best inexpensive promotional items.
3. Phone Wallets
Phone wallets are practical, versatile, widely used, always appreciated, and last but not least, amazingly inexpensive personalized gifts. Our popular Silicone Tech Pocket comes in a rainbow colors. For a little bit more, take a look at the Silicone Tech Pocket with Stand, made with removable 3M™ adhesive.
4. Exercise Bands
More people than ever are working out at home. What better way to encourage health and fitness than with a logo Exercise Stretch Band. Customers will appreciate this low-price but high-performance item with an imprint area big enough for both your logo and also an inspirational message. What better way to stretch your marketing budget?
5. Sunglasses
Our Cruise Retro Sunglasses and Cruise Retro Crystalline Sunglasses are one of our best inexpensive promotional items. Besides being super stylish, they provide 100% UVA and UVB protection — and, the standard Retro sunglasses are made from all recycled materials, making them a great choice to express an eco-friendly message.
6. Tissues
The logo Tissue Pack is under $1.00, and features 10 high-quality, quilted, 3-ply tissues. In today's highly health-conscious environment, a practical gift like this may be inexpensive, but it's nothing to sneeze at. (Well, OK; actually it is something to sneeze at.)
7. Chip Clips
Crestline chip clips are budget-friendly, and are not for chips alone — they work for any type of bags, loose papers, and anything else where a paper clip won't do. The 4" Keep-It™ Clip, just over $1.00, has a generous imprint area and wide selection of vibrant colors. The Cool Clip has an even bigger color selection, jaws like a shark, and a powerful magnet.
8. Office Supplies
So far, we've looked at at our best inexpensive promotional items for the kitchen, workout room, pocket, and purse — but we shouldn't forget about work! Crestline offers thousands of logo office supplies, but for limited budgets, it's hard to beat the Recycled Jotter & Pen. Eco-friendly with 60 ruled pages and a large imprint area, this item is a tremendous value.
9. Screen Cleaners
Customers can never have too many microfiber screen cleaners. The logo Pocket Cleaning Cloth, priced well under $1.00, is sure to be appreciated — and you can pair it with a phone wallet (mentioned earlier) and still have a budget-friendly giveaway.
10. Sports Bottles
Crestline's almost endless catalog of sports bottles cover a wide range of prices. For the budget-minded, the classic 20 oz. Bike and Sports Bottle, is yet another example of how inexpensive promotional products need not be cheap promotional products. This item is BPA-free, has a leak-resistant push/pull top, comes in plenty of colors to match your branding and makes a great marketing gift for under $1.00 when purchased in bulk.
11. Coasters
Add more than a touch of class to your budget-friendly logo giveaway with the round Absorbent Stone Coaster. The texture and heft of this coaster gives it a rich vibe that belies its low price. Elegant and practical, with a cork backing and luxurious cream color, the coaster soaks up minor spills while making you look good.
12. Stress Balls
The Baseball Stress Ball, with price points well under $1.50, makes superb giveaway items that people can probably use more than ever these days. And, being so economically priced, stress balls are sure to relieve your budget tension as well.
Need More Help?
These budget-friendly personalized gift ideas are some of our most popular, but Crestline has many more options to explore. The selection of on-sale and closeout items on our deals page is always changing, so stop in often. If you are still looking for the best inexpensive promotional items for your stretched marketing budget, or if you have product questions, please contact us now. We are standing by to help make your marketing efforts a success no matter what your budget looks like.