Inexpensive Trade Show Booth Ideas
for Small Budgets
published: January 19, 2023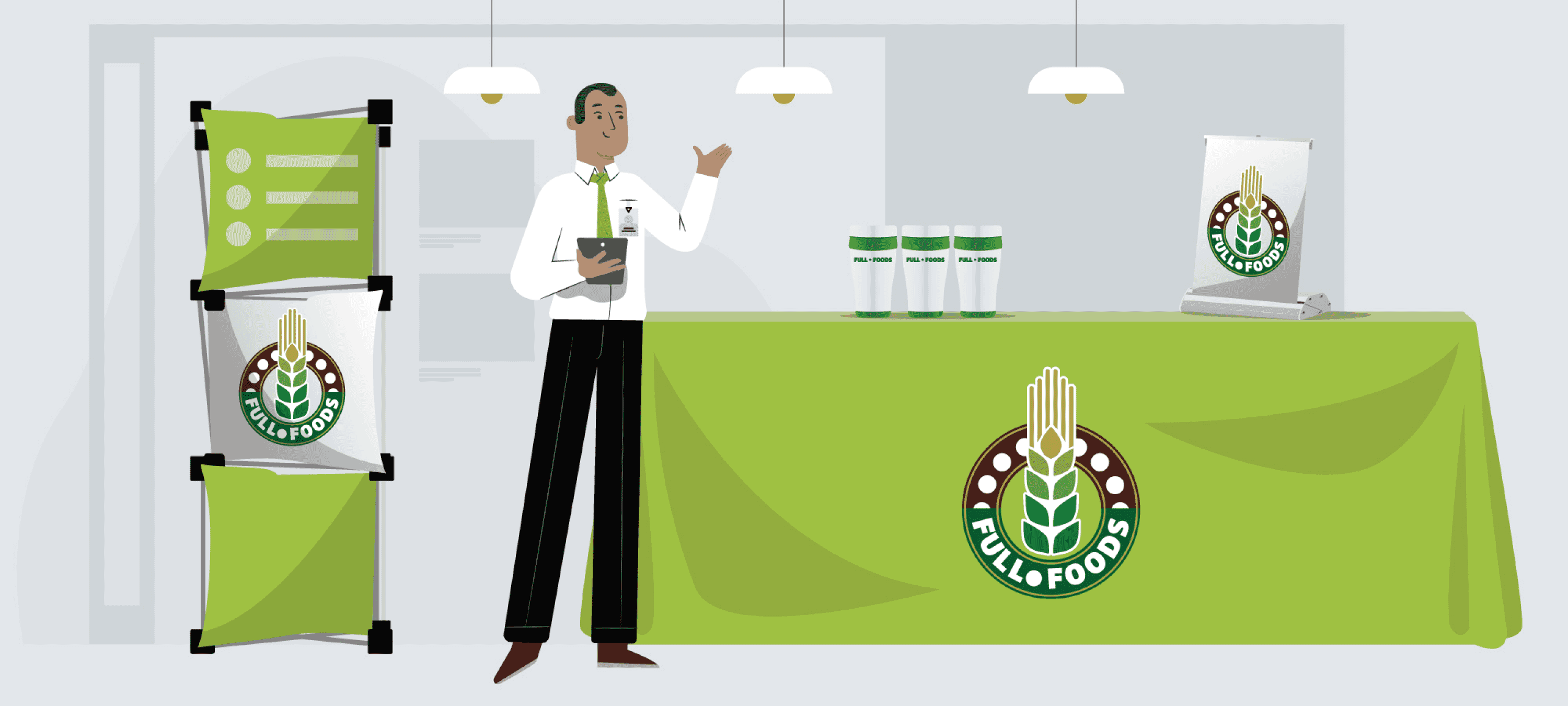 Rising inflation can be a major drag on any business, especially if you're considering attending trade shows and other events that require travel and supplies. You don't want to miss out on the opportunity to connect with your target audience and show off your latest products, but you have a budget in place for a reason.
Instead of skipping out on upcoming events, why not be more economical by coming up with trade show booth ideas for small budgets? From discount trade show displays to cheap conference giveaways that still pack a promotional punch, you can impress prospects without breaking the bank. All you have to do is have the right plan and a little creativity to ensure your budget fits every event you're going to attend this year.
Let us help you shape your strategy with money-saving tips that will make your next trade show a success by increasing your return on investment with minimal cash up front.
Watch Your Weight
No, we're not trying to make sure you fit into your favorite trade show apparel. We're talking about the cost of moving your exhibit from the dock to your booth, plus the return trip. Because while many exhibitors get caught up in the cost of the booth itself, this hidden expense – called "drayage" – is more of a budget buster than a smart budget event plan.
Don't forget about the shipping costs of all your materials as well, from booths and displays to furniture to giveaways. Once you calculate these costs, you'll quickly see that you've already moved beyond any form of affordable event planning.
To help bolster your budget, have your booth and supplies drop shipped to the trade show site rather than to your business to save the time and money of two trips. You can easily do that with affordable trade show displays that are lightweight and easy to ship. If you want to capitalize on cheap trade show booth ideas, here are a couple of our favorite lightweight budget trade show displays: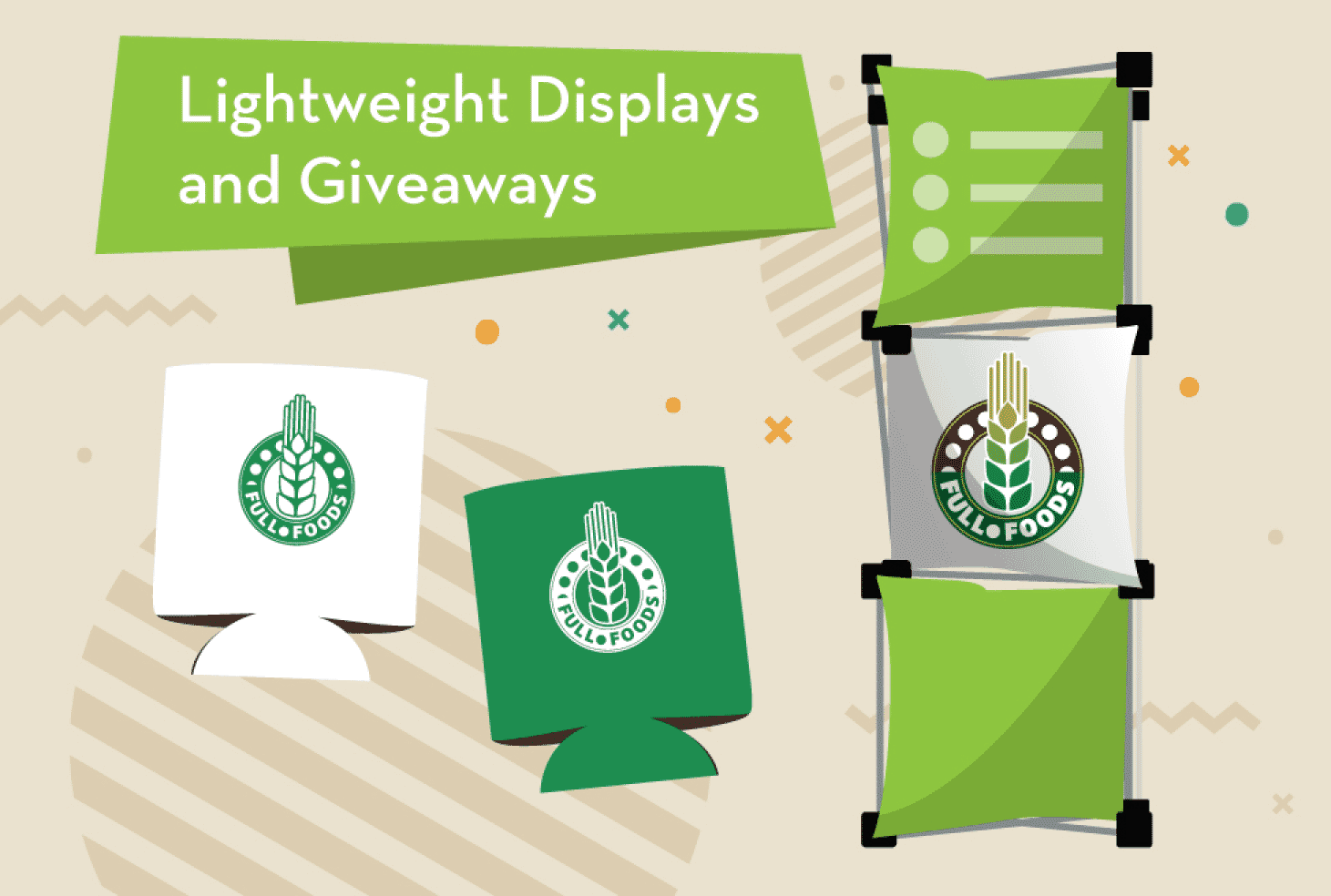 Don't let your swag weigh you down either. Not only will you save on shipping with smaller budget swag, but attendees would rather carry around lightweight items than heavy ones. On top of that, make sure you choose cheap swag items that won't break in transit to avoid losing money with unusable products. For example, leave the ceramic mugs at the office and think stainless steel tumblers instead.
Are you worried that cheap conference gifts won't inspire guests to act? You won't have to if you pick the right gifts because there are a ton of cheap swag ideas that will impress attendees, including webcam covers, stress balls and more. To get started planning your trade show on a budget, check out these lightweight giveaway items:
Affordable Trade Show Swag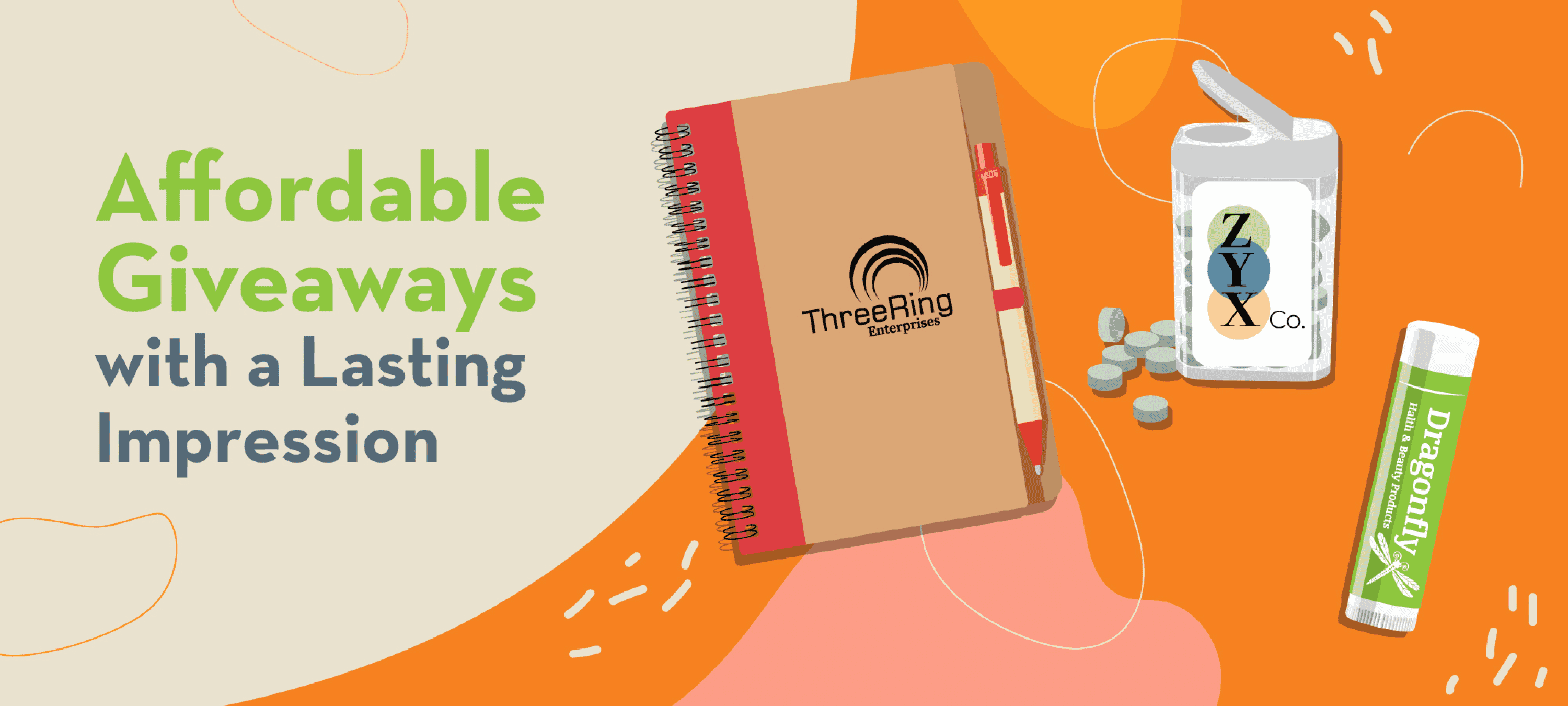 Cheap Trade Show Giveaways That Offer Value
You might not be able to purchase champagne on a beer budget, but you can still find the craft beer of giveaways at a great price. There are a ton of well-made and useful budget swag items that are inexpensive by nature, which means you don't have to take a chance on terribly made "luxury" items. The best part is that you can pick up many useful but inexpensive giveaways for trade shows under $1.
Since your promotions reflect you and your brand, focus on cheap giveaway ideas that offer clear value. By giving recipients affordable swag they'll actually use, these items will be kept for years, making them more eco-friendly because they won't end up in a landfill. Make sure you pick up tote bags to hold the promotional items you give out. Luckily, you can find plenty of trade show bags cheap, including convention tote bags that will make your logo shine.
Are you wondering which cheap event giveaways fit your budget but also provide value? Affordable t-shirts are always an easy winner. Of course, you'll probably want to give out multiple items, so browse through some of our most popular inexpensive trade show giveaways to find the best items for your next event:
Inexpensive Trade Show Giveaway Ideas
for Immediate Gratification
If items that are built to last for years are out of your budget, look for cheap swag ideas that are extremely useful in the short term like small food items, mini hand sanitizers or lip balms. While these inexpensive swag ideas might not make it home with your prospect, they do provide immediate benefits and create a positive impression.
With the right cheap trade show giveaway ideas, you'll have your target audience fawning over your brand. So don't miss out on the opportunity to impress them. Check out some of our most affordable swag that makes great consumable giveaways:
Order Custom Advertising Supplies Across Your
Organization and Into the Future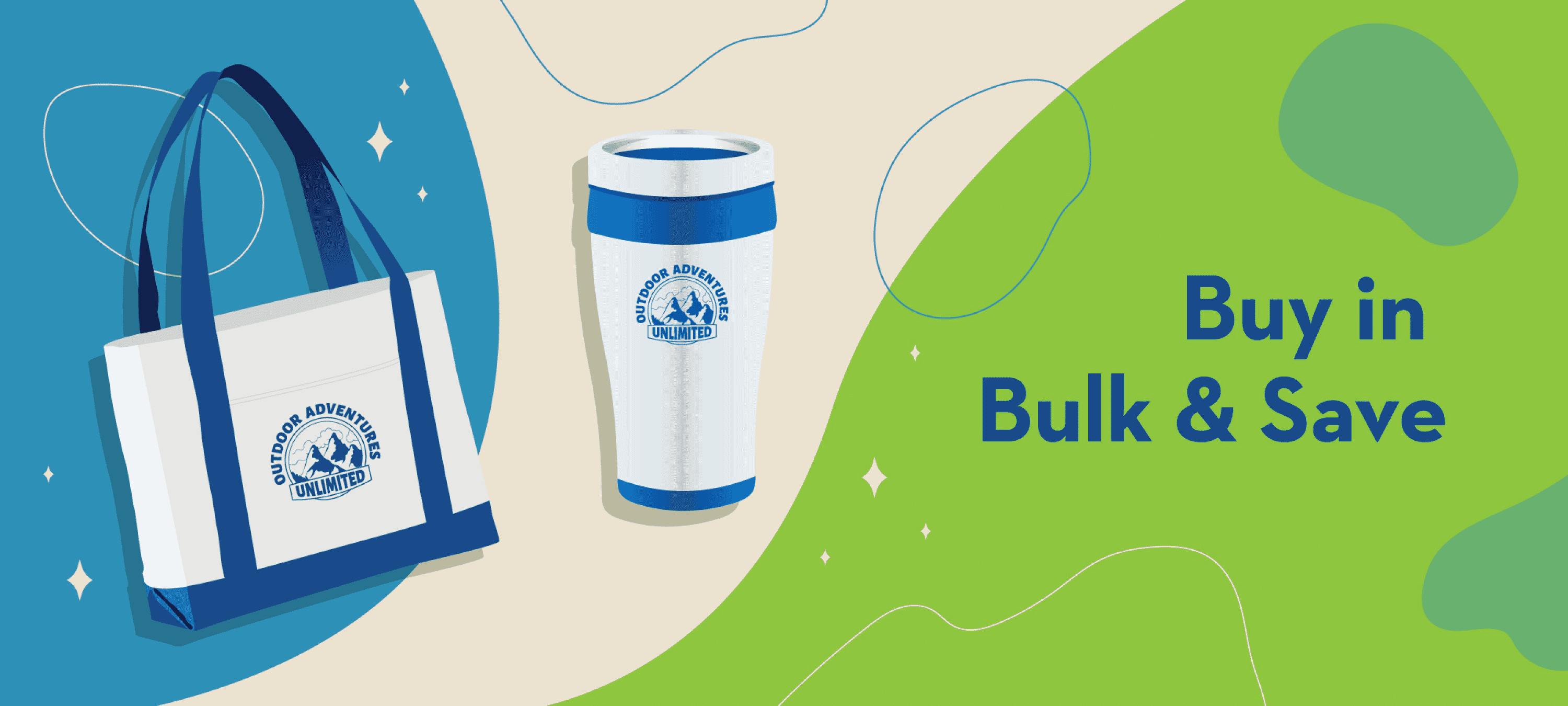 Buy in Bulk for More than One Event
Are there items that would make great trade show giveaways, employee gifts, corporate gifts for clients and company merch that you could stock up on? Oftentimes, the same affordable giveaways you use for trade shows are also perfect holiday gifts for employees.
To maximize your marketing budget, gather your leadership team and chose just a few customized cheap swag items that you'll need for events throughout the year. You'll benefit from the reduction in price because you get a better deal on promotional products when you order in bulk.
The only thing to remember is to come up with cheap giveaway ideas that will last throughout the year, which shouldn't be difficult with a little inspiration. If you're ready to get inspired, be sure to check out our best multi-purpose custom items:
Choose Generic Designs
Your design can still be high impact without having to make designs specific to each event throughout the year. Instead, focus on crafting the perfect design to show off your brand at multiple events.
For example, buy a floor mat that you can use at a trade show then repurpose it for your reception area. One of the easiest ways to repurpose items is to simplify your logo so that it will outlast any internal brand updates. That could mean a specific engraving or coming up with one or two color options.
When you have your design up and ready to go, it's time to find the right trade show banners cheap along with other inexpensive trade show booth and giveaway ideas to imprint it on. Here are a few options that are great at any event:
Focus on Small Swap Outs to Update Your Display
Sometimes, small upgrades are all you need to revamp your trade show display ideas cheaply. If you invest in a solid color table cover to reuse at events far into the future, you can easily update it for each event with a low-cost custom table runner placed on top.
Another idea is to acquire display holders that can hold cheap trade show displays every time you need a new one. That way you can easily swap out signs and other displays from one event to the next while using the same display holder.
You can also re-use the trade show games that you used to attract attendees to your booth to inspire employees during their downtime around the office and on your HQ grounds. Collect a new one each year to keep your booth experience fresh.
Here are some easily updated supplies for a trade show on a budget:
There's no reason to spend excessively to make your trade show booth stand out. All it takes is a smart budget event plan, and you can attract prospects while keeping your costs low. These are just a few strategies to help you organize and save during your next event. If you're looking for more cheap trade show booth and giveaway ideas, feel free to reach out so that we can help you plan your next event in a way that works for your budget.
FAQ About Trade Show Costs