Absorbent Stone Coaster- Round
Item # 110545 32B 4.5 Stars (33 Reviews)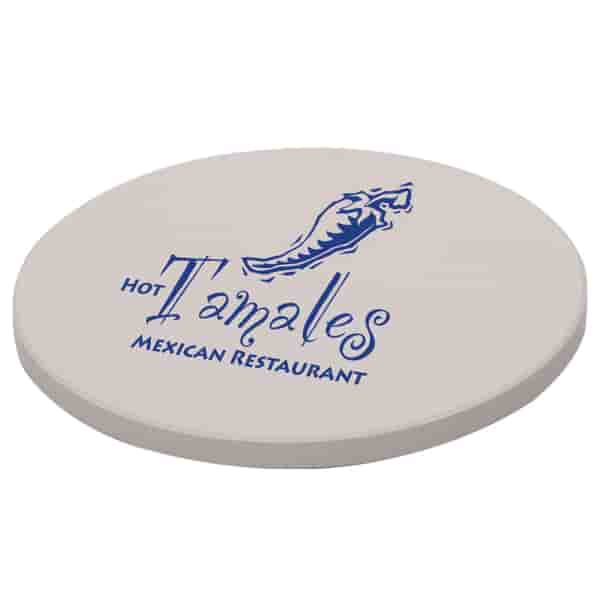 Product Details
Give your logo an elegant look with this coaster!

• This coaster is made of stone with a cork backing to prevent slipping.
• Stone absorbs condensation from glasses to keep table surfaces clean.
• Natural cream color will show your logo off nicely.
• Individually packaged in Natural Kraft box.
• Also available as a set of two standard size coasters (110544 32B); or a set of two car coasters (111029 32B).

Size: 4 1/4" Dia.
Imprint: One color only. Full color available for additional charges.
Imprint Area: 2 1/2"W x 3"H (one color); 4"Dia. (full color)

Setup Charge: $46
Production Time: 10 working days (does not include payment, art prep, or shipping time)
FOB: IL
OUT OF STOCK ALERT: Item is out of stock (Estimated Availability – 10/25/21)
Standard Production Schedule
Processing: 9/21 – 9/22
Production: 9/23 – 10/6
Estimated Ship Date: 10/7
Product Reviews 33
4.5 Stars
These coasters are great! They're very absorbent - we don't worry about our board table getting ruined any longer... The imprint quality was very good. They arrived on time; and were packaged nicely.
Although the representative tried to fulfill our request to make our image larger, it wasn't possible. We just wish that the boundaries for the image could have been expanded, a little.
We ordered the natural stone coasters. The logo with revised lettering was perfect the first time. Quick responses with a very quick turn around. We love the product. Thank you!
Stone coasters are exactly what I was looking for. Imprinted logo was done to perfection.
Product Details
Give your logo an elegant look with this coaster!

• This coaster is made of stone with a cork backing to prevent slipping.
• Stone absorbs condensation from glasses to keep table surfaces clean.
• Natural cream color will show your logo off nicely.
• Individually packaged in Natural Kraft box.
• Also available as a set of two standard size coasters (110544 32B); or a set of two car coasters (111029 32B).

Size: 4 1/4" Dia.
Imprint: One color only. Full color available for additional charges.
Imprint Area: 2 1/2"W x 3"H (one color); 4"Dia. (full color)

Setup Charge: $46
Production Time: 10 working days (does not include payment, art prep, or shipping time)
FOB: IL
OUT OF STOCK ALERT: Item is out of stock (Estimated Availability – 10/25/21)
Standard Production Schedule
Processing: 9/21 – 9/22
Production: 9/23 – 10/6
Estimated Ship Date: 10/7
Item # {{ scope.currentItemNo }}
Product Reviews 33

4.5 Stars

These coasters are great! They're very absorbent - we don't worry about our board table getting ruined any longer... The imprint quality was very good. They arrived on time; and were packaged nicely.

Although the representative tried to fulfill our request to make our image larger, it wasn't possible. We just wish that the boundaries for the image could have been expanded, a little.

We ordered the natural stone coasters. The logo with revised lettering was perfect the first time. Quick responses with a very quick turn around. We love the product. Thank you!

Stone coasters are exactly what I was looking for. Imprinted logo was done to perfection.

Product Options
Write A Review