Everything You Need to Know About Ordering Custom Trade Show Table Covers
published: June 20, 2019 | updated: July 30, 2020
Whether your company regularly exhibits at trade shows or conventions, or you want to make a strong impression for an upcoming school or community event, custom imprinted table covers and runners are a guaranteed winning strategy for a memorable, professional display. Although tablecloths may seem like a simple purchase requiring little research or forethought, there are actually many different varieties of table coverings available, with different imprint sizes and styles, to meet a wide array of customer needs. Here is a rundown of some of the common options.
Types of Table Covers
• Standard table covers are what most people think of when they picture a tablecloth: a basic, loose-hanging table cover. The fabric drapes down the sides of the table just like tablecloths for home or restaurant use do. Standard table covers come in two sizes:
Six-foot table covers measure 72" long by 29" high by 30" wide.
Eight-foot table covers measure 96" long by 29" high by 30" wide.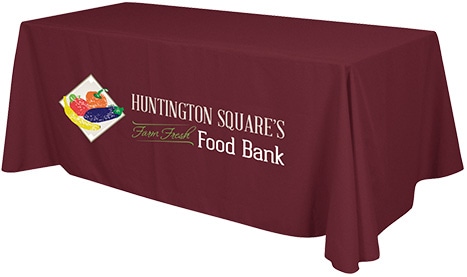 Why choose a standard table cover? A standard table throw covers all four sides of the table in addition to the top, allowing you to hide any supplies you're storing under the table out of sight.
• Table runners are a strip of fabric made to drape over a standard tablecloth, usually from front to back, though lateral table runners, which run the length of the table and drape down the two short sides, also exist.
The main imprint most often appears on the front of the runner, facing your audience, though it is also possible to continue a design on the top, as well, to attract greater visual attention to your brand.
Lateral table runners generally feature an imprint on each side, on top, or both.
Table runners come in a choice of two widths: 28" wide and 57" wide.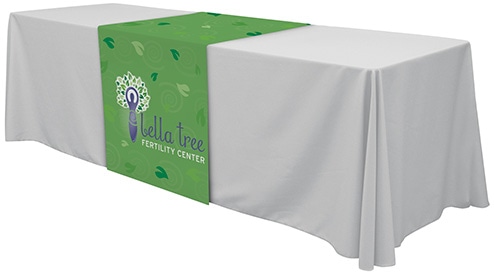 Table runners are a good choice when… You want to add an additional color, logo, or design element to your display table.
• Convertible table throws are made to fit a standard eight-foot trade show table, but can be easily adapted to six-foot tables, making them a very versatile choice.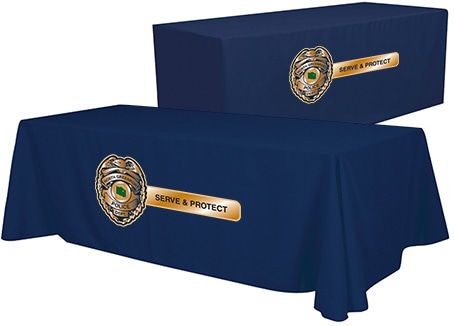 Why choose a convertible table throw? They can be used on more than one size table, allowing them to be used at multiple events with different table types.
• Table skirts leave the top of the table bare, clipping around the edges to display your imprint on the front.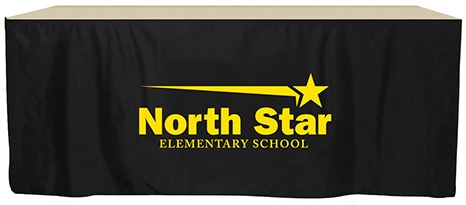 • Fitted table covers are an eye-catching alternative to traditional tablecloths. Made from a taut, stretchy fabric that pulls tight around the table, they wear well with minimal wrinkling.

Why choose a fitted table cover? They are not likely to wrinkle or pleat, making them ideal for transporting to events and displaying your logo without visual distortion. They create an updated look, especially with a striking dye-sublimated all-over imprint.
• Three-sided table covers, also called economy table covers, drape almost to the floor on the front and short sides of the table, leaving the back open for easy access to stored supplies.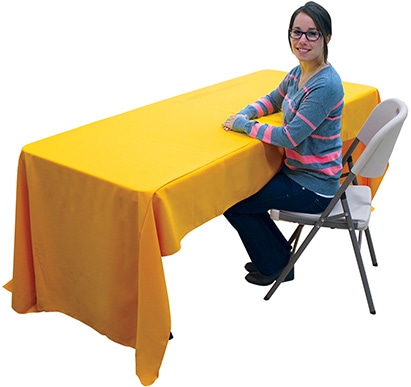 Three-sided table covers are a good choice when… You need to quickly access items stored under the table, but still want a professional-looking table display.
• Round table covers are often used at events for conversations and networking. Participants may need to be little more than a place to set a drink and a few printed promotional materials down.
Fitted round table throws stretch around the table, showcasing your design around the sides and/or top of the table.
Draped round table throws are no different from a tablecloth you might find in a restaurant. The sides drape, and the top displays your logo.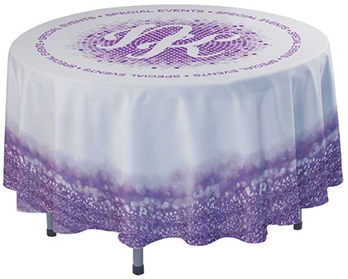 Why choose a round table cover? Round table covers are the best choice when planning an event with a sit-down meal or a conference where participants will be seated together.
Should You Buy an Imprinted Tablecloth or a Blank Tablecloth with a Printed Runner?
Your logo or message can be printed right on the table cover or you can start with a blank or plain table cover and drape a printed table runner on it.
The table runner option allows you to re-use your blank table covers, only replacing a lower cost table runner each time your images need to be updated for a different event, or because your logo has changed. Over time, this is a more cost-effective option.
Up front, printing directly on a full tablecloth is cheaper.
We offer a bundled event kit for convenience and competitive pricing:

The Basic Kit – includes a table throw and runner
Fabrics
Polyester poplin is the most commonly-used fabric for promotional table covers. This inexpensive fabric is durable, easily machine washable, and resists wrinkling, staining, and flame. If laundered according to instructions and put away properly, wrinkling should be minimal. Machine wash on a gentle cycle using mild detergent and tumble dry on low heat only. Do not iron or dry clean. Carefully fold the table cover before storing or, better still, roll it around a cardboard tube or in a protective carrying case. Investing in a portable steamer can also help ensure your company's trade show table cover continues to look as good as the first day you purchased it every time you set it up at a conference or expo.
Add Oomph to Your Booth With a Custom Imprint
The goal is to attract participants to your table, display, or both, so how best to do this? When you are browsing for a table cover, think about imprint area and method, and choose the one that will work best for your brand, message, and event.
Imprint areas range in size, depending on whether you opt for a full table cloth or a runner, a heat transfer imprint or a dye sublimated imprint, a round or rectangular table cover and more.
Common Imprint Sizes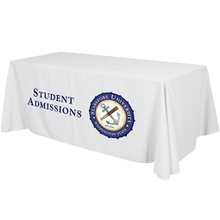 The most common imprint location is on the front of the tablecloth, with a standard imprint size ranging from 50" x 17" to 90" x 23". Some items also allow printing on the sides.
If printing your logo on the front of a table runner, imprint sizes range from 24" x 17" to 50" x 17", depending on the width of the runner.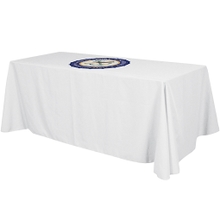 It is also possible to print your design on the top of the table throw, with imprint sizes ranging from to 66" x 24" to 90" x 24" for rectangular tables.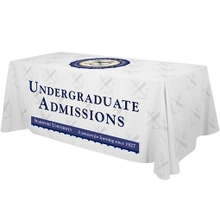 A full-cover design covering the entire throw will allow for the largest imprint area, with sizes ranging up to 152" x 58" for an eight-foot rectangular dye sublimated table throw and up to 98 1/2" in diameter for a round table cover.
Imprint Types
The first question to consider when choosing an imprint type is whether you want your artwork printed on just the front the table cover or all around it? To print on just the front, choose a thermal imprint. For an all-over design, choose dye sublimation. Dye sublimation is also the best choice for very detailed designs. Read on for more information about imprint types.
A full-color imprint is printed within the specified imprint area of the table cloth—generally on the front, the top, or on both locations—superimposed over a background of your choice of standard fabric colors.

Full Color Imprint

Dye sublimated imprints are unique in that they allow for a design to cover the entire surface of your table cover. Using transfer paper and a special ink, your imprint is applied to the fabric via heat and pressure. The result is a crisp, colorful, photo-real reproduction of your custom art. This imprinting technique, which works best on white or very light polyester fabric, has many benefits:

It allows for the use of photographic images and complex designs.
These imprints can cover an entire tablecloth with vibrant full-color graphics for maximum attention.
Items printed with a dye sublimated design can be folded without damaging the imprint.
It is flexible in that both vector or raster art (also known as bitmap art) are acceptable.

Vector art can be scaled to any size while maintaining quality.
Raster art is made of pixels grouped to create an image. When scaled up, the image loses quality. Therefore, when being printed over a large area, such as on a table cover, raster imprints work best if the art submitted is high resolution.

Dye Sublimation Imprint

Heat transfer imprints are printed onto a transfer sheet and heated to fuse them onto your table cover. The imprint is not embedded into the fabric, as with dye-sublimation, but lies on top of the fabric.

This type of imprint works best with art that has clean simple lines. It is best to avoid shading or blurred edges.
Items with this type of imprint should be stored rolled, rather than folded, to avoid damaging the imprint.
Crestline table covers with this type of imprint will have "Thermal" in the name of the product.
Vector art (also known as line art) is required.

Vector art can be scaled to any size while maintaining quality.

Heat Transfer Imprint
Don't worry if you don't have a vector file of your art. No matter what type of art you are starting with, Crestline's art team will work with you to ensure that your imprint comes out looking its best.
Production Times
Here at Crestline, we strive for an average of production time of three days to complete your table cover order, not including payment, art prep, or shipping times. Please note that depending on the item that you choose, some may have longer production times, including some styles made in the USA.
If USA-made is an important feature for you, check out our Flat 3-Sided Table Covers, which has an approximate production time of 8 days. If time is of the essence, we do offer an 8ft Fitted Table Cover with an approximate turnaround time of 3 days.
Packaging and Storing
Table throws arrive in a packing tube. To open, unroll it on a table, positioned with the top seam at the rear of the table and the graphic in the front.
To disassemble, remove the cover from the table and lay it flat with the graphics side up. Fold the throw in thirds lengthwise with the graphics on the inside, starting at the back seam.
Store table throws in a cool, dry place in a soft carrying case or poly bag. A soft sided carry case for table runners allows for rolling rather than folding.
It's easy to care for your custom table cover if you know a few simple rules. Check out our guide to washing, folding, de-wrinkling and storing tablecloths to learn how to keep your table cover looking as good as new.
Add-ons for Convenience and Attention
There is more that you can add to your table to ensure that people see and are attracted to your booth.
Booths and displays take your trade show presence to the next level, with plenty of space for informative and attractive graphics to make sure your message comes across.
Event tents, banners, and signs are especially helpful at outdoor events, where you may need shelter from the elements or a large presence to make an impression.
Table clamps come in handy for securing your table throw in place, and keeping your imprint neat and aligned. They come standard with some table covers or may be purchased separately.
Add a trifold display board or a custom table top banner
Giveaways not only make people want to visit your table, they also offer a tangible reminder that stays with them long after the trade show is over.
Alternate Uses for Table Throws
Aside from conferences and trade shows, custom table covers can also be a useful item to bring to education expos, job fairs, farmers' markets, craft shows, flea markets, booster events for school sports teams, graduation ceremonies, charity fundraisers, and more.
A table throw or runner featuring your logo could also make an eye-catching addition to the front desk of your company's reception area, letting clients know who you are as soon as they walk in. Pair it with a logo imprinted floor mat to complete the effect.
Who Needs Custom Table Throws?
Healthcare providers, including doctors' offices, hospitals, dentists, rehabilitations centers, chiropractors, acupuncturists, massage therapists, optometrists, pharmacies, nursing homes, fitness centers, veterinarians, and more can use imprinted displays and tablecloths to:

Educate community members about healthy living
Raise awareness of drug recalls
Promote new drugs or medical equipment
Attract new employees at job fairs
Increase engagement at fundraising events
Announce blood drives and wellness events

Educational institutions, such as public schools, universities, trade schools, daycares, public libraries, parent teacher organizations, booster clubs, sororities and fraternities, alumni offices, and more, can use custom displays to:

Recognize student achievement
Promote club and activity participation
Recruit new students
Welcome students back for a new semester
Attract alumni to functions and fundraising events
Advertise special events, summer programs, and classes
Promote team spirit

Government includes not only federal, state, and town or city governments, but also military branches, courts, fire departments, public works departments, police departments, town or city recreation facilities, chambers of commerce, environmental agencies, social services offices, public transportation, political party headquarters, and more. Common uses for promotional displays are to:

Attract attention during political rallies
Military recruitment
Recruit volunteer firefighters, EMTs, or town committee members
Increase engagement at fundraising events
Educate community members about safety, laws, and civic issues
Promote civic pride

Financial services, such as banks, credit unions, accounting firms, auditors, brokers, bookkeepers, credit card companies, insurance agencies, mortgage companies, tax preparers, investment firms, and more, can use branded displays to:

Educate clients about financial wellness
Attract new employees at job fairs
Promote new services and products
Create an attractive backdrop in meeting rooms and seminars
Promote a brand at a trade show
Promote the company mission to internal stakeholders
In addition to table covers, items like a retractable banner or sail sign are also big attention-getters. Send recipients home with giveaways they will use and be reminded of your company name, such as branded charging cables and other tech accessories.
Whatever your industry, be sure to consult Crestline's trade show checklist to ensure you are prepared every step of the way.
Ordering Table Covers from Crestline- Frequently Asked Questions
Q.What if I don't know what size the table at my event will be?
If you don't know what size table you'll have to work with, we recommend a convertible table cover that can easily be adapted for 8- and 6-foot lengths. In addition to knowing that your table cover will fit the table at your upcoming event, it will also work for any future events. The next best choice is an 8-foot tablecloth, because you can always fold your table cover to make it smaller, but you can't make it bigger!
Q.How can I save money on my custom table cover?
One very affordable option is the Economy 3-sided table cover that drapes down to the floor in the front and sides, leaving the back open. This type of tablecloth is easier to use if you need to quickly access items stored under the table and you don't feel the need to hide them from view. To keep your items out of sight or to create a polished appearance from any angle, spring for a Standard table cover .
Q.What type of table cover is the most economical over time?
If you want to be able to use your custom tablecloth for multiple events over time, choose a quality convertible table cover in a style that drapes to the floor. That way, no matter the size of the tables at your event, your table cover will fit. Fitted styles will only look right on one size table, can't adapt to larger tables, and will look baggy on smaller ones. For even more insurance that your investment will go as far it can possibly go, choose an 8 foot blank table cover that can still be folded down to fit smaller tables, and add a custom printed table runner. Then, if your logo or messaging changes, you can save money by just ordering a new runner and re-using your existing table cover
Q. What kind of file should I send?
A. Crestline's art department prefers vector files (e.g., .pdf, .eps, or .ai) but can also work with raster files (.jpg, .png, .tiff, .psd). For best results, rasterized images should be very high resolution (300 dpi or greater).
Q. Can I send large artwork files?
A. Absolutely! Because large files can bog down email servers or get caught up in transfer, we recommend using WeTransfer.com. It's easy, free, and has a large enough limit that we never have any issues.
Q. How should I send you my design?
A. Via email or WeTransfer.com.
Q. What fonts can I use for my artwork?
A. Any font will work. Due to the thermal imprinting process used for some products, we may need to add a color fill behind thin or script fonts.
Q. Can you help me with my design?
A. Yes! Crestline has a dedicated art team ready to do whatever it takes to ensure your imprint comes out looking its best.
Q. Can I use copyrighted or licensed material for my table cover?
A. Not unless you have permission for the copyright holder.
Q. How much bleed should I expect for my table cover design?
A. For a standard table cover with a fixed imprint size, no bleed is needed. Dye sublimated imprints intended to go to the edge of your throw require at least .5" on every side if you want your design to go right to the edge.
Q. Can you supply me with a proof for my table cover/table runner order?
A. Absolutely! This is standard.
Q. Will you keep my artwork on file for future orders?
A. Yes.
Q. Can I use more than one artwork design for my table cover order?
A. As long as all of your art fits within the designated imprint area, you can include as many different designs as you wish.
No matter what type of art you are starting with, Crestline's art team will work with you to ensure that your imprint comes out looking its best.