Trade Show Checklist:
The Complete Guide to Trade Show Planning
published: March 25, 2020 | updated: May 15, 2023
Whether your goal is to increase brand awareness, collect valuable leads, or gain insight into emerging industry trends, trade shows are one of the most profitable marketing strategies in the U.S., projected to generate $11.93 billion in revenue during 2023*. With potential customers, investors, and industry leaders gathered all in one space, trade shows offer a unique business opportunity for all in attendance. While these events can be huge business boosters, they can also be expensive and require a great deal of planning. To maximize your experience and minimize the headache, begin trade show planning 12-18 months prior to the event. We have put together a trade show exhibitor timeline and checklist of tried-and-true tips to help guide you through the process.

12-18 Months Before your Trade Show – Pre Trade Show Checklist
1) Set clear goals and define your audience.
It's important to remember that each trade show offers a unique set of opportunities. Before investing any time or money, create goals and objectives for the event. A few questions to ask yourself are:
Are you hoping to gain more brand recognition?
Is your focus on promotion?
Do you plan to launch a new product or introduce a new service?
Are you seeking new customer leads or are you hoping to walk out with new clients?
How many attendees do you hope to reach?
What type of audience are you trying to reach?
Defining your ROI is also recommended. If gaining three new clients or selling 10 products would justify your attendance, focus on what you can do to meet those goals.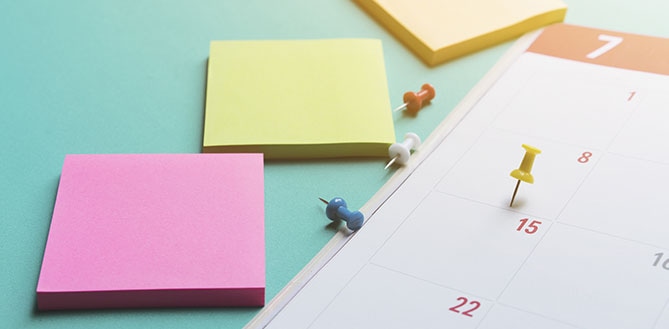 2) Identify which trade show most aligns with your goals.
Once you have outlined your goals and defined your audience, you will have a better idea as to which event will help you meet those objectives. Conduct thorough research regarding each trade show you're considering. What is the event's purpose? What type of audience attends and what are their interests? If you're having trouble finding the information you need, reach out to the event coordinator, or review the list of exhibitors. If your direct competitors are attending the event, you know it is relevant to your target audience.
3) Set a budget.
Attending these events can become quite costly. Stay on track by setting your budget ahead of time. Avoid unexpected expenses by being thorough and realistic about what this event will cost. Consider the following during the budgeting process:
How many employees do you need to staff the booth?
Is it more cost effective to fly or drive?
If flying, how will you get to and from the hotel? Does the hotel offer shuttle service to and from the event. If not, would a rental car or taxi service be more economical?
Check the event website - many hotels offer a discount for trade show vendors and attendees.
What food options are available around the event and/or your accommodations? Do any hotels in your price range come with a mini-fridge or microwave?
Review booth rental fees and costs
How long will you need for set up and break down? Do you need to arrive a day early and leave a day late?
What materials will you need for your booth display?
Trade show items and promotional giveaways are a great way to showcase your business and give attendees something to take home with them that will keep your brand top of mind long after the event is over. What swag and giveaways do you plan to offer?
Gauge how much promotional material you'll need based on estimated number of attendees.
Do you plan to travel with all your materials or is shipping the best option? What are the costs associated with this?
Do vendors have access to the Internet? If so, what are the costs associated with this?
How do you plan to advertise for the event?
What is your strategy for collecting leads?
While flexibility is important when attending a trade show, a well-thought-out strategy and budget will help minimize unexpected expenses. If you need additional guidance with your trade show planning, consider talking to prior participants about their successes, failures, and challenges.
4) Reserve your booth space.
Once you've committed to a specific event, you'll want to go ahead and reserve your booth space. Treat it as if you're shopping for a new residential or commercial space - location, location, location. To ensure success, consider the following factors:
Location on the show floor.
What exhibits/types of businesses are around you?
Is it a high traffic or low traffic area?
Physical conditions of the booth - How much space do you have? What is the lighting like?
Cost vs. value
5) Start conceptualizing your trade show booth.
Plan your booth in terms of the type of audience you are hoping to attract. What type of material is most appropriate to meet their needs? Begin making a checklist of items you'll need to ensure you not only attract, but impress, your audience.
6) Launching a new product?
If you plan to launch a new product for the event, confirm with all involved parties that it will be tested and ready for its public debut.
7) Choose your vendors.
If you plan to ship items or require assistance from local vendors for storage, installation, or tear down, contact all involved parties to ensure they are aware of the scope of services required and dates they are needed.
8) Organize all paperwork.
It would be a shame to lose your booth deposit because of a missed deadline. Once you have chosen and booked your space, collect and organize all contracts and information about the event. Add all upcoming deadlines to your calendar and familiarize yourself with the show's rules and regulations. Share your trade show checklist and plans with your team.
9) Plan your advertising.
While it may be a little early to implement your marketing strategy, there are a few things you'll want to consider. What platforms do you plan to utilize? How much of your budget should be set aside for advertising? Studies indicate that pre-show marketing can increase your number of qualified leads by up to 50%. Consider these tips when developing your trade show strategy:
Many trade shows offer vendors the opportunity to purchase a list of pre-registered attendees. Since approximately 76% of show attendees use pre-show information to plan their experience, this is a wonderful opportunity to ensure they fit your booth into their schedule.
If the conference hands out a program, contact organizers to find out how much a small advertisement would be. Be sure to include your booth number!
Start utilizing social media early, reminding people periodically that you will be in attendance. Share special staff messages, previews of booth activities and swag, and teaser videos.
Consider speaking during one of the offered workshops. This establishes you as an industry thought leader and provides added exposure to your business.
6 Months Before
1) Order booth materials.
At this stage, it's time to start mapping out what you will need for displays and begin ordering the trade show materials that best fit your needs.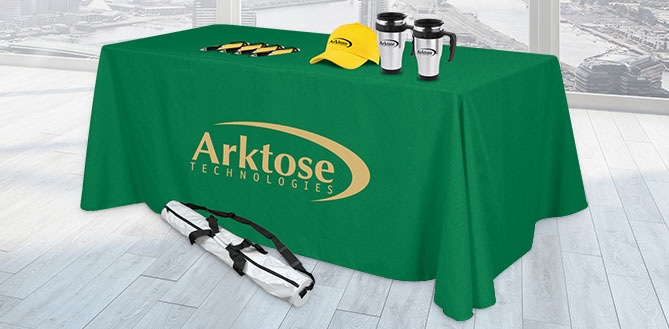 2) Make a plan for setting up your booth.
If you haven't already, it's time to make a plan for shipping supplies, setting up, and displaying your materials. Coordinate with trade show staff if you need help installing and dismantling your booth.
3) Your trade show team.
Collaborate with team members to ensure everyone understands their responsibilities. It's important that everyone on your team is well-versed in everything from products/services offered to industry standards and emerging trends. Collect individual sizes, so that you can order company-branded polos, button-down shirts, and any other apparel you may need.
4) Confirm all travel arrangements.
Check in with the trade show coordinator to make sure your registration is confirmed and confirm all travel and hotel reservations for you and your team.
2 Months Until Go Time
1) Confirm your orders.
Double check that you have ordered all necessary supplies. For any items you haven't yet received, contact the merchant for the arrival date. If you plan to ship some items, be sure to factor in additional shipping time.
2) Spread the word.
Start spreading the word that your organization plans to attend the trade show event. Learn the Twitter hashtag for the event and leverage your social media and personal contacts to publicize what you are promoting or what you are giving away. Send event-related teasers to your customers and constituents. Be sure to mention your booth number in all your marketing efforts. Don't forget about Instagram, LinkedIn, Pinterest, YouTube, Flickr, and your company's blog.
3) Schedule meetings.
Keep in mind that 81% of trade show and conference attendees have buying authority. Whenever possible, make appointments with potential customers ahead of time. If your booth doesn't have enough space for a private meeting, you will need to plan ahead for the perfect, professional spot. To make the most of your experience, review the schedule and set aside time to attend the speaking sessions/workshops that interest you. Encourage your team to do the same.
4) Finetune your trade show strategy.
To ensure consistent messaging on behalf of your organization, hold a second trade show strategy meeting with your team. Review goals and schedule and use this time to practice any presentations you might have prepared.
5) Prepare giveaways.
Prepare giveaways, conference swag bags, or customized corporate gifts for potential clients and VIP customers. Vendors are also encouraged to prepare a "go bag" with important items. It should contain useful items like scissors, lip balm, hand sanitizer, tissues, a barrette or hair tie, snacks, pen and paper, business cards, and anything else you might need.
Trade Show Day!
1) Arrive early.
No matter how prepared you are, unexpected issues are always a possibility. Plan to be completely ready at least an hour before the trade show begins to ensure you and your team are ready when the doors open.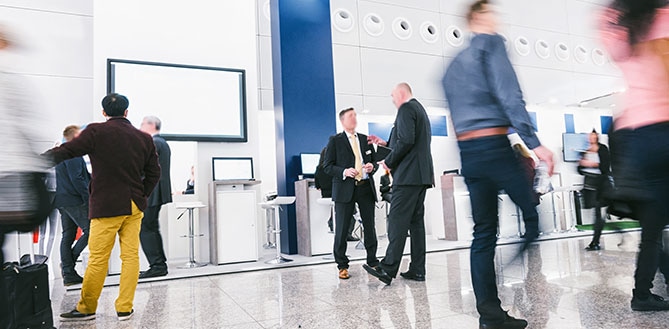 2) Implement your trade show strategy.
You've worked hard over the last year. Once everything is in place, it's time to have fun. Get customers involved in your giveaways, interactive displays, and games. Collect business cards; draw one winner an hour to receive a gift bag filled with giveaway goodies or have the winners spin the prize wheel to increase the excitement even more. Remember, if you are having a good time, your potential customers will too!
After the Event
While attending a trade show can be exhausting, we hope you had a great time and that it was a complete success. The first 48 hours after an event are crucial, so you will want to keep the momentum going for just a bit longer.
1) Follow up.
Make sure you follow up with all leads and contacts via email as soon as possible. If you were able to collect an address, a personalized note is a great way to ensure your business stands out from the rest. While your mind is still fresh from the event, note the following:
2) Analyze the competition.
What strategies did other vendors, particularly your competitors, employ to ensure success? How can you integrate this into your trade show planning for the next time?
3) Request feedback from attendees.
The attendees who visited your booth are a great source for feedback. Some vendors ask visitors to fill out a quick survey while at your booth, while others email or mail them after the show. Ask what they did and didn't like about your display. What did they learn about your business and the products/services you offer? Do they have any suggestions for future trade shows? Think about what your goals were for the event and focus on determining if those goals were met in the eyes of your exhibit visitors.
4) Debrief your team.
An after-show meeting with the team will offer additional perspectives on the experience and help make improvements for the next trade show. Update your trade show checklist with your new insights.
What did everyone learn from the experience?
Were your trade show goals met?
What needs additional fine-tuning?
What parts of your strategy contributed most to your overall success?
What did you enjoy about the event?
What would you like to see changed?
What was missing and are there other trade shows that could help fill in those missing gaps?
Closing Advice
Seasoned trade show veterans offer the following advice:
Scope out the venue. To make a lasting first impression, locate key areas such as restrooms and phone charging stations prior to the event starting.
Engage, engage, engage! Stay off your cell phone, keep your body language friendly, and be prepared to interact with anyone who looks interested or has questions. Your booth should never be left unattended and should always have at least one knowledgeable team member.
Make your booth a comfortable space. Set up seating and charging stations, so people will want to spend time at your booth. While attendees are recharging, you have a great opportunity to strike up a conversation.
Post on social media throughout the event.
Collect business cards. Whenever possible, collect a business card from new contacts. Make notes on the back so you can send a personalized follow-up.
Get to know your neighbors. Be sure to make friends with vendors in surrounding booths; you never know what kind of connection they could end up being for you.
Follow the 80/20 rule. Listen 80% of the time and talk 20%. Ask questions to learn about the attendee's specific needs. Apply for a grant. To offset some budgetary costs, consider applying for a grant. If you are a small business, you may qualify for an Individual Development Account (IDA) matched savings grant or a state grant.
…
Now that you've gotten your first trade show under your belt, you'll be that much more prepared for the next one. Keep all your notes and information in a file for quick reference. When it's time for the next event, refer to this information and apply the lessons you learned. Before you know it, you will be a trade show expert, with industry connections across the country.