How to Care for Your Custom Table Cover
published: September 9, 2019 | updated: July 14, 2023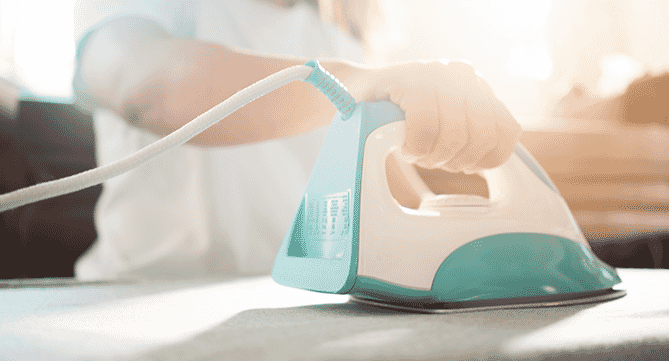 So, you got yourself a cool new branded table throw to use at trade shows and other events. There's no question that these are excellent promotional tools for any organization. What does raise some questions though, is how to properly care for these custom table covers in order to ensure that they last as long as they possibly can while also offering a professional appearance. Luckily, Crestline has all the care instructions you need to keep your tablecloth and your brand looking good for years to come.
Washing & Drying Logo Tablecloths
How to wash and dry custom table covers can be a mystery for many. Especially with your logo imprint, it is very important to ensure the safety of your table throw. This section will give you step-by-step instructions for how you can safely clean and dry your logo tablecloth.
Step 1
Shake out your screen-printed tablecloth to remove loose dust, crumbs, and other debris.
Step 2
Using a mild laundry detergent, wash your promotional table cover using warm water on a gentle cycle.
Step 3
Rinse the table cover using your machine's cool, gentle permanent-press cycle. This cycle is gentle on your table throw and removes and prevents wrinkles.
Step 4
Tumble dry your custom table cover on a low heat setting. If your dryer has it, also select the cool down cycle.
Step 5
Remove the tablecloth from the dryer as soon as the drying cycle ends.
Step 6
Fold immediately after removal from the dryer.
Do's & Don'ts of Washing and Drying Your Custom Table Covers
DO
Wash your table cover by itself.
Avoid detergents with a high pH level.
Let your table throw cool progressively in your dryer if possible, to avoid wrinkling.
DON'T
Over dry your table cover.
Use bleach on your customized tablecloth except when needed for a white table throw ONLY.
And that's all there is to it! Any of our custom printed table covers should come out looking great after following all these steps. In fact, we even tried it ourselves! Crestline copywriter, Sarah, said:
"I took home the 100% polyester table cover and followed instructions to wash in warm water on the gentle cycle and dry on a low-heat setting. When I took it out from the dryer immediately following the end of the drying cycle, it was wrinkle-free."
Folding Your Table Cover with Logo
Sometimes folding a polyester or poly blend tablecloth also means creating unsightly creases that take away from the professional image you are trying to convey, but this doesn't have to be the case! Below are steps to help you fold a standard 6ft or 8ft table cover to minimize creasing and keep your trade show table covers looking good as new.
Step 1
Once your event is over and you are ready to fold and put away your customized table throw, take the long back edge of the throw and fold it upward so that it matches up with the front edge of the table. Repeat on the other opposite end.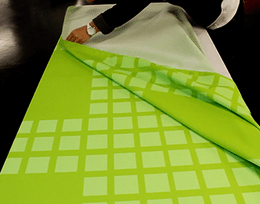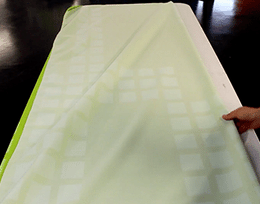 Step 2
Pull the front corner up and line up with the edge of the fold on the table. Repeat on the opposite side. Now you have a long rectangle fold on top of the table.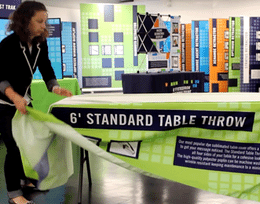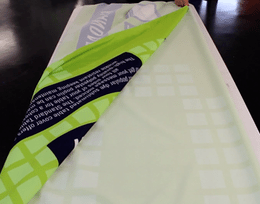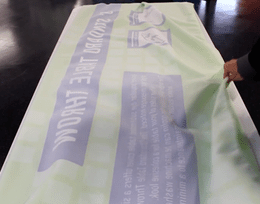 Step 3
Go to one of the shorter sides of your table cover and fold that side to the center of the table lengthwise, making sure that the fold matches up with that edge of the table. Repeat on the opposite end.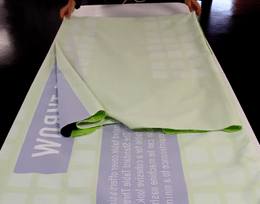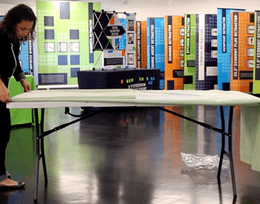 Step 4
Fold the table cloth in half lengthwise.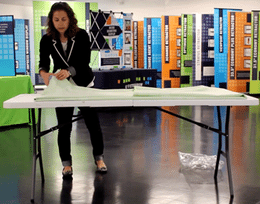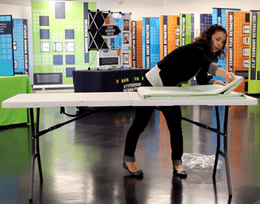 Step 5
Fold the tablecloth in half lengthwise once more.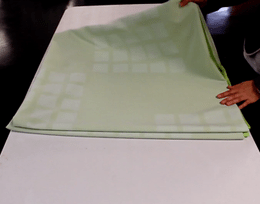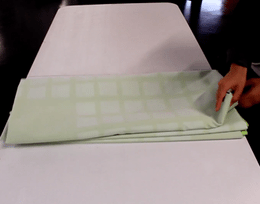 Step 6
Fold the throw in half again so that it creates a square shape.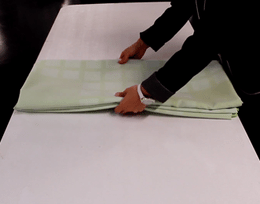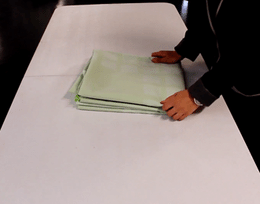 Step 7
If necessary, you can fold your table cover in half once more. However, if you are using our Table Cover Messenger Bag, then the table throw should fit in the bag just fine if you stop after step 6.
Make sure to smooth out wrinkles as you go to ensure that your table cover comes out looking great the next time you use it. For a more detailed visual of the above instructions, please reference the video below.
Storing Your Trade Show Table Covers with Logo
Keeping your trade show table cover properly stored while not in use is a long-term way to make sure it looks neat and clean at events. This section offers tips and tricks for properly storing your table throw in order to minimize wrinkles and avoid stains and discoloration.
Step 1
Make sure your custom tablecloth is freshly clean, dried, and free of stains before you put it away. Follow the steps above to make sure it is properly washed.
Step 2
Fold your imprinted table throw as instructed above, stopping after step 5.
Step 3
On a padded hanger, hang your table throw in a well-ventilated area that is both cool and dry to prevent access moisture.
Step 4
To further protect the tablecloth, cover the hanger with a 100% cotton sheet or pillowcase rather than a plastic bag.
Do's & Don'ts of Storing Your Trade Show Tablecloth
DO
Avoid storing in or with products containing acid.
Make sure your tablecloth is completely dry before storing to prevent stains and mildew.
Make sure your table throw is getting refolded periodically throughout the year to prevent hard creases.
DON'T
Store in plastic bags, cardboard boxes, or directly on wooden furniture for extended periods of time.
Place heavy items on top of the table cover while storing for long periods of time.
Hang more than one tablecloth on a single padded hanger.
Transporting a Trade Show Tablecloth with Logo
Bringing your tablecloth to and from events can sometimes be a hassle, but Crestline makes it easy. Follow the four simple steps below to learn how to safely transport your custom table throw whether by plane, train, automobile, or your own two feet.
Step 1
Fold your table throw as instructed above.
Step 2
Gently place the custom tablecloth into our Table Cover Messenger Bag or a similar soft case.
Step 3
If driving, gently place your bagged table cover on a flat surface in your car, ideally somewhere where nothing else will need to be placed on top of it.
If flying, bussing, or taking a train, carry your table throw with you if possible. If not, check the table cover messenger bag separately. Alternatively, you could pack it on top of your other luggage contents making sure it is not pressed against solid, heavy items that could crease it, sharp items that could snag it, or anything that could leak onto it.
If walking or engaging in other forms of human-powered transportation, use the provided cross-body carrying strap to carefully bring the branded table throw to your destination.
Step 4
Once your printed tablecloth has reached its final destination, follow the storage instructions above to best preserve it for your next promotional event.
Shipping Custom Table Covers with Logo
It can be hard to know how to ship tablecloths. If you need to mail your customized table throw to yourself for an upcoming, faraway event or to another branch of your business for their own promotional activities, try the following steps to learn the best way to safely ship your tablecloth while also keeping costs as low as possible.
Step 1
Wrap your folded table cover in acid-free tissue paper. For extra wrinkle protection, you could even put a layer of tissue paper between each fold to soften the creases.
Step 2
Decide which shipping supplies to use:
Poly Mailer Bags:
PROs
Minimize shipping costs as they are lightweight and have no extra bulk
Waterproof
Durable & Flexible
Available from most major retailers
CONs
Can sometimes come in large quantity packs, which can be costly and unnecessary if you only need one bag.
No extra padding
Bubble Mailers:
PROs
Added padding
Lightweight
Low cost
Weather-proof
CONs
Larger sizes harder to come by
Not recyclable in all curbside programs
Priority Mail and Flat Rate Boxes:
CONs
Shipping is costlier than previous options
Does not provide extra protection on its own
Not waterproof
Can be over or undersized for folded table throws
Whichever packaging you use, we suggest a width and/or length of 14 inches so that your table cover fits well with minimal extra folding.
Step 3
Get your shipping label. There are many ways to do this:
Buy blank shipping label stickers or plain printer paper and print out your own labels from home or the office. For this, you will need to create a free account and either know the weight of your package or use a flat rate shipping box. Once the label is printed, stick it onto your package securely using self-adhesive or packing tape. As soon as your package is ready, hand it to your mail carrier, schedule a package pick-up, or drop it off at your nearest USPS location. This method allows you to analyze your shipping options while quickly and easily preparing your table cover for shipment.
Purchase prepaid flat rate packaging. These boxes and envelopes come with tracking and postage printed with your return address. All you must do is pack your tablecloth in the box, write the "ship to" address on the label, and ship it out.
Bring your table cover or package to your nearest USPS location. There, you can either use a self-service kiosk or ask an attendant for help shipping your package out.
For added security, include your return address on a slip of paper inside the package.
Step 4
Once your package has been successfully sent out, keep track of it using the tracking number printed on your shipping label. Write it down or keep the receipt so that you always have it handy while your table throw is in transit.
Step 5
Make sure your package is delivered safely.
De-wrinkling a Custom Tablecloth with Logo
While all the previous steps should keep creases at bay, those pesky wrinkles can still come up sometimes. If washing and drying doesn't have your tablecloth wrinkle-free, try one of the following two methods to get it smooth again. Please note that some custom table covers come with explicit instructions not to iron so we recommend that you always adhere to the printed instructions you will find on your item.
Ironing Printed Table Covers

:
Step 1
Make sure both your iron and your custom table cover are clean and dry.
Step 2
Place your tablecloth flat and upside down on a padded ironing board. If excess fabric reaches the floor, lay out a clean, plain white sheet under your ironing board to protect the table cover from getting soiled. To prevent too much fabric from hitting the floor, set up your ironing operation near a large table that the freshly ironed sections of your tablecloth can rest on.
Step 3
Plug in your iron and turn it onto its third setting, the synthetic fiber setting, or a temperature setting of 148 °C/300 °F.
Step 4
Lightly mist the section of your personalized table throw that you plan to iron first using a spray bottle or your iron's built-in mister. The branded table cover should be damp, but not too wet.
Step 5
Cover the table throw with a pressing cloth or a clean, white cotton pillowcase or dish cloth. Make sure that this cloth remains between your table throw and the iron as you de-wrinkle.
Step 6
Begin carefully ironing out any wrinkles, misting each new section as you go.
Step 7
When you are done ironing, lay your tablecloth out flat and allow it to dry completely before storing it as instructed above.
Handheld Steaming a Screen-Printed Tablecloth

:

When all else fails or you are in a pinch, use a handheld steamer to spot steam your promotional table cover.
Step 1
Fill your steamer with clean, distilled water and turn it onto the lowest steam setting.
Step 2
Hang a clean, protective cloth or towel over wherever you plan to hang your tablecloth to steam. A shower curtain rod, clothing rack, or any other place that you can fully spread out your table throw works best.
Step 3
Carefully hang your printed tablecloth.
Step 4
Once your steamer is fully heated, carefully sweep the steamer head across the table cover. For more difficult wrinkles, lightly press the steamer head to the wrinkle for a couple seconds or less.
Step 5
Repeat step 4 for all sides of your tablecloth. Allow the throw to dry before turning it over or removing it from the hanger.
Step 6
As soon as the table throw has dried completely, store it as instructed above. Alternatively, you could run hot water in your shower to create steam and hang the table cover in the bathroom for about 15-20 minutes. For wrinkle quick fixes at trade shows and other events, make sure to bring a compact portable steamer.
If you are still confused about how to care for your custom table throw, contact us with your questions. For help choosing the perfect table cover for your promotion, reference our Guide to Everything You Need to Know About Ordering Custom Trade Show Table Covers. For extra guidance in preparing for your next trade show or event appearance, check out our Complete Guide to Trade Show Planning.