Putting It to The Test: Crestline's Yukon vs. Popular Retail Brand Tumbler
published: May 28, 2019 | updated: September 10, 2020
Stainless steel drinkware remains high in popularity and retail brands continue to design new bottles, mugs, and tumblers with high-tech thermal insulation.
One of our most popular double-wall, vacuum-constructed, stainless steel tumblers is our Yukon tumbler, available in 10 oz., 20 oz., and 30 oz. size options. Due to this item's popularity, we continue to add new color options and styles including color wraps, copper, two-tone and camouflage.
The Yukon has all the same features and functions of the most popular retail brand stainless steel tumblers:
A copper lining that provides top-notch thermal retention — the Yukon will keep your cold beverages cold for up to 24 hours and your hot beverages hot for up to 5 ½ hours.
A transparent press-in lid with a rubber gasket that provides a secure fit.
Double-wall vacuum construction that keeps the outside of the tumbler a comfortable temperature but the inside of the tumbler steaming hot or icy cold. So there is no need for protective sleeves or coasters.
In addition to these top three performance features, the Yukon is easy to customize with your brand name, marketing message, school name, team logo or other design. It is also available at a price that will be well within most marketing budgets.
The Yukon has quickly become a Crestline favorite for employees and customers who have given it a try. Our most frequently asked question about the Yukon is if it really lives up to the claim of keeping your drinks cold for 24 hours. In order to show you that the Yukon is truly built as well as a brand-name alternative, we completed a comparative experiment against a popular, retail brand tumbler.
For this experiment, we took one 20 oz. Yukon tumbler, and a well-known retail brand's 20 oz. stainless steel tumbler of comparable style and material. We filled them each with 5 ice cubes of roughly the same size. Both tumblers were placed in a room that maintained an average temperature of 65 degrees Fahrenheit with an average of 40% humidity.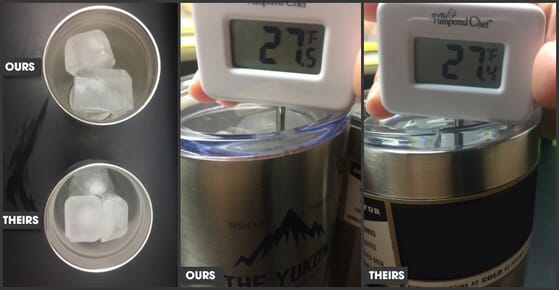 Ice was added to the Yukon and the retail brand at 5:00 PM on a Monday. "Ours" started out at a chilly 27.5°F and "theirs" started at 27.4°F. The tumblers were checked 14 hours later at 7:00 AM. There was some water accrual from melting ice in each tumbler, but there was still solid ice.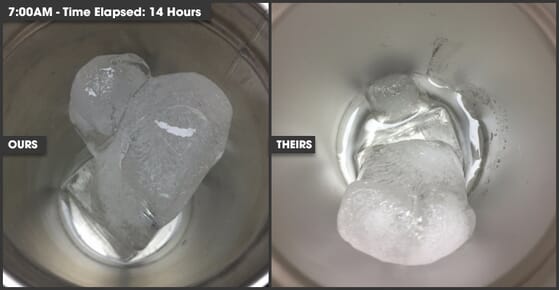 At 5:00 PM on Tuesday, a whole 24 hours later, ice still remained in both ours and theirs. The internal temperature of the Yukon had risen to 36.0°F and the internal temperature of its competitor was at a very close 37.1°F. The accrual of water and remaining ice was nearly the same for each tumbler.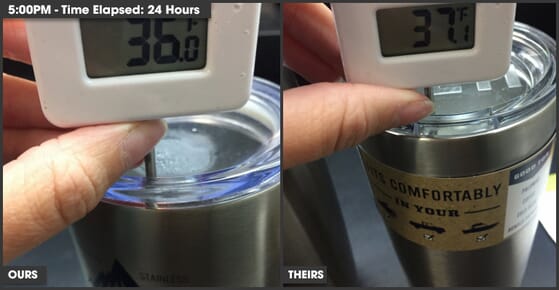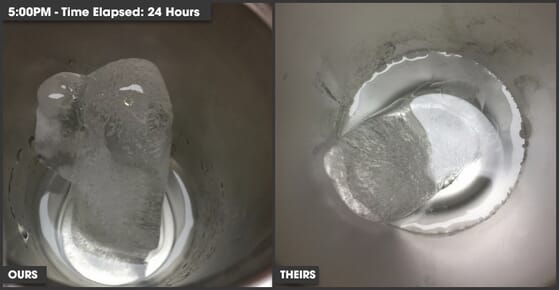 The results show that the Yukon is capable of maintaining ice for over 24 hours and is a fair alternative to more expensive retail brands. Now picture it full of your favorite beverage and imprinted with your own custom design!