Show You Care with Custom Reusable Straws
published: June 18, 2019 | updated: January 8, 2020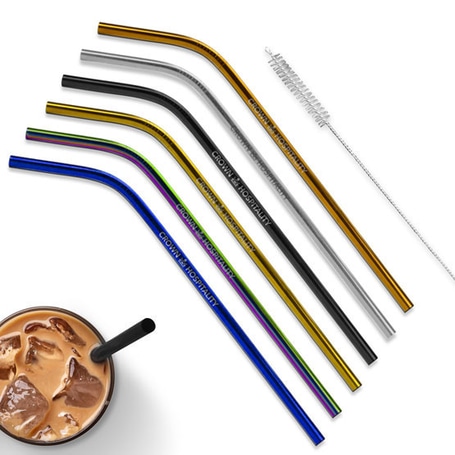 In recent years, there has been a surge in awareness about the serious environmental impact of plastics. Environmental groups warn that, if we don't act now to curb the use of single-use plastics, there will be more plastic than fish in our oceans by the year 2050.
Increasingly, conservation groups have targeted the elimination of disposable plastic straws as one easy step people can take toward promoting a healthier earth. Each day, Americans use more than 500 million disposable plastic straws, and most of those end up in our oceans, polluting water and killing or injuring marine life. Aside from their sheer quantity, the main problem with plastic straws is that they are too lightweight to pass through most mechanical recycling sorters, so even when people remember to recycle them, they fall through the sorting screens and end up getting disposed of as garbage.
This isn't just an issue for the health of marine animals; it also affects our health. Researchers have detected microscopic plastic particles in 94% of U.S. tap water, and well as in sea salt and shellfish marketed for human consumption.
In light of these concerns, some municipalities and corporations have begun making efforts to fight plastic pollution. In the summer of 2018, Seattle became the first U.S. city to ban businesses from providing disposable plastic straws, stir sticks, and utensils to customers. Other major cities, including New York City and San Francisco, soon followed suit, with bans set to take effect by the end of 2019.
Rather than wait for more widespread bans, a growing number of businesses—even major corporations like Starbucks and select McDonald's locations—have already started to replace disposable plastic straws with more sustainable options. While there are undoubtedly costs in doing so, the benefits are also clear. Consumers increasingly make buying decisions based on their social conscience. Forbes recently reported that:
87% of consumers will have a more positive image of a company that supports social or environmental issues.
88% will be more loyal to a company that supports social or environmental issues.
87% would buy a product with a social and environmental benefit if given the opportunity.
92% will be more likely to trust a company that supports social or environmental issues.
One way to distinguish your brand in this values-driven marketplace is through green-themed promotional giveaways such as custom reusable straws. Here's a look at some of the most popular styles of sustainable straws available today.

Stainless Steel Straws:
For durability and great looks, there's no beating reusable stainless steel drinking straws. Your branding information will truly shine engraved on the side of one of these straws, which are made from food safe stainless steel in a variety of striking colors. For those who miss the versatility of "bendy straws," there is even a bent reusable stainless steel drinking straw, curved at an angle for more comfortable use.
Both the straight and curved models include a handy cleaning brush, sized to fit inside the straw for ease of travel.
Because some people worry that stainless steel can be hard on teeth or dentures, or could injure small children, many models now come with silicone safety tips. An optional set of four tips can be added to any stainless steel custom straw purchase.
Custom engraved stainless steel straws are a great giveaway option for companies who want to send an eco-friendly message to their customers and employees. If you are a coffee shop, pub, or restaurant owner, consider handing these sustainable straws out to customers for a fun promotion and an invitation to come back for a future visit.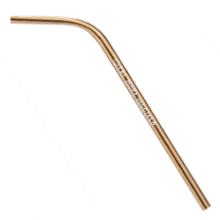 Silicone Straws:
As reusable straws gain in popularity, silicone has emerged as a cost-effective alternative to steel and other hard materials. Made from 100% BPA-free, BPS-free, phthalate free, PVC-free, natural silicon, these bold, bright straws are safe for all ages due to their softness and flexibility. Silicone has long been a favored material for cookware because it is non-toxic, does not leach any harmful chemicals or unpleasant flavors, cleans easily, and is odor and stain resistant. Silicone straws also have the added benefit of being thermally stable; that is, unlike steel, they won't become overly hot when drinking hot beverages through them or uncomfortably cold when drinking frozen beverages.
One customer favorite is the silicone straw in a personalized protective case. After all, what good is a reusable straw if you don't have it with you when it's needed? The carrying case makes it convenient to take these straws on the go, protecting it from dirt, lint, and other contaminants so it's ready to use when needed. And your custom printed logo will ensure that customers think of you every time they pull it out. Silicone straws make a great giveaway option for corporate parties and events, as well as for hotels and resorts.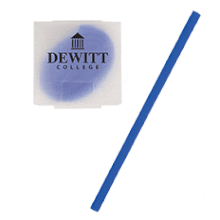 Novelty Straws:
Just because protecting the environment is serious business doesn't mean you can't have fun while doing it. Enter the color-changing chameleon straw! Whether you want to impress kids, or just the young at heart, you can't go wrong with these reusable straws made from a revolutionary plastic that shifts colors when cold water passes through them. They can be laser-engraved with your logo or message, offering serious "wow" factor guaranteed to capture people's attention for years to come. Provide custom imprinted chameleon straws as an alternative to disposable at school events such as fundraisers, welcome and graduation celebrations, and proms, for a memorable giveaway that students and staff will love to use again and again.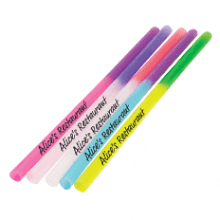 Paper Straws:
Of course, sometimes there's just no substitute for the convenience of a disposable straw. For as little as 99 cents per set, you can provide an earth-friendly five-pack of disposable straws made from sturdy food grade kraft paper in a reusable branded pouch. You and your customers can feel good knowing that these guilt-free paper straws will harmlessly decompose back into the soil when disposed of instead of polluting our oceans. Add your logo or message to paper straws and hand them out at conferences and trade shows for a convenient and affordable giveaway.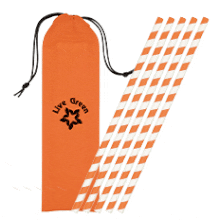 Regardless of whether you choose stainless steel, silicone, color-changing reusable plastic, or biodegradable kraft paper, eco-friendly straws are a budget-friendly promotional gift that are certain to showcase your company's values and make a lasting impression on your customers.
Here are some ideas on how to use branded straws to promote your brand:
1) A Fun Customer Giveaway
Provide reusable straws to customers at your restaurant or coffee shop as a fun and eco-friendly promotion and an incentive to come back for a future visit. Choose a color that complements your establishment's logo and décor. Offer one free straw with every beverage purchase for a great promotion!
2) A Party/Event Favor
Use stainless steel straws as a memento for corporate parties, weddings, and fundraising galas. Available in a variety of shiny, metallic colors, add your name and the date of your event on them, to make for an unforgettable event!
3) An Eco-Friendly Gift Set
Combine an imprinted reusable straw or set of earth-friendly paper straws with other promotional drinkware, such as a stainless steel copper insulated bottle, for a thoughtful thank you or welcome gift. These items reduce the need for plastic straws and throwaway cups and plastic water bottles. This is a great option for companies with sustainable practices to give out to customers and employees.
4) A Trade Show Giveaway
Trade show planners can give away reusable straws to participants by placing them at beverage stations throughout their events. You can even give them away at your trade show booth for a giveaway that people will definitely keep and use. They are sure to be a great conversation starter!
5) A Take-Home Gift for Annual Meetings/Conferences
Place a straw with the name and date of your conference or meeting in a glass at every place setting for a unique and useful take-home gift.
6) An Education Giveaway
Provide imprinted stainless straws as an alternative to the throwaway kind at school events like ice cream socials, barbecues, graduation parties, and even prom, for a simple and affordable giveaway that students and staff alike can use and enjoy both now and in the future!