published: May 9, 2019 | updated: June 14, 2023
American Shopping Guilt & Buying Dilemmas
Shopping can be tough these days. Buying a chicken sandwich at the drive-thru might mean supporting a company with political views you either applaud or abhor. Drinking bottled water from an island in the South Pacific could be harming ecosystems half a world away. Wearing certain athletic shoes might be viewed as either a statement against racism or unpatriotic if the brand endorses athletes who kneel during the national anthem. And what if the company that makes your favorite deodorant tests its products on animals?
Trying to be an ethical consumer can be an emotional rollercoaster ride of feeling good when we support businesses that share our values, and guilty when we put convenience or price ahead of our beliefs. Most Americans understand that every time we fill our shopping carts, we're rewarding different types of corporate behavior. But with limited time and money — and sometimes few product options — it can be hard to "shop your values."
And of course, not everyone cares.
To learn more, we surveyed 2,100 people in 25 cities across the U.S. and asked how different issues guide their buying habits. Does it really matter if companies are ethical and socially responsible? Do consumers in some parts of the country care more than others? Which issues do people feel most strongly about? Read on to find the answers to these and many other questions.
I. Do consumers really care about company behavior?
In a word: Yes. Our survey found that 68.3% of Americans want to use their power as consumers to support companies that share their social, political, and environmental values. Only 9.4% are uninterested in the ethics of companies they buy from.
We asked people if they agreed with the statement, "I care whether the companies I buy from share my moral and ethical values," and there were some interesting patterns in the data. We weighted the responses on a scale of 1 (strongly disagree) to 5 (strongly agree), to come up with average scores.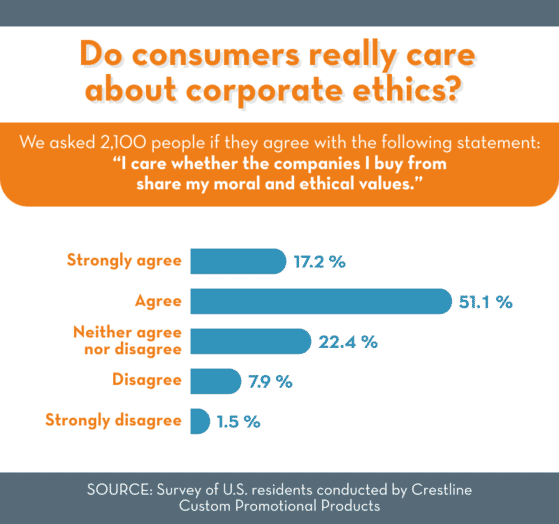 Women care slightly more about corporate social responsibility than men. The average score for women was 3.81. Men averaged 3.67.
Liberals care more about business practices than conservatives. People who consider themselves politically liberal had an average score of 3.90. Conservatives averaged 3.64.
Spending even a single day on a college campus greatly increases the likelihood that you'll want to influence society through your purchasing decisions. There was a strong correlation between more education and concern about business' social and political policies. Those with only a high school diploma had an average score of 3.55, but people with "some college" averaged 3.77. Those who went on to graduate school averaged 3.87.
Interestingly, age was not a significant factor in how people feel about a business' social and political policies. There was no statistically significant difference between the responses of Generation Z, Millennials, Generation X, and Baby Boomers.
Geography, on the other hand, mattered quite a lot. We collected data from 25 major cities and found that residents of Seattle and New York feel most strongly about corporate social responsibility, while residents of New Orleans care the least.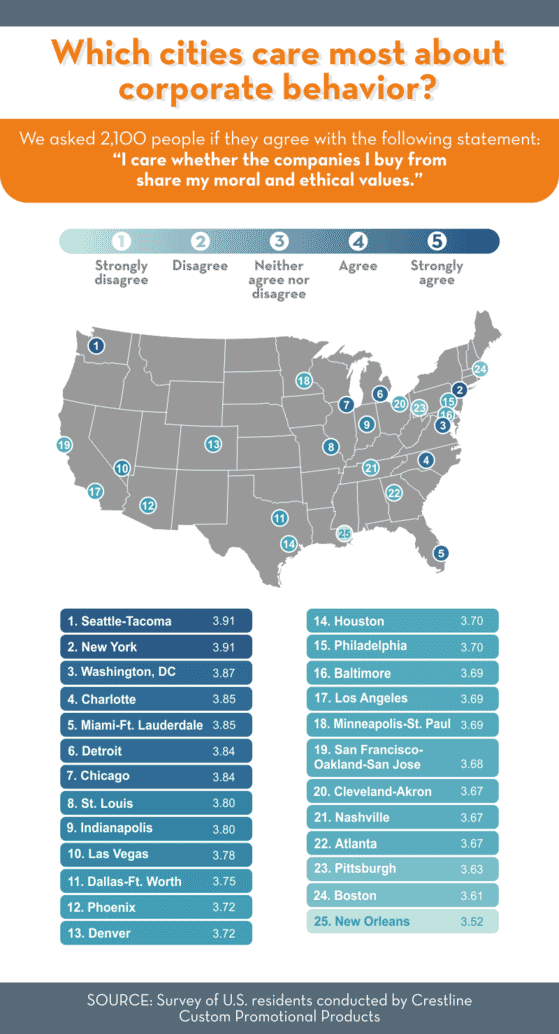 Every city we studied had an average score above 3, putting all of them on the "agree" side of our scale. But it is clear that consumers in some cities feel a greater social burden than others. Seattle and New York residents had the highest average score, both rounding to 3.91. (Seattle had a very slight edge in the raw data.) Both cities tend to lean quite liberal politically.
At the other end of the spectrum, New Orleans had the lowest average score of 3.52. Boston and Pittsburgh rounded out the bottom three.
II. Which issues matter most to consumers?
As the variety of specialty labels and health claims has grown — giving us "feel-good" options for everything from coffee to dog shampoo — Americans have had to start prioritizing. We asked people about 11 common product claims. Surprisingly, "organic" was the least important label for consumers. "Non-toxic" was the most important.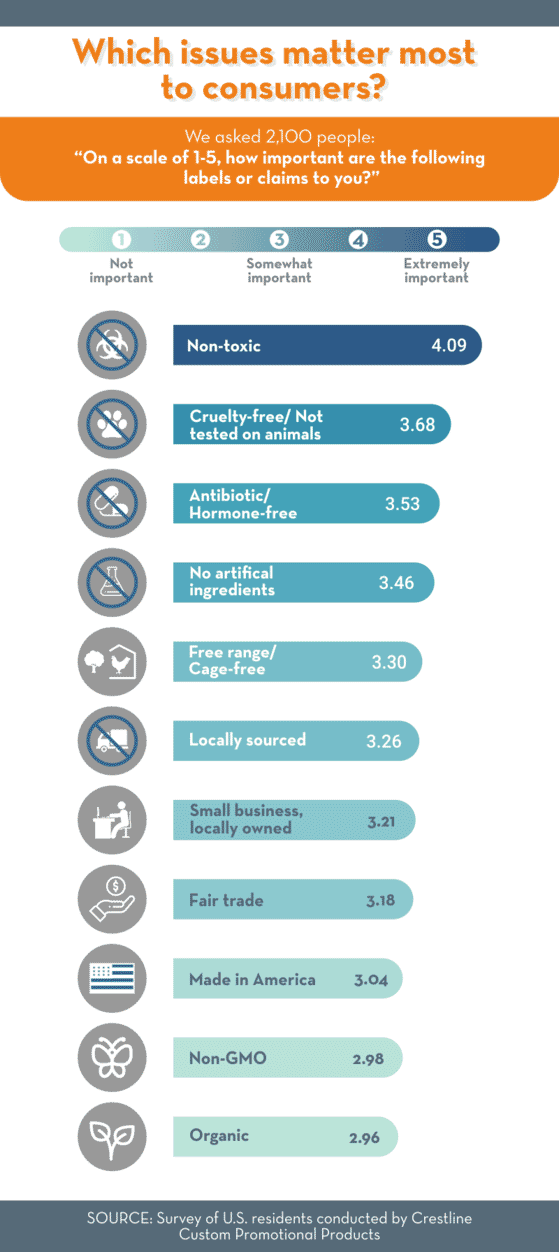 We asked Americans to rate how important various product claims are when they're shopping for everyday items. The scale ranged from 1 (not important) to 5 (extremely important). After tabulating more than 2,100 responses, we learned that "non-toxic" was the most important by far, with an average rating of 4.09. That may be because toxic chemicals have been implicated in the rise of autism spectrum disorders as well as many types of cancer. Concerns about chemicals have fueled a billion-dollar natural beauty movement.
Also high on consumers' priority lists were cruelty-free products, with an average rating of 3.68, and antibiotic or hormone-free products, with a score of 3.53. Overuse of antibiotics or hormones in food-producing animals has been blamed, in part, on the rise of drug-resistant "superbugs" and the early onset of puberty in American girls.
At the very bottom of the list, it seems Americans don't put much stock in the "organic" label. It ranked dead last, with a rating of only 2.96. It is possible that consumers have been swayed by news reports suggesting the "organic" label is poorly enforced and often meaningless.
Consumers also don't seem too worried about genetically modified ingredients. "Non-GMO" was the second least important label in the study, with an average rating of 2.98. It would seem that public information campaigns touting their safety — and the lack of any conclusive evidence of adverse health effects — have had an impact on consumers. About 90 percent of scientists believe GMOs are safe. That view has also been endorsed by the American Medical Association, the World Health Organization, and the National Academy of Sciences.
The overall importance of specialty labels was interesting, but we took it a step further and analyzed the data by our respondents' political leanings. We learned that some issues matter much more to conservatives than liberals and vice versa.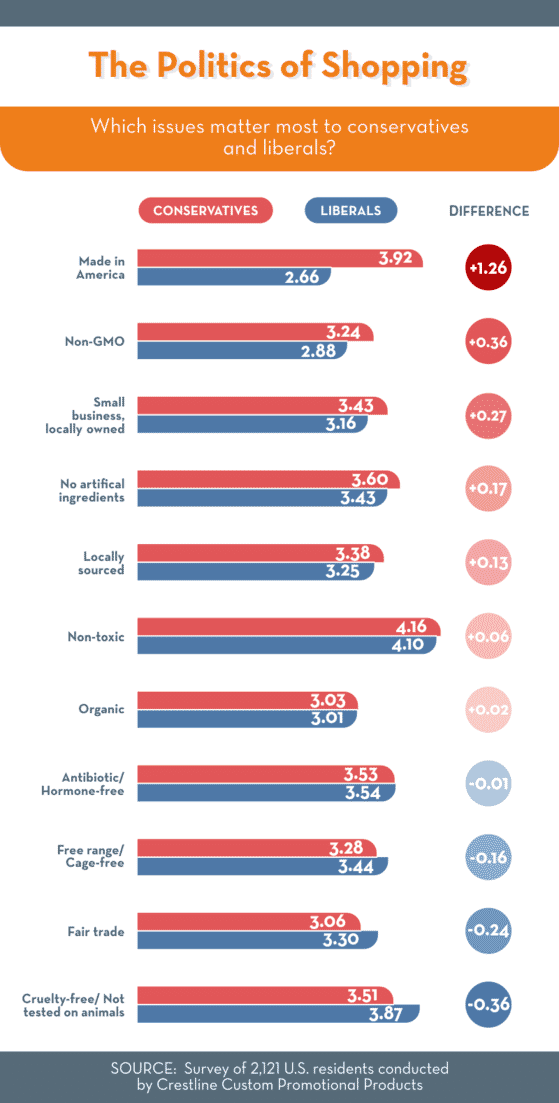 The importance of different issues can vary dramatically based on a person's political views. Conservatives and liberals agree that a "non-toxic" label is important, and they feel nearly equally strongly about "antibiotic- and hormone-free" products. But there are some statistically significant differences.
Organic — Although the averages were nearly identical, 19% of conservatives consider buying organic goods "extremely important." Only 12.9% of liberals feel the same way.
Made in America — The fact that a product is made in the USA is overwhelmingly more important to conservatives than liberals.
Fair trade — Liberals feel much more strongly about fair trade than conservatives do.
No artificial ingredients — 32.1% of conservatives consider it "extremely important," but only 21.5% of liberals feel the same way.
Non-GMO — Conservatives are much more concerned about genetically modified ingredients than liberals. 26.8% of conservatives call the label "extremely important" vs. 16% of liberals. At the other extreme, 23.9% of liberals say it's "not important at all" vs. just 17.7% of conservatives.
Cruelty-free and cage-free — Liberals care slightly more about whether products are tested on animals and whether farm animals can roam free.
After exploring their values and the issues that matter to them, we turned our attention to what American consumers feel guilty about.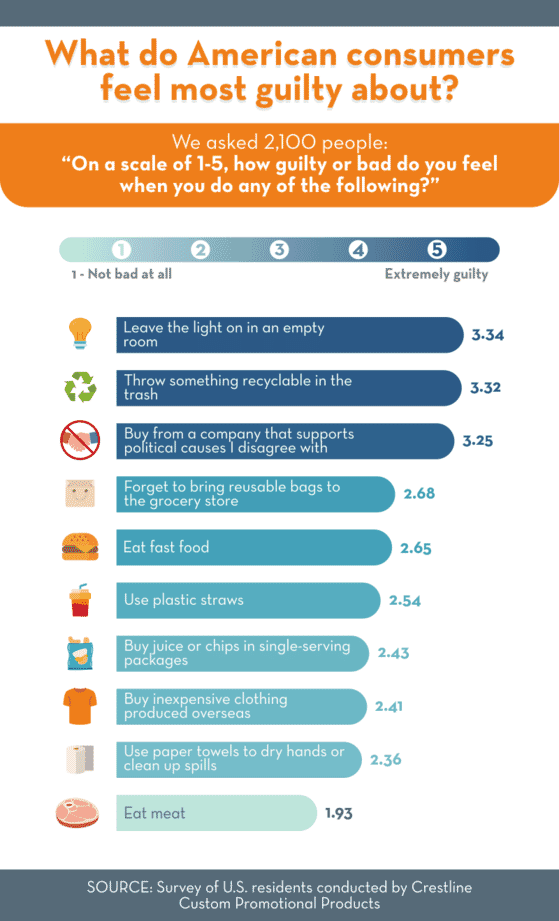 Remember all those years our parents spent harping on us to turn off the lights when leaving a room? Those childhood messages must have left a big impression, since the largest share of respondents said leaving lights on is the biggest source of consumer guilt.
We also feel terrible when we throw plastic bottles or other recyclables into the regular trash. And that issue might get even more frustrating, now that China's stopped accepting U.S. recycling imports — meaning that much of our carefully recycled leftovers could soon end up in landfills instead.
Although bans on plastic straws in some major cities are getting a lot of press around the world (likely due in part to the startling 8.3 billion of them estimated to be polluting the world's beaches), those we surveyed place plastic straw use squarely in the middle of the pack when it comes to worrying about their consumer habits.
The other end of the spectrum tells us — by a wide margin — that Americans love their burgers and steaks. And although people on the left of the political spectrum feel more guilty than conservatives about nearly everything on the list, respondents on both sides of the political aisle were equally unapologetic about eating meat.
III. What do consumers do about it?
The call to "reduce, reuse, and recycle" began sometime in the early 1970s and has been drilled into generations of American schoolchildren ever since. We asked our survey respondents about it, and 83.2% said they are making an effort to reduce waste. (They may not always succeed, but they're trying.)
However, residents of some cities are trying harder than others. Washington, DC residents agreed most strongly with the statement, "I make an effort to reduce waste" (with an average score of 4.16 out of 5). They were followed by Cleveland, Miami, and Baltimore, all of which averaged 4.08.
People in New Orleans aren't making quite as much effort, with an average score of 3.77. Charlotte also trailed many other cities, with the second-lowest average at 3.87.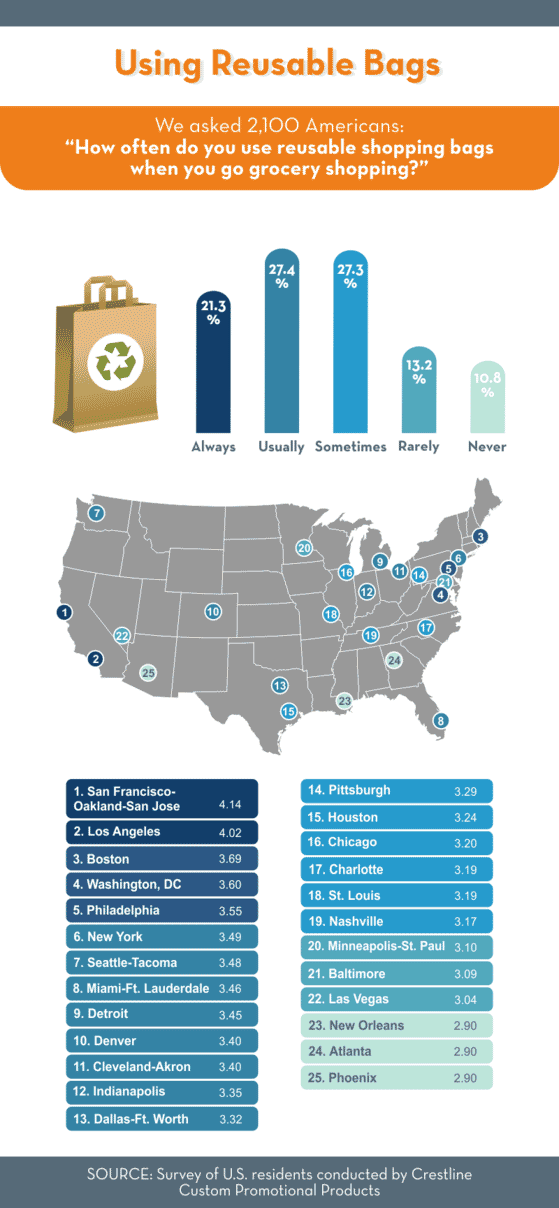 The second part of the "3 Rs" mantra is reuse, and one of the most visible ways people have been doing that is by embracing reusable shopping bags. The learning curve may have been steep over the years, but it seems that more Americans are making a habit of bringing reusable bags to the grocery store.
Nearly half of Americans (48.7%) "always" or "usually" bring their own reusable bags to the grocery store. Only 24% say they "rarely" or "never" do. However, the adoption of reusable bags varies widely across the country.
People are much more likely to bring their own bags if they live in a city that requires merchants to charge a fee for store-provided disposable bags. For instance, San Francisco and Los Angeles residents ranked 1st and 2nd in our study for reliably showing up in the checkout line with their reusable bags. California has had a "bag ban" in place since 2016.
At the bottom of the list, Phoenix, Atlanta, and New Orleans residents are much less likely to bring bags into the store.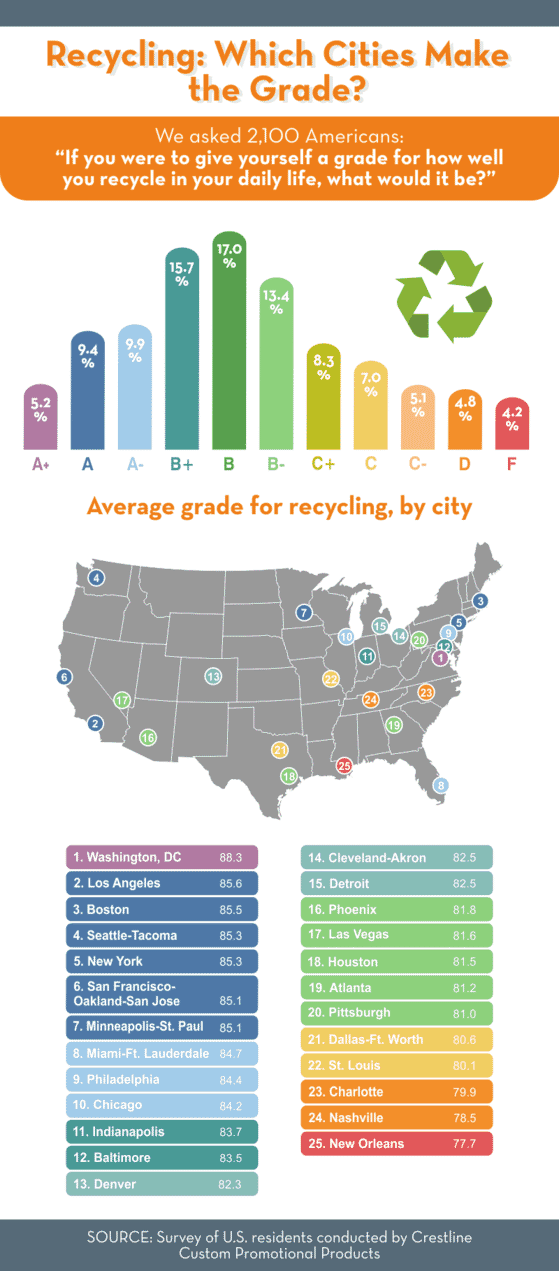 The third pillar of the "3 Rs" slogan is recycling, and most of us feel pretty good about our efforts.
Overall, Americans give themselves a "B" for how well they recycle. We calculated averages for the 25 cities in our study, using the standard academic rubric of 90s for an A, 80s for a B, 70s for a C, and so on.
The respondents who gave themselves higher grades for recycling largely live in cities committed to a zero-waste policy, including Washington, D.C., Los Angeles, Boston, Seattle, New York, San Francisco, Oakland, and Minneapolis. Some maintain the goal of sending no trash to landfills, incinerators, or the oceans by 2030 or 2040, although San Francisco and Oakland (plus outlier Dallas-Ft. Worth) are eyeing a 2020 goal.
New Orleans residents were least confident in their efforts, followed by denizens of Nashville and Charlotte.
IV. How do consumers feel about 'voting' with their buying decisions?
Without a doubt, shopping has become more complicated over the past generation. But most Americans are OK with that. When presented with the statement, "Shopping has become too complicated; there are too many choices," fewer than a third (31.2%) of our respondents agreed.
Most people said they regularly pay up to 10% more for goods that are ethically produced, better for the environment, or made by a company that shares their values. When asked what their primary motivation was for paying extra, 37% said "it makes me feel good" and 63% said "I believe it makes a difference."
Most consumers have also boycotted businesses because of behavior they disapprove of. The most common reasons for boycotts were harming the environment or treating employees unfairly.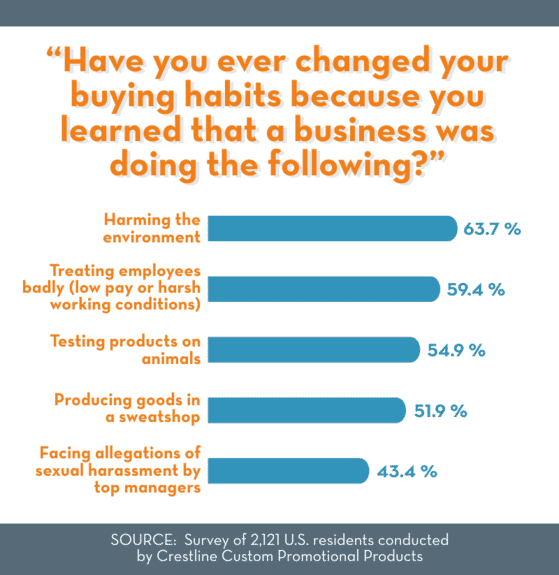 Historically, consumer boycotts have had mixed success. The impact typically depends on the size of the company, the diversity of its holdings, and the ability of organizers to sustain interest in the issues. The modern 24-hour news cycle has given rise to "compassion fatigue," which can make it hard to keep movements going.
Indeed, paying attention to the news and trying to shop based on your values can be exhausting. Our survey found that 45.1% of Americans often wish they could just buy what they like without feeling guilty or being judged.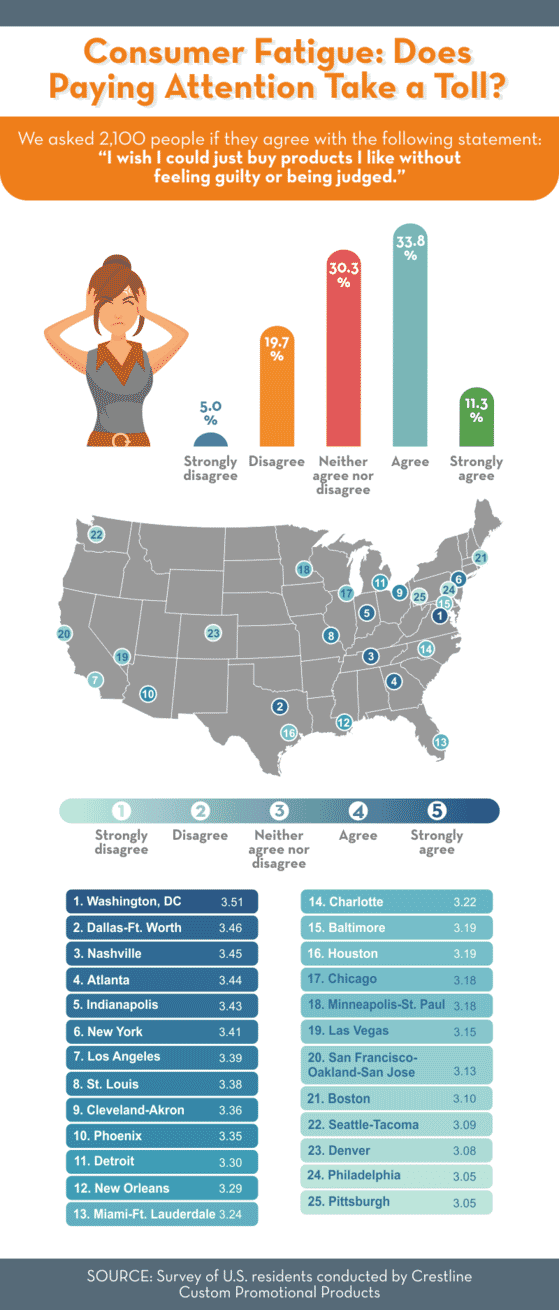 However, Americans still care enough to pay attention to how their favorite manufacturers conduct business. An overwhelming 81.8% of people who responded to our survey say they would want to know if the company that makes one of their favorite products was doing something controversial, such as polluting the environment, mistreating or underpaying workers, or otherwise behaving unethically. Only 8% of respondents said "ignorance is bliss."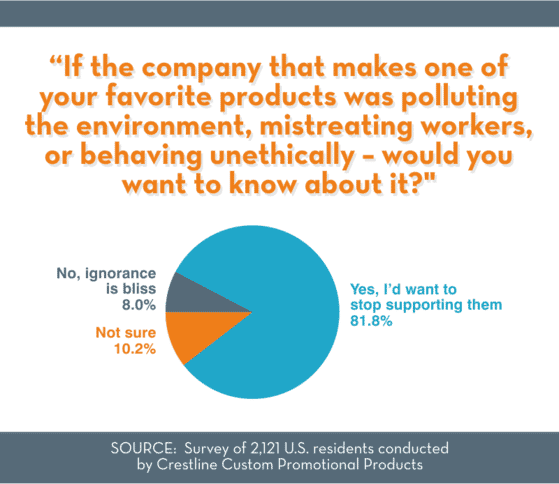 Formal elections may only happen every two to four years, but consumers vote with their pocketbooks multiple times every day. This adds a layer of complexity to shopping, but most Americans seem to appreciate the economic power they wield. And more and more companies are responding.
Crestline has a strong connection to the natural landscape of Maine, and we are lucky to be headquartered near both the mountains and the shore. As such, we are committed to reducing our carbon footprint as much as possible.
We have a 696-panel solar energy system at our corporate headquarters in Lewiston, Maine, and produce 100% of our power from solar panels. Our shipping practices are carbon-neutral, meaning that we offset carbon emissions by purchasing credits toward green projects: reforestation, renewable energy, and wastewater treatment. We also count all the paper that is run through our printers and offset this consumption by having trees planted in a Brazilian rainforest.
Now that you know what eco-friendly brands and products mean to Americans, you may be interested in our articles on green marketing ideas and socially conscious branding:
Eco-Friendly Promotional Products to Feel Good About
Show You Care with Custom Reusable Straws
What Your Customers Will Love About Using Custom Reusable Bags
Promotional Product Ideas for Social Causes: 4 Use Cases
Methodology
We conducted an online survey of 2,121 people, polling at least 70 residents in each of 25 major cities across the U.S. (The median number of respondents per city was 83. The maximum was 120.) The cities were chosen based on population, media market size, and geographic location. They were:
Atlanta, GA
Baltimore, MD
Boston, MA
Charlotte, NC
Chicago. IL
Cleveland-Akron, OH
Dallas-Ft. Worth, TX
Denver, CO
Detroit, MI
Houston. TX
Indianapolis, IN
Las Vegas, NV
Los Angeles. CA
Miami-Ft. Lauderdale, FL
Minneapolis-St. Paul, MN
Nashville, TN
New Orleans, LA
New York. NY
Philadelphia. PA
Phoenix, AZ
Pittsburgh, PA
San Francisco-Oakland-San Jose, CA
Seattle-Tacoma, WA
St. Louis, MO
Washington, D.C.
Respondents ranged in age from 18 to 86, with a median age of 33. They were 47.1% men and 52.9% women. In terms of political leaning, survey respondents included:
548 people (25.8%) who identified as "conservative" or "lean conservative"
989 people (46.7%) who identified as "liberal" or "lean liberal"
584 people (27.5%) who described themselves as "moderate/independent"
The study was based on self-reported data, which can have limitations; however, the confidence level was 95%, based on the demographics of the sample, and the overall margin of error was ±2.2%.
Fair Use
If you're a blogger or journalist interested in covering this project, you can share or reproduce any of the images above — guilt-free! All we ask is that you please credit Crestline Custom Promotional Products and link back to this page so your audience can find out more about the project.