Easter Ideas for Work: Office Giveaway Ideas, Employee Appreciation Gifts, Games & Prizes
updated: December 7, 2023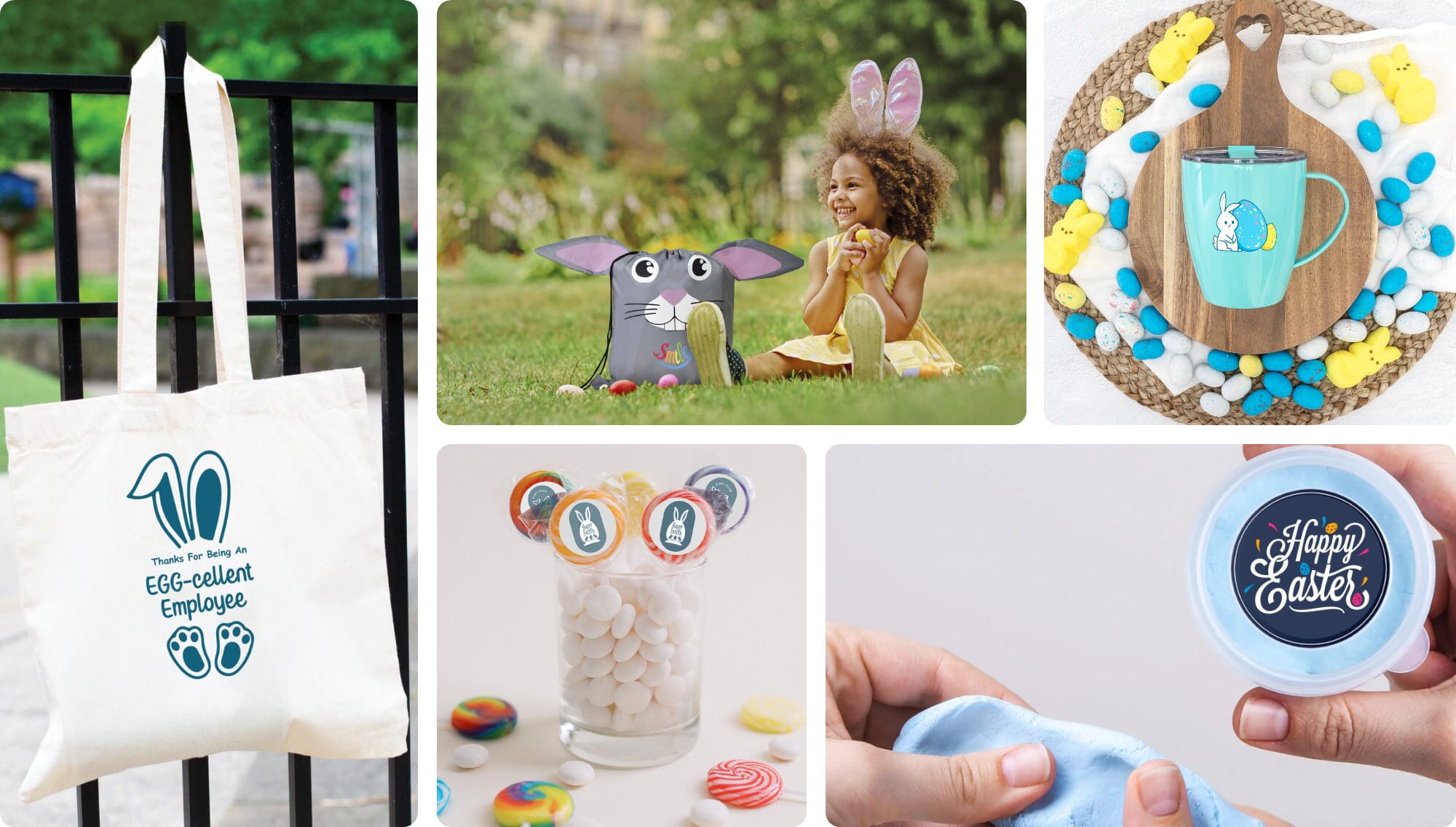 Spring is in the air when Easter comes around each year. The holiday, which falls on March 31, 2024, this year, is the perfect excuse for a little extra celebration at home, school, work or in the community. Crestline makes it easy with these Easter giveaway ideas.
Whether you're looking for a way to boost morale at work, host a spring-related event in the community, or celebrate at a church, gifts, giveaways, and games will help make your celebration a memorable one.
Easter Gifts & Giveaways
Everyone loves gifts around the holidays, and Easter is well-known for its association with candy, chocolate, and new life. Baby animals are often born near Easter, and it's the perfect time to plant gardens and flowers for the upcoming warm weather.
Businesses can use the holiday to thank their employees, appreciate their customers, or reach out to those in the community. Here are some favorite Easter promotional gifts to help you do just that.
Easter Candy
Although jellybeans are an Easter favorite, many people love all that chocolate that's available this time of year as well. The Small Delightful Chocolates Gift Set offers chocolate in the shapes of easter bunnies and eggs. Or, our Small Top View Tin With Jelly Belly® features a top-view window so recipients can be ever-tempted by these delicious confectionaries. The reusable tin is a perfect reminder to buy more once the first batch is gone.
Check out our other popular Easter ideas for work: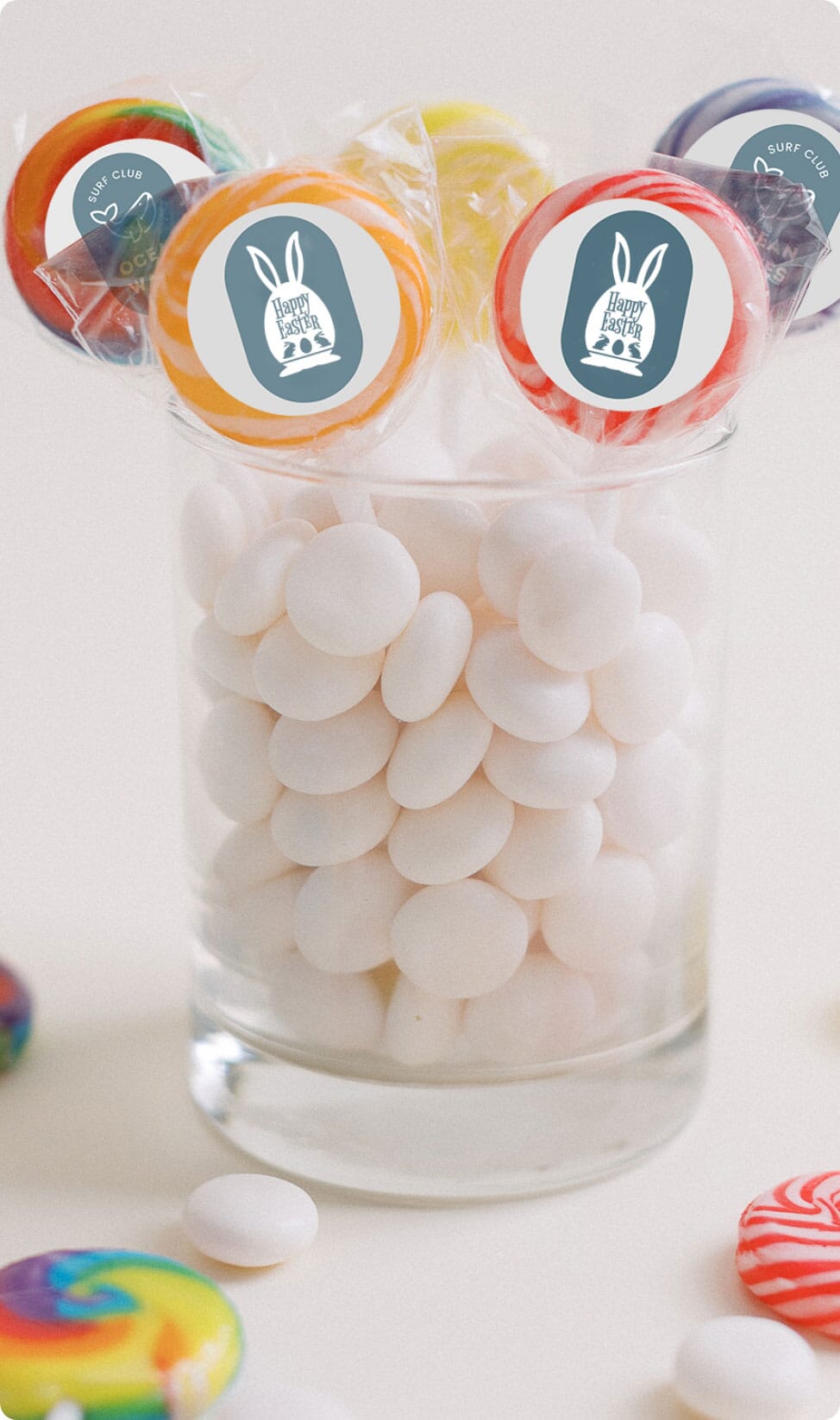 Easter Stuffed Animals
Who doesn't love a warm and cuddly stuffed toy? These employee appreciation Easter gifts for employees can decorate a cubicle or be brought home as a surprise for a child. Our Little Paw Teddy Bear sports a custom T-shirt with your brand and sits six inches high. Recipients will love its adorable button eyes and an embroidered mouth and nose.
Other best-selling corporate Easter gifts include: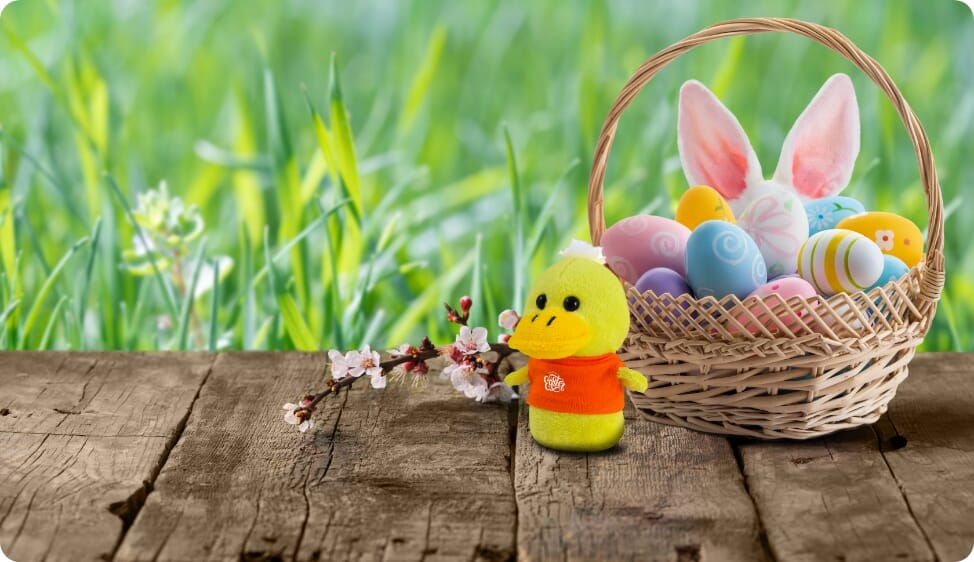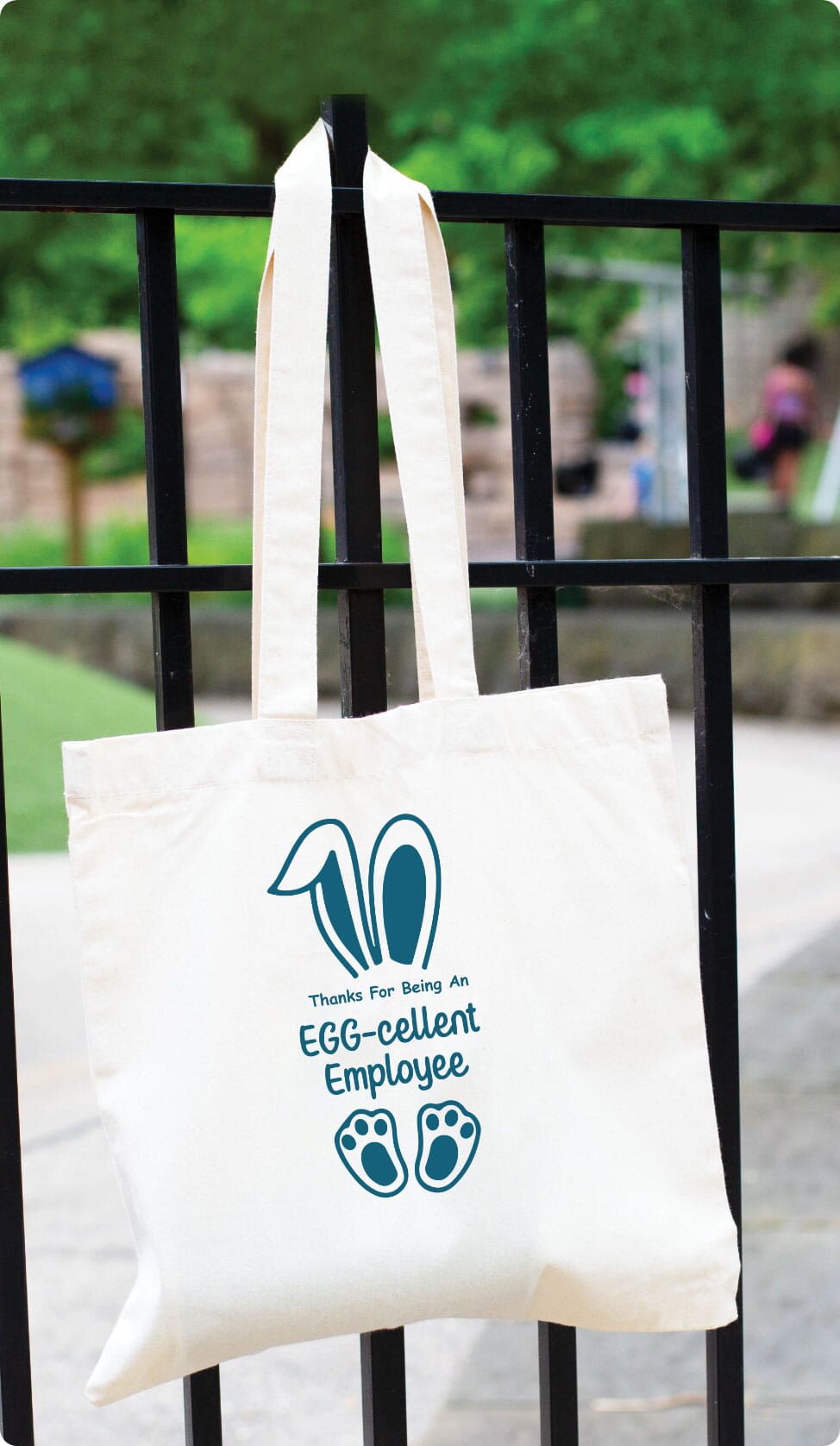 Tote Bags
Be kinder to the environment while you're enjoying your Easter egg hunt–have searchers gather their eggs in reusable totes like our Lightweight Cotton Economy Tote Bags – Natural. This promotional tote bag has sturdy handles and a roomy interior for all the Easter treats and then can be used for many other items after the big day.
See our other Easter promotional items:
Spring Gift Items
Be sure to arm your employees, customers, and community members with all the necessities of spring such as garden supplies, umbrellas, and picnic paraphernalia. The Twirl Up Picnic Blanket is perfect for a wide variety of situations, such as outdoor events, travel, sports games and more. Made of durable and warm polyester fleece, this blanket has a durable and water-resistant PE backing.
Easter promotional products that are popular include: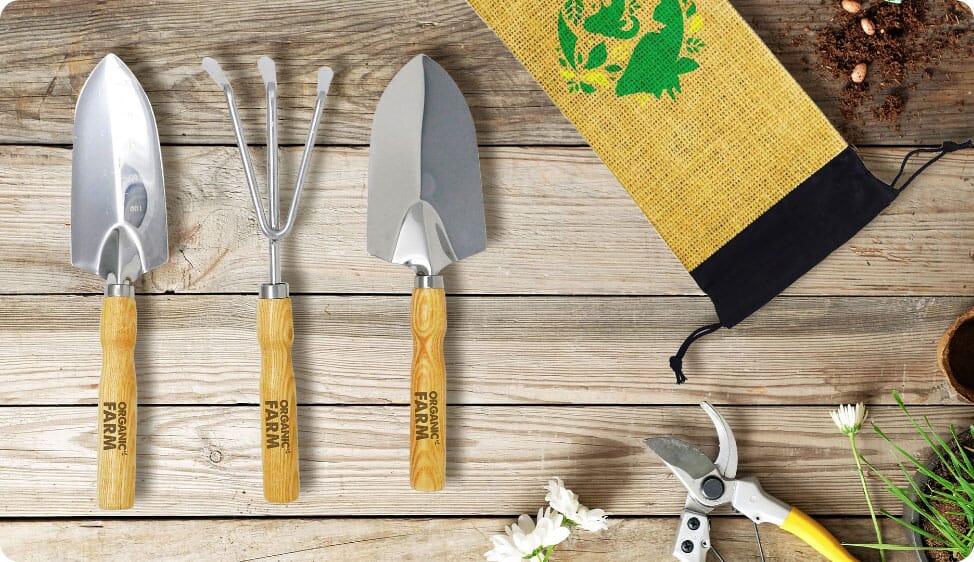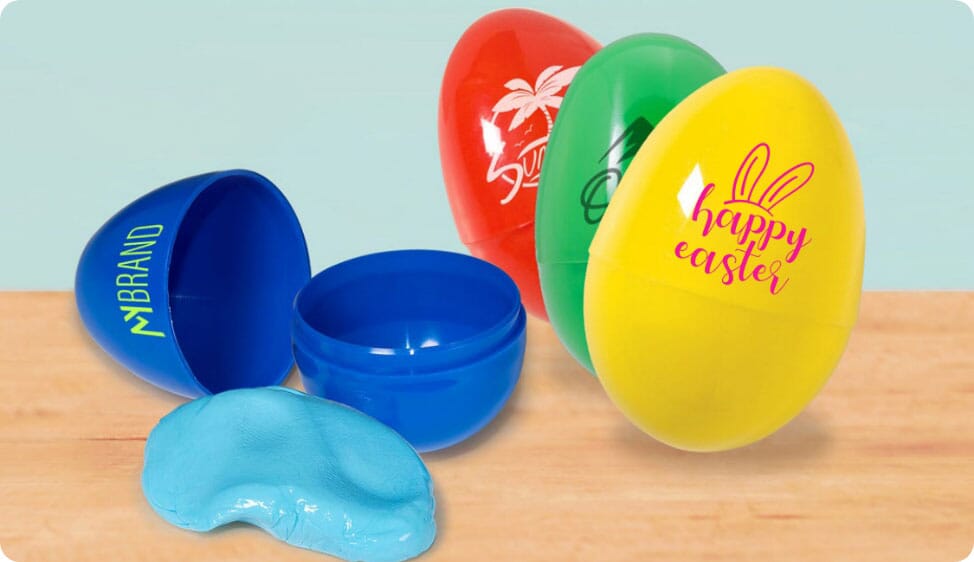 Easter Themed Employee Gifts
Sometimes it's just the little things that make the day a bit brighter. Your employees will appreciate these promotional Easter products that can be used year-round. For example, the Pop-Out Magnet Set - Holiday is a set of four pop-out, holiday-themed magnets that are great for holding up everything from children's drawings to important reminders.
Easter Toys For the Kids
If your employees have children at home, include them in the Easter festivities. Here are some Easter giveaway ideas that can be shared with the whole family, especially with the youngest members. Our Paws 'N Claws Drawstring Backpack – Bunny is a durable polyester drawstring backpack featuring the bright-eyed face of a bunny – with 3-dimensional lop ears. It's sure to be a favorite along with these other best sellers: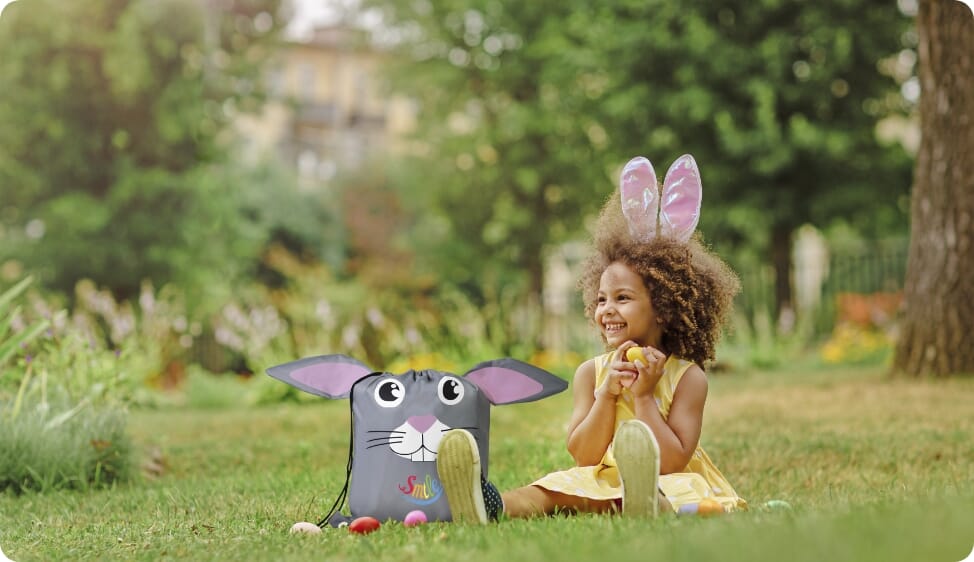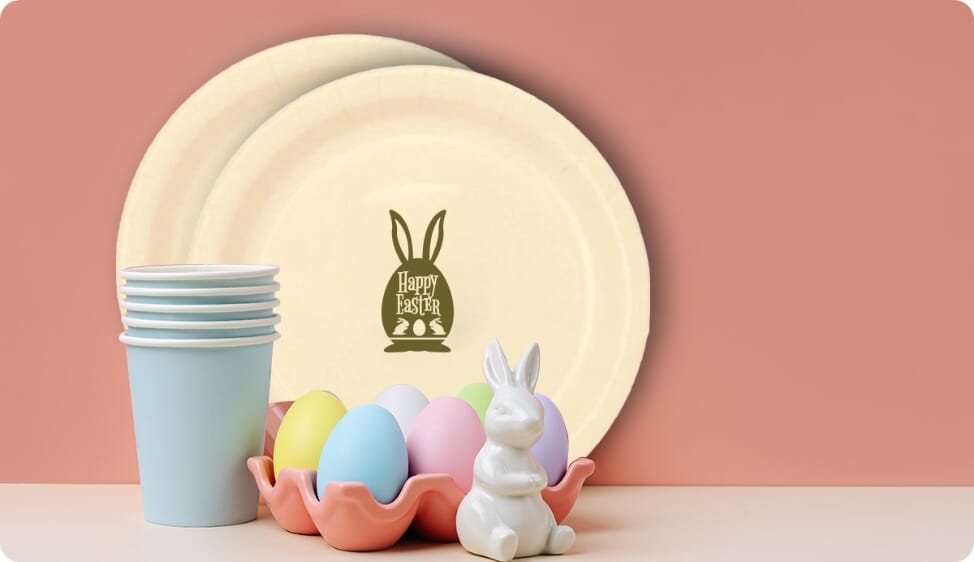 Easter Decorations & Supplies
Don't forget to spread the spirit of spring and Easter with some festive decorations. Balloons, banners, and special plates can go a long way in making Easter extra special. Our 11" Qualatex® Balloons - Glamour Colors can be imprinted with your corporate logo and are made from natural, high quality 100 percent biodegradable latex.
Here are a few more Easter decor ideas and party supplies:
Easter Games & Activities for the Office
If you're planning a day-long celebration or a weekend Easter party, be sure to organize some fun games and activities for attendees. Don't forget to invest in lots of promotional Easter products for prizes for the winners such as the 10 oz Bevie Insulated Wine Tumbler or the popular Hydrobump™ Water Proof Speaker. Here are some popular ideas for games and activities.
Easter Egg Hunt
Often associated with children, Easter egg hunts don't have to exclude adults. Fill plastic eggs with popular items such as mini lip balms, bottle openers, keychains and candy and hide them throughout the office area.
Egg Relay Race
Sponsoring an egg relay race is the perfect team building activity. Separate teams by departments or just randomly and host the race in a common area or parking lot. Have participants pass uncooked eggs on spoons to one another and reward the winning team. Don't forget to invest in Easter promotional gifts as prizes.
Egg Toss
If you're feeling brave, have employees toss eggs back and forth, stepping back with each successful catch. The team that makes it the furthest apart wins.
Jellybean Guessing Game
Fill a jar with jellybeans and display it in a prominent place. As employees enter, encourage them to guess how many jellybeans are in the jar. Closest guess wins their choice of corporate Easter gifts.
Cookie or Egg Decorating Contest
Encourage more teamwork with a cookie or Easter egg decorating contest. Provide a wide range of dyes, sprinkles, frostings, or other items to foster creativity. Encourage all employees to vote for the most creative, the most colorful, or the prettiest creation and present an award based on one of our Easter giveaway ideas.
Easter Basket Raffle
Encourage more teamwork with a cookie or Easter egg decorating contest. Provide a wide range of dyes, sprinkles, frostings, or other items to foster creativity. Encourage all employees to vote for the most creative, the most colorful, or the prettiest creation and present an award based on one of our Easter giveaway ideas.
Trivia Contest
Hold a trivia contest with Easter- or spring-themed topics. Have departments compete against one another for fun prizes to show Easter employee appreciation.
Brunch
Having a meal together always brings goodwill. Get creative with the venue or the menu and enjoy the time spent together.
Family Party
It's always fun to include children for Easter gatherings. Host an afternoon party at a local park and feature a traditional egg hunt for the little ones. It's a great opportunity to get employees to build relationships with one another.
FAQ about Easter in the Workplace
The date of Easter is different every year, falling sometime between March 22 and April 25. This year, Easter falls on March 31, 2024. Easter always happens on the first Sunday following the full moon that occurs on or after the spring equinox.
Businesses can celebrate Easter at work with simple decorations, small Easter promotional gifts and a festive gathering. It's a perfect opportunity for executives and managers to show appreciation to employees and foster a positive culture.
Employees appreciate any small gift that is a token of thanks for a job well done. Easter is a great opportunity to give customized candy, stuffed toys, or other small items that showcase your brand while showing this appreciation.
Depending on your budget, an organization can spend as little or as much as it wants. Crestline offers a wide assortment of affordable, quality employee Easter gift ideas for any budget. Although the thought is more important than the amount, gifts that are useful are always appreciated.