25 Ways to Use PopSockets™ Phone Grips and Stands
published: November 8, 2019 | updated: August 10, 2023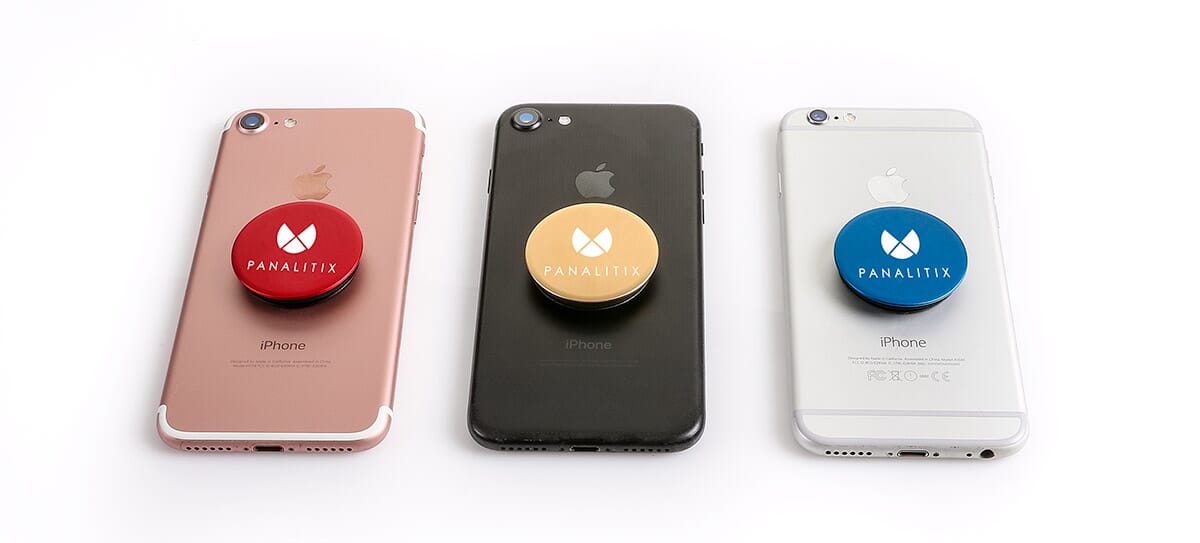 By now, you have probably heard of custom Popsockets™ and may have even used them to promote your brand. In case you have not come across this trendy, highly popular phone grip and stand, personalized Popsockets™ are circular, collapsible tech grips or stands that are traditionally used on the backs of mobile phones and other devices. The strong yet removable adhesive on the back of each grip allows it to easily and securely attach to almost any device. They can be used to get a better grip on your gadgets, to prop your phone up on a table, or even to mount your device nearly anywhere. Their universal usefulness and affordability make Popsockets™ a highly sought after promotional item for schools, fundraising, and much more.
What everyone might not know, however, is that promotional Popsockets™ have several other clever uses as well. Check out our list of ideas below. Suggest them to your giveaway recipients or try them for yourself.
Stick a standard printed Popsockets™ grip to the back of your phone or tablet for an easy way to securely carry it or prop it up.

Alternatively, attach three PopMinis® to your device for better grip or standing capabilities at all angles.
Use three PopMinis® or two standard sized Popsockets™ to secure your branded earbuds, charging cables, or other cords to the back of your device or desk.
Use Popsockets™ with mounts to secure your device to nearly any surface including your car dashboard or a wall.
Utilize university logo Popsockets™ in a dorm room as a stylish alternative to wall hooks. They can be removed and reused without damaging walls.

Use a mount to dock your device to a wall to charge overnight to keep it out of arm's reach for at least an hour before you go to sleep for a better night's rest.
Mount your phone on your exercise equipment, bike, or motorcycle.
Attach your devices or other items to your truck bed while tailgating.
While on your device, use your Popsockets™ as addictive stress relievers by popping and collapsing them to your heart's content.
Mount your phone or iPad to the wall of your kitchen or craft room to quickly reference recipes or DIY instructions while keeping your device clean and both of your hands free.

Hang your device in your bathroom or on your wall mirror to listen to music or watch videos while you get ready.
Hang your device on your bedroom wall or bed post to watch videos hands-free while you're in bed.
Use two collapsed Popsockets™ to clip your phone to the side of most laptop screens.
Take some extra Popsockets™ and mounts with you to your next trade show. While these make excellent promotional giveaways, they also come in handy when setting up your displays, especially if you have interactive stations at your booth.

PopMinis® work well for hanging string lights and other decorations around a dorm or home.
Stick multiple mini Popsockets™ to a wall for an easy and convenient way to organize your necklaces or bracelets.
Prop up or mount a flat or handheld mirror to get ready for the day while keeping your hands free.
Press one PopSockets™ surface face down and trace around it with an imprinted pen or pencil to easily draw a perfect circle.
Store your hats and caps safely on your wall by hanging them on promotional Popsockets™.
Stick one to the back of your lightweight dart board, mirror, or photo frames for an easy way to temporarily mount them to your wall.
Get a steady shot on your GoPro® or other handheld camera.
Use aluminum Popsockets™ as handles for mugs that don't already have them. Try it with popular imprinted travel mugs like the 20 oz Himalayan or 20 oz Yukon Nova tumblers.
Attach to drawers or cabinets to use them as collapsible handles.
Make it easier to hold your hard cover books open by sticking a grip to each cover. You could even install two mounts on your desk to make it easier to hold the book open while you read or study.
Decorate just about any flat surface with your logo! And add just about any logo to your PopSockets™! Consult a member of Crestline's graphics team for help with determining the best artwork for your project.
---