Winning Race Swag Bag Ideas for 5ks,
Marathons & Color Runs
published: October 26, 2021 | updated: April 5, 2023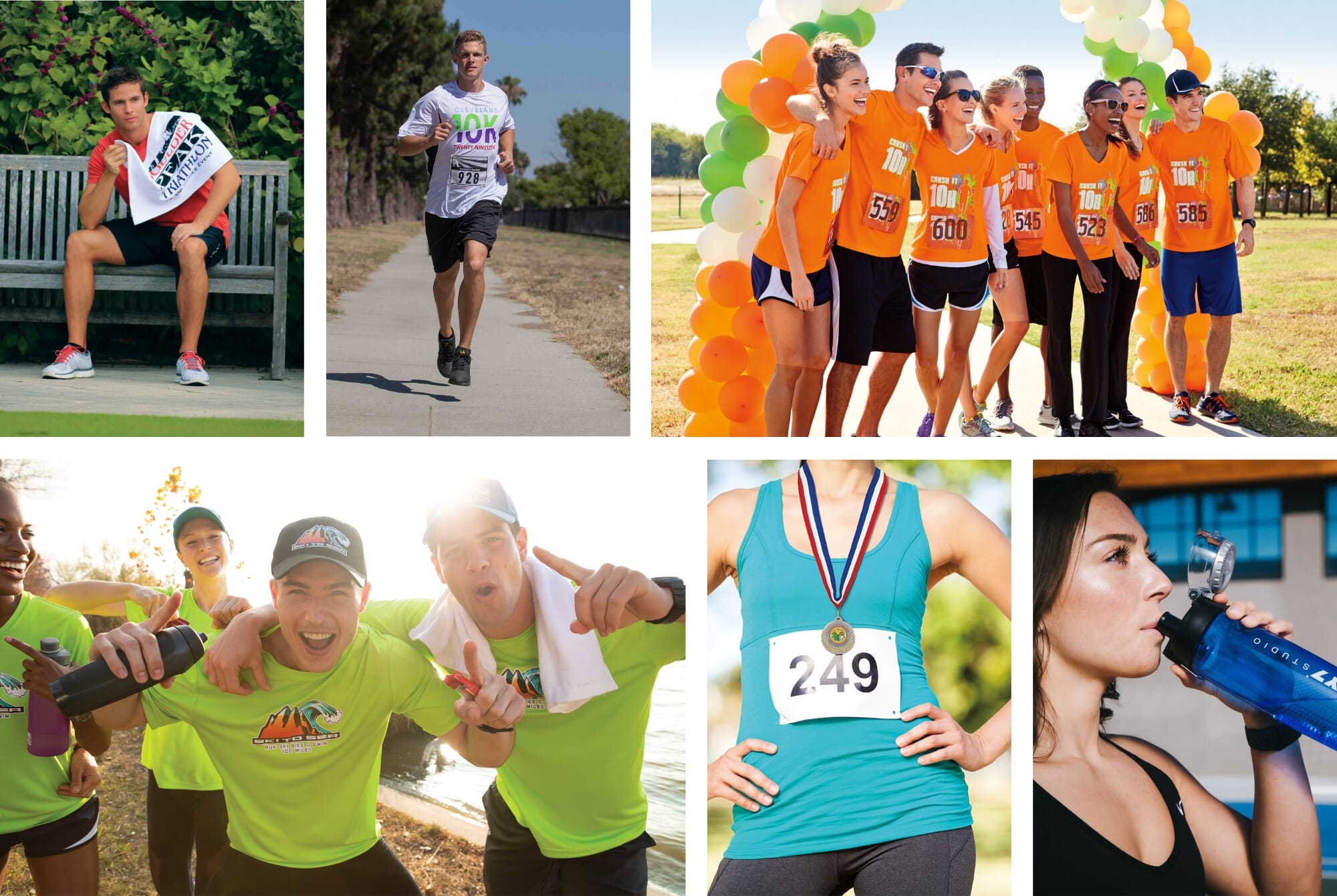 Are you sponsoring a race or hosting a running event? Don't fill your swag bag or race bags with just the predictable race bib, flyers from sponsors and course map. Maximize your marketing dollars with a swag bag filled with useful giveaways that not only get participants excited about the event but keep them connected with your brand long after the race is over.
Pre-Bundled Race Swag Bag Ideas:
Planning the race swag bags doesn't have to keep you up at night. Kits and
bundles are a simple swag bag solution that are pre-assembled to include
multiple logo items for one price.
Create Your Own Race Swag Bags:
Does your race have a specific theme or cause? Maybe you're hosting a breast cancer awareness 5k, a community fun run, or 10k mud run. No matter what the event, you can create a unique and custom race swag bag that captures the colors of your event as well as the spirit of what the event stands for. With Crestline's in-house kitting services, we handle assembly of the swag bags, eliminating the hassle and time of coordinating this yourself.
1. Pick a bag
First things first – the bag. Package your race swag in a reusable bag like a drawstring bag, fanny pack or duffel bag. Not only does a reusable bag show your event cares about the environment, but it also serves as a souvenir and free marketing tool. Race participants can use the bag at the gym or at school long after the race is over. Here are some top race bag ideas to get you started:
2. Pick the swag:
Next up – the swag. It's no secret that the staple promotional items to just about every race swag bag are a race t-shirt, a finisher medal, and a water bottle. But what else should you include? Some of the best swag items to include in a race swag bag are those which participates can start using right away during the event. Include a healthy snack to help keep the athletes fueled, running swag like a cooling towel to cool down post-race, or a headband for participants to show off their pride during the race. Check out our picks for the best race swag to include in your next race goodie bag:
Color Run Swag Bag Idea
Make your color run event a fun-filled experience your participants will always remember with color run goodie bags. A must-have for any color run swag bag is a white t-shirt, so runners can watch it transform as they run though clouds of color. Other color run gift bag favorites include sunglasses, tattoos, and headbands.
Best Virtual Run Swag to Send Participants
When COVID-19 guidelines forced many race organizers to change plans, virtual races emerged as the camaraderie of staying active and getting outdoors was stronger than ever. Here to stay, virtual races allow athletes across the globe to cross the finish line right in their own neighborhood, through a trail, or on the treadmill. When planning a virtual run, use swag bags to keep participants engaged and celebrate their achievement. Given that many runners will be running on their own, include running gear like a fitness tracker or running safety items like a reflective wrist band or a flashing clip-on LED light to increase visibility during those early morning or evening runs. Apparel, such as custom socks and t-shirts are not only a great way to outfit participants for their run but are also a great way to still incorporate sponsors logos on the virtual race swag. Check out some of the best virtual 5k swag ideas:
Crestline has drop shipping services available that make it easy to get a virtual race bag delivered straight to each participants doorsteps.
Post-Race Recovery Gift Sets
So, you've handed out your 5k swag or marathon gift bags paired with finisher's medals. Don't forget about those post-race aches and pains. While you can't get everyone an appointment with a masseuse, self-care gifts like essential oils, stretch bands and pumice stones are a nice way to help participants relax and recover after the race.