Fun & Unique Employee Appreciation
Ideas for Remote Employees
published: January 19, 2023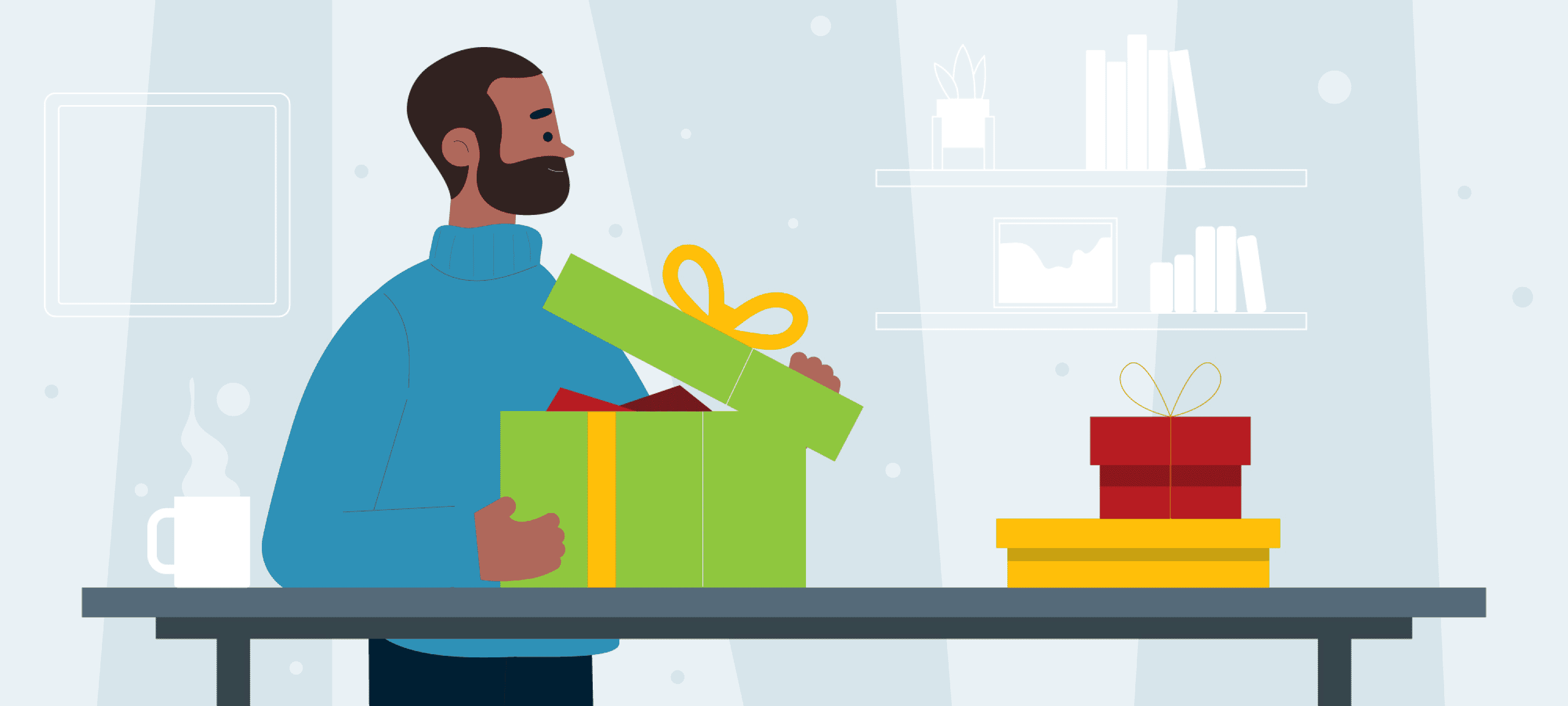 While many employees have returned to the office, remote work is still up significantly since 2020. In fact, it's expected to increase in the coming years. As you bring more remote workers into your company, you might be asking how you can keep morale high, and your virtual team engaged if they aren't going to be part of live events, face-to-face chats, and other company activities you only get in-person. Even something as simple as a handshake shows employees you recognize their value.
Luckily, with the right virtual employee appreciation ideas, you can retain talent and drive engagement from afar. From Employee Appreciation Day virtual ideas to recognize hard work to virtual team recognition ideas any time of year, there are a ton of ways to recognize employees virtually. So, get your motivational quotes ready and check out these creative ideas to help you get started.
Employee Appreciation Day Ideas
for Remote Employees
If you've ever celebrated Employee Appreciation Day in person, you know how much it means to your staff when you take the time to honor their accomplishments. You can replicate that same feeling with virtual recognition ideas for a remote Employee Appreciation Day. For example, schedule a Zoom meeting and show a presentation full of stats on what your team has achieved or talk about how you appreciate the work they've put in over the past year.
To make the event even more special, send fun staff recognition gifts out to each team member's home address ahead of time and have everyone open them at once to close the meeting. You can also choose a gift box or gift bag filled with multiple items to extend the fun and include raffle tickets for a drawing to win extra virtual prizes for employees. Throw in custom drinkware to facilitate a BYOB toast to celebrate with your staff.
There are a ton of gifts that make great virtual recognition ideas. From planter sets to blankets, here are a few of the best employee appreciation gifts:
Virtual Employee Appreciation Ideas
While staff appreciation virtual ideas are great for Employee Appreciation Day, there are a ton of opportunities throughout the year to show appreciation for remote employees. From holidays to birthdays to employee anniversaries and more, the best ideas for virtual employee appreciation sometimes come as a nice surprise. So, if you're wondering how to recognize employees virtually any time of year, here are some ideas to give you a little inspiration.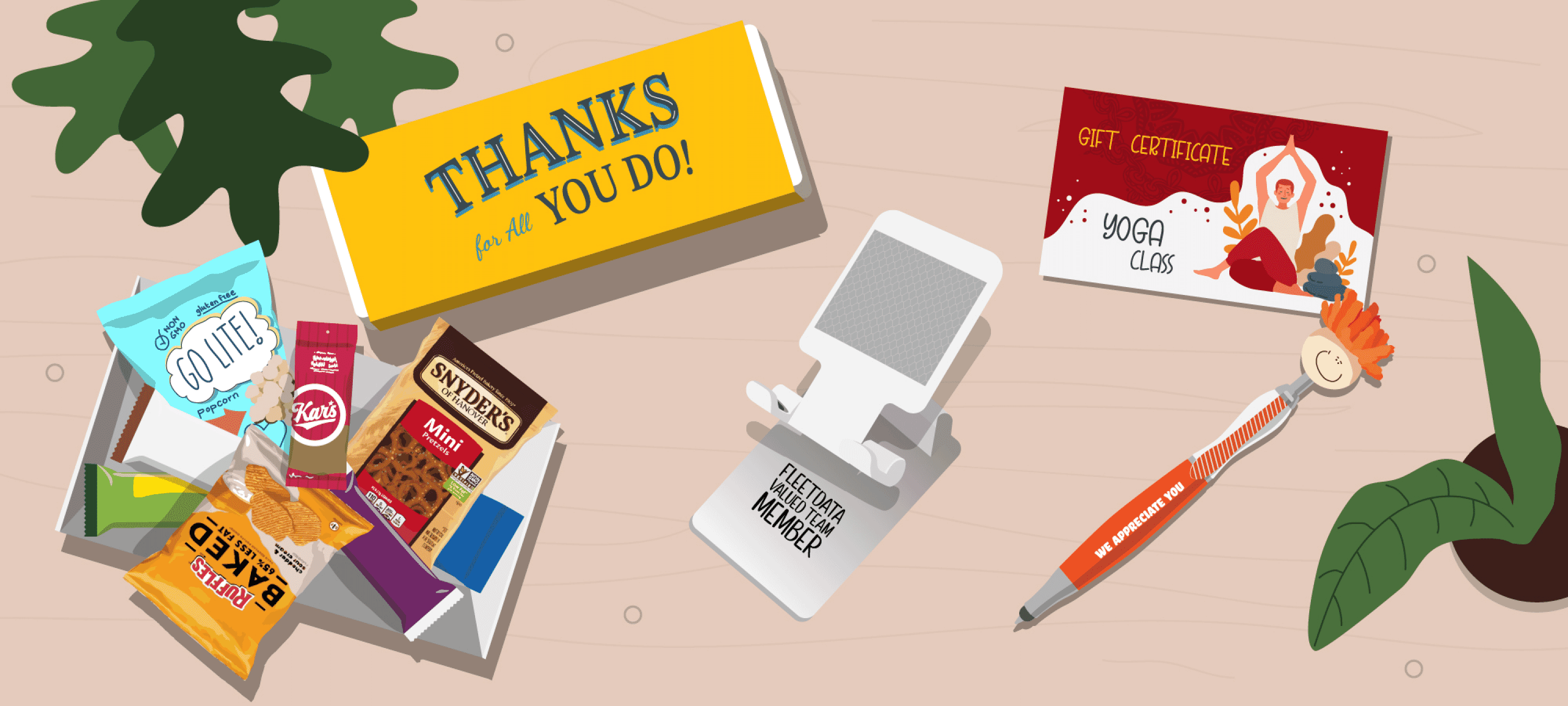 Mailed or virtual gift cards
Gift cards provide endless possibilities because you can choose from a range of companies and even tailor the gift cards to the tastes of individual employees. They also mean that employees have more items to choose from instead of you having to take a chance with an item they won't use. Some of the most popular gift cards are for restaurants, retail stores, and even Visa or Mastercard gift cards that can be used at a variety of establishments.
Snack boxes for big meetings
It's important to keep your team engaged during large meetings, especially when they are going to be presented with a lot of information. Give them the energy they need to keep powering through by gifting them a snack box filled with delicious treats. Whether it's savory snacks or sweet treats, these mail-ready snack boxes are packed full of delightful foods that will put a smile on anyone's face.
Small easy-to-mail gifts for pick me ups
You don't need large bulky gifts to give remote employees a little encouragement. Smaller, easy-to-mail gifts are a convenient way to empower your workforce when they don't come into the office. Since these virtual recognition gifts lay flat, they can easily be slipped into a shipping bag and sent out to show gratitude on Thanksgiving or support on Valentine's Day. Be sure to include a card with a special note, especially for Christmas and birthdays. Here are a few of our favorite easy-to-mail gifts if you need ideas for virtual employee appreciation:
Tech and office supply items to outfit their home office
Setting up a home office is important for virtual staff members because you want them to have all the tools they need to succeed. Help them spruce up their workspace by gifting them home office gifts, which are particularly great virtual appreciation ideas for onboarding new employees. Tech and desktop supplies are an easy win, but you can also get more creative with plants and candles to create a relaxing and productive workspace.
Self-care gifts for winter or any time of the year
Virtual employees won't be around in person for you to show how much you care about them on an individual level, but that doesn't mean you can't share the same sentiment virtually. Make self-care a priority for your business with relaxing self-care gift items like fuzzy socks, wellness kits and more. These warmhearted products encourage well-being, especially as cozy winter gifts when it's cold outside.
Easy gifts for the holidays
The holidays are the season of giving, so what better time to show appreciation for remote employees? On the other hand, if you have dozens of employees, coming up with gift ideas and wrapping them all takes time. One solution is to select employee gifts that are already wrapped in festive packaging to help speed up the process. By presenting your gifts in eye-catching fashion, you can stun employees and leave them feeling like a star, especially when you have them mailed directly to their doorstep through our drop-shipping service.
Branded apparel to bring the team together
If you want to unite your team, branded apparel is a great way to build a group identity and create a feeling of unity. The best part is that apparel can be given out any time of year, and you can even match the clothing to the season. For example, t-shirts are great summer items while hoodies and cozy quarter-zips are perfect during the winter. The most important thing about these virtual staff appreciation ideas is that you provide employees with the same warmth and comfort they would get in the office.
Vouchers for online recreation
From cooking classes to local experiences tailored to where your staff is located, give them vouchers to enjoy online experiences. After all, online vouchers are a great way to replace on-site activities that in-house employees get to enjoy, which could include health classes like yoga or meditation to help them relax after a stressful quarter at work. All it takes is a little creativity, and these employee appreciation ideas for remote employees can be a huge morale boost.
Pet products for their furry friends
With most Americans owning a pet, your remote team's favorite co-worker is likely their furry friend. That means pet toys and accessories are terrific surprises they'll be happy to receive. You can send a variety of pet products for various purposes, including a fleece blanket for comfort or a dog toy for some energizing fun.
At-home fitness giveaways to encourage them to stay active
Most employees who work from home are at their computers most of the day, and with their busy lives added on top of that, it's hard to make it to the gym every day. Encouraging them to stay active at home with fitness giveaways shows that you care about their well-being, which is why home workout equipment makes great virtual employee recognition ideas.
Virtual Awards and Recognition Ideas
If you're still wondering how to show appreciation to remote employees, don't fret because there are a ton of ways to reward employees who have been knocking it out of the park from afar. Promotions are always a way to reward hard work, but even when there isn't a position open, all you need is a little creativity to find fun ways to recognize employees virtually.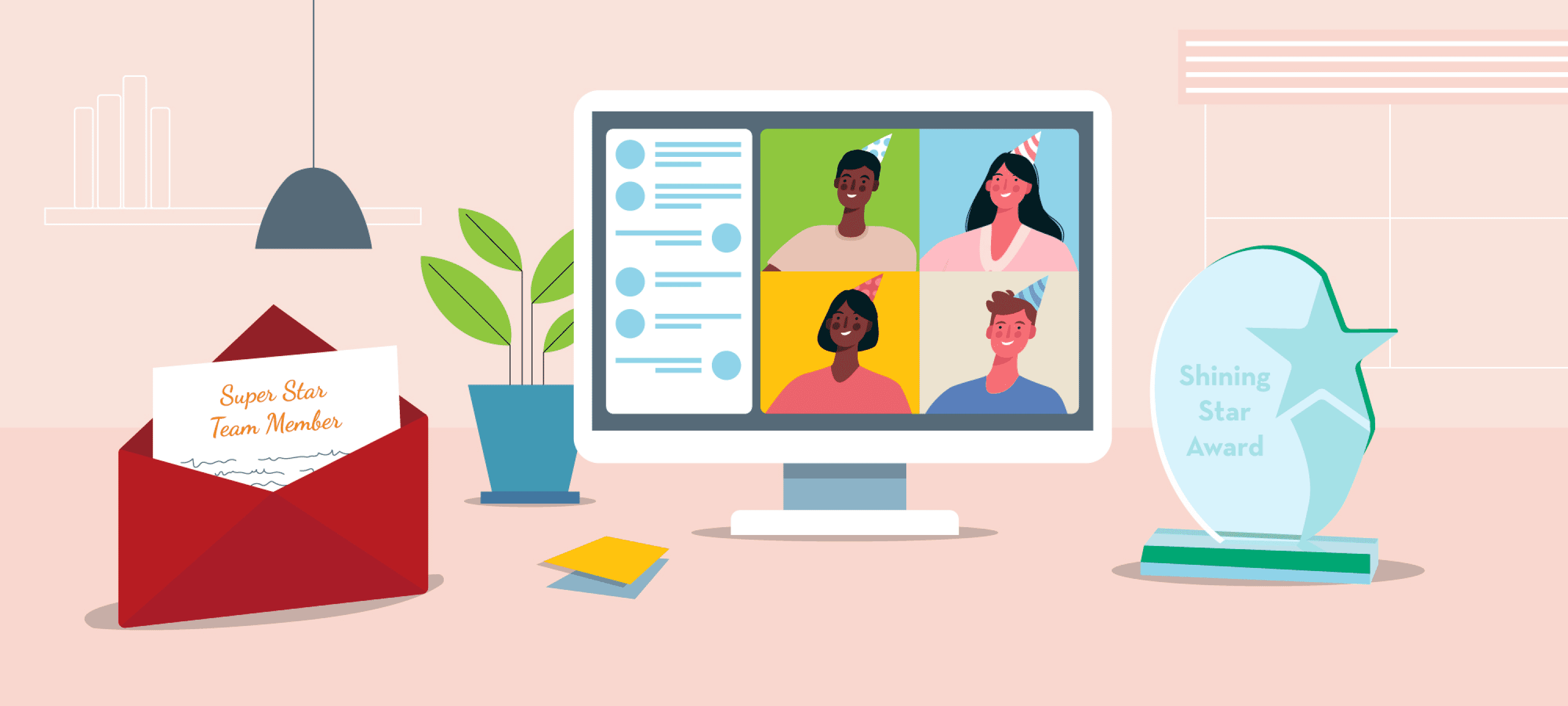 Give out years of service awards
From one year to 20 years, years of service awards are basically like birthday presents. They remind employees that their time with your company has been positive for their careers and help you retain talent for years to come. You can even shape your work anniversary gifts around how long they've been with your company, which will give newer employees something to strive for.
Mail them a handwritten letter
Go old school and send your remote staff a handwritten letter with words of encouragement and gratitude. You can tell them how much their contributions have helped in the success of the company, talk about goals for the future and let them know how they fit into those goals. After all, a handwritten note is much more personal, and employees will know you took the time to physically write out all of these thoughts yourself.
Plan a virtual team celebration
Team building doesn't have to be reserved for the office. You can get your entire team together to celebrate virtually as well. Whether you want to kick off the day with coffee and conversations or end the day with a virtual happy hour, online celebrations let employees show off their personalities and get to know one another. You can even play virtual employee appreciation games to build excitement and break the ice. Popular games like "two truths and a lie" or "video charades" are always a winner here.
Honor them with awards and certificates
Virtual employees deserve the same awards that you would give to in-house employees, especially when they are high performers and are driving sales for your company. Luckily, there are a ton of great awards that you can send directly to their house to show employee appreciation for remote workers. Once they have them, they can proudly display their accomplishments on their desk or on a shelf in their home office.
Give them access to a custom online store
Offer reward points to your virtual staff to recognize achievements or years of service, then set up a custom online store where they can spend those points on unique gifts that can be used either personally or professionally. The best part is that an online store allows you to handle all employee gifting in one central location. On top of that, you can include a ton of corporate gifts in the store without having to keep inventory at your own facilities.
Shout them out on your company's social media
Something as simple as a shoutout on social media can make employees feel valued. Whether it's honoring an employee of the month or recognizing an employee's anniversary, social media lets all your supporters see the employees who are thriving at your company. Plus, it will boost your company image as people get to know the brains behind the brand.
Share accomplishments on an internal community channel
Let your entire company show support for a virtual employee's success by recognizing them internally through your company's community platform. Firm-wide message boards give everyone a chance to say, "Job well done" and "Congratulations." In return, you'll see more and more employees increase their output to receive the same honor.
Write a recommendation via LinkedIn
LinkedIn is important for an employee's career, and if you want to show your company's positive culture, take the time to leave a recommendation on their LinkedIn page. This is not only an immediate morale boost but also helps them in the future as they progress in their careers. So, if you want to brighten an employee's day, go on and leave them a positive review on LinkedIn.
Let them win an extra vacation day
What better way to honor all the hard work employees put in day after day than by giving them an extra vacation day as a virtual recognition gift? That way they can focus more on their work-life balance by spending more time with friends and family, or just use it as a day to catch up on chores around the house. Then, once they return to work, they'll be more energized and ready to take on the next challenge.
Video shoutouts from the CEO or manager
When upper management takes the time to recognize employees, it goes a long way to boosting morale for the entire company. It's also great for employees who aren't in the office and don't get to see their managers in person. After the recording is made, distribute it company-wide by email to let everyone celebrate their success.
Taking the time to come up with employee recognition ideas for virtual teams is extra important because these employees don't get to enjoy the everyday office culture, which can make them feel like they're out on a limb by themselves. Luckily, you can use virtual team recognition ideas to alleviate some of the isolation. They don't have to be complicated either because the best staff appreciation virtual ideas are often small gestures that just show your gratitude towards your team.