8 Creative Ideas for Your Virtual Corporate Holiday Party
published: November 5, 2020 | updated: August 15, 2023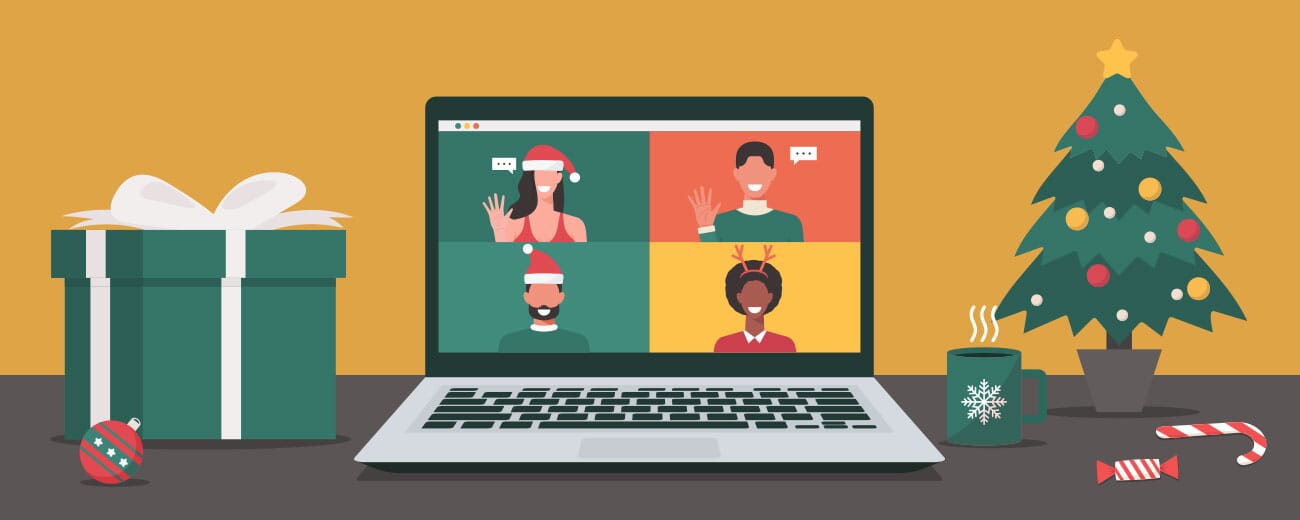 Working from home is here to stay, but working remotely doesn't mean you can't host a festive company celebration. Bring the team together with one of these virtual holiday party ideas for your employees and clients:
Read on for eight virtual work party ideas that rival any in-person holiday celebration.
1. Host a virtual happy hour or wine tasting
Bring a little holiday cheer to your virtual office Christmas party with a company-wide happy hour or wine tasting from home. Employees or clients can cozy up in their home offices with their drink of choice for a casual online get-together or consider hiring a sommelier for a formal wine tasting. Some wineries—like Napa-based Bouchaine—can ship their wines directly to virtual party-goers and let you schedule time with a private host to discuss each bottle over online video as you sample. Take the fun to the next level by sending out custom wine glasses or tumblers featuring funny quotes about wine as a holiday corporate gift.
2. Whip up a tasty dish with an online cooking class
This Christmas, work-from-home policies might mean you can't share your favorite holiday dish with co-workers and clients. Why not whip up a seasonal recipe together with an online cooking class? Ship everyone the ingredients and kitchen tools they'll need and have a chef lead the way as you cook up a mouth-watering meal.
3. Gather online for a virtual coffee hour
Don't let busy holiday schedules keep you from celebrating the season with your colleagues. If time is tight, choose a morning during the week to host a casual virtual coffee hour. Encourage your employees to share their successes throughout the year, and clink mugs to a job well done. Plus, a personalized coffee mug, custom cup with your logo, or travel tumbler is a great office Christmas party favor idea. Mail the mugs out ahead of time so everyone can sip their cup of Joe from their new swag when you gather online.
4. Host a cookie-decorating or gingerbread house competition
Who doesn't love homemade holiday treats? Satisfy your sweet tooth and let your competitive streak shine with a cookie decorating or gingerbread house competition. Send baking ingredients, cookie cutters, and decorating supplies in advance. Base judging on:
Creative use of decorating ingredients
Best original design
Overall impression
"Don't quit your day job" decorating skills
5. Get crafty with a make-your-own ornament party
Throwing an online ornament-making party is a sure-fire way to get everyone into the holiday spirit. Brainstorm a couple of easy-to-make ornaments and create a list of supplies each person will need. Ship the supplies ahead of time so everyone has what they need on the day of the party. Then settle in for some laid-back crafting and holiday cheer. Bonus: the ornaments can double as office Christmas party favors. Essential craft supplies include:
Clear plastic ornaments
Green, red, and gold glitter
Holiday-themed ribbon and twine
Paint and paintbrushes
Felt, buttons, and small seasonal embellishments
6. Coordinate an online Secret Santa
Who doesn't love a Secret Santa? The rules change a bit for a virtual work party. Instead of in-person gift-giving, ask each Secret Santa to ship their gift directly to the recipient and open your gifts together when party time rolls around. To make the gift exchanging easier, send employees a prepaid label or flat rate shipping boxes.
7. Host a holiday-themed online game night
No virtual holiday party is complete without a few games and corporate party giveaways. Encourage teamwork with these virtual holiday party game ideas:
Break into groups for a game of holiday- or company-themed trivia.
Get creative with a round of charades.
Organize an online scavenger hunt to search for items on your company website or physically find around your home offices.
Test everyone's musical knowledge with a rousing game of "Name that Tune."
No matter what you decide, be sure to have branded corporate holiday party favors on hand to send out to the winners. You'll find a wide range of custom favor ideas available to buy in bulk quantities to keep costs down. Consider these custom corporate gifts and party favors:
8. Dress up for a virtual photo booth
A virtual photo booth is a fun way to see everyone decked out in their most festive holiday duds. Is your company laid-back and casual? Host an ugly sweater party or spread a little cheer by challenging everyone to dress up as their favorite seasonal character. If your employees and clients are a bit more buttoned-up, a "dress to impress" theme gives everyone a chance to wear their finest clothing, even if they're staying home. Snap a screenshot and send it out in a customized frame as a corporate holiday party favor.
The holiday season is a time to celebrate your success over the past year and working from home doesn't mean you need to scrap your company holiday party plans. With a little planning and creativity, these online Christmas party ideas will let you celebrate the season—and your employees—in style.